Overview
In a world where the dichotomy success-failure is ever more defined and where mistakes are disguised, the life Alex Bellini chose has brought him to come to terms with dangers, risky situations and the idea of failure. The experiences he lived have taught him to redefine his personal concept of success and failure, drawing a wider picture in which, in the end, the only question worth asking is "how can I turn this to my advantage?"
Who is this book for?
The book is written for those who have a tendency towards absolute thoughts like "everything or nothing", those who base their experiences and beliefs regarding the self on dichotomies with no shades: success-failure, perfect-defective, good-bad, right-wrong. The stories collected here picture a rich variety of nuances in which everything acquires a new meaning. The book is also for those who love stories of real adventures, quests and explorations.
Why you should read this book
The book should be read because it sheds some light on the usual ways to understand success and failure in life while reminding everyone that, even in the worst case scenarios, when everything seems lost, what's left is the freedom to choose the direction towards which we look to give meaning to our lives.
Chapter outline
This section reports the list of chapters contained in the draft of the book.
Chapter 1: Losing a parent and instantly becoming a man
In this chapter I recount the grief that afflicted my family in 1999 describing how the perspective of a young man who was barely an adult changed almost instantly. I lost a key figure, my mother, but I discovered something just as important as she was: a precise view of life.
Chapter 2: Losing orientation a few steps from the finish line
In this chapter I narrate the experience I lived in 2003, in my second crossing of Alaska on foot. A few kilometers from the finish line, during a night with winds up to 100 km/h raising walls of snow in front of my eyes, I lost the sense of orientation in the frozen riverbed of the Yukon River. Tired, hungry and afraid, I snuggled into my sled in the final attempt to protect me from the wind and the cold. I was a few steps from the finish line but I wasn't aware of it. I thought instead I was hopelessly lost, unable to find my way home. This was the most vivid experience of how our thoughts can determine our behavior.
Chapter 3: Losing face a mile from land
This chapter is devoted to the story of the first attempt of crossing the Atlantic Ocean rowing in 2004. I went from being a hero to being treated like a puppet, but it turned out to be a worthwhile experience in subsequent years.
Chapter 4: The island on which I crushed my dream
This chapter is dedicated to the second attempt of crossing the Atlantic Ocean, during which I shipwrecked on the island of Formentera. It happened only twenty-three days after departure. An accident in which I lost everything, a crush that gave me the inspiration to define new strategies and work methods.
Chapter 5: Without food
In this chapter I tell the story of the five days I spent in 2006 in the middle of the Atlantic forced to fast. The event gave me a chance to make a real introspective experience, where I explored myself as I had never done before.
Chapter 6: One step away from success
In this chapter I narrate the denouement of the crossing of the Pacific Ocean, just 60 miles away from land. Something that many considered a failed attempt represents for me the biggest success of my life.
Chapter 7: A balloon that doesn't fly anymore
This chapter is dedicated to a business that never took off and what I learned facing economic failure.
Chapter 8: The most precious thing
In 2011, while my family and I were asleep, thieves broke into our house. They made us fall asleep with sedatives and stole all the valuable objects we owned. The robbers eventually escaped using our car. The damage was quite significant, especially at the level of the feeling of anxiety and violation that affected us. That moment made us aware of the importance of certain things compared to others that we took for granted and what for my family and I, from that moment, became no longer negotiable.
Chapter 9: Running is the easiest thing
During my run through the United States in 2011, the greatest trouble I met was keeping the team together and focused in a serene and relaxed environment. Personality differences are more strenuous than the race.
Chapter 10: An unfulfilled dream
This chapter is the story of a mission that never begun. In 2016, after five years of trying, I finally accepted the idea of not being able to carry out this epic attempt.
Chapter 11: Reframing the events with the cognitive-behavioral theory
There is a close relationship between thought, behavior, habits and actions, this is what cognitive-behavioral theory claims. In this last chapter I illustrate my methodology in a more structured way by providing details for its application in our everyday public, private and professional lives.
_________________________________________________________________________
Sample Chapters
Since November 10, I hadn't slept a wink. I was scared. Curled up in my cabin measuring 6.5' by 2.6', I monitored my GPS chart plotter day and night, marking the distance from the mainland. With one hand on the VHF radio, I was ready to report my position to anyone within a few hundred meters. The waves were big enough to make me disappear even for the most powerful radars. Therefore, I was even more discomforted. Staying awake was a matter of life and death.
I remember that day very well. It was November 13, 2004. Only twenty-three days had passed since I had begun my second attempt to cross the Atlantic Ocean in a rowboat. Not even a month had passed, yet what I had experienced on that journey, good and bad, made me feel like I had been on board much longer...however, it wasn't enough to take me away from the mainland, my real and only nightmare of that crossing. A few days before November 13 I was hit by a strong mistral that made capsize my boat three times in a day. The sky had always been covered with thick clouds and my ammeter, measuring the electric current intensity available, rarely reached acceptable levels. I couldn't be calm sailing near the Balearic Islands in those conditions, but there was nothing that I could do.
On November 12, right after the sunset, the two batteries providing energy to GPS and all electrical equipment for sailing and communicating, failed. From that moment on, I could only suppose my position, but I couldn't report it to the support team anyway. The night of November 12 was very chaotic. However, although serious, the situation didn't appear critical to me. I had passed through situations even worse over the past days. At midnight, I could clearly see the lights of a big isle in the West. Maybe Ibiza or Formentera. The yellowish glares of the street lamps enlightened my cabin at the rhythm of the waves. I was close. Too close. However, I had the feeling that I was sailing southward, parallel to the coast, because of the strong wind.
That night was confused and terrible, yet the morning after was even worse. I couldn't have a clear vision as it was dark and foggy, but the morning warm made the fog evaporate, revealing how bad the situation was. A strip of dark and flat land emerged a mile away on the horizon. I thought it was just my hallucination at first, as foaming waves crashing on the shore made everything more hard to see. I was confident I could get away with that. Rather, I had no doubts. I started rowing to turn the boat around. All in vain, the wind was very strong and the waves direction prevented me from rowing well. I tried a beam reach towards South but, under these conditions, I had my left side towards the wind and the waves; the boat could capsize at any time.
I tried to save the boat but I broke two oars and it took me ages to replace them. When I was ready to start rowing again, the sea and the waves, together with the shallow waters, were so messy that I couldn't move anymore using my arms. I dropped the floating anchor to stay with my stern upwind, meanwhile I pulled out the wheel, secured it in my cabin, and prepared the steel anchor with the metal chain. When ready, I dropped it but couldn't get the grip on the sandy bottom. I dropped and recovered it about ten times. Finally, a few dozen meters from the shore, it got a grip among some rocks. It all seemed under control for a moment.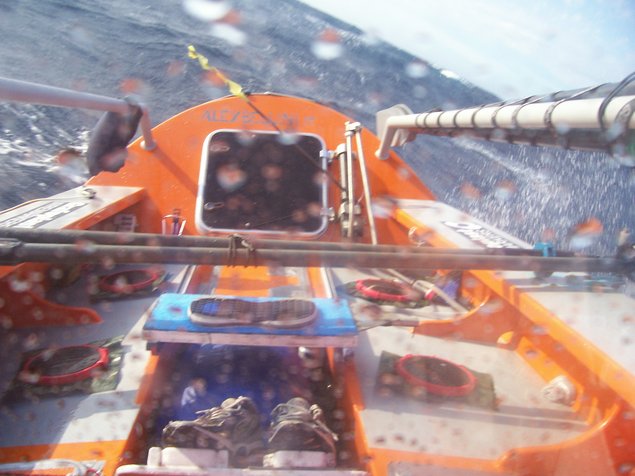 The next wave made my boat capsize. It caught me unprepared and I fell in the water. I had felt secure on my boat until a minute before. Now I was an easy prey. Yet I didn't give up, I thought that I could still save my boat. Maybe I could have pushed it gently to the shore. I just didn't accept the idea of losing it all. As soon as my feet touched the sea bottom, I managed to put myself between the heavy sea and my boat that I held as a wild horse by a small rope tied to the bow's ring. Rocks were now only few meters away. It was just crazy. Inside of me I gave orders to myself like a captain to his subordinate. "Pull that rope, for Christ's sake. Pull!" At some point I said to myself: "Get out of here dickhead!". I was putting my life in jeopardy to save the boat and I was having very little success. I looked at her for the last time promising I would come back with some help. Then I swam to the shore in the calm between one wave and another.
I emerged on all fours like a sea creature. My yellow suit was ripped off in many points, one shoe had gone, and I had a wound on my arm that was bleeding considerably. I felt nothing, of course. When I had fallen in the water I had also lost my glasses (I am nearsighted) and it was hard for me to focus the situation. Where was I? What had happened? Was this isle uninhabited? What could I do? I didn't look back, to the sea. I just looked ahead, to the inner part of the isle. I needed some rescue. I had to keep on sailing. If I had to go through all this to reach Brazil, if this was my price to pay, I would have accepted it without breathing a single word.
The fact that I could recognize some buildings was of great help to me. I ran to the nearest houses but I found them closed. They weren't just closed, they were barred!
I bounced like a pinball ball from a house to another for about an hour, as nobody opened and paid attention to me. I lost any hope and came back to where I had started. I took a different path to get there. I cut across shrubs and walked on the beach for more than ten minutes staring at the sea, searching for my boat. At some point, I saw a car parked close to a sand dune, its front towards the open sea. Inside there was a couple in their fifties looking at the horizon. They were hugged. I reached their car from behind and, as I was face to face with them, with my chest and my hands on the hood before their windshield I screamed, for the first time since many days. "Please help, I'm a solo oarsman. I come from Italy and I'm going to Brazil. I need help, my boat is anchored a few meters from the rocks...Please help me, call the coast guard". Later on, I realized I had provided them with too much information. They didn't believe me at first. It was unbelievable: a man rowing from Italy to Brazil...They looked at me with suspicion. I had asked the woman to roll down the window so that I could talk and not shout, but she was frightened to death. She was just standing still without saying a word, as under a paralyzing curse. I asked her again to call the coast guard, hit the door with my hand and, as if by magic, the curse broke and the woman began to move again. She dialed the number and few moments later started to talk providing detailed information about what had happened and where. She told me that they would send a helicopter and a guard ship from the port of La Savina, that they had already received the message from my EPIRB, and that would come in ten minutes. I walked fast on the beach to where I thought I had emerged from the water. I kept on staring at the sea. I had a plan now: they would have come and pick my boat and the next day, or the following day at maximum, I would have left again for Brazil.
I walked, ran and walked again. My legs and my breath recalled me that at least a month had passed since I last ran like that. I was losing all my energy. At a certain point, I stumbled in something on the ground. I didn't paid too much attention at first because I was more focused on what was on the water than on the ground. It wasn't what I did see, but what I didn't see that frightened me and made me doubt about my future. My boat had gone, at least it wasn't where I thought it should have been. "It's impossible, this is the right place". I said to myself. Only when I looked down, as searching for some kind of intuition on the sand, everything was clear to me. Scattered on approximately ten meters on the shore, among white foam and black sand, laid a million of little pieces of my boat and everything that was on it.
It was November 13, 2004. Day twenty-three of my second attempt to cross the Atlantic Ocean in a rowboat. The day when I lost it all.
How preorder funds will be used
The funds from this campaign will be used for professional editing and design, and for the first print run.
Additionally, every 100 copies sold, I will donate 10 copies to local high schools for general reading.
Timeline
Writing: The book is currently about 20% completed. I will finish the writing of this book by the end of April.
Editing: The book will be edited in as I progress. I have a copywriter that has already started editing the content as it is completed.
Publication: The book is expected to be printed and delivered by September 2016.
My plan is to self-publish this book according to the above timeline. However, it's also possible to attract a publisher based on this campaign. If 250 copies are pre-ordered, there is a greater chance a quality publisher may be interested in distributing this book. Your support will definitely make a difference, and I am very grateful for your support.
Thank you for support this campaign!
And enjoy your own print copy of the book!