Synopsis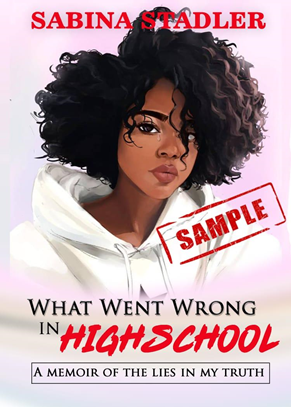 What Went Wrong in High School is not just about the author's life in high school, but documents events from childhood up until adulthood, events that we can all relate too. The author talks about being sexually abused as a child and decisions that gave her the dreaded title of 'single mother'. As a celebrity, Sabina demystifies fame and social media, and instead propagate to find worth and validation from within.
A motivational book raising a voice of the challenges faced by today's woman, providing a support system on how best to avoid and/or overcome these societal issues, especially for the minority who may not have other sources of information, or resources. Every chapter has a workbook, a self-therapy that thrusts the reader to uncover their sometimes faceless demons.

Why someone would buy this book:
To raise challenges faced by today's woman.

To overcome societal issues from minorities communities.
To propagate finding validation and realization from within.
To provide help to those without mentor or resources.
Outline
Introduction: This book is divided into 9 chapters, taking you on a journey starting from the Author's childhood up until her adulthood, exposing her struggles, obstacles and traumas and how she overcomes them to find the truth from within.
Foreword
Chapter 1: God helps the child
The traumas of childhood
A detailed account of the Author's childhood sharing fond memories, the innocence of a child, hopes and dreams family and the trauma of sexual abuse. It also explores the fearless passions and dreams of a child that may fade into the dust if untapped.
Chapter 2: Daring greatly
Peer pressure
This chapter embraces the importance of individuality and how much more we will always be insufficient if we compare ourselves to others. It is comparison that leads us to fall into the grip of peer pressure. It is a robbery of our own potential.
Chapter 3: Broken butterflies
The power of Sex
Sex is a good and necessary thing, a powerful thing, if used in the right confines. Prioritizing sex at the wrong time will have dire long-lasting and life-changing consequences. Enter, motherhood, in the case of the single mother syndrome.
Chapter 4: Gone with the wind
Ishmael Choices will cost you time and so much more
Time! A precious thing. The author tries to track down five years that she wasted and never get back. It is important to value the time you have, the time in school, the time in play, the time at home, above all a balance is key.
Chapter 5: The pursuit of happiness
The purpose driven life
It is important to know your strengths and passions, tracking back from what you loved from childhood when dreams had no ceilings. What were you good at? What would you do without a salary? Fame will not make you happy nor will money. Happiness and success comes from living within your purpose.
Chapter 6: Hind's feet in high places
The truth about who you are
There's a lot about ourselves that stems from words told to us, identities enforced on us and lies embedded in our truth. In this chapter the Author displays how she was able to separate the lies from the truth and how a whole mindset alteration had to be done in order for her to live in her truth.
Chapter 7: Dreams of my father
Newsflash, you have a father
Sabina having grown up without a father, candidly shares the effects of this and how it may have led her to the wrong men but also how it led her to be a fighter. Whether you are orphaned, adopted or raised by a single parent, this chapter will bring a resolve of how we can best conquer this difference.
Chapter 8: Lost and found
It's time to forgive! It's time to heal
Forgiveness is absolving the person who wronged you of all power, and sometimes the person you need to forgive may be you. Forgiving the parent who left you, the person who abused you, the boy who chose another girl over you and so many more torchbearers of our wounds is the only mode of transportation in the road of healing.
Chapter 9: Becoming
Learning to start again
You will fail. You will try again and you will once again. But if you continue to forge ahead, if you fall forward you can be sure that you stand a chance to win, you stand a chance at conquering territories waiting to be conquered.
Acknowledgements
About the Author
Audience
Memoir Lovers:
According to Nielsen BookScan, which tracks about 70% of U.S. book sales, total sales in the categories of memoirs increased more than 400 percent between 2004 and 2008. Also, memoirs in Britain occupied seven out of ten bestselling nonfiction hardcovers in both 2007 and 2008. Memoirs have become popular over the last decade. Readers crave deeper, genuine connections and this memoir gives it to the reader. The author's failures, secrets and successes encourages the reader to embrace their 'story'.
Survivors of sexual abuse:
Studies by David Finkelhor, Director of the Crimes Against Children Research Center, show that 1 in 5 girls and 1 in 20 boys are a victim of child sexual abuse. The book brings healing to a large population living with a wounded heart.
Teenagers:
Teens aged 13-19 years.
Parents of Teenagers:
Parents are busy chasing their careers and leaving their teens to virtually raise themselves. This is where the book comes in, it stands in the gap for the 21st century parent. Parents will benefit from reading this book because they will obtain insight on a lot of issues that their kids are facing and equip them to raise a better child. They would also be the ones buying it for their teens. By some market estimates, nearly 70 percent of all Young Adult titles are purchased by adults between the ages of 30 and 64. Of course, some of those are parents.
NGO's, Activists & Initiatives:
This book is a great read and tool for those advocating against bullying, drug abuse, sexual abuse and suicide.
Christian Community:
Christians are looking for God in alternative options besides the Bible. My book appeals to a lot of Christians and Christian based institutions being that a huge percentage of my counsel is Christian based.
Academic Institutions/Libraries:
Schools view counseling, activism and empowerment programs as an important form of supplementary education. The book does exactly that.
Inspirational and Motivational books lovers:
According to WHO, 300 million people are living with depression. A lot of the bestsellers in recent times have been seen to lean towards motivational books promoting personal development.
Promotion
Being a known figure in Kenya and Africa, and having been in an African show with 50 million viewers tuned in every second, Sabina can rely on a buzz as an author of this book.
Sabina will have a book launch in Kenya which will be graced by various stakeholders.

A combined Social Media followers of 30,000 and access to another 5,000,000 in private Facebook groups.

A website www.whatwentwronginhighschool.com where readers may buy the book, get discounts from promo codes and also book workshops or sign up for one-on-one online counseling sessions.

The author, having been interviewed on every Kenyan TV station brings her the possibility to have networks with media stations thus able to schedule interviews and attract media attention.

Speaking engagements in high school almost every Saturday in Kenya, unless schools are closed.

Through Christian based networks Sabina is able to have a book sale in different churches at least every Sunday; and concerts whenever they arise.

An email list of about 1,000 contacts.

With a good rapport with Social media influencers in Kenya, many of which reach the author's target audience. These will be inspired by sharing a promo code which when used by a buyer, a percentage will go to the influencer.

Online sponsored Ads.

Videos in Sabina's YouTube channel have viewership of 4,000 each.

The foreword will be by a renowned motivational speaker, writer, pastor and a parent to a teen.
My LinkedIn contact list which includes an array of professionals from different careers that are connected to Sabina's interests and the interests of this book.
Find NGO's, and Academic Institutions to come in as sponsors.
Competition
1. God help the child by Toni Morrison, Published by Vintage in 2016
Description
A story of Bride's mother, Sweetness, who takes a lifetime to come to understand that "what you do to children matters. And they might never forget."
Difference
God help the child is a novel and not a memoir by the personal experience of the author. It is more focused on the mother as the subject who shapes the main characters future whereby Sabina's memoir candidly displays many other characters in her environment and experience.

2. Woman thou art loosed: Healing the wounds of the past by TD Jakes, Published by Destiny Image in 2012
Description
The wisdom in this book fights back the infections of life.
Difference
The book is written for the feminine wounded heart from a biblical perspective but not a memoir like 'What Went Wrong in High School" which gives a detailed account of different disappointments combated throughout the author's life so far.

3. The Secret by Rhonda Byrne, Published by Atria Books/Beyond Words in 2006.
Description
It explains the law of attraction in relation issues such as wealth, health and happiness.
Difference
The book focuses on one method of solution i.e. the law of attraction, which is also claimed as the main source of problem. What Went Wrong in High School offers Christian based counsel and experiential advice from Sabina's real life experiences. The book also goes further to expose other societal and taboo issues such as abuse, unwanted pregnancies etc.

4. Ten Motivation 101: Ten Secrets of High School by Asiah Wolfolk Manning, Published by CreateSpace Independent Publishing Platform in 2011.
Description
This motivational book emphasizes the skills needed to set high goals and standards, excel academically.
Difference
Ten Motivation 101: Ten Secrets of High School focuses more on motivation, self-esteem and getting a good grade; excluding society and taboo issues that What Went Wrong in High School addresses, e.g. sexual abuse, poverty, family and exploring other elements of success that teenagers also need to aim for.