Synopsis
With Bible study, colouring, memory verses and word quiz, The A B Cs of God is an alphabetical and interactive representation of WHO GOD IS using Bible scripture references. Rediscover God is good and God is so much more! With bold colours and illustrations, this is a fun-to-use book for kids and adults alike to study scripture and learn about God. The indexed study list at the back is a great way to search the scriptures for additional references that describe the personality of God.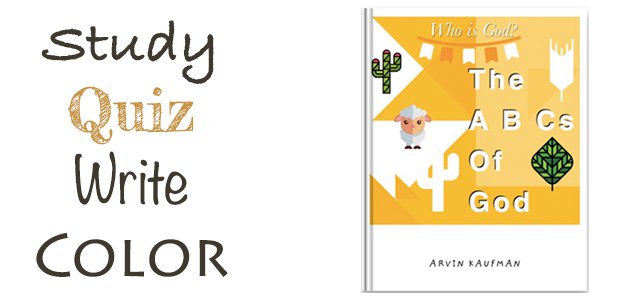 Outline
A. Section 1:
A-to-Z. An alphabetical compilation of words that describe who God is. Each letter has been assigned four words and two scripture verses for reference.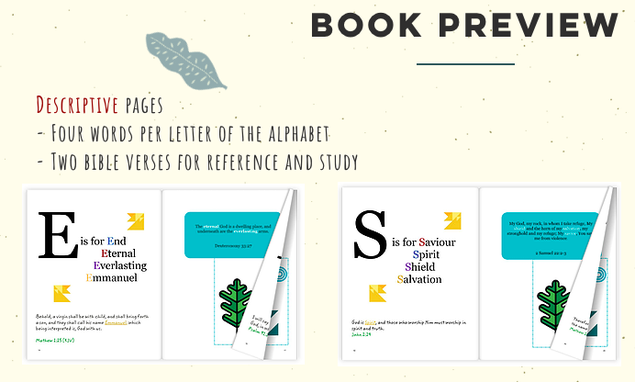 A number of letters have a word quiz and coloring sections to give the reader further interaction

B. Section 2:
Word Quiz: Readers can complete the missing letter of words.
C. Section 3:
Word lookup: A list of alphabetically organised words which a reader can use for additional study and as a reference tool.
D. Section 4:
Scripture notes: Pages that readers can use to pen their thoughts based on the study and their experience with the book.
E. Section 5:
Scripture quiz plus coloring: A section where readers can complete popular Bible verses and with coloring.
Audience
The audience for this book is readers from the age of 2-7 years old (With adults buying it for their children).
The market for children's bible study books is plateaued in its growth stage for writers that present content in a format that is attractive and offers interaction while encouraging learning at the same time.
In their predictions, the editors of Scholastic Book Club set out that kid-friendly non-fiction and activity books would continue to grow as a top trend.
According to a recent article by CNN (1st August 2017), coloring books are no longer just for the kids. In fact, adult coloring books are all the rage right now. According to Kelly, though the first commercially successful adult coloring books were published in 2012 and 2013, the once-niche hobby has now grown into a full-on trend, with everyone from researchers at Johns Hopkins University to the editors of Yoga Journal suggesting coloring as an alternative to meditation.
According to the 2017 statistics of the new StatShot Annual Report from the Association of American Publishers, both fiction and nonfiction books for children and young adults, saw more units sold in 2017 than in 2016, up 1.1 percent and 4.4 percent respectively. In the five years since 2013, publisher revenue for children's and YA fiction has grown by 11.3 percent to $3.67 billion
My experience has been that, The ABCs of God book will enjoy organic sales as a result of recommendation by parents, study groups, churches and children ministries. The book offers the advantage for individual study or in groups. Families with more than one child will want to share the study material for the benefit of all kids and therefore buy more than one copy. Also, it is generally a book that is better owned than borrowed, this too will support a high sales rate and lead to continuous sales.


Promotion
The main platforms where this book will be promoted to new and existing potential readers include:
The book's own website: www.theabcbook.com. This is a website specifically created to present and promote the book and its content. The site showcases snippets from the book, a promotional video and links to the book's social media accounts such as YouTube where new promotional videos for the book will be displayed on a regular basis.
Arvin will continue to establish awareness for the book on additional social media platforms such as on Instagram and Twitter. Within her community Arvin, makes it a point to introduce the book within her close relations using tools such as email, WhatsApp videos, group readings and word-of-mouth. Arvin has been writing her blog Salvation Engine since 2016 and will continue to promote the book using this platform.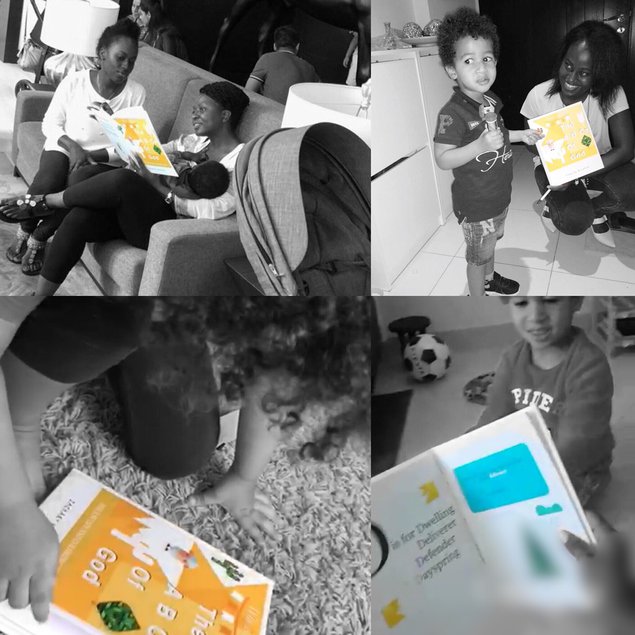 Your name on the top. Your picture on the inside.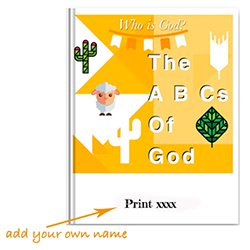 Competition
Arvin's book introduces a level of depth, interaction and structure that competing or similar books don't. The combination of study, color, quiz, word search and writing sections is presented with such great distinction that places Arvin's book in a category of its own. Similar books include:
My ABC Bible Verses: Hiding God's Word in Little Hearts - Hardcover – July 1, 1998
Susan Hunt
About: Presented in an easy-to-use story format that applies individual Bible verses to real-life situations, this illustrated book for 3- to 7-year-olds is perfect for reading to your children or grandchildren, and great for use in churches, Christian schools, Bible clubs, or home schools. It can also be easily adapted for family devotions with young children.The ABCs are building blocks to your child's formal education. And these verses are the building blocks of the soul―the building blocks that can lead to eternal life.
My ABC of God Loves Me Board book – June 4, 2013
Thomas Nelson – Fiona Boon
Christian parents are constantly looking for ways to integrate faith into every facet of life. By combining learning concepts with basic biblical principles of God's love, children learn about faith alongside foundational language skills. With beautiful illustrations and whimsical rhyming text, this padded board book is a soft but durable format for little hands to carry. Kids will enjoy learning about the alphabet, and parents will delight in reminding young hearts of the wonderful ways God shows His love for His children.
The ABC's of God Paperback – November 28, 2012
Peggy Wescott
The ABC's of God is a delightfully illustrated children's book, which uses the alphabet to proclaim the wonder and goodness of God. Children will enjoy the beautiful illustrations, the inciteful prose and scripture references. We will never be able to adequately describe the wonder and glory of God--our words are too limited--but this beautiful book challenges children with the help of their parents to try and, in doing so, will hopefully bring them closer in relationship to their loving God.
The ABC's of God's Character Paperback – October 30, 2015
Jeniffer Weaver
Discover who God is through his Word and colorful pictures. This book will show your children the person of their God using artistic illustrations and appropriate scripture verses. Using the Alphabet as a backbone, this will create an easy to learn list for your child to memorize and lean upon for knowledge and assurance.
ABC Scripture Memory Boxed Set (I'm Learning the Bible Flash Cards) Game – February 1, 2018
Karen Mitzo Hilderbrand and Thompson
ABC Scripture Memory is a fun and artistic way to get the kids in your life excited about God's Word and learning. For each letter of the alphabet, two corresponding scripture verses are featured on adorable double-sided cards. Side one highlights a scripture verse in color, ready to be displayed at home or church; while side two features an additional scripture verse in black and white, ready to be colored and decorated. Also included is a scripture memory chart to keep track of scripture memory goals, plus 10 additional double-sided cards to record and color your very own favorite Bible verses. Your family will enjoy coloring and spending time together while learning the alphabet alongside biblical truths with the ABC Scripture Memory boxed set.