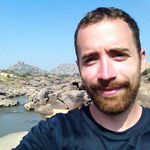 Sheamus Burns
Sheamus Burns is providing book cover design and book layout for Wine Sense.
Sheamus is a graphic designer based in NJ, USA. He's worked with a range of clients to produce logos, promotional graphics, posters, books, and music albums for both print and web.

He also is a practicing fine artist who makes drawings, paintings, and sculptures. A sampling of his work can be found at http://burnsgraphicarts.tumblr.com and he can be reached via email at sheamusburns@gmail.com.