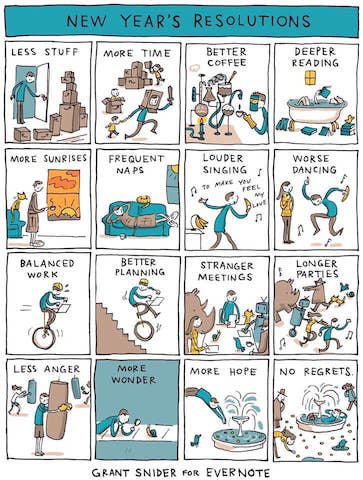 Hi there friends,
I like this list. You can pick a few to suit your tastes. Customize it. I like more hope and no regrets. And of course deeper reading. You might like better coffee, less anger. But here's my pitch for Yet Today, my novel slated for release in spring 2019. By helping me bring this project to fruition, you could put a good dent into at least eight of these by my count. Start with longer parties, louder singing and worse dancing. By subscribing and pre-ordering your copy of Yet Today, you will be automatically invited to the launch party, which I promise you will feature singing and dancing of various types. And reading Yet Today produces equal parts anger reduction, hope, and wonder, and goes well with sunrises, better coffee, and frequent naps.
So go to the campaign page here for Yet Today, look around, watch the video, read the sample. And then look at the pre-order options and join the list of people who have already subscribed with their patronage.
Thanks and have a great 2019 full of better coffee, frequent naps, and no regrets. Hope to see you at the launch party for Yet Today.
Anthony Caplan