Synopsis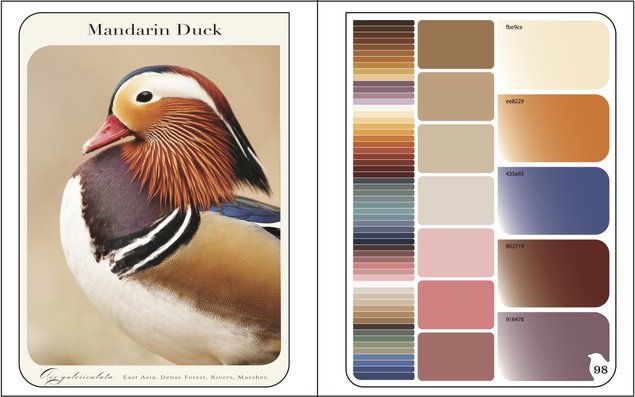 A book designed to work as a simple reference tool for both professional and novice designers of all specialties and experience levels. By illustrating the philosophy that the natural and diverse plumage of birds from around the world can be used for discovering interesting, unique and complementary color combinations that can be applied to all fields and practices of design.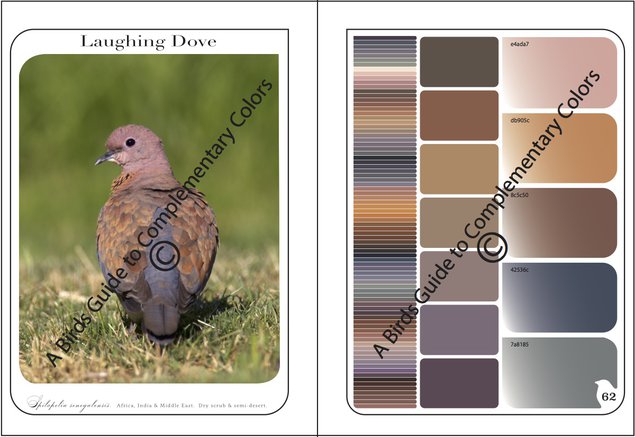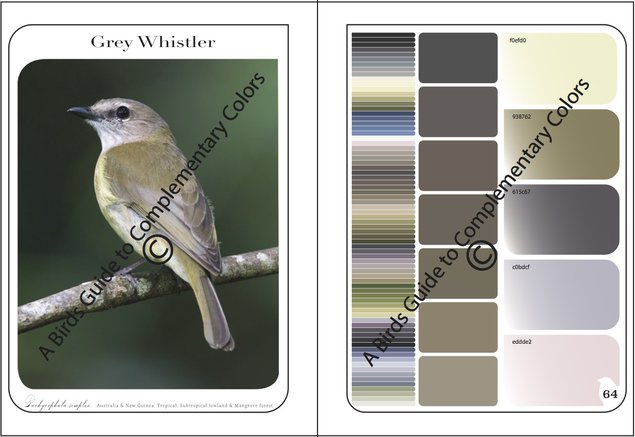 Evolution is the evidence. As birds evolved in their geography and cultures so did their feathers, some for the purpose of attracting a mate, others for the purpose of blending into their natural environments. The success of this species and its varieties are the result of thousands if not millions of years of an evolutionary process that adapted these beautiful birds to be both culturally successful and visually harmonious.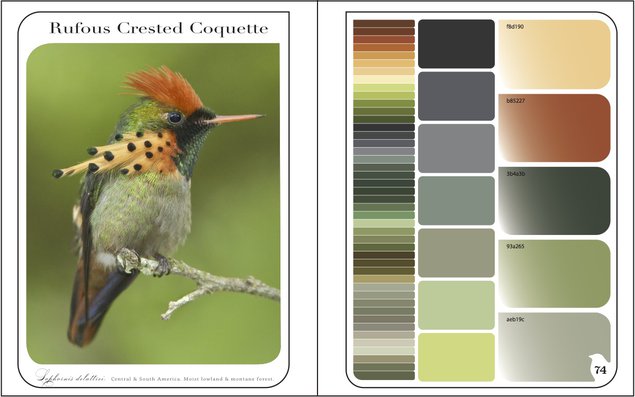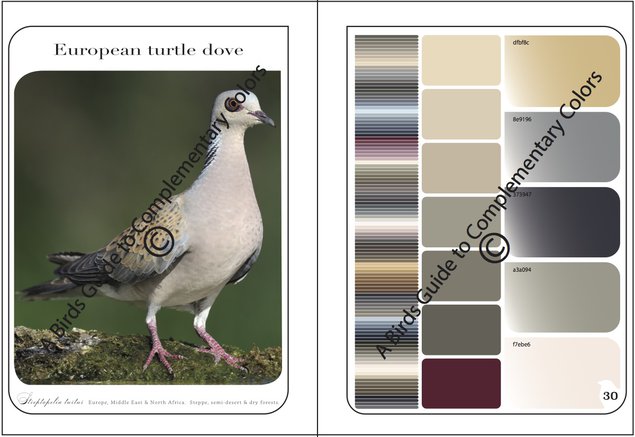 We as an intellectual species exercise the uncommon ability to uniquely express ourselves through our art, by designing how we look and constructing our surroundings. And as we exercise this practice, choices of color become significant. For a few choosing color combinations is a talent, for the rest of us however feeling confident and comfortable about the direction our color projects are headed can be a difficult. The purpose of this book is to help make those color decisions fun, easy and satisfying for all.
Outline
between 145-155 pages. soft cover, photo gloss paper.
10 page introduction
-opening monologue "philosophy"
-using the color table
-tips for interior painting
60 birds divided into three chapters
-Brown & Blue
-Purple & Pastel
-Rich & Vivid
15 page index of all colors shown in each bird with the RGB color codes. Book is formatted in CMYK.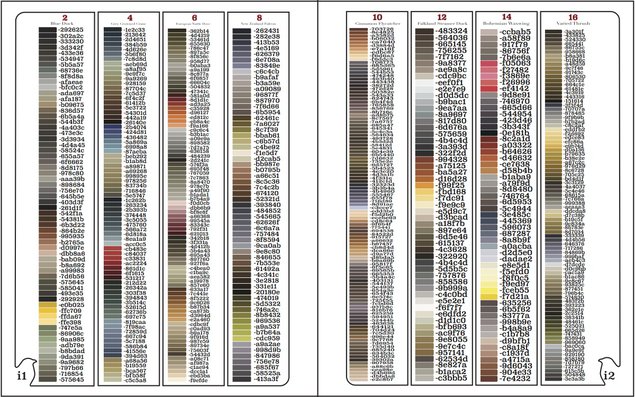 Audience
With such broad use, functionality, and ease of application to consider, it is fair to assume an equally broad interest from both the professional and novice consumer markets.
All professionals employed in design fields would benefit by applying the practical philosophy offered in this product with success. It also acts as an excellent tool for professionals to use in concert with the client as a
reference for discovering the clients unique color preferences, interests and expectations. Designers rely heavily on reference books and tools for textile and material samples. This book though unique is designed to work the same and would easily acclimate to any professional's routine. Employment numbers in fields of design in the U.S. published by the Bureau of labor statistics in 2017 are - Graphic designers (266,300), Multimedia artist and designers (73,700), interior designers (66,500), Industrial designers (39,700), Fashion designers (23,800).
Home owners and the novice home designer are this books target market outside of the professional realm. However, it is very important to recognize this books use and potential in the arts and crafts markets as well.
Color and decisions about color impact multiple facets of the creative person's day to day life and experience, but what percentage of the population is considered actively creative? The Mintel report is a market statistics and analysis company that studies and reports on consumer behaviors and trends. A lifestyles and leisure analyst working for the Mintel report is quoted on their website stating "59% of adults can be classified as a crafter".
That puts 6 out of 10 adults in a creative mindset that would find value in a book about interesting color combinations that exist in nature. Wikipedia.org puts the number of adults in the U.S. in 2014 at 245.3
million, 59% of which is 144.7 million and that is the market of adults this book would appeal to in the U.S. alone. Internationally the functionality this book uniquely presents does not discriminate and every person, in
every country, in every culture around the world could find use and enjoy!
Promotion
Promotion of the book on social media platforms like Facebook and Instagram have already produced great results by connecting artists and bird enthusiast to the crowd funding campaign. This post alone garnered thousands of responses and sold over 70 copies in 10 days. Implementation of a cost effective, targeting strategy of boosted posts that engage a variety of communities that the book appeals to has already produced consistent book sales for less then $30 a day. Participation was much higher then sales, and that tells me that interest in the idea on its own is sincere. Putting a physical book in potential customers hands is paramount and brick and mortar participation is key. Traditional distribution that puts the book on book shelves must be exercised, and the potential that paint stores like Sherman Williams, hardware stores like Home Depot and art and craft stores like Hobby Lobby that the use of this book is aligned with should be investigated.
Competition
There are countless nature books about birds and their taxonomy. There are also a handful of books about the color rainbow in its natural and digital forms. Currently there are no books or publications specifically combining the two as a design reference tool as this book (and any of its proceeding volumes) does. There are forums on Pinterest that have extracted 4-5 dominate colors from a variety of artistic photos to which birds have been a few.