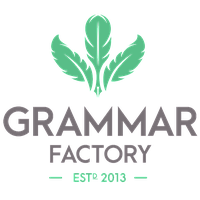 Grammar Factory Publishing
Grammar Factory exclusively serves entrepreneurs, business leaders, and subject matter experts, in publishing expertise-based, non-fiction books.

We offer truly integrated services, including professional editing and proofreading, print, e-book, and audiobook publishing, book marketing, as well as ghostwriting, writing workshops, and coaching for entrepreneurs and business leaders.

Grammar Factory continues to attract ambitious, entrepreneurial clients because we're noticeably different from other alternatives for publishing expertise-based, non-fiction books.

1) Entrepreneur-focused
We're a business-minded publisher that serves entrepreneurs and business leaders exclusively. We don't dabble in fiction, poetry, or children's books. We're focused 100% on publishing books that deliver results for you and your business.

2) Flexible author-entrepreneur support
We flexibly provide as little or as much support as you need, from editing-only packages through to full-service packages that include ghostwriting, publishing, and book marketing.

3) Quality-obsessed
We're obsessively committed to publishing high-quality, professional-caliber books. We make 100% certain that your book meets and exceeds professional publishing standards, and enhances rather than detracts from your personal brand.

4) Book Blueprint system
Our proprietary Book Blueprint process guides even the most inexperienced writer from idea to structured and detailed outline in short order, making the rest of the writing process far easier.

5) Bestseller campaigns
We've refined our approach to bestseller campaigns to reliably rank your book in Amazon's bestseller lists, providing a high-value, hard-to-replicate authority signal that demonstrates your authority in your field.
Service publisher
Mind & Body, Biography & Memoir, Business & Money, Career & Success, Cookbooks, Food & Wine, Communication Skills, Corporate Culture, Creativity, Current Affairs, Economics, Education, Entrepreneurship & Small Business, Health, Fitness & Dieting, History, Journalism, Management & Leadership, Marketing & Sales, Mindfulness & Happiness, Money & Investment, Motivation & Inspiration, Nature & Environment, Parenting, Personal Growth & Self-Improvement, Philosophy, Politics & Social Sciences, Popular Science, Productivity & Time Management, Psychology, Religion & Spirituality, Science, Sex & Relationships, Society & Culture, Technology & the Future, Travel
Canada, United States, Australia

PRESStinely
At PRESStinely our most paramount purpose as a publishing service organization is to partner with authors and entrepreneurs to bring their creative projects to life. Deciding to be an author is terrific; determining to be a published author is impressive; deciding to properly write, edit, design, market and launch your book is a must. Collaboratively, we strategically move through the publishing process ensuring mistakes are avoided and the end product is not only a book you are proud of but will be used as a tool to build your brand.

Partnering with PRESStinely means you as the author retain all creative control, all future revenues from your book. Our approach is simple -1 - Partner with authors and entrepreneurs to guide them through the entire publishing process. 2 - Customize every package offered to fit each client's needs. Pricing for our partner services vary from $500 USD - $7,500 USD. 3- Provide the vision, skills, and tools necessary to ensure success. When our clients succeeds, we succeed. 4 - Identify gaps and opportunities to build a brand efficiently. 5 - Become our client's "right hand" and bring their creative vision to life.

You should spend as much time publishing and marketing your book as you did writing it, together we will leave a mark on the world.
Service publisher
Children Fiction, Literary Fiction, Mind & Body, Mystery, Thriller, Horror & Suspense, Romantic Fiction, Science Fiction & Fantasy, YA Fiction, Biography & Memoir, Business & Money, Career & Success, Cookbooks, Food & Wine, Health, Fitness & Dieting, History, Journalism, Personal Growth & Self-Improvement, Politics & Social Sciences, Religion & Spirituality, Science, Society & Culture, Sports & Outdoors, Technology & the Future, Travel
Worldwide