By Lee Constantine, Head of Author Success at Publishizer
"Learning is a nurturing process that helps you grow from a teeny wrinkled seed to a stout and graceful tree." — Kristyna Z.
What's more interesting than this aspiring diplomat turned entrepreneur activist turned book author, is her approach towards discovering anything worthy of occupying her precious time and attention.
Kristyna Z. explains her decision to write a book as a series of organic occurrences and evolutions that would ultimately get her message into the hands of more people. In fact, obtaining the title of 'Author' was furthest down on her list of reasons.
Having founded and bootstrapped MAQTOOB, a platform which allows entrepreneurs to find the best business tools and unique handpicked apps that will teach you practically anything, from making hummus to building apps in node.js, most of them for free, Kristyna of course would like this book to get sales and bring in revenue.
However, the true purpose behind why she is writing her book, Born To Be An Entrepreneur, remains more of a diplomatic endeavor.
Last year, Kristyna also launched an initiative to give free workshops in emerging countries where locals can learn how easy it is to start a business and become an entrepreneur. "We are talking to so many entrepreneurs in so many countries during our workshops. This experience is something much greater than myself and this company; it's something I feel I must stretch the vision even further to reach more people," she says. And to show she was serious about it, MAQTOOB skipped the seed round and self-funded the entire project.
Now, what was suppose to be a one-year project will turn into a two-year project. Kristyna will connect and work with hundreds of entrepreneurs of different cultures and backgrounds. This experience will all be reflected in the book.
It will not be a collection of case studies, however. It will be an introspective piece on how Kristyna views entrepreneurship and what it means to create value for your community through social impact, all while having control over your own life.
Big things start with experimentation
Kristyna started experimenting with her writing on medium to see if going deeper into the topic of entrepreneurship would also appeal to her followers who already read about technology apps. She published typical startup articles and one went viral with 3+ million views and 32k recommends.
Her articles have since been published in TIME, The New York Observer, Business Insider, The Next Web and many others.
Everything she does appears to be somehow connected. The blogs she writes are related to technology or mindful entrepreneurship, which evolved into a book, which will in turn connect with and share the purpose of MAQTOOB and entrepreneurs all over the world.
"I never woke up thinking I wanted to start a company. Same as the book idea. It started tiny and grew bigger and bigger."
She's gained followers on Medium and Twitter, made more credible connections on LinkedIn, and had the attention of potential partners and investors through large international business publications. This momentum now allows Kristyna to command more attention when she publishes something.
It also allows her to experiment with her book in measurable ways not necessarily available to other authors. She recently published the first excerpt from her book to her existing followers and subtly offered a free copy to anyone who subscribed.
"When I first did this, it was idea validation to test if people would be interested in a book that I was writing," she said. "Once they clicked on the link from by blog, all they saw was a simple cover design. I mostly wanted to make them aware of it, and then if they wanted it they had to find out how to subscribe to get it when it launched. I didn't even describe the book."
Turns out, a lot of people are subscribing, and therefore figuring out where to find the book. Clearly, a great way to build a loyal audience around her area of expertise.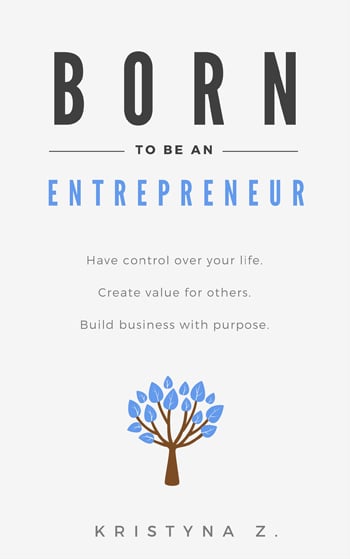 This is motivating to say the least. Her Medium followers are inching towards 8k, overshadowing her 1.6k followers on Twitter, not to mention her growing newsletter subscribers from MAQTOOB. Which means Kristyna has a solid community she can use for promoting her book and ensure a successful launch — or at least test it out and learn from it.
Breaking the rules of publishing
Kristyna is an avid book reader and knows how the book ecosystem works and functions — especially on Amazon, and she's eager to apply it to a book of her own. Like her workshop project in emerging markets, she's also self-funding — and self-publishing — this book project.
"I shared the idea, got feedback and then wrote more. Then I researched publishing options to see the best path. I discovered that self-publishing is trendy and appealing. Successful books are often driven by a committed authors, usually a CEO or entrepreneur. I can do this entire process on my own," she says.
Being in the business world, it also makes sense to consider every option, including the benefits and expenses of each. When asked if she would turn down a publisher, Kristyna told us, "I would listen to the offer and choose the best deal for my book."
Running a startup breeds experimentation, but it also takes up a lot of time. Ultimately deciding not to look for a literary agent or a publishing company or an editor, Kristyna sets her own book deadlines and tries to hit them — so far, successfully. She's in a good position without a literary agent, it seems.
Actively growing her book subscribers and increasingly dedicating more time to writing chapters, she doesn't consider treating her book like a business. She does, however, consider her skills running a successful startup transferrable to getting her book out there. Which is "how you should approach anything you are doing in life," she says.
"You need to make sure your product has a market fit. You don't want to invest $10k in a product or a book nobody cares about. You also don't want to invest your time in something that doesn't make you happy."
Conclusion
The most lucrative types of books are backed by entrepreneurial authors who treat their books like a startup. These are the top 90% of authors. They do their due diligence on what it really takes to spread their book and their message to the masses.
"I'm not in it for the vanity. I'm in it for impact." — Kristyna Z.
They test things, learn and then test again. And the more they discover they're playing in an industry ripe for disruption, they're all the more motivated to succeed at it. Entrepreneurial authors are realizing that you can break the rules of publishing, hack growth and redefine what it means to be a successful book author.
Kristyna Zapletalova is an entrepreneurial author in every sense of the word.
Cheers.