PRIX D'AMI
This is the biggest, prettiest and one of the coolest coffeeshops in the Centrum, by far. It's also one of the closest shops to the Central Train Station and one of the earliest available coffeeshops with a 7 am wake up. It comes with three floors of comfy goodness, with big beautiful leather couches, pool tables, and electronic game tables. It has an extensive food and drink menu with waitresses & table service. It's one of the most complete package coffeeshops in Amsterdam.
Wicked good selections on all sides. Indica Highlights include Razzberry Waffle and Girl Sout Cookies Sativa salivations could be Pineapple Express or Mr. Nice -G13.

I recommend to hit Dr. Grinspoon while there. It's like a shot of adrenaline. It will have you dancing on your toes for the next hour or so.

On top of their wide menu selection and comfy environment, they have top notch security and will also watch your luggage up front if you have arrived before your hotel checkin time.

KATSU
This place is Rock and Roll - colorful and legit. If you also happen to be a Rolling Stones fan, then you get an extra bonus - you will absolutely love this place. Besides having one of the largest menus in the Suburbs, Katsu is perfectly located right next to the famous Albert Cuyp outdoor market, and has a gallery of rock and roll feel inside. They even have some paintings done by Keith Richards on display.

Like I said, huge menu available here. Options every which way with killer coffee and munchies to keep you going. Another bonus is that this is another shop where the herb is pre-packaged so you don't have to watch the bud get molested (again). The package you'll pick up is puffy and the bud will be tasty.

This place is usually very busy, but it is always worth the trip as the staff here are excellent and there are so many cool places to check out close by. Besides the market, you also have several great spots for breakfast, lunch and dinner.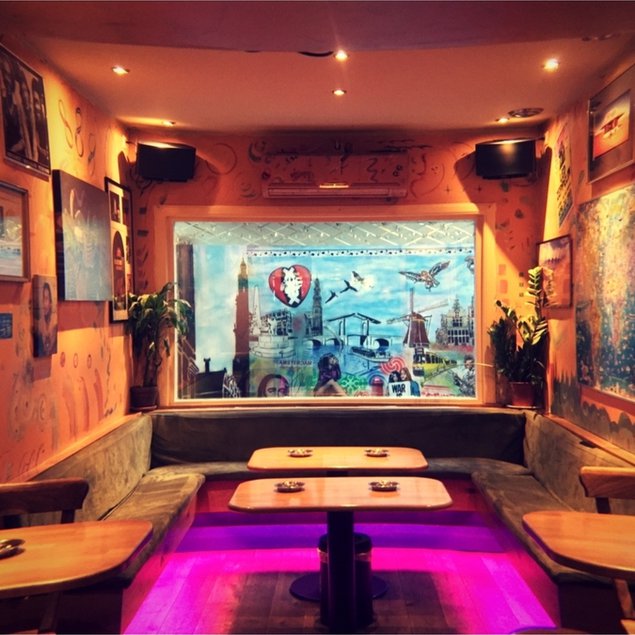 INTRODUCTION
In this Connoisseur's Guide, in addition to sharing with you the "Best of the Best" coffee shops in Amsterdam, I will be also be sharing little tips, tricks, stories and legends that I've learned and heard through all of my experiences here smoking the sticky icky in the "Coolest, Stoniest City in the World!"
A Crazy Idea--
It all started innocently enough... my friend and his wife from Victoria BC Canada had recently come to visit me in THE DAM and right away, the question come up..."So where's the best coffeeshop in town?"
That was when the reality of my lack of CURRENT coffeeshop knowledge hit me. Here I am living almost dead center of Amsterdam, at the crossroads of "Sodom and Gomorrah" as I like to say, (middle of the coffeeshops and the Red light district) and yet I COULD NOT give him a accurate reply. WHY? Because how can anyone say what's the best of the best if you haven't been to them all...., right?
I hadn't been to them all. I would just be guessing. Soooooo
Next thing I did was do a Google check around to find out if any ONE PERSON had ever went to ALL of the coffee shops and smoked the best from each one. NOPE. OK then... Challenge accepted!
I already have a core group of Coffeeshops that I had been a repeat customer of since the early 90's. In those days, My FAVORITE place of all times was The Greenhouse in the Centrum. It was conveniently located right next to the hotel I always used to stay in - the Sofitel GRAND. Nothing could be more convenient. Check in - walk 20 seconds to the front door of the Greenhouse, and I was in Hooter Heaven!
But NOW fast forward 25 years to 2017 and I'm now living on the same street as The Greenhouse, but now more than 1/2 of all the coffeeshops have closed.
That leaves 165 coffeeshops up and running (at the completion of writing) So I say to myself. "Hey! I have the skills, attitude and resources to REALLY answer this question properly. It's ONLY 167 coffeeshops... cough cough."
I had been to all the MAIN coffeeshops during my Cannabis Cup visits over the years, but as I started this project, I was keenly aware that I would be writing about a very different Amsterdam from those joyous Cannabis Cup years hanging with Chef Ra, listening to the High Times magazine editor in chief, Steven Hagar expand our minds...
Everybody has different tastes and different tolerances. I had this at the top of my mind as I was developing my strategy on HOW I was going to approach this in a manner that would be FAIR to everyone. I did NOT want to go into this with any PRE CONCEIVED prejudices or favorites, so I decided that I would go into each coffeeshop like it was the very first time I had ever been there and then review it that way.
I also decided that I would go in and buy 1 gram of WHATEVER was listed as the HIGHEST PRICED bud they had, or whatever the "budtender" recommended as being "their very best". So all samples you will see were the best of the moment. It's just a snapshot in time. It was completely random. There were a couple of exceptions... SEE Chapter about GG#4.
Another thing I did, in order to make sure everything was on a level playing field, was with consistent TIMES I did my tastings / reviews.
I upgraded my process a bit based on some excellent advice that was given to me from a family member that works in the wine industry...
He mentioned to me that he had attended a zillion professional wine tastings, and that they were usually set up around 11 AM in the morning. The purpose of this is that your taste buds are at their premium at that time.
In fact, Professor Emile Peynaud said, in "The Taste of Wine", that the best time to taste WINE is between 11 a.m. and 1 p.m - he also said, "If need be, another possible time is around 6 p.m., even though one's tasting performance will not be so good". If it worked for wine - it should work the same for Herb.
So after some testing I decided for me personally, after breakfast between 10 am and before lunch 2 pm would be my premium times each day, AND if I couldn't finish in that time, I would follow up at 6pm.
The last thing that I did to TRY to make this a fair and consistent comparison test is that I always started off with a big smile and asked "How are You Today?" (Another big Smile). I highly recommend this as a excellent way to get things going on the right foot. You have to remember that many of these people are dealing with hundreds of people a day a lot of them with very little knowledge about what they want so they're having to do their "Do you want to get high or do you want to get stoned" routine over and over and over again. By smiling and asking them how their day is will break their monotony and you might even get a smile back in return.

One of the major props I need to pass out early has to go to Max Montrose from THC University for creating some excellent tools that I used to properly accomplish my stoney quest.
Mr. Montrose defines interpening as "The practice of assessing the quality and psychotropic effects of a cannabis flower using only sight and smell". Over at the THC University you can sign up for classes and purchase some of his gear. The Weed Wheel and Interpreting loop were excellent tools to reference when I was tasting so many strains back to back to back to back...
(Pic interpening loop)
One of Max's great quotes about the necessity of having such tools... "Imagine going to a bar and ordering a stout and being served a Pilsner," he said. "That's what's happening in cannabis right now."
Here in Amsterdam, this is happening all over the place. I have been told some side stories about "The naming game" that some growers have played here FOR DECADES...
Changing the name from one strain to another can be the difference of THOUSANDS of euros a pound for the coffeeshops. Which obviously gets passed on to the customers.
I needed to REALLY know my shit going into this project, especially doing the tastings back to back to back.

Notice how many Kush's, Diesel's and Haze's? When you go through this guide you will be able to look at each of strain sample pictures shot down to the Trichome level so you can decide for yourself.
The funny part is everyone knows, but nobody knows - all at the same time. It absolutely blows me away how many people I met during the writing of this book, some of them working for 10 to 20 years or more in the industry who had almost no knowledge about basic marijuana information. Not to mention any detailed info like THC or CBD %'s Or what a trichome is...
What happened? When I think back to 1995, all the coffeeshops were filled with owners and staff that were HAPPY, they were HOSPITABLE, they were KNOWLEDGEABLE and customers felt APPRECIATED!
There were MICROSCOPES in all the best shops. They WANTED you to see how good the quality of the herb looked up close. During my tastings, I used a jeweler's loop and a microscope to inspect the samples. Whenever I my loop on site at the coffeeshops, I would often ask if they "budtender" had ever seen their best bud under magnification. WAY too many had never used a loop to look at the bud.... Ever!
These changes in attitude, professionalism and quality are most profoundly felt by those people who remember the "good ole days" and also have been able to experience all the progress that has been made around the globe.
The leap, travelers from North America are having to make in experience and quality coming to Amsterdam is becoming larger and larger as every day goes by...
Imagine starting from someplace like my favorite dispensary in Victoria BC, The Farmacy, where every strain looks like a centerfold model, glistening in trichomes... Amazing, happy knowledgeable staff that are highly trained and make you feel like everyone working there could each write their own guide books on bud. Everything is Spotless. NOBODY touches your Bud... hell they even have a sign on the door that says "Your bud has only been touched twice - once when it was harvested and once when it was put in the bag."
But that is not the case here.
Here in Amsterdam you will need to be vocal up front when purchasing bud. If left unchecked, your bud will be molested like a hot actress doing a screen test for a Harvey Weinstein movie.
The way I like to go about it, is to ask them to see the offerings, and then I will pick a Bud inside that offering I will point that out and I will ask them "Please just use two fingers and pick up that bud by the top and the stem and then whatever that sideways I accept it and pay for that as of this."
If you asked for a specific gram amount, he or she is going to pick up that bud and start molesting it to pick off a little bit some pieces in order to make it the weight that you wanted. It's much better to simply say I want that bud and pay whatever the prices for that bud. It will get handled the least, by far, by doing it that way.
The good news--
I suffered through a lot of shitty coffeeshops here in order to pick out these, Best of the Best coffee shops, so that YOU shouldn't have to go through any of these issues. But always remember we are all human and very individual.
You might run into one of these places that I have recommended and somebody's having a bad day or they just brought on a new employee or whatever. Sometimes shit happens. Just know that when I went through here and tested them, on a level playing field, these really were the Best of the Best during this snapshot in time.
Ok let's spark one up, and decide what to do once you get off the plane - or off the train, arriving in the stoniest city in Europe.