Have you heard I'm publishing my new book, Date Yourself, November 11th!

When I realized that I spent more time and energy in a day beating myself up and trying to pretend to be someone else it was no wonder I was exhausted.

I wrote this book because I desperately needed it myself. I needed tools and practices for genuine self-love and self-care that went beyond the superficial.

Who's the most important person in your life? Who takes the best care of you? If the answer to both questions is not you, Date Yourself has something priceless to offer you,
In celebration of my book release I am offering a Free three-part training (November 9th, 10th, 11th.) We will go through some of the foundational practices together (we will actually do the work, not just talk about it.)
Join me for the training: click here to register
Get a sneak preview of the most up-to-date version of the book
You will think and feel differently about yourself from the very beginning.
Be entered to win a month membership to the intimate & supportive community of Women's Circle to take your Date Yourself game to the next level!
'Dating yourself' can (and must) go deeper than the trappings of 'treat yourself' culture, since self care without self reflection serves only the corporations who sell us our chocolates and skin creams. In this warm and empowering book, Sierra encourages her readers to 'write their own Rosetta Stone' of what lights them up—inside and out—and to use that list on a daily basis. Her approach is both nourishing and practical, as playful as it is profound.

--Camille DeAngelis, author of Life Without Envy: Ego Management for Creative People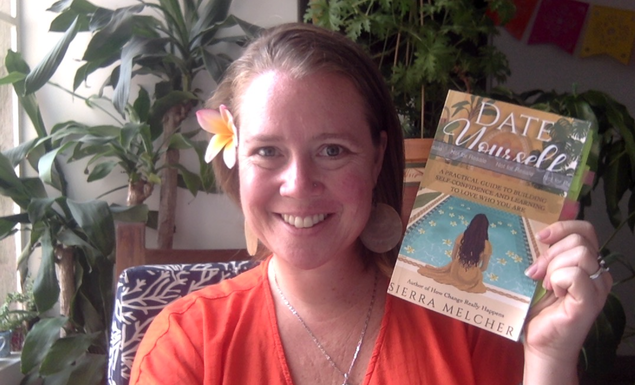 Click here to register for the free 3-day training.
Get your sneak peek chapters right away. Your copy will be on its way to you on Nov 11. **Please let me know if you have a new mailing address -- so I can ship it to you where you are.
Thank you for accompanying me along this winding journey. We made it!
Love, Sierra