Synopsis
An efficient, no bullshit guide to health and wellness fueled by science and experience.
In the modern world, the average white-collar worker spends around seven hours a day at a computer. Whether you work from home, in an office, or on the go, chances are you spend the majority of that time in the seated position.
The problem is sitting at a desk can have some serious effects on your health and your wallet. Three of the most costly health conditions in America today are perpetuated by a life spent behind a desk: diabetes, obesity, and chronic back pain.
Do it at your Desk will provide you with the tools necessary to prevent both the monetary and physical costs of siting at a desk without forcing you to dramatically change your lifestyle.
How's this possible?
Do it at your Desk will give you the tools you need to develop your health and wellness program not somebody else's.
By the end of this book you'll learn four things:
1) To build a custom diet plan that fits your lifestyle
2) The concrete steps to go from sedentary to strong without risk of injury.
3) A host of strategies to prevent and relieve the chronic back and neck pain caused by working a desk job.
4) How to cut through all the fitness industry nonsense and focus on what actually works in order to reach your health and fitness goals.
Outline
Do it at your Desk Outline- (Every section will begin with a "fit tip" or quote)
1) Don't buy into the B.S.
Intro
My Story
The cost of not exercising
What you need, what you don't need
Supplements
Fads
B.s in general
Common myths debunked
2) Diet: choose your own adventure
Intro: why all diets work
Why I don't preach keto even though it works
Practical diet tips explained: 50% veggies
Sleep
Water
Client anecdote
3) Flexible dieting, how to win at eating
What is it?
Who's it good for?
How do you do it?
Tips for success
Client anecdote
4) Paleo Smart, non-processed foods and low insulin levels
What is it?
Who's it good for?
How do you do it?
Tips for success
Client anecdote
5) Intermittent Feasting, The subtle mix of self-discipline and gluttony
What is it?
Who's it good for?
How do you do it?
Tips for success
Client anecdote
6) Diet Wrap up
How to choose what's best for you and tips for maintaining your lifestyle indefinitely
More things to avoid- Protein bars
Overeating
Unbalanced diet. Talking about nutrient density of your food, and sample meals
Condiments
7) Strength: the only reason to exercise
Dieting and walking for weight loss
Exercise vs. movement
Injury avoidance
Sedentary to strong explained
Standing up straight and walking properly
Corrective exercises for people who cannot achieve certain criteria
Take your shoes off
Client anecdote
8) Strength: fundamental movements
Squatting deep enough to defecate
How to squat
Pick something up properly
How to hinge/deadlift
Getting of the ground without using your hands
How to lunge
Client anecdote
9) Strength: Are you strong enough to run?
Strength test to see if you are strong enough
What criteria running strength is based on
How to become strong enough to run
10) Strength: Sex
Sex is an effective motivator for exercise
It is a workout in itself
It can be preformed better when stronger
Exercises that are beneficial for sex
Strength conclusion: do the exercises that you enjoy and keep you injury free
11) Sleep expanded
Why sleeping is so important
Sleeping for fat loss
Sleeping for muscle gains
Sleep posture for pain relief
Client anecdote
12) Podium Posture
Why good posture is important
Client anecdote
Posture and Pain relief
How to achieve good posture
Prevention of future pain
Correction
Exercises for posture
13) Depression
How posture influences depression
Client anecdote
What exercises and practices to try before medication
Steady state cardio mental benefits
Sleep and diet mental benefits
14) Strength: Bodyweight first
Bodyweight before weights
Tempo vs. resistance
Start at your desk
15) Don't let slip ups ruin your progress
Mental strategies for dieting and exercise
Rest days, active rest days, and benefits
The long game

How this isn't just a phase in your life
You will be doing this in some fashion for the rest of your days
16) Conclusion
Avoid the noise (bad info)
New age fanciness that isn't bullshit meditation, and cold therapy.
Consistency is far more important than intensity
17) Workouts- Extras
Sedentary to strong
Training to run Programs
Exercises related to sex
Workout Library
Audience
My primary audience are people who work desk jobs and would like to either lose weight, gain muscle, or relieve pain caused by prolonged use of technology.
The book is aimed at the busy individual who doesn't have time or doesn't want to go to the gym everyday but still cares about their health and appearance. He or she has a job that involves lots of sitting.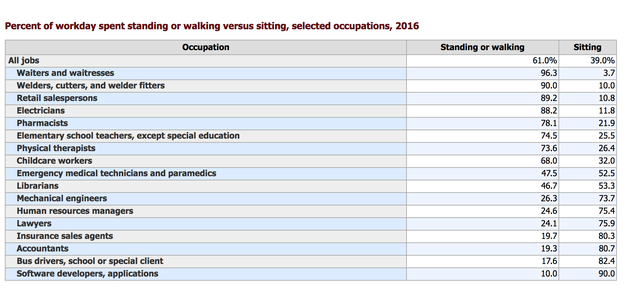 Additionally this book could be paired well with any corporate wellness initiative making customers out of companies.

When starting a job at a new company often time the HR department will give you a book that reflects the culture of your new workplace. Imagine if there was a book you could give to every new employee that could save you money long term?
Three of the most costly health conditions in America today are perpetuated by a life spent behind a desk: diabetes, obesity, and chronic back pain.
Diabetes

Diabetes is the most expensive disease in America today. Each year over $186 billion is spent combating it. Diabetes costs not only insurance companies, but also any individuals with a diagnosis can expect their out of pocket insurance expenses to more than double.
Additionally, according to the American Diabetes Association, 84 million Americans are prediabetic, and 90 percent of them don't know about it.
An average employee with diabetes will miss at least one more week of work per year than a healthy peer.
Silver lining:
Exercising just a half hour every day can reduce your risk of diabetes by 24 percent.(1) Beyond that, type 2 diabetes is largely influenced by your diet, and prediabetes can be reversed with diet and exercise alone.
Obesity

Obesity in and of itself doesn't damage your wallet, unless you count larger meal portions as a major expense. However, all the negative health issues that come along with obesity can leave your pockets feeling lighter. As a person's BMI (body mass index) increases beyond healthy levels, so do the number of sick days, medical claims, and healthcare costs. An obese adult spends 42 percent more on direct healthcare than the average healthy individual.(2) In addition, an obese individual is twice as likely to be on prescribed medication. (3)
Silver lining:
While an improved diet is the fastest way to improve body composition, adding daily cardiovascular exercise can greatly lower your risk of these aforementioned costs.
The beginning part of any weight loss program is always the easiest. Even small changes like removing sugary beverages, getting a good night's sleep, and eating vegetables can have a huge impact on your weight!
Chronic Pain

It should come as no surprise that the human body is not meant to be seated in the same position for 8-12 hours every day. Chronic back pain has become a $41 billion industry in America today, and business is still growing.
Chronic back and neck pain are exacerbated by spending your day bent over a computer or struggling to read tiny messages on your phone. Unfortunately, visiting the chiropractor and getting massages every other week is not a cost-effective form of pain management.
Silver lining:
The good news is that chronic pain can be prevented! Probably the most important thing you can do to prevent chronic pain is to bring consciousness to your posture.
Start by thinking about how you are sitting, and make a mental note to sit with your chest up and back straight, take breaks during the work day, and walk around as much as possible.
No matter what you do for a living, being active and dedicating 30 minutes a day to personal maintenance will save you money!
(1)http://www.diabetes.org/diabet...
(2)The Robert Wood Johnson Foundation, the American Stroke Association, and the American Heart Association. A Nation at Risk: Obesity in the United States, A Statistical Sourcebook. Dallas, TX: American Heart Association, 2005. (accessed April 14, 2008).
(3) Finkelstein EA, Trogdon JG, Cohen JW, Dietz W. Annual Medical Spending Attributable to Obesity: Payer-and Service-Specific Estimates. Health Affairs, 28(5): w822-831, 2009
Promotion
I have two blogs jakedermer.com which gets between 850-1000 unique visitors a month and a new website called doitatyourdesk.com. I intend to promote the book on both. Also I regularly post "Daily Fit Tips" on facebook(2495 friends, and 142 business followers) and linkedin (1200 followers).

Additionally my largest following is on instagram(15,000) and will share stories constantly leading up to the launch.
Action steps:
Across all platforms the ten days leading up to campaign I will countdown the days until it goes live after all of my "Daily Fit Tip" posts in order to create hype.
During the month of August all 23 weekday Fit Tip posts will feature a link to preorder the book
I intend to create a book cover graphic for Instagram as well, which I will post in my story along with a link to preorder. I will be posting this Story on instagram every three days throughout August.
My weekly email to my 250 subscribers will also feature a note about the upcoming book throughout August.
Email current business clients and offer discounted rates for an office wide purchase.
Competition
1) Deskbound- Kelly Starrett; 2016.

It focuses primarily on the negative effects of sitting and how to fix it. In my opinion it is far too long for someone not in the industry to read and enjoy. The target audience appears to be fitness professionals.
2) Burn the Fat, Feed the Muscle: Transform Your Body Forever Using the Secrets of the Leanest People in the World- Tom Venuto 2013.
Tom focuses on how to apply the secrets of body builders to the average joe. Which is great for certain types of people with certain body types but cannot be applied with broad strokes to the general public. Additionally when it comes to leaning out the strategies used by body builders are not necessarily ideal for someone with very little lean muscle mass.
3) Man 2.0 Engineering the Alpha: A Real World Guide to an Unreal Life: Build More Muscle. Burn More Fat. Have More Sex
John Romaniello, Adam Bornstein- 2013
This is a great book that touches on some of the same topics as "Do it at your Desk" written more for the "fitness bro" than the adult general population. Aimed at someone currently doing a fitness routine. While Do it at your Desk is aimed at the more sedentary individual.

4) The Obesity Code- Jason Fung 2016
Jason target audience is the overweight individual and he teaches you how to reverse the symptoms of pre diabetes. He gives people with the goal of improving their health and body composition a guide to starting from scratch. That's it though, his goal is to take you from at risk, to no longer at risk, and it takes 250 pages for him to tell you to eat more vegetables and intermittent fast.
5) Move Your DNA: Restore Your Health Through Natural Movement-Katy Bowman, 2014
Katy is a brilliant biomechanist who focuses on healing the body through movement. Her and I agree on the a lot of the ways a sedentary individual should go about starting a fitness journey. Her book focuses only on movement, that's the subject of the book. However body composition is mostly influenced by diet and my book's focus is to get you looking and feeling good.
6) Starting Strength- Mark Rippetoe 2007
Mark's book focuses on taking a beginner weightlifter from ignorant with a barbell to an expert on barbell exercises. His book is a straight forward guide on how to get strong with the single best piece of equipment ever made. It is all about barbells. I would like to do what he did but with body weight workouts and for someone just starting to workout.
7) The Naked Warrior- Pavel Tsatsouline 2003
The naked warrior is a an intro to body weight workouts for the incredibly fit person. Pavel teaches the two body weight workouts that he claims are the most challenging. The single arm push-up and the pistol squat. The format of this book is great and the instruction on how to do certain exercises in unparalleled. However the audience is the super fit individual.
8) The New Rules of Lifting: Six Basic Moves for Maximum Muscle- Lou Shuler and Alwyn Cosgrove

Arguable the best book on strength training for a beginner out there. They attempt to take a beginner from no experience training to an expert by having them drill the only six movement patterns that matter. Alwyn Cosgrove had a big influence on me as a trainer when I first started. His book teach strength training in a very efficient way.
9) Eat to live- Joel Fuhrman 2003
In this book Joel Fuhrman will convince you to turn almost vegan based on the amazing health benefits. It seems specifically aimed at someone at risk of cardiovascular diseases. He makes a great case for almost vegan living. He gives great examples on how and why to live a primarily plant based existence. The express focus of this book is dieting for cardiovascular health. Very similar to the obesity code (#4) except with a more vegan tone to it and less intermittent fasting.