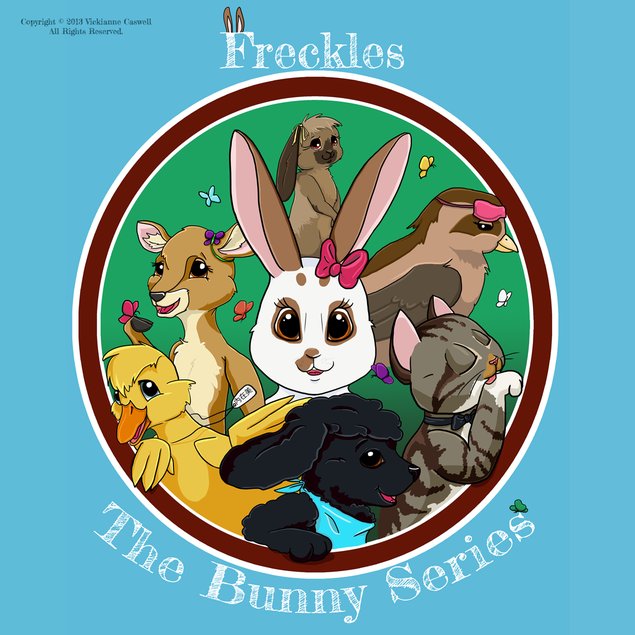 About Freckles and the Books
Freckles the Bunny Series was based on my favorite rabbit that passed away. I wanted to share my love for rabbits and for her so I began to write tales about her and her friends. Each main character is based on a real pet with the same unique personalities. The stories are often humorous and teach a moral or two within. The books are written for ages 6 and up. I have found that many older children enjoy them as well though they are recommended for the younger ones.
Freckles' first book was published November 2013. Since then, 5 more Freckles books have been produced and more on the way. The books are slowly getting followers and I was able to create a spin-off series for the lower to middle-grade levels. I have only been able to advertise on my own Facebook page and in that time I have made enough to cover illustrations for two books. I have won numerous Readers' Favorite 5 Star Review awards.

The books are currently published on Createspace (an Amazon.com company) and e-books through Smashwords. Most publishing companies that accept new authors rarely take on a series, especially in the children's area. That is why I chose to self-publish at this time. Due to the fact that I am working on some other stories not belonging to either series as well as some virtual novel games, we have placed everything through one name, 4 Paws Games and Publishing. I am telling you this so that there is no confusion.
Freckles the Bunny Series Flipbook Previews

Freckles the Bunny Series Website

My Goal
I don't have the financial means to give this the push that I need. I require more books then I am able to obtain myself if I wish to attend events that could help do this. This is why I would like to stock up on books. I am also hoping to find someone to help with the marketing to make things a little easier on me. I do have some ideas on where to place ads, etc. but this also requires money. I have an upcoming book on bullying that I would love to hold a book launch for as well if possible. The store that holds them has the books that launch there end up in their best sellers list. I have done well in the amount of time I have been going and I know a bit more money would help get this to succeed a lot faster. I realize the amount I am hoping for may not get me all of my goals but it is a start and will help work my way there a little faster.

Notes:
1. All signed books are signed by both the author and Freckles II's real paw print stamped into the book.
2. All e-books can be found on Smashwords for download with the coupon code you receive for your free book if eligible.
3. All those who help will be specially thanked in upcoming books.
4. Pets in book requires the photo to be your own and I will need you to sign a document giving permission for us to use. The pets' info will be included in the back and will be drawn into at least one page.
5. The books cost me roughly $8/book to buy and ship to myself.