Synopsis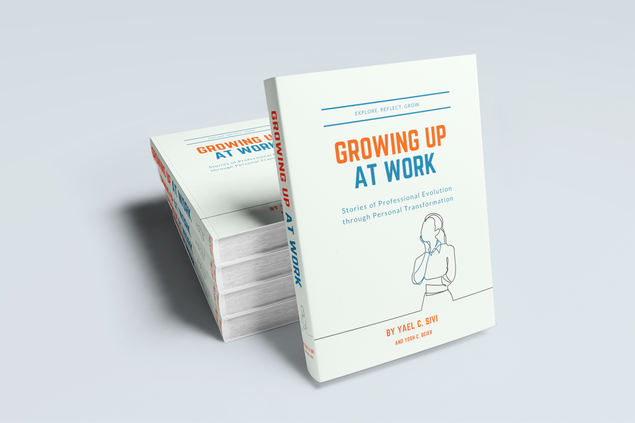 We wrote this book as a way to consolidate and share our lessons learned, and to inspire professionals, managers, and leaders to engage in the "inner work" of becoming self-aware and emotionally mature. With a respectful nod to the work of author and psychotherapist Irving Yalom, we share genuine, intimate, and relatable stories of real people on journeys that are as much professional as they are personal. We hope that readers will see themselves throughout the book and that they will feel encouraged to be intentional about their own growth as a result.
Each chapter of the book is organized around a common dilemma faced by professionals and leaders. Readers will easily see themselves in many if not most of the archetypal growth challenges. Each chapter ends with questions for exploration, experiments, and practices to try.
Our book is informed by several psychological theories, including Gestalt, adult development, attachment, and transactional analysis. We translate key concepts from these bodies of work so that they are more accessible, relevant, and useful to the reader.
Early Praise for Growing Up at Work
"This a deeply insightful and practical book. It brings individuals to life right before your eyes. Yael Sivi and Yosh Beier are great storytellers and clear explicators — you'll welcome their voice."
- Bob Kaplan, PhD, Author of The Versatile Leader: Make the Most of Your Strengths Without Overdoing It
"This book offers the much needed reminder that our private and public life are not separate; indeed, how we navigate our inner world is how we show up at work. Yael and Yosh, through clear and relatable story-telling, show us that to be effective at work, we must 'do the work,' that is to bring the unconscious to the conscious for healing and growth.
As someone who has not only benefited from the wisdom in this book, but has been personally coached by them, I can assure readers that Yael and Yosh's practical and reflective tools will lead to both greater personal and business success."
- Kerry Faherty, Co-Founder & Chief Impact Officer, Faherty Brand
"I have seen first hand how Yael's insights and experiences have significantly impacted the over 120 participants she has taught in the Emerging Leaders program of Princeton AlumniCorps. As the lead facilitator, she has fostered a space for authentic and experiential learning and transformation.
I'm thrilled that this book will provide her perceptive and actionable advice to a broader audience. Millennials have experienced many national and global traumas in their formative years and are now 'growing up at work' in an environment no one could have anticipated. This book will be invaluable to all leaders in this challenging and uncertain time."
- Kef Kasdin, President & Executive Director, Princeton AlumniCorps
"Growing Up at Work is a must read for anyone in a leadership position. As someone who has personally been coached by Yael Sivi, I have experienced firsthand how the teachings in this book open the door to stronger and more emotionally intelligent leadership. "
- Sarah Larson Levey, Founder/CEO, Y-7 Studio
Outline
Introduction
- Why this book; who we are and the intersectionality of our work that reflects book's premise
- Guiding ideas/theories that inform the book: gestalt, transactional analysis, adult development theory
- How this book works: Each chapter is about a different client and the professional dilemma they faced and then takes the reader through the personal/psychological work done to overcome their professional challenge
- Implications for management and leadership are discussed, when applicable - but this book applies to all professionals, from new to seasoned in tenure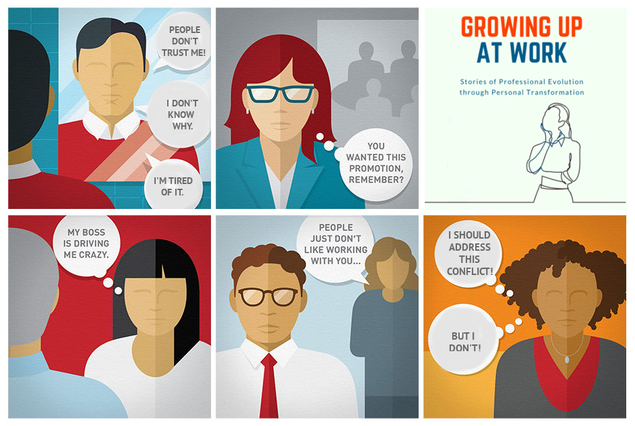 Chapter 2: No one likes me
Chapter 3: I'm their manager but I want to be their friend
Chapter 4: I take care of everyone except myself
Chapter 5: I'm just not enough
Chapter 6: I know I should address this conflict but I don't
Chapter 7: I don't want to play politics
Chapter 8: People think I'm a jerk
Chapter 9: People don't trust me and I don't know why
Chapter 10: I'm successful but I have no life
Chapter 11: I have to be perfect
Chapter 12: I'm scared of my boss
Conclusion: Lifelong practices for personal transformation and professional growth
Audience
Emerging Leaders and Professionals
This book is for all professionals - especially those who are young, new to the workplace, or new to their roles. It's for emerging leaders, new managers, and entrepreneurs. It's for anyone who wants to mature or who wants to lead more effectively. Overall, ours is a book for those who bring a sense of curiosity, commitment, and psychological openness to their career growth.
While in 2020, young professionals and emerging leaders may be defined as Millennials, this book will continue to be relevant long after they become middle-aged. Very quickly a new crop of young professionals leaders will be emerging out of Generation Z, and we anticipate their interest as well.

The good news, in our observation, is that younger folks don't need to be convinced of the connection between their personal and professional growth, and they can certainly spot it—especially the lack of it—in their own leaders. These young adults already get the message of this book. They're looking for meaningful careers, and they want to bring their whole selves to work. By reading the stories of others like them, our hope is they will be inspired to be reflective in a new way.
Professionals who also enjoy self-help books might especially appreciate the convergence we address.

Seasoned Professionals and Mature Leaders
This book can benefit a seasoned professional, manager, or leader as much as it can someone more junior. Although seasoned professionals and leaders may have figured out how to function and lead with competence, they too can benefit from reflecting on themselves and their emotional maturity, so they can further cultivate their own authenticity and integrity as contributors and leaders.
In many cases, we have seen seasoned leaders stall out career-wise due largely to their own emotional and psychological limitations. This book will support their introspection and growth too.
Secondary Audiences
- General audience of people who are interested in self-help, personal, and psychological growth—the people who pick up Patrick Lencioni's books on teamwork or Oprah magazine.
- We see our book as a great graduation gift for anyone finishing college or graduate school, entering the workforce and facing its challenges for the first time - a person in need of support, inspiration, and guidance to be effective at work.
- Other executive coaches, organizational consultants, or psychotherapists interested in professional development / learning how others work with clients facing similar issues

Promotion
Collaborative Consulting Website
We will create a page devoted to the book on our firm's website. Collaborative Coaching currently has 1,500 unique visitors per month – most of whom are leaders interested in personal, professional and organizational growth.
Social media strategy
We will create a Instagram account and a LinkedIn page dedicated to the book. These social media platforms will be updated regularly with real-life examples of professionals growing up at work, reviews of the book, interviews of corporate leaders, and articles.
Yael and Yosh currently have over 1,000 followers each on LinkedIn and our company newsletter has a distribution of 3,000 individuals. We would leverage these current connections and would seek to gain increased followership through already-existing networks.
Public speaking
Yael Sivi has a monthly audience of approximately 250 to 500 professionals she speaks to at various corporate and workplace events. We will book several additional speaking engagements in the first year of the book's release.
We hope that client organizations, especially those who book us for public speaking engagements and the facilitation of leadership workshops, will be interested in purchasing large numbers of books for staff or as a complement to public speaking and workshops we will be doing for them.
Competition
Books for professionals tend to come in a few primary categories. One category focuses on leadership—a wide umbrella, often focusing on the concrete competencies required for effective leadership. Most of these books don't emphasize the personal growth aspect without which career success remains limited.
The other category focuses on providing career guidance. These books support selecting a job, finding a job, or building skills to succeed in a given job, such as time management, effective communication, and managing conflict.
Personal growth books, on the other hand, tend to be self-help books with an emphasis on positive thinking, overcoming limiting beliefs, self-acceptance, as well as obtaining more happiness, money, and success.
Our book sits at a unique intersection among the existing book landscape. It's squarely built on the premise that personal growth equals professional growth, and vice versa. There are some leadership books, such as "Leadership from Inside Out" that look at personal growth as pre-requisite of leadership success. But the book's content is anchored in topics of leadership, rather than a wider context of professional growth and career success (which isn't limited to becoming a senior leader).
Growing Up at Work is unique because very few books are written for young professionals and emerging leaders - let alone any professional who wants to grow in their maturity. We believe that our focus on "psychological growth meets professional growth" means that we will meet a market need—one that has been proven to be strong by complementary, successful, and recently-published books like:
- Dare to Lead: Brave Work. Tough Conversations. Whole Hearts by Brené Brown
- Reboot: Leadership and the Art of Growing Up by Jerry Colonna
- No Hard Feelings: The Secret Power of Embracing Emotions at Work, by Liz Fosslien and Mollie West Duffy
- The Making of a Manager: How to Crush Your Job as the New Boss by Julie Zhuo
- 15 Commitments of Conscious Leadership: A new paradigm for sustainable success by Jim Dethmer, Diana Chapman and Kaley Warner Klemp
- The Defining Decade: Why Your Twenties Matter--And How to Make the Most of Them Now by Meg Jay
- Leadership from the Inside Out: Becoming a Leader for Life by Kevin Cashman
- Creatures of a Day And Other Tales of Psychotherapy by Irvin D. Yalom

I Feel Like An Imposter
Julia was what I would describe as a high achieving drifter. Academically gifted, ambitious, but not super-ambitious; if an opportunity presented itself and it felt right, she'd take it. After graduation, she got a job with a non-profit educational advocacy organization and rose rapidly through the ranks. There was not a lot of intentionality in her decision-making however. A chance to move to New York? Ok, I'll do that. Move into a more senior position? Ok, I'll do that. She took things on mostly because they were there to be taken on, and because she was a curious, bright person.
I offer all of my students a one-on-one coaching session as part of a leadership program I teach. Julia was one of the first to avail this session. A person who lights up a room, Julia was naturally full of energy, funny, and sweet; she managed to be simultaneously charming and authentic. That combination lead to her becoming a great favorite in class. She made friends easily.
So here is this funny, bright, highly capable person – someone whom I knew from class was very smart – yet within two minutes of sitting down with me, she's in tears. She had been promoted consistently through her career, the only feedback she ever received was glowing, but as soon as I asked how she was doing, her head was in hands and she tells me that she's terrible at her job. Not only that, but she's telling me that everyone she works with knows she can't do her job, and that it's only a matter of time before she's found out. What's going on here? Where is she getting this message?
Imposter Syndrome
Imposter syndrome, where you continually doubt your achievements and live with the fear of being exposed as a fraud, is a deeply familiar experience for many people I've worked with – including very successful professionals and leaders, across ages and industries.
The good news is that by simply identifying imposter syndrome as a common thought pattern, and by giving it a name, we can start to work with it . 'Do you recognize part of what's going on here as a phenomenon called imposter syndrome?' I might ask. 'Does that sound right to you?'
Asking this question is the first step towards breaking down the sense of isolation that often comes with imposter syndrome. The belief that everyone else sees you as a fraud, combined with the idea that everyone else around you must know what they are doing, is a very unpleasant way of suffering and feeling alone.
With Julia, the impact of what she was going through wasn't really visible on the surface. She was such a buoyant, effervescent personality that most of the people in her life were completely unaware of what was going on inside of her. But the pain and isolation were very real – impacting her mood, her relationships, her sleep.
My approach with Julia, as we'll see throughout this book with other clients, was to make the unconscious conscious, to unpack the thinking that was leading to her suffering and hampering her development as a leader. I needed to hear exactly what Julia believed about herself. What was the story she was hearing in her head? Whose story was that? What was drowning out all of the positive feedback and leaving her instead with the terrible sense of being a failure?
A feeling can often be traced back to the thought that caused it. While some feelings seem to come from our "gut", and those feelings may very well be based in trauma or pain from our past, often our feelings originate from a story we tell about ourselves – thoughts that we don't even know we are thinking that give rise to negative feelings. For example: I'm telling myself that my coworkers think I'm lazy because I told them I couldn't help out with a project. When I tell myself this story, I feel sad and ashamed. There's the thought, then boom! there's the feeling.
As Julia spoke, as we explored her thoughts, it quickly became obvious that there was more than one voice in the room – two in particular. There was the part of Julia that was suffering because she felt she was an imposter, but this process all started because there was another part of Julia, an "inner bully" or critic, that was telling Julia over and over again that she wasn't doing a good job. The voice of the receiver, the victim, was largely silent, taking in all of this abuse – and it also hadn't been clear to Julia that she was actually berating herself.
Exploring the Voices Inside
To understand why we are suffering, it's necessary to explore exactly what's going on inside of us. With Julia, I wanted to hear the voice of the bully, or her inner critic, to know what it was saying and to understand the effect it was having on her. So I invited Julia to speak from that voice. What exactly was she telling herself?
'You're such a fake,' she spat, 'you're such a phony. Everyone knows you don't know how to do this job, and it's only a matter of time before you're really found out by everyone.'
What's happening here, according to gestalt psychotherapy, is called an 'interruption in contact'. Interruptions in contact essentially describe the different ways we unwittingly block our flow, our energy, our excitement, our love of life. In particular, this interruption is a very specific and very common form called 'retroflection'. This is where we attack ourselves either in a way in which others attacked us, or in which we wish we could attack others, or in order to try to force ourselves to be a particular way in the world.
After hearing from the part of herself that was creating the attack, I asked if Julia was aware that there was another part of herself that was actually receiving this message. In essence, the receiver of the messages is our inner "victim" – the part of us who is the recipient of the inner attack. I asked Julia how this other part of her felt, and what, if anything, she wanted to say in response.
Julia gave me a blank stare. She said that that while she felt sad to hear these critical words about herself, she also added that she agreed with what the critic had to say. She said indeed that the bully was "right" and that she really was not good at her job and everyone knew it.
Standing Up to the Bully
Just as you would coach a child being bullied in the playground, I began to fortify that victimized, quiescent part of Julia's psyche. Standing up to the bully – something we also refer to as making peace with your inner attacker - is about exchanging the voice of the victim with the voice of strength. When working with the inner bully, I encourage my clients to get in touch with how they would respond if these mean things were being said to someone they cared about.
I asked Julia, 'What would you say if this bully was talking to a friend of yours? How would you react?' The truth is that it's much easier for us to stand up to a bully if they're bullying somebody that we love.
'I would tell them to stop,' she said, without hesitation. 'I would tell them that this was unacceptable, that this was not OK. That what they were saying wasn't even true.'
So I began coaching Julia to defend herself by proxy, to think of it as defending someone else.
Velcro and Teflon
It's said that negative thoughts are like Velcro. They tend to stick. As human beings, we have a knack for believing, and ruminating on, negative thoughts about ourselves, and we feel bad as a result.
This was certainly true for Julia. She was in the habit of telling herself that she wasn't good enough at her job, that she was an imposter, and as a result, she told herself that she was a failure. This thought pattern was on a loop in her head, and had a "sticky" quality in her consciousness.
Meanwhile, positive thoughts tend to be like Teflon. They often don't stick. Someone tells us we do something really well and we just think, yeah, well, I'm not so sure...We write them off.
The reality was that Julia was in receipt of plenty of positive feedback – there was no shortage of people telling her she was doing a great job, but she had trouble believing it.
Sometimes we have to borrow the confidence others have in us and see ourselves through their eyes. People often see in us what we can't see in ourselves, and it can take deliberate effort to appreciate something positive about ourselves to decide to be affected by it.
Julia began working on trying to be affected by the positivity around her. This took a lot of practice. It's not easy to take a mental concept and turn it into something that's lived in the body, to see that you have talents and gifts and to recognize that you can live them.
Over time, Julia could start to say, 'I think I understand why I've been promoted'. She could begin to appreciate the things she liked about her job. She could chair a high-level meeting at the mayor's office and in her mind, she could hear the voice that used to do nothing but accept the criticism say, 'I can do this, I'm good at this.'
Julia also started a journaling practice to support the coaching process. Journaling can also be really helpful in this process, as there's only so much you can accomplish in a fifty minute session every other week, and journaling accelerates self-inquiry. Instead of simply feeling bad, we can explore how the pain is being created in our psyche. We notice and track self-talk. So you might think, I've no idea what I'm doing here, and instead of giving way instantly to the feeling that this can generate, you stop and label the thought. This is critical self-talk.
Techniques like these allowed Julia to separate herself from the story she was telling herself. With time, and with support in our sessions, she also practiced responding to her critical self-talk with compassion, love, reason, and balance. 'Yes, I am new to this role, and I am still learning, but that doesn't make me any different than anyone else who's new to a role. I can see how much I am trying, and others do too. Why not try to just trust in that a little more?'
Getting Curious About the Bully
In addition to fortifying the inner victim, and helping her take in positive support, part of the work I did with Julia involved getting curious about her inner bully, and encouraging her to do the same. We started exploring questions like: Where did this inner critic come from? When did it start? Why was she pushing herself in this particular way?
I was also curious if the voice of her inner bully reminded her of someone. In some cases – not so much with Julia – but frequently, the voice is really the replica of a parent. The person is doing to themselves what was done to them.
Julia's parents never really pushed her in that way but they did give her a lot of attention, along with teachers, for being smart, and for being great at school. It seemed that this inner critic voice actually emerged from Julia's desire to continue to win approval. This is how she found identity in the world; by being smart, by performing well and by saying 'yes', by being willing to take on whatever challenge presented itself. Over time, it seems, a part of her developed to keep propelling her forward, but this part was kind of ruthless, and didn't take well to not knowing.
One of the things that can be especially illuminating when we get curious about our inner critic is to better understand how old we were when this part of ourselves developed. While not always an exact science, many clients have a sense of when this part of themselves emerged, and this was true for Julia as well. She sensed that she was around 10 years old when she concluded that she needed to keep performing to "earn" the love and attention of those around her. What's important to consider here is the consciousness of a 10-year-old child – in particular, the way a child at that age still sees things in a simplified way.
With reflection and through coaching, Julia came to realize that her inner critic, the part that was continually attacking herself was a child – the 10-year-old. That part of Juila understandably wanted approval, but she also had developed a simple equation that led to that sense of approval and safety. If she performed well, and she felt completely confident, she concluded that she was lovable and safe. In contrast, if Julia was less certain about herself, she was walking on unchartered territory and her inner critic went into fear and self-attack. Her inner 10-year-old didn't know what to do with the fact that indeed, adulthood, and professional life, includes many moments of not knowing, learning, even failure. These experiences enable us to grow, if we are open, but with an inner critic monitoring the situation all the time, they also ripe for self-attack.
One of the ways in which I work as a gestalt coach is doing "experiments" with my clients, and a powerful gestalt experiment is called the "empty chair", where we speak either to a part of ourselves or to someone else. In Julia's case, I invited her to converse with her inner critic, and to get curious about this part of herself.
Julia asked the critic questions about when she came about and why. As a result, we were able to confirm our hypothesis that the critic was a young part of Julia focused on protecting herself. With this increased awareness, Julia could come to see that while this part of her had been creating pain, it was also a part of her that deserved love and attention – ideally best when the attention came from Julia herself, herself now an adult. Julia learned to do the sophisticated dance of standing up to her 10-year-old critic – telling her, "It's okay, I got this. You are safe." while also thanking her for looking out for herself, as she knew her intention was a good one.
The Truth and the Lie
One thing I've realized over the years is that there is both a truth and a lie at the heart of imposter syndrome. The lie – the bully's continual assertion that we are a failure, a phony – we've already talked about. It's usually a way of trying to keep ourselves safe that is based in fear, but in essence the lie we tell ourselves is we should already know everything and if we don't we're a failure.
The truth is that actually, none of us knows everything. We are all on a learning curve. This is particularly true when we take on a new role, or are promoted into a position of authority. It is at this point that Julia was most vulnerable to the voice of the bully, because there were – of course – things that she needed to work on. The truth was that she didn't have a great deal of experience in operations.
In particular, Julia frequently had difficulty when it came to making big decisions that affected other people. In one particular case, she needed to decide whether or not a certain academic subject should be made mandatory on the curriculum – a decision which she knew would affect thousands of kids. She was paralyzed by indecision. The anxiety this generated was exacerbated by one of her direct reports who saw what was happening and challenged her authority.
We are at our most vulnerable at moments like these, since it is now more than ever that the critical voice carries a certain moral authority.
How do you separate the lie from the truth when they are so entangled?
The hallmark of the lie is that it is monolithic. It is non-specific. You are a failure, a phony, a fraud. Everyone knows more than you.
The truth, by contrast, is more nuanced, more specific. Because of this, it's far more amenable to specific solutions. We can distill what we want to learn and practice, what we want to refine in our new role.
· Are there classes I need to take?
· Could I benefit from mentoring?
· Is there a professional development program I could avail of?
With Julia, we used some of our coaching sessions to look at and support her decision making skills. Seeking those supports broke the neurotic spiral, allowing her to grow, to move away from a place of shame and self-attack, and allowed for her to grow in the way that she needed. Nothing was wrong with that, but she also wasn't layering shame on top of the legitimate need she had to trust her judgment more and to inform big decisions with data and consult from others.
Is This What I Want?
I've also come to see that imposter syndrome may sometimes speak to the fact that maybe this isn't the best match between your interests and skills and what the job is asking of you, and there's nothing wrong with considering this possibility – though ideally without self-attack. Experiencing the imposter syndrome can be helpful in that it does sometimes force you to ask serious questions.
· Is this the right role for me?
· Am I enjoying this?
· Does it resonate with who I am and my natural strenghts?
· If this isn't something I'm good at, is it something I want to get better at?
These are legitimate questions, which demand reflection, and they are qualitatively different from the shrill voice of the inner critic, who seeks only to insist that you are putting one over on everyone.
It's also true that that sometimes a pinch of imposter syndrome can help us stay realistic and grounded – I suppose it's kind of an antidote to arrogance. Realizing we don't know everything can reveal humility - the foundation of all virtues, according to Confucious – and humility, in my opinion, is something every leader needs. Note too that it was the spur of imposter syndrome that prompted Julia to look at her own growth, both professional and personal. Growing into a sense of self-trust and self-confidence means that we also learn to lead from a place of deep connection to ourselves. We become authentic, we feel more like ourselves.
Dealing with imposter syndrome in this way allowed Julia to be more present, to break the connection with a mental narrative that was not real. This also enabled her to become a better coach, and a better manager, because she was that much more empathic to how some of her staff might be feeling in starting a new role.
The Magic of the Moment
Julia and I worked together for six months. Over that time, we saw a gradual reduction in her suffering. She became lighter, happier. She had less trouble sleeping. There was more flow in her life, more joy, more confidence. She came to realize that her struggle with feeling like an imposter felt both personal and universal. Simply knowing just how prevalent it is in the workplace was tremendously helpful.
Nor would I underestimate the role of ongoing awareness in this transformation. Think of the psyche as a container. When you're not aware of the inner critic, its voice can take over so much of that vessel. By noticing it, it doesn't sound quite as loud, or half as credible.
Eckhart Tolle puts it like this: 'When you make your unconscious motivations conscious, you immediately see how absurd they are. Awareness is the greatest agent for change.'
And following on from that, the counter voice emerges and is amplified. 'Thank you for your opinion, I love you, but I think I'm doing just fine.' The work Julia did reset the balance between these competing voices.
She enjoyed further promotion at work, and found a capacity to recognize and accept the admiration of those around her. Being sought out, being asked to be more visible; this is evidence that a mature perception will find hard to ignore. Near the end of our work, she was selected as one of the leaders asked to address a conference, and, during that address, she recalled feeling the magic of the moment; knowing she was doing something worthwhile and knowing that she was doing it well.
Questions for Reflection
• What do I expect myself to know by now and why?
• How would I know how to do this without learning it?
• How does it affect me when I tell myself I'm an imposter? Would I talk to anyone else like that?
• What would make me feel less like an imposter? What do I need to learn and practice to feel equipped for this role, this job, this challenge?
• What supportive words can I offer myself if I'm feeling scared or insecure?
Practices
• Distinguish your thoughts from your feelings. If you're feeling bad, stop and investigate the story you're telling yourself.
• Come back to the present. Name what you're seeing, feeling, hearing, tasting. Get back into your body. Exercise, meditate – whatever it takes to get out of your head.
• Say kind words to yourself on a daily basis. Talk about what you appreciate about yourself. Talk to yourself the way you would talk to somebody you love.
Experiments
• Branch out! Take a class, seek support or mentoring for something you don't know how to do.
• Take five minutes to talk to yourself out loud about the things you appreciate about yourself. Write down how you feel afterward