I Ate Tiong Bahru 2 is the sequel to I Ate Tiong Bahru (IATB).
Praise for IATB
"A lovely beginner's guide to Singapore for locals, tourists, history enthusiasts and food-lovers alike. Highly recommended!"
5 out of 5 stars on Amazon
"A collection of stories interspersed among snippets of historical research, interviews and personal histories, Stephen Black's musings of Singapore's most famous neighborhood is at once whimsical, nostalgic and humorous. I Ate Tiong Bahru is a must-read for gourmets, architects, historians and just about anyone who wishes to learn more about this evolving neighborhood."
4 out of 5 stars on Amazon


"I Ate Tiong Bahru 2 is for those who enjoy reading about travel, food, history and life's little dramas. Like the original, IATB2 is a shared experience between reader, author and the community of Tiong Bahru. Appealing to Singaporeans as well as an international audience, IATB2 is both a fictitious memoir and something similar to The Discovery Channel."
"You should read this book not only because it is entertaining and informative, but because, once when we understand Tiong Bahru, we gain insights into Singapore and Southeast Asia. By understanding this part of the world, we get a better sense of of our commonalities and increase the chances that we can all get long.(And eat together, goshdarnit!)"
Overview
I Ate Tiong Bahru 2 is the sequel to I Ate Tiong Bahru which, despite an unusual cover, almost no mention in the major media and no publicity campaigns, has sold, to date, well over 1,500 copies. In Singapore, the benchmark for a bestseller is 2000 copies sold. Like the original book, IATB2, will be written in the 'lyrical documentary style' which has proven to appeal to both Singaporeans and an international audience.

Competing books
1.
I Ate Tiong Bahru
2. Organizations like CNN and Vogue seem interested in the area.
Audience
I Ate Tiong Bahru has been very well received in Singapore and internationally by people who enjoy travel, food, architecture and history written in a distinctive style.
A fellow writer interviews SB video about IATB
Marketing and Promotions
Besides my blog, Facebook, Twitter and LinkedIn, I will be creating videos for Youtube and slideshows for SlideShare. Here is a SlideShare presentation I did for another book of mine. I will also do promotion on Goodreads, including a give-away.
Although IATB2 is different from Bali Wave Ghost, there will be much crossover promotion from my campaign to sell a million copies of BWG.
How preorder funds will be used
To do an offset print run of at least 1000 and to begin basic promotion. (Two thousand copies ofI Ate Tiong Bahru were printed.) Photos of Tiong Bahru... I got a million of 'em. These photos, plus the videos I plan on making, will be used extensively during the campaign.
The funds from this campaign will be used for professional editing and design, and for the first print run. I would also like to help the Tiong Bahru Benevolent Society. For each book pre-ordered, $1 USD will go to the Tiong Bahru Benevolent Society. I have seen them in action and they are a group that gets things done.
"Like being served a huge bowl of delicious stir-fry., and just trusting the 'chef'..The various aroma's, colours, textures all melded into a satisfying 'meal'... Bits of history, memories, ramblings, and humourous encounters with real local characters made this read, very satisfying."
- Lesley Moseley, Author
Why
Although it is very close to becoming a bestseller, the success of I Ate Tiong Bahru cannot be defined in financial terms. Most importantly, the original book created a platform of exchange for stories and ideas- a community. Being a part of this community has allowed me to meet more people and listen to more stories. I Ate Tiong Bahru 2 will allow these stories to go out into the world.
The stories are full of wonder, emotion and the commonalities of the human experience. The struggles, triumphs and daily routines of the people in Tiong Bahru are unique, and yet they are universal. Reading about Tiong Bahru, we understand Southeast Asia. When we understand Southeast Asia, we might better understand the world. I want to make I Ate Tiong Bahru 2 so as to continue this naïve hope.
When
The 50,000 word manuscript has been about 75% completed. After the crowdfunding campaign, the plan is:
Editing: The book will be edited in early 2016 by Vikki Weston, an experienced editor and writer. Vikki edited I Ate Tiong Bahru.
Publication: The book is expected to be printed and delivered by mid-2016. I feel this is a realistic schedule. However, Publishizer creates an opportunity in which a publisher may become involved.If this happens, the schedule may be altered. Pre-orders of 500 books or more increase the chances of a quality publisher becoming interested. Thank you in advance for any support you can provide.
Chapter outline
Subject to change, as people are approaching me with new story ideas very often (note that the stories presented in IATB2 can all stand independently, though they are all linked to Tiong Bahru)
1. DANCING GIRL
The story centers around the memories of a woman who grew up in Tiong Bahru during a time when the Great World Amusement Park was nearby and gangsters and pig farms surrounded the Tiong Bahru Estate.
2. RONNIE AND THE BURNS
Ronnie See, Singapore's first rock and roll star was the son of a man who escaped war-torn China only to be imprisoned by the Japanese in Singapore. Surrounded by the tough side of life, Ronnie developed a personal philosophy that kept him out of trouble.Ronnie was exposed to opium dens, gang warfare and the traditional festivals and practices of Chinese culture. As Singapore moved towards independence, Ronnie's world moved with rock and roll.The latest, but not finished, version of this story can be found here.
3. LIFT 1B
A portrait of the Tiong Bahru Market, circa 2016. The people who get on and off the elevator provide glimpses into the past and present of Singapore.
4. SENG POH ROAD: WALKING ON AN ISLAND
Seng Poh Road as a metaphor for Singapore. Touches upon Lee Kuan Yew, the Japanese Occupation, the years before Independence and more.
5. TABLEWARE
Ricky Goh had a ceramic studio in Tiong Bahru in the Seventies. His skills led him to design plates specifically for the local delicacies that were being recognized and refined by major hotels and restaurants
6. THE BUKIT HO SWEE FIRE
On May 25th, 1961, the biggest fire in Singapore's history began in the kampongs which bordered the Tiong Bahru Estate. This chapter is based on research and oral interviews.
7. THE ANNE FRANK OF SINGAPORE
During the Japanese Occupation, when the Japanese slaughtered over 40,000 Chinese residents of Singapore, one little girl was hidden under the noses of the Japanese military.
MORE STORIES TO FOLLOW
For a more complete idea of the style of I Ate Tiong Bahru 2, you may wish to look through a free sample of an I Ate Tiong Bahru ebook. To get yours, send an email request to bookmerah AT gmail.com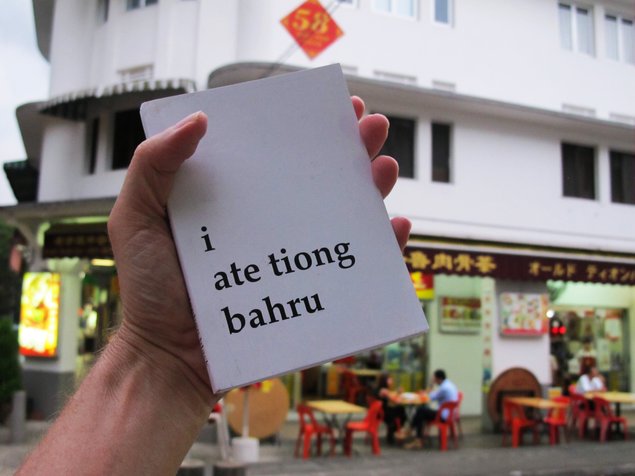 Thank you!
-Stephen Black