Synopsis
So many things in the world rise and fall on leadership. In the study of "leadership", Google has over 2,060,000 entries (0.49 seconds) that includes everything from the latest leadership theories, styles, and tactics. Yet according to to the National Leadership Index, we live in a period of an unprecedented leadership crisis. Unfortunately, our current conditioning about leadership as a way of 'acting upon others' fail to adequately account for the fact that the path of effective leadership is first born out of a very personal journey. Recent research on the skills leaders need to be successful in the modern world of leadership supports the increasing importance of maximizing the inner resources of the psyche such as self-awareness and self-mastery.
As a leader you're endowed with individual behaviors, motivators, and drivers that not only serve as the foundation for who you are, but these qualities further shapes how view and interact with two worlds -the world within (leadership self-view) and the world around you (leadership world-view). Great leadership is massively difficult and one of the reasons so many leaders are ineffective at it is because they fail to master the art and science of their own psychology. Leadership You is your invitation to step into a higher version of yourself and to create a higher perspective of leading in any and all life's endeavours from the inside out. In Leadership You, you'll explore seven value multipliers or "themes" as your personal Sherpa to help you make better use of your own unique and specific assets, skills, talents, and wisdom that's already within you.
As a book of "living action", Leadership You is your personal retreat where you'll be challenged to shift your perspective about leadership to tap into your own inner world for cultivating the vital skills, qualities, and maximising attentional discipline so that you're fulfilling your leadership potential and purpose every moment. Leadership You is a kind of leadership you 'live' everyday and through everything you do. It is a dynamic relationship, an interplay between qualitative aspects of your "being" and the quantitative aspects of "doing." It is the ultimate skill and tool you have to continually cultivate and create lasting change so that you master the art of influencing the first person you need to impact - YOU!
Outline
Overview: The manuscript is divided into three distinct parts each reflecting a unique personal
leadership perspective along with seven "themes" of engagement: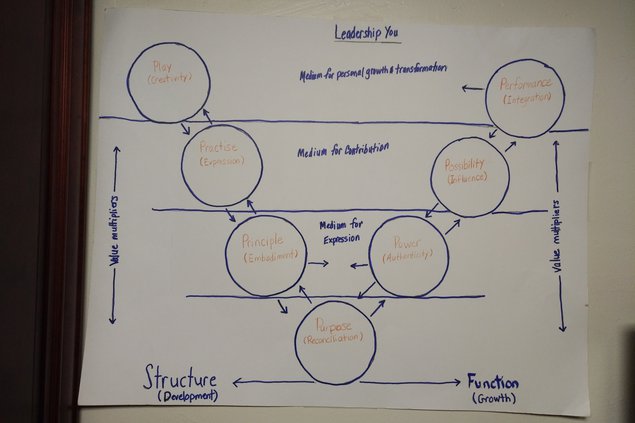 Introduction: Leadership @ the Speed of You

PART I. Leadership as a medium for expression.
Authentic leadership goes beyond what you do or what you know. It is first a process, an intimate
unfolding and expression of who you are. begins with who you are, in action, on the field than it is
about what you know. Self-worth, self-direction, and leadership acumen are all tied to your unique identity. In this section we explore leadership in the context of the whole person through the lens of Purpose, Principles, and Power.
1.Purpose - Reconciliation: "You" guided by a higher purpose and service beyond self.

2. Principle - Embodiment: "You" guided by timeless truths of inner wisdom and self-knowledge that

3. Power - Authenticity: "You" in command of your true self
PART II. Leadership as a medium for contribution.
Leadership as a force for "good" has the potential to create something that generates value for self as well as the lives of others. The outcome we seek determines the strategy we use. In this section, we study the role of Practise and Possibility as a means for optimising best use of time, energy, and resources in service of generating net value.
4. Practise - Expression: "You" as an instrument of function and growth
5. Possibility - Influence: "You" as an instrument of unlimited possibilities moving through you
PART III. Leadership as medium for personal growth and transformation.
Your truest strength lies in your capacity to transcend boundaries that produce new opportunities, experiences, and knowledge. That requires taking effective action. In this section readers learn to harness the creative forces of learn-by-doing through the dynamics of Play and Performance to help them create and implement experiential learning projects.
6. Play - Creativity: "You" guided by unfettered access to your own creative genius
7. Performance - Integration: "You" guided by your own unique circle of competence
Audience
The Market
Characteristics: The primary audience for this book are career professionals, managers, and business leaders between the ages of thirty-one and fifty-five. They have a college degree, a white collar job, and household income of $70,000 or more.
Motivations: The audience for this book is made up of three behavioural types of people:
1. The Disengaged: 70% of the American workforce is disengaged (Gallup: State of American Workplace). The disengaged often feel disenfranchised. The important factor missed by most organisations is about creating space for people to become the best version of themselves. This is particularly important given that the source of lasting change is typically a personal experience.
2. The Overwhelmed: Life is out of balance for these people. Their work-life is all-consuming. They are exhausted and discouraged. They know their pace is not sustainable, but they know no other playbook beyond the proverbial "rat-race" where the holy grail to help solve their dilemma is "out there" so they continue to tolerate 'business as usual'.
3. The Overachievers: This group prides themselves on taking "massive action." The problem is their bent on "doing" is often unbridled and unstructured. They want it all and their 'mo' is all about doing more on only know to look for answers to their challenges outside of themselves. They know their outside-in, fast paced mode of operation isn't sustainable, but they don't know quite where to start.

Affinity Networks and Groups:
1. Organisations are currently spending $70 billion dollars a year on leadership development, with projected increases of 50% in the next decade.

2. The 40,000 business or executive coaches in the U.S. who work with high performing managers, business owners and leaders. This $2.4 billion industry is growing at the rate of 18 percent annually. They and their clients are motivated by leveraging dynamic high-performers who can embrace the changing nature of business in the modern world.
3. 24,722 professionals currently enrolled in my courses on Udemy https://www.udemy.com/user/bry...


4. Seminar/speaking partnerships with affinity networks like American Management Association, SHRM (Society of Human Resources Management), Association of Talent Development (ATD), professional and career development training (colleges/universities).

5. Currently a top rated mentor with Everwise, a learning management platform cofounded by Reid Hoffman (LinkedIn) serving Fortune 100 and 500 businesses.
Promotion
PERSONAL MARKETING:
1). The author plan to leverage 'co-created' community partnerships serving industry influencers who have access to networks of professionals and leaders with free "Day of Learning" webinars/trainings to promote book content.
2). The author will create and implement his own "launch plan" designed to maximize sales during the first week of publication. The goal is to debut the book at #1 on Amazon In preparation for this, he will:
a) Engage tribes early, asking for their input on the book's title and jacket.
b) Form a launch team, made up of their most loyal fans. He will offer them:
• An electronic edition of the book in advance of publication.
• Access to Bryan's via a private Leadership You Slack membership group.
• A free 90-minute webinar with Bryan prior to the launch.
• A thank-you link (i.e., "back link") on Bryan's blog.
• A 25% discount on any ancillary products.

In exchange, launch team members will:
• Write a short review on Amazon or another e-tailer site.
• Help spread the word about the book on their existing platforms, especially during launch week.
• Share ideas and brainstorm additional ways they might further expose the message to an even greater audience.
• Create an irresistible offer for people to buy the book during launch week via contests and leveraging affiliate partnership products/services.
3. The author will be speaking on the subject of the book, via live events, podcasts, radio interviews. This will entail approximately forty events in the first year following the release of the book.
4. The author will make himself available for interviews following the release of the book.
Competition
Competition:
Competition: Books that appeal to a leader's desire to engage self-leadership principles and practices include:
Leadership From the Inside Out: Becoming A Leader for Life by Kevin Cashman (Barrett Koehler, 2008)
The Good Authority: How to Become the Leader Your Team Is Waiting For by Jonathan Raymond (Idea Press, 2016)
The Coaching Habit: Say Less, Ask More & Change the Way You Lead Forever by Michael Bungay Stainer (Box of Crayons Press, 2016))
Lead Yourself First: Inspiring Leadership Through Solitude by Raymond M. Kethledge and Michael S. Erwin (Bloomsbury, 2017)
Self-Leadership and The One Minute Manager: Gain the Mindset and Skillet for Getting What You Need to Succeed by Ken Blanchard (William Morrow, 2017)
The Meaning Revolution: The Power of Transcendent Leadership by Fred Norman and Reid Hoffman (Currency, 2018)
Developing the Leader Within You 2.0 by John C. Maxwell (Harper Collins, 2018)