Synopsis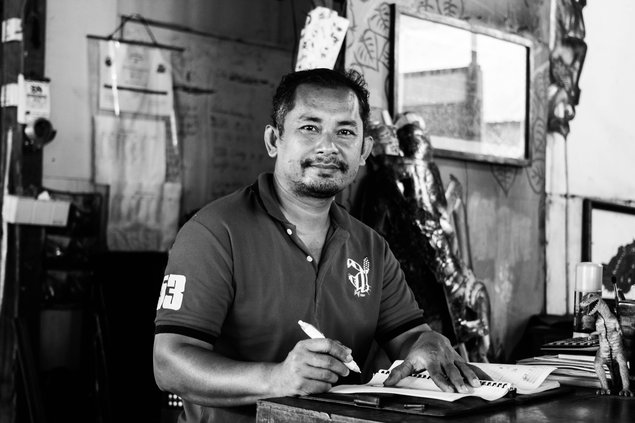 Rathana's story was featured in Phnom Penh Post

Outline
FOREWORD -(Pending chosen writer)

PREFACE - By the photographer/author and co-author

INTRODUCTION

Brief statistics on poverty and education /literacy levels in Cambodia.

Brief story on background and history of Little Angels Orphanage and Khmer Arts Centre.
(NOTE: THIS IS A PHOTO BOOK)

CHAPTER 1 -Siem Reap ( Sights of streets in Siem Reap, Angkor, street vendors, street children,etc - with captions)

CHAPTER 2 -A Day in the Life ( Life of the children in Little Angels - with captions)

CHAPTER 3 - School and Tools ( Leather carving work, the children going to school, classroom shots, university, etc)

CHAPTER 4 - Making it and Giving Back ( Individuals who have successfully completed their studies, interview scripts, how they give back to society, etc)

CONCLUSION - The future of Cambodia ( foreign investments i.e; the retail scene, financial sector, land development etc )

BIO - Photo and brief bio of photographer and author

BIBLIOGRAPHY
Includes bibliographical references / photo index

SAMPLE PHOTOS:
Chapter 1: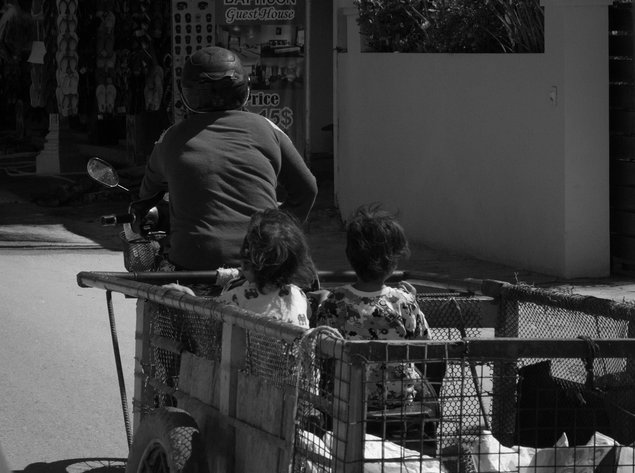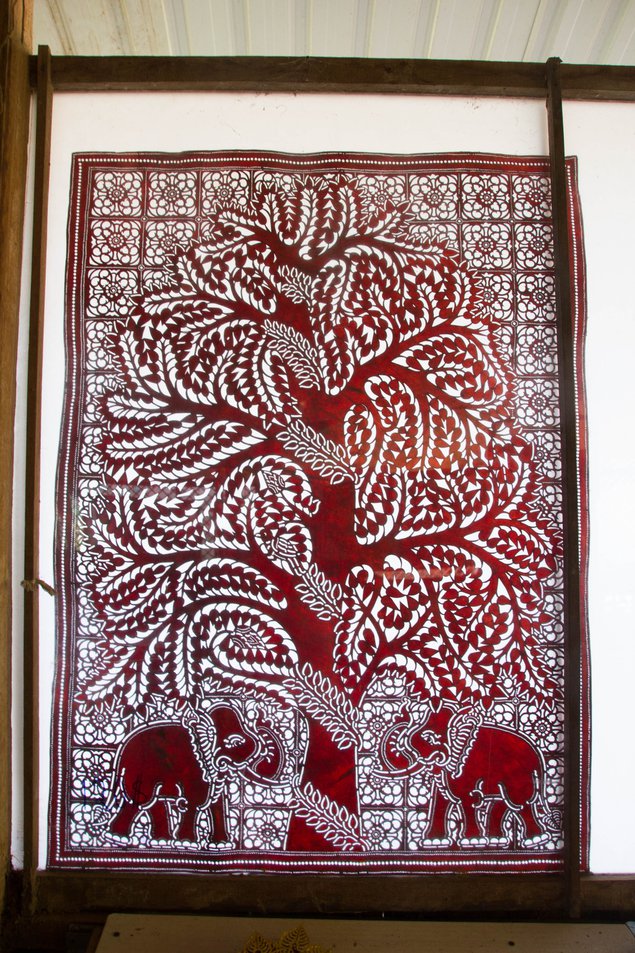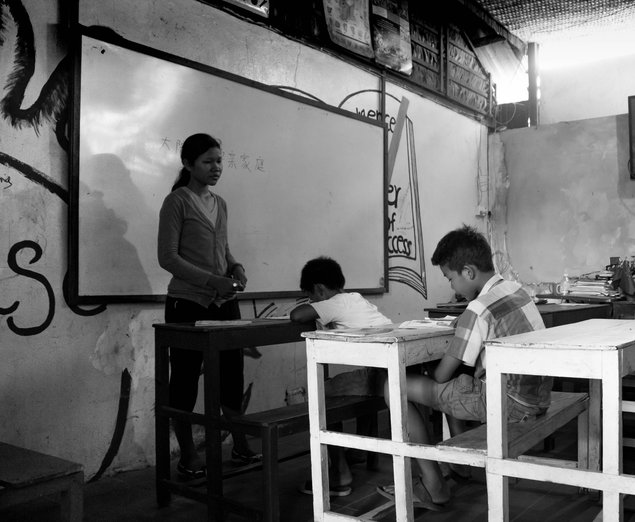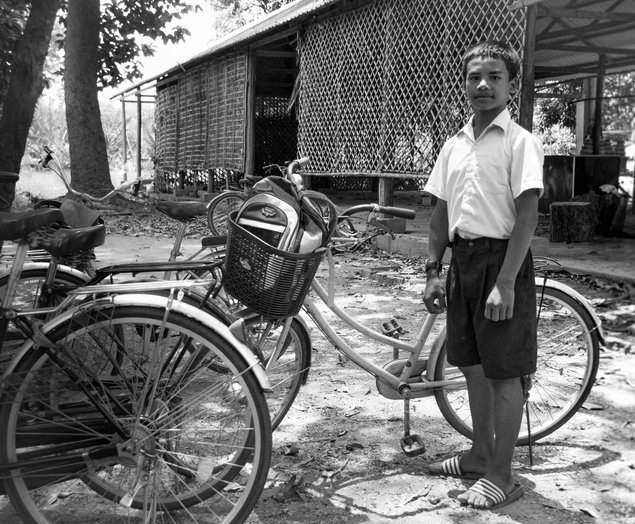 Audience
Cambodia closes 2016 with increase of 5% of tourist arrivals in 2016 (5,011,712 international travellers compared to 4,775,231 visits in 2015)

Source: Ngamsangchaikit, W. ( 2017, Feb 2017). Cambodia Closes 2016 with record visits. TTR Weekly.

1. TOURISTS VISITING LITTLE ANGELS

Preah Ko Temple (first temple mountain of sandstone constructed by rulers of the Khmer empire at Angkor) is situated right in front of Little Angels.

There are approximately 2-3 tour buses (on good days) that bring tourists to Little Angels to showcase their traditional Khmer leather crafts, available for sale.
This photo book would be the first book that would provide Little Angels with a more robust identity and which will help tell their unique and meaningful story behind the orphanage and arts centre. Placing this book at the orphanage/craft centre will hopefully boost sales of the book as well as the hand crafts.
2. TOURISTS AT THE OLD MARKET

There is a plan to set up a small stall at the Siem Reap old market to showcase and sell some of the leather crafts. This book will be well placed there as an introductory book for sale to shoppers who wish to contribute.
3. SHOPPERS AT CAMBODIAN BOOKSTORES

Tourists will most likely source for Cambodian-lifestyle themed books for reading pleasure and for guidance.
4. CORPORATE SPONSORSHIPS

Organizations/companies are always sourcing for CSR (Corporate Social Responsibility) opportunities. Sponsorships will greatly strengthen their presence in the local market:
(a) Singapore (SG) firms - SMEs & MNCs seeking first mover advantage in Cambodia. Recent news articles in Singapore e.g. ChannelNewsasia highlighted urgings from the SG government encouraging SG firms to expand in Cambodia. Meanwhile there are already a number of SG establishments in Cambodia especially in the banking and hospitality sector)
Stats: In 2015, Singapore was Cambodia's 3rd largest investor.
(b) Malaysian firms - Large presence in Cambodia especially int eh banking scene - Malayan Banking, CIMB, RHB and Public Bank.

The above top 2 countries are chosen as the photographer and the co-author both are based in Singapore & Malaysia, respectively. Sponsorship talks efforts are underway via existing connections in the financial sector as well as other industries.
(c) Local companies in Cambodia

Promotion
1. PERSONAL WEBSITE - The photographer will be dedicate a few pages in her personal photography website to showcase this photo book. Marketing tools: Google Adsense, Wix Forum, Visitor Analytics, Pop-Ups in website. Website is currently work in progress and will be launched soon.

2. FACEBOOK - Via Little Angels, Photographer and Co-Author's personal Facebook.
3. INSTAGRAM - Setting up an Instagram account for Little Angels, daily posting of leather carvings, "lifestyle" / casual postings (of the children), the book project, snippets from the chosen photographs for the book, daily quotable quotes, etc. Putting in key hashtags.
4. TUMBLR - Daily posting relating to the book project via photographer's personal Tumblr site.
5. EARLY REVIEWS

Offering complimentary copies (limited) to chosen reviewers (via Amazon, or Singapore Review of Books, Singapore National Library.
6. BOOK LAUNCHES

Hold book launches in Malaysia, Singapore and Siem Reap by invitation expanding to connections of friends, acquintances.
Depending on space, to feature Little Angels' hand crafted Khmer art leather pieces as well.
Possible shortlisted book launches venue:
-National Gallery Singapore which houses Asean art pieces.
- National Library Singapore (spaces for rent) which has a floor dedicated to South East Asian Collection of documents/books.-
-Chapel Gallery Singapore - heritage venue for launches related to photography, art
- Visual Arts Centre, Singapore - Exhibition Gallery for rent - with lower rate of $4,950 for 7 days.
7. EVENTBRITE

-Have a book launch/party on Eventbrite ( a social media events tool)

- Build a community via the free registrations, grow email list.
8. BONUSES

- Ebooks, leather carvings by the children, postcards designed by photographer, print book, personal photoshoot.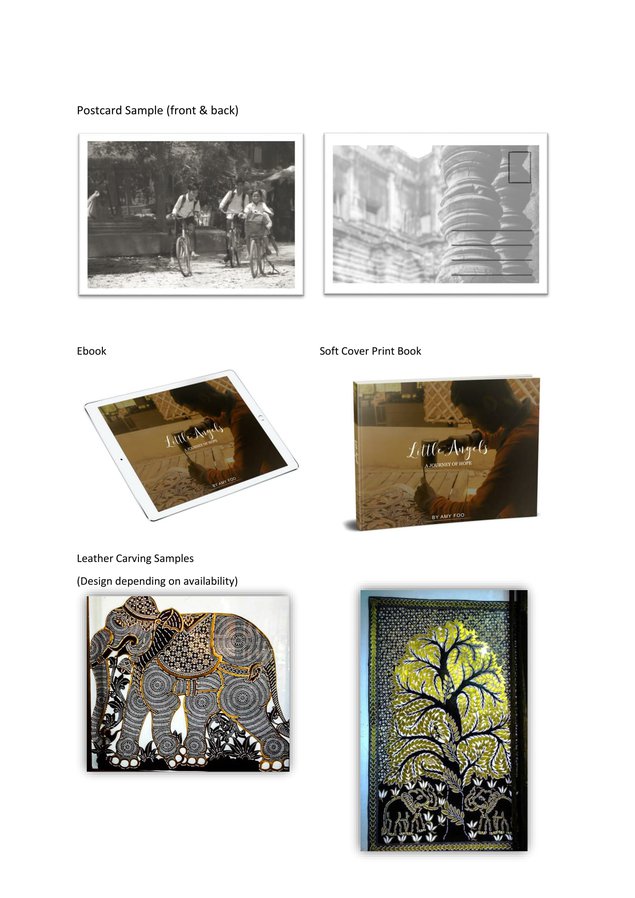 Competition
1. A story of Colors of Cambodia
Publisher: EverDay Art Studio and Educare, 2012
Description: The author's account of how she was drawn into practical involvement with the children in Cambodia via art-based projects.
Difference: Colors of Cambodia focuses on raising funds and promoting awareness via art. Little Angels brings attention to the purpose of existence of the orphanage cum Khmer Arts Centre (to provide a stable roof for needy children at the same time teaching them a skill and ensuring they continue getting an education.
2. Cambodia - Breaking the Bonds of History, 2007

Publisher: Blurb

Description: A photo book showcasing images of Cambodia

Difference: Book is not affiliated with any charity and non-narrative.
3. Bikes of Burden
Publisher: Visionary World Ltd, 2005

Description: A photo book showcasing everyday street life in Cambodia ( motorbikes, drivers with their loads).
Difference: Book is not affiliated with any charity and non-narrative, colorful and quirky.
4. Cambodia - A Journey through the Land of the Khmer

Publisher: Purple Moon Publications, 2015
Description: A photo book showcasing images with brief writings on the history ,landscape & cultures of Cambodia
Difference: Book is not affiliated with any charity focusing on culture. Little Angels focuses on underprivileged Cambodian children with a spotlight on importance of education.

5. Children of Cambodia's Killing Fields : Memoirs by Survivors
Publisher: Yale University Press, 1999
Description: Describing eyewitness accounts of survivors (children at the time) of the Pol Pot regime. With a few photographs of the survivors
Difference: Book is not affiliated with any charity. A record of historical accounts and true stories on the Khmer Rouge.