Pure clarity, confidence and real impact for purpose driven and passionate entrepreneurs like coaches and creatives
| | |
| --- | --- |
| | Business Lifestyle |
| | Frankfurt, Germany |
| | 40,000 words |
| | 25% complete |
| | 4 publishers interested |
Synopsis
Do you know when you wake up. It is a new day, a new chance to have an impact in this world. But without checking your schedule, you know it is more than full. It is CROWDED!

You are busy all day long and everybody just wants the small peanuts from you, that, you know it - will never make the real difference.

It's hard to see through the daily obligations and the endless to-do list. You are stuck in the linear, traditional and fixed ways about life, career and success and all you want is to break free and to have a meaningful success out-of-the-system. You want to change lives as a coach and bring your creativity into the world.
It is the time to make a difference.
You feel it. Yes, this is about you!
You are meant to be on this planet for a much bolder reason! You are to have an impact and your way is to help others to grow.
You want to be heard and seen as

You! Yes, this is about you. It is the time to become the change-maker, the inspiration, the guide, the leader, the difference, the artist - however you want to claim yourself.

It is the time to be bold!
It is the time to become significant!
But how? And where to start? And when to make it happen?

One Truth Per Day is the smooth way to grow into your genius and to let it shine with a simple daily routine of "Speak aloud what matters to you".

It is the real time hack for people like you, who are ready for the next level in their life and career, who want clarity instead of clutter.
It is the new way of being effective - because you discover what really matters without waiting or meditating five hours a day.
It is the conscious force
to find your big vision or the important details to bring meaning into your life, business and projects.
It is like a daily workout for your brilliance - to find the gold inside of you and to use it to make the difference.
It creates the space to be, to discover who you are and to unfold and to shine.
Outline
This book is structured into five parts.

The battle against the time
Part 1 - THE DESIRE
We all live in the contradiction that we want to be heard, seen and acknowledged for what we do and even more, for what we love to do and of course for what we believe in. But the more we try to show up, the more we struggle with it.
Hello World
Be different
Be the force
Part 2 - THE BLA

We are surrounded with so much noise. There is the distruction from outside, everything speeds up and it is hard to cope, when you want to contribute in a meaninful way. And there is the inner noise, the hustles and the hurdles, the resistance and the self-doubts. Get aware of the noise, to quieten it down.

The noise
The challenges
The lack of time
Part 3 - ONE TRUTH PER DAY
Speak aloud what matters to you. Get to know the daily routine to strengthen your voice, to get the clarity and the confidence to create the things you want to be heard and seen for and start to have the real impact.
The core
Just start
Keep on going
Questions to inspire
Part 4 - THE WOW

The WOW is what starts to happen, when you get into the daily routine to speak aloud "One Truth per Day! This is the overview to get ideas and how to lead the habit to get results in different areas of life and business.

Power of Clarity
Finding your Value
Daily White Space
Create Significance
Invite others
Just be You
Part 5 - THE RISE

This is the step of implementation and how to use the inner wisdom and clarity to have real and big results.

Use it
Big level
Important Detail
The Thank You part
Where you as a supporter of this book will be named and will appear as bold warrior for being the difference.
Audience
This book is for purpose driven and passionate entrepreneurs like coaches and creatives

Both, the coaching market and the creative industry are very fast-growing industries. Coaching in the USA and in Germany (as the two main markets for the book) is booming since more than ten years and the trend keeps on. The creative industry stands for real innovation and again the growth is tremendous and it keeps on, again in the USA and in Germany
The reasons are:
An ongoing increasing demand for coaching and creativity.
Businesses, markets and lives
become more complex and difficult. To find a way through isn't
easy - coaching helps to find personal solutions. Creativity helps to find new and fresh ideas, to innovate and to set up businesses for the future.
It is the age to live a fulfilled, meaningful and free life. It is a with many obstacles on the way, which is
individually for each and every person - coaching is required.
Coaching itself is perceived as a very fulfilling activity,
because the core is to help others. The trend is visible in the
membership growth of the International Coach Federation. It has
tripled.
But within the growth of the available coaches and creatives on the market the need to differentiate, to self-market and to show up as the confident coach, who will guide to the big shifts is more and more urgent.
A clear understanding of what matters sets the foundations for a strong position and this book introduces to the daily routine to become clear, strong and self-confident about the own message.
The readers of "One Truth per Day" want to:

Expand their creative power to finally bring their passion into the world and to rise their level of success and impact in the world.
Develop their own message and voice to grow and to show up bolder with confidence and power (to then inspire and coach others in a much bigger way, what will help them to differentiate themselves on the market and guide clients to greater success).
Create from their heart to bring the real impactful offers, programs, speeches, books, podcasts etc. to the world, the huge things they want to be seen and heard for to spark inspiration to let growth and possibilities flourish.
Inspire and guide others to follow the path of an abundant, creative and self-expressive life.
They struggle with
Never really having the time to make their big thing happen.
The constant feeling that they could be bolder but keep on creating below their capacities.
Digging around and not having the impact, not showing up fully and not making the real difference.
Compromising too fast and too often to stay within the expectations from outside and the rules, which seem to be set.
The feeling of always being under pressure craving for fulfillment and the success on their own terms.
What have they tried before?
They are reading, inspirational, lifestyle, self-help and business books
They are interested in finding new life hacks to feel better and to live the creative and free life
They are open for new ways to go deeper and find their power and value within.
They tried to meditate; they like it but again, feel to not having the time to do it to reach to big break troughs.
They are actively searching for peak emotional experiences
----------------------------------------------------------------------------------------
The book picks up the general trend of conscious life, success and businesses.
Author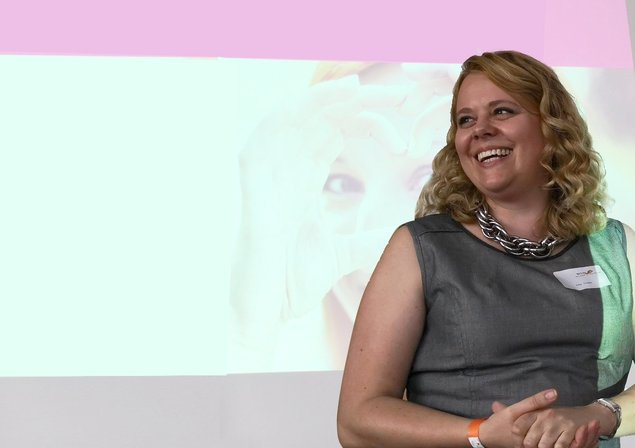 Katja Gloeckler is known as the insightful force who combines fire and ice, artist and strategist, conscious daydreamer and straight to the point energy. As born and raised in Germany she is very familiar with the concept of effectiveness and efficiency but deep in her heart she is a Latina who loves the big emotions, is passionate and (of course) has a different sense of time.
In her home country, she won a national innovation price and became a Culture and Creativity Pilot. Funny title, is it? But, let's face it. Chances are high that you haven't met one before. So don't miss out to get to know her.
Since five years she helps people to dream big and to build their career word by word and to write their own books. For her, they are the best medium to bring the real beauty to the world and to make big things happen.
She strongly believes that we all have a genius inside of us - either to inspire, to create, to entertain or to invent and if we master to open hearts and to inspire minds everything is possible.

She loves to empower people with the dream and the desire to change lives for the better, who are commonly known as coaches and creatives.

Read more on her website:
Connect on facebook
https://www.facebook.com/katjagloeckler

Promotion
As the whole idea of "One Truth Per Day" started as an online challenge only about two months ago - on FB and in her personal network, the author is already in related conversations about the topic and is constantly engaging new people to get into it.

The first results are stunning and the interest about this daily rountine rises continuously.
"I am learning so much every day. And my life becomes mine, more and more, day by day."
"I'm finding that what's important to me is something I'm grateful for. There's a boost in my self esteem by thinking through each of these. As the entry progresses, it brings out clarity to what really matters for the subject. Then, the speaking out loud makes it cross the barrier from my head to the outside world. It's been a rewarding activity so far."

The author has a growing network of purpose driven entrepreneurs around the world. Main readerships are based in Germany, the USA and Mexico.
She has a 3K plus newsletter list, over 1200 FB connections, a FB group of 200 plus members and a Twitter account with 900 Followers.

She will endorse and promote her book to her personal network through conversations around the globe to engage readers and find additional promoters.

She will give talks at meetups and conferences in Germany.

As the main part of the book will be written after this campaign she invites the supporters and early readers to join the book creation process to be the first ones to discover the daily routine of "One Truth Per Day" for them. She will focus on a high level interaction with them to engange her fans, so they will recommend the book and spread the word for her as well.
In addition she plans to use email marketing, FB, Twitter and Instagram for promotion.
She is planning guest posts, articles and interviews in blogs, magazines and podcasts to let the book fly around the globe.
Competition
Find Your Why - A Practical Guide for Discovering Purpose for You and Your Team by Simon Sinek
This is the follow up book to "Start with Why", the global bestseller and the subject of the third most watched TED Talk of all time. It describes the power of having a strong why and then a guide to find it.
The parallel to "Stop the BLA - Start the WOW" is to get clear about what really matters to you, which nothing else than finding your true purpose and reason. My book introduces a different approach and methode by using "One truth per day".
From Business to Being & The silent revolution
What is the real meaning in what we do? We have so much know-how but lost the know-why. Both are German documentaries from 2016 and 2017 about the consciousness movement in business and that more and more business people are seeking for meaning in their career and leadership.
You Are a Badass: How to Stop Doubting Your Greatness and Start Living an Awesome Life by Jen Sincero
Are you happy with your life? Or do you think that there is something bigger waiting for you? This book is about stepping into a bigger version of life and guides in a compelling way to personal growth and motivates about making it happen.
Stop the BLA - Start the WOW has the same target audience - people who are seeking to reach the next and fulfilling level in their lives and careers.
Desire Map
by
Danielle Laporte
The idea of having a different approach for goal setting is the similarity. How do you want to feel and then do what it needs to achieve the feeling instead of a rigid goal that won't make you happy.
Within the process of speaking out loud what matters the readers get cristal clear about the real and true goals in life. One truth per day is the daily routine to find the core inside and to create the important things, that will generate the feel good and be happy result.
the WAR of ART by Steven Pressfield
Resistance, the biggest enemy in our lives when it comes to create, to express and to do something extraordinary in our lives is huge a fear that people face while going deeper within themselves. The daily routine of one truth per day will guide the readers to the point where they will face resistance. Therefore, the overall goal of the book "One Truth Per Day" is to guide people through their resistance to grow and to be the bold person they want to be.
Sample
Intro

The battle against the time
This book was supposed to be the quickest and fastest book I wanted to write. Now, more than a year later I can say that for the first time in my life I I start to understand the old saying "You have to go slow in order to go fast".
It all began a few days before Christmas, probably the busiest and craziest time in the year. We all know, how it is. I was surrounded by empty suitcases and two excited boys that couldn't wait a single day longer, to fly back to Germany for the holidays. It was the time, when I lived in Mexico with my family - our expatriation time. I worked as a coach and consultant for entrepreneurs who wanted to write books to spread their words and wisdom around the world, to build their tribes and businesses.
I loved my job. But there was one problem. I myself haven't written a whole bunch of books. Every time I spoke with somebody about writing and how it could help to bring your message out into the world, I worried the moment, the obvious question that would always come …. "Have you written and published books for yourself?" ….
I hated this question! There is the book I wrote two or three years ago, but it isn't me anymore and it wouldn't help you in the way I wanted to inspire and guide you now. But you can't say that, right? And yes there are a couple of guest chapters I wrote for other books, but they don't seem to value as much that I could say with confidence, that I myself write and publish and that I am the author, the inspiration and guide that I want to be.
I knew by the bottom of my heart, this had to change. You can't be a weightloss coach while carrying 150 kg with you or even 110 kg, right? I knew I had to write a book or two, three or even fifteen books! It felt to be so overdue that it started to stink. The desire that I once had to write and publish, to be the flourishing inspiration and support had become something else. I felt shame and it made me feel embarrassed. If I couldn't be the author I desired to be how could I ever be the book coach for others to make their dream to become true?!
There was just not a single doubt or any other option than writing. But when? When will I ever have the time to do it? Right now I am in the middle of my suitcases to get ready for the holidays. Even I looked forward to this time a part of me was angry. These three weeks won't bring me a single page closer to my goal. When I looked into my calendar for the time after these three weeks I already saw many booked times for my business, for clients, for my kids, for everything expect for writing.
It was that night, when I found the book on Amazon - How to write your book in 15 minutes a day. Here it was, my solution and probably the solution for so many others. Yes, of course, so many people struggle with their time. And if you can write a book in 15 minutes a day what else could be possible. I red the whole ebook and I made a decision. It's got to be now or never! There will always be something raising up on the next day. It was one of the moments when I felt like the revolutionary of my life. The hero with the big sword, courageous and fearless - ready to fight. Me vs. time. I was so ready to jump and break any rules of time and space to make it happen!
Hi, I am the time warrior!

Do you know the feeling, when you think that you figured it all out. You think you have all the answers. You are fearless! You have the power! You don't look back und you just go!
Even before we got into the plane I wrote the first lines. "This is crazy, I know, but I will do it. I am going to write my new book, now. I will start today." (How funny that I gave me twenty instead of fifteen minutes a day.) The topic? No time - Twenty two tips on how you can write your book, even you don't have the time. I wrote an email to my list. I wanted to show up no matter what, and of course, what should go wrong. I had the solution. I was the time warrior who could do the impossible with ease.
With my seatbelt fastened and making sure that the entertainment system for the kids was running, I took out my pen and paper and started with the outline for the book. It was obvious. "No time to write" would bring "no time to read". So instead of wasting my time with endless planning or overthinking on storytelling, I wrote down every clue I could imagine to be faster, more efficient and effective with your book planning and writing. Short tipps and how-tos seemed to be the best format. I wanted to save time where ever I could- for me and for my readers. I wanted a helpful list for all the people who struggle with not having the time but wanting their book so badly like I did. When the stewardess asked me if I wanted to have dinner I already outlined my second book. I was on fire and all the answers seemed to be right in front of me.
Only twenty minutes, only twenty minutes, only twenty minutes. It is nothing compared to the results you will get. Stick to your schedule, no matter what. That was the plan. You can probably already imagine that the whole plan crushed like a domino line. I think the first doubt came when I woke up on day three or four, feeling like being in the middle of the night. We stayed at my parents house for the holidays and my mum was calling that it was time for lunch already. Oh my! I was crashing time and space, yes, but it was nothing more than a jetlag that took longer than expected.
It was supposed to be twenty minutes a day, only. But the only turned out to be never right. Often it was hard to slide them into the days and I found myself sitting in front of the computer and not single sentence that made sense came out of me. On other days the only twenty minutes were just too short. I was in the flow and my fingers flew across the keyboard when the 20 minutes alarm rang and I had to shut down the writing because I had scheduled other things on that day and I couldn't just keep on writing. And sometimes it seemed to be just impossible after a long and intense day to write even a single sentence when I just wanted to go to sleep. Yes, please read this. It is not a side note: Sleep isn't underestimated. It is a necessity. Writing instead of sleeping when your body screams "sleep now" is just not a good idea. And it doesn't matter if it is late in the night or super early in the morning.
It was before New Years Eve when I realized that instead of opening up a way to make it happen, I even put more pressure on me. And it felt worse than ever before. If you asked me about the biggest learning from this experiment I would say: "Desire plus pressure equals nightmare."
I know you are longing for the easy answer, the quick and easy solution, like I did.
A few month ago I did a survey and asked people what they would really like to figure out when it come to write a book. Guess what it was? Far ahead, the winner was: How to write and publish your book in ten days or less. People were posting like crazy. Please, give me the answer, give me the steps to follow, so I can make my dream become true.
I know that it is not easy to relax when you desperately want to achieve something. So many voices told you, that you have to keep on going towards your dream. Do it, go, lift the heavy weights and if you only want it badly enough, you will achieve it. You've heard all that. At least for me it was part of my education. There are so many sayings and proverbs in German around "do more", "get up early", "be the hard worker". And you know it too, otherwise you wouldn't read this book. It is the mindset that being faster will make you the winner. And it simply seems to be impossible, when everything speeds up to 'slow down'.
Let's keep it this way for now. If you have this desire - to write a book and to make something exceptional happen for your life and career just be aware that pressure is really the worst thing you can put on yourself. It is toxic. Breath. Try to relax and keep on reading.
In the second I decided to quit the new habit of writing for twenty minutes in a super busy schedule and to start over again after the holidays, it was the first time when I felt like that I'd won a battle against the time. I was free again and I could feel that this idea of speeding up and being super efficient took away all the air to breathe, to think, to create and to write.
It was the moment when I decided to open up, to do things differently. Now I can say, it was just the beginning ….