OVERVIEW
I was putting together a TEDx Talk and had come up with the working title, 'How MacGyver Can Help Transform Public Education". I was pretty excited about it, until a friend asked me "What's a macgyver?", bringing a sudden halt to both my catchy title and the assumption everyone shared my love for the brilliant 80s television hero.
Over seven seasons, the fictional TV character MacGyver used his creativity to solve over 430 problems. Many of his impressive solutions came through the combination of seemingly unrelated objects. In essence, this is what analogical thinking or the practice of "making associations" means--and it is an essential skill of human creativity.
Who Is This Book For?
I'm writing this book for users – not readers. It's a field guide for people who want to enhance their capacity for making associations. It's for people who need practical, accessible tools for the purpose of creatively solving problems, and will hopefully be a book you come back to daily, weekly, monthly as you encounter new problems to solve and new creative challenges.
Why This Book?
Simply put, most adults stink at creative thinking. According to a study discussed in the book Breakpoint and Beyond (1998), when 200,000 adults were given an assessment for creative thinking, only 2% of those adults scored at genius level for divergent thinking--a key aspect of successful creativity. In contrast, when a group of kindergartners were given the same assessment, 98% of them scored at genius level.
While we seem to lose this skill as we mature, it's one we can certainly regain. We simply need help learning how to enhance our capacity for "deliberate creativity". I believe associative thinking is one of the most important skills for successful creative thinking, and there are many practical ways to go about improving our practice of it. This book is designed to provide practical, accessible tools and techniques to improve your aptitude for associative thinking and equip you to approach problem solving more creatively and effectively.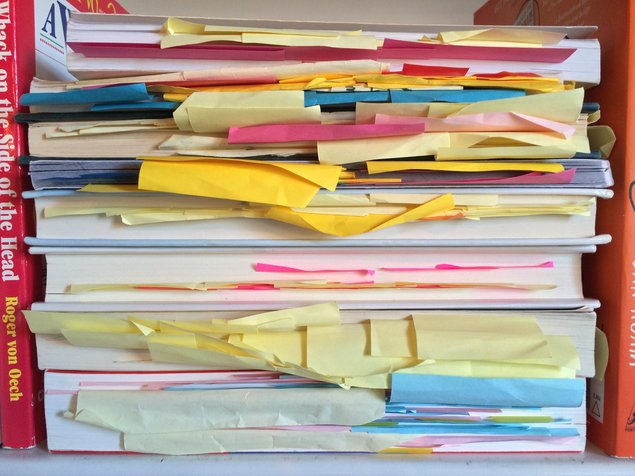 How The Book Will Be Organized
Each chapter covers a specific tool for enhancing associative thinking and will be organized into three parts: background of the tool, how to use the tool, and real-life examples of the tool in action. There will also be a helpful diagnostic guide in the front to help you easily find the tool or tools that would best serve you in a given situation.
Some Example Tools
What if a coffee-cup Splash Stick, covered with temperature-sensitive paint, could change color depending on the temperature of the liquid inside the cup? This way, you can take a drink as soon as the Splash Stick reaches a particular color (your preferred temperature) without risk of burning your lip. This is an example of utilizing Synectics, a set of analogical tools using direct, personal, fantasy, and symbolic analogies to "help you think un-habitually" and solve problems more creatively. Developed by William J.J. Gordon in the 1960s, Synectics enhances creative problem solving through analogy and metaphor.
For about a year now, the Perth Wave Energy Project has been operating out of Australia through an organization named Carnegie Wave Energy Limited. Carnegie has installed three commercial-scale generators that float under the surface of the water and transfer power produced by the movement of underwater waves into usable electricity. Biomimicry is a tool that encourages the study of biological methods and systems found in nature in order to influence the design of solutions to real-world problems. Coined by Jack Steele in 1958, this work essentially means "like life".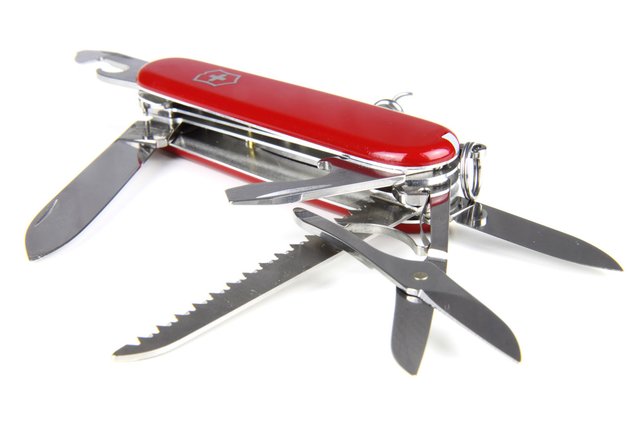 CHAPTER OUTLINE
Introduction: Creativity Doesn't Happen in a Vacuum

What is a MacGyver? -- The story and theoretical background behind why this book was written
How to Use This Book -- How to read, use, and reuse this book. This will serve as a diagnostic and selection tool for users of the book (this book isn't simply being written to be read...it is being designed to be used).
Chapter 1: Forced Connections / Forced Fit -- The most straightforward of techniques for encouraging deliberate associative thinking. "When I consider this object, what ideas do I get for solving my problem?"
Chapter 2: SCAMPER -- Originally developed by Alex Osborn, the father of the Brainstorming process, this mnemonic device helps us think of ways we can substitute, combine, adapt, modify, put to other uses, eliminate, and rearrange the ideas we are working with.
Chapter 3: Morphological Matrix / Idea Box / Creative Matrix -- Made famous by Fran Striker, to help him craft the scripts for the Lone Ranger Radio Show, this tool uses chance to force unexpected intersections of concepts that are not normally related.
Chapter 4: Synectics -- Originated by William J.J. Goardon, Synectics encourages analogical thinking through a variety of methods such as "Personal Analogy", "Fantasy Analogy, and "Symbolic Analogy".
Chapter 5: Biomimicry -- This tool helps individuals tap into their creativity by studying biological methods and systems found in nature in order to bring about creative solutions to problems.
Chapter 6: Visual Connections / Visually Identifying Relationships -- This tool primarily targets the sense of sight by encouraging creative thinking through the responses that result from specific stimuli.
Chapter 7: Excursions / Alternative Worlds -- This tool encourages us to imagine how our problem might solved by another entity or within a different context. For example, "What would public education look like if it were design by Amazon? Or Google? Or Mont Blanc?"
Chapter 8: Fish Out of Water / Cross-Fertilization -- The best way to make creative connections, is to connect with people outside your field of expertise, or outside the space where the problem exists. One way to make this happen is to attend conferences or professional meetings that you have no business attending. What ideas might be birthed out of an architect attending the Nieman Conference on Narrative Journalism?
Chapter 9: Web of Associations / Concept Mapping Switcheroo -- This is an adaptation on the classic tool of Mind Mapping. Instead of working to find how things are related, this tool encourages you to do that and then to deliberately make connections with things that don't logically relate.
Chapter 10: One of These Things -- Borrowed from the well known Sesame Street segment, this tool encourages you to take advantage of the one thing that doesn't belong as a way to inspire a unique, creative connection.
Chapter 11: Walk-A-Mile Immersion -- Primarily utilized as an ethnographic tool for field research, this tools encourages empathy and in turn helps you consider new perspectives, which in turn helps you create new ideas.