About the author
Felicity Aston is the first and only woman in the world to ski across Antarctica alone. The 1744km, 59-day journey completed in January 2012 earned her a place in the Guinness Book of World Records. In 2015 she was awarded the Queen's Polar Medal for services in Antarctica and was appointed MBE for services to Polar Exploration. Felicity has also been elected Fellow of the Royal Geographical Society (with IBG) in London and is a Fellow of The Explorers Club in New York.

Felicity has been exploring the polar regions for more than twenty years. Previous expeditions include the first British women's crossing of Greenland, a 35,000km expedition in a Land Rover Defender to the Pole of Cold (the coldest inhabited place in the world) and the 38-day, 911km Kaspersky Lab Commonwealth Antarctic Expedition in 2009, the largest and most international women's team ever to ski to the South Pole. Her book about this international expedition, 'Call of the White: Taking the World to the South Pole' was published in March 2011 and was a finalist in the Banff Mountain Book Competition. She has written two further books, 'Alone in Antarctica' (which was named a National Geographic Fall Read of 2014) and 'Chasing Winter: A journey to the Pole of Cold'.

Trained as a Physicist and Meteorologist, Felicity's first polar experience, at 23, was as a scientist with the British Antarctic Survey. Based for three years on a remote research station on the Antarctic Peninsula, her job was to monitor climate and ozone. In 2013 she co-presented a two-part series for BBC Science exploring atmospheric physics and cloud science called, 'Operation Cloud Lab: Secrets of the Skies' and in 2016 she co-presented a three-part series for BBC History called 'Operation Gold Rush' retracing the route of the 1898 Klondike stampede across the Yukon.

Felicity regularly publishes her words and photography in online and print publications around the world (Geographical Magazine, Huffington Post, CNN, The Guardian, The Hill) as well as appearing in international print and broadcast media (BBC Radio 4, National Geographic Radio, Outside, Vanity Fair, Discovery Magazine) and is a sought-after professional speaker, delivering presentations about her expeditions to some of the biggest companies (Microsoft, Google, Goldmann Sachs, Deloitte, HSBC) and at the most influential idea-exchanging events (Globe Series, Women's Forum for Economy and Society, Chicago Ideas Week, TEDx).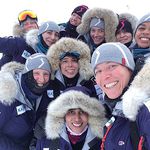 The women's Euro-Arabian North Pole expedition Team Members
Natasa Briski (Slovenia), Misba Khan (UK), Ida Olsson (Sweden), Asma Al Thani (Qatar), Susan Gallon (France), Lamees Nijem (Kuwait), Olga Rumyantseva (Russia), Mariam Hamidaddin (Saudi Arabia), Stephanie Solomonides (Cyprus).
Selected from over 1000 applicants, several members of the team became the first person or the first woman from their country to ski to the North Pole as a result of the expedition. Already highly accomplished in their own fields, they are each pro-active role models both in their own countries and internationally.

Natasa Briski (Slovenia) started her career as a sports journalist before tackling international politics as a corresspondent in Washington DC and more recently founding her own media network. She remains one of the most prominent broadcast journalists in Slovenia.

Misba Khan (UK) is a financial officer for the National Health Service in the UK as well as a Chaplain at her local hospital. She became the first British Muslim Woman to ski to the North Pole as a result of the expedition and has since been in huge demand to share her experiences with groups within the British Muslim community and beyond. She has climbed several international peaks and continues her mountaineering journey.

Ida Olsson (Sweden) is a kayak master, polar bear guard and expedition leader on expedition vessels exploring the Arctic and Antarctic. She also leads snowmobile tours to see Polar Bears in Svalbard. She regularly gives lectures about her experiences to hundreds of passengers and guests each year.

Asma Al Thani (Qatar) is a Marketing Director with the Qatar Olympic Committee and is the first woman from Qatar to ski to the North Pole as a result of the expedition. Previously she was also part of the first women's team from Qatar to climb Mt. Kilimanjaro. She regularly visits schools and takes parts in events to raise the aspirations and sporting ambition of young people in Qatar.

Susan Gallon (France) is a marine biologist who has completed field seasons in Antarctica and Arctic Europe. Susan was instrumental in establishing the scientific work undertaken by the expedition and is an active ambassador for STEM, particularly to women and young people.

Lamees Nijem (Kuwait) is a motion graphics designer and keen runner. She is the first person from Kuwait to ski to the North Pole as a result of the expedition and was a winner at the Arab Woman of the Year awards in 2019.

Olga Rumyantseva (Russia) is a mountaineer instructor and tour guide who has previously climbed the highest volcano on each continent as well as completing many other physical challenges. She works for the biggest adventure tour operator in Russia and is in much demand as a tour leader, sharing her polar experiences with all her guests.

Mariam Hamidaddin (Saudi Arabia) is a community space founder passionate about creating safe spaces for genuine expression and collaboration. She manages community events as well as shared-working spaces.

Stephanie Solomonides (Cyprus) works in an investment bank and as a result of the expedition is the first person from Cyprus to ski to the North Pole and - having previously become the first person from Cyrpus to ski to the South Pole - has now made pioneering expeditions to both ends of the world!