Narrative memoir of a male infantry marine that was drugged and raped 3 months before 9/11 and the 17-year global search for purpose and redemption.
| | |
| --- | --- |
| | Memoirs Military, Trauma, Society, Culture, Travel, Self-Help |
| | Los Angeles, California |
| | 100,000 words |
| | 25% complete |
| | 2 publishers interested |
Synopsis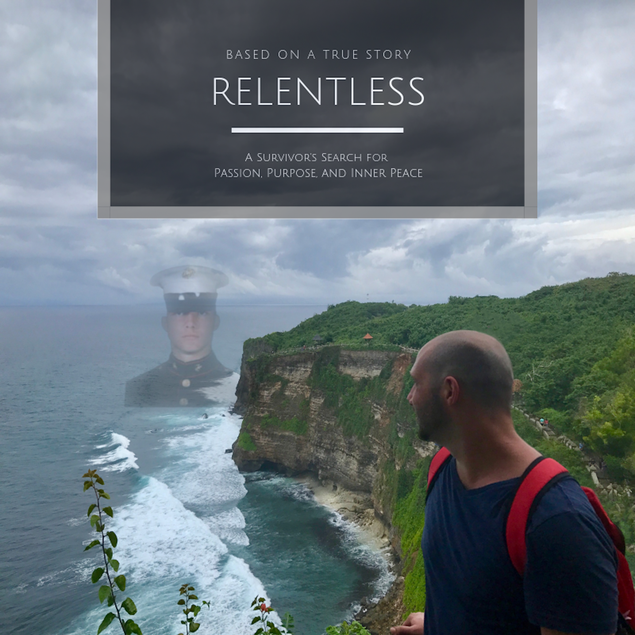 "Haunting and fascinating...an incredible story and needs to be told." - Vik Singh, Alternative Thursdays/Podabing Podcast
----------
In 2001, just a few months before 9/11, two injured Marine Corps infantrymen take a weekend liberty in San Diego only to be drugged and raped by the same man; this true, autobiographical narrative follows one of their journeys the world over in search of passion, purpose, and inner peace.
In the age of the #MeToo movement, the light has been shined brighter than ever on sexual harassment and sexual assault toward women. Meanwhile, the light is still dim on sexual harassment and sexual assault toward men – even less so on military men. The marines are considered to be some of the toughest of the military; most would never suspect something like a male-on-male sexual assault would happen there. Yet it does and it did, to two marines in the same night by the same man. In the aftermath of the dual raping, this book addresses how one of the marines was treated during his remaining time in service, his eventual less than honorable discharge and 17-year battle to right that wrong.
During a therapy session while still in the military, his doctor suggested he "try something new". This would lead him down a path that would take him around the world and on some incredible adventures, including a random meeting in a coffee shop on the other side of the world that would change his life forever. In his travels, he dives deep into cultures, food and people in various continents, making the world a little smaller for all those he has touched. His relentless pursuit for inner peace involves many ups and downs; through it all, however, he never gave up.
Outline
Introduction: PTSD is one of the most mysterious mental illnesses. Few report it, few get treated for it, and even fewer ever share their stories. My name is Brian Schoenborn, a former Marine that developed PTSD after being drugged & raped by another man. I have lived with PTSD for 17 years. I am sharing this story for a few reasons: to help people understand PTSD, sexual trauma and the long-term effects; to share my global journey to make the world a bit smaller; to share a relentless journey for passion, purpose and inner peace, trying to find my place and get a shot at redemption.
1. Rockbottom & the Beginning
Hitting rockbottom, Brian begins retracing his adult life from promising musician to US Marine.
2. USMC MST #MeToo
Weekend Liberty with a friend turns horrific and alters Brian's course of life.
3. The Aftermath
Reeling from Sexual Trauma-related PTSD, Brian tries soldiering on. However, he quickly realizes that the military is not the most understanding of MST.
4. The Aftermath part 2: Try Something New
During a therapy session, Brian receives a lesson that would last a lifetime. Meanwhile, with waning support from his superiors, Brian takes matters into his own hands.
5. The Blur: College-Grad School
Brian attempts to recall the lost decade, in which he struggled to piece his life together. Including his first overseas trip, opening his eyes to the world.
6. India: Enlightenment
An Indian wedding, Golden Triangle, and the start of something incredible. Brian begins to understand his passion.
7. Nicaragua: Cerro Negro
Struggling with finding his place in the corporate world, Brian embarks on his first international solo trip. He experiences an up-and-coming country with a complicated history.
8. Nicaragua: Granada
Brian & new friends take a bike ride through the city and take over a bar, experiencing things interactions he never thought possible.
9. Nicaragua: Isla de Ometepe
Tagging along with two travelers from the hostel to a unique island. Brian develops bonds with other internationals, local Nicaraguans, and experiences an incredible hike up a volcano.
10. Giving Up
Returning to America and feeling stuck in an unfulfilling career, Brian gives up on his career path.
11. The Pursuit of Passion: The Decision
Tired and lost, Brian does some soul-searching to figure things out, making a decision that would change his life, trying something new.
12. Road Trip with my Father
Taking some 1-on-1 time, Brian and his dad take an inspiring road trip along the Eastern Seaboard. Brian opens up about his misery and reason for his new life decision. Meanwhile, Brian come across an online article discussing MST and PTSD; in a last chance effort, he emails the organization.
13. Hong Kong and One Big Buddha
Landing in Hong Kong, Brian makes his first stop on a 3-month trek through Southeast Asia. He meets up with an old friend, gears up for the trip, and explores a Buddhist sanctuary.
14. Melaka, Malaysia
Brian visits an old college buddy and experiences the charm of the ancient hub on a bicycle.
15. Kuala Lumpur: Street Food, People, Heli Bar, & Batu Caves
Venturing alone, Brian befriends the other hostel guests, exploring all KL has to offer, including the magnificent Batu Cave. Brian starting to get blissfully lost in the new experiences.
16. Koh Lanta, Thailand
Boat rides, motorbikes, glorious street food and floating islands abound on the chill, remote island of Koh Lanta. Making more friends, finding street food, and stretching the comfort zone on a motorbike.
17. BKK
The journey takes Brian on an enlightening tour of Buddhist temples and local's tour of the street food scene and other spots. Brian meets with an old grad school friend, Bangkok local, who shows him a different side of the city.
18. Chiang Mai: A Screeching Halt
A midnight train to Chiang Mai, an elephant sanctuary, and a solo motorbike trip to see waterfalls and temples beguiles while an incident leaves Brian hobbled, reminding him of his mortality.
19. Siem Reap & Angkor
Sunrise & sunset tours of the ancient civilization, Brian sees old and new converging as the city develops its tourism industry with bar street and happy pizza. Meanwhile, he begins to see traces of the effects of the Khmer Rouge genocide.
20. Phnom Penh: Tough but Necessary
Exposing the harsh realities of the Khmer Rouge, Brian spends time at a school-turned-prison and a killing field. Following a picked pocket, Brian is shaken and cannot wait to leave.
21. Saigon & a Chance Meeting
Drained and feeling unsafe, Brian heads to Saigon enjoying the coffee, some sights, and a chance meeting that would change his Vietnam tour.
22. Sleeper Busses to Hanoi
Brian & friend embark on a series of sleeper busses, stopping in Nha Trang, Hoi An, and Hue City along the way to Hanoi, beginning an appreciation of the country, people, and food.
23. Hanoi
A tour with Hanoi Kids leads to an interesting egg coffee experience; Brian befriends the hotel workers; an eye-opening trip to the Hanoi Hilton.
24. Ha Long Bay
Overnight boat trip to the Dragon islands and interactions with the guests and crew.
25. Sapa
A 3-day, 2-night homestay trekking Sapa Valley gives Brian a glimpse into the lives of minority villagers in a trip that would affect his life in many ways.
26. China: Entering the Dragon
After a 3-month backpacking trip, Brian enters the Dragon. Everything new and novel, everything foreign, Brian experiences life through the eyes of a child.
27. Reverse Culture Shock
For the first time in over 6 months, Brian sets foot back in America detailing the feeling of reverse culture shock. While home, Brian takes some mental examinations for the military discharge review case.
28. Finding my Feet, Down in a Hole
Returning to Beijing, Brian is feeling his groove until disaster strikes, leaving him to question his journey.
29. Back on my Feet and on the Grind
Brian quickly bounces back with a new apartment and environment. Works through a few different jobs, he networks his way to getting a unique Chinese name and begins seeing opportunities that show flickers of passion.
30. Of all the Coffee Shops in the World...
While working on a client project, Brian meets someone in a coffee shop that would change his life.
31. Bali Getaway
Brian & his girlfriend explore the Bali island, people, and culture.
32. Football Down Under
Brian travels to Australia to produce a live sports event for China. Meanwhile, his girlfriend leaves him due to his drinking.
33. #MeToo and the Epiphany
Weinstein and the #MeToo movement lead to a major lightbulb moment. Meanwhile, Brian gets news of the military discharge review case.
34. Hollywood
After 3.5 years in Asia, Brian is compelled to return to America, where he and his partner work to change an industry.
35. Rockbottom (or Hold on, Pain ends)
Five months into LA, Brian's partner returns from Spain with unexpected news.
36. Rising from the Ashes
Reeling from a serious PTSD flare-up, Brian heads to DC with his parents for an in-person military discharge review hearing. Pulling the pieces together, Brian has discovered his passion and purpose and reminisces on life lessons. Drifting from home to home in different states, trying to get back on his feet, Brian gets a letter from the military containing one sentence that would change his life.
Audience
Appealing to those directly and indirectly affected by PTSD and sexual trauma, including military veterans and their families, the #MeToo movement, and others. PTSD is still a poorly understood mental condition. Until 1980, it was called "fog of war" or "battle fatigue"; to this day, the general assumption is that the majority of PTSD comes from battle. Contrary to this belief, the majority of PTSD comes from non-battle traumas including sexual assault; many directly affected by this disorder were never military. PTSD is difficult to understand, as most people that are affected by it do not speak about the incident. This leaves family, friends, and professionals in the dark, wondering about what happened and unable to help. This book pulls back the curtain to start the conversation around what it's really like living with PTSD in an entertaining, educational, and enlightening way.
Additionally, this book appeals to those in search of their own passion. Many books and speeches have been made about finding your passion; however, few have documented the actual journey. This book discusses the rollercoaster ride associated with that search: the joys, struggles, and everything in between. In doing so, this book appeals to those interested in travel. To this day, most Americans do not travel beyond our borders. Through his own travels, this book takes the reader to parts of the world that they may not otherwise experience, with people and cultures and foods and so on that they would otherwise not know. In short, this book aims to make the world a little smaller through understanding.
Statistics:

70% (224 million): Americans that will experience a traumatic event in their lifetime

20% (45 million): Americans that will go on to develop PTSD after the traumatic event

5% (13 million): Americans that have PTSD at any given time

Estimated percent that will develop PTSD at some time in their lives
18-22: number of military veterans that commit suicide every day
78%: increase in the number of divorces in the military since 2003
$2 billion: amount spent by the Veterans' Health Administration in 2010; $6 billion estimated in 2012

Demographics: PTSD can occur to anyone regardless of age or gender. This book focuses particularly on 18+ Americans
Relevancy: PTSD is the cornerstone for the remainder of the book
Statistics (2016 DoD SAPR):

14,900: military members that were sexually assaulted in 2016

83%: military victims that did not report the crime in 2016

60%: military men who reported a sexual assault face retaliation

77%: retaliation reports alleged from within chain of command

Victims received harsher discharges:

24%: separated under less than fully honorable conditions
15%: service members separated under less than fully honorable conditions

50%: men's dissatisfaction with treatment by their chain of command

Demographics: MST can occur to anyone regardless of age or gender, though focus is male
Relevancy: MST is the cornerstone for the remainder of the book
Statistics:

80%: American workers that hate their jobs

73%: young adults that value experiences over material possessions

46%: Millennials interested in starting a business

Demographics: The many young adults that are in pursuit of their passion as well as experiences, this book shows an example of someone that went through the process
Relevancy: Searching for passion is a key theme in this book; however, readers should be aware that it stems from the MST/PTSD
Statistics:

42%: Americans that hold a passport in 2017 (up from 27% in 2007)

87.7 million: Americans that traveled abroad in 2017

27%: Europe & the Caribbean

Demographics: 18+ with interest in travel
Relevancy: Americans are now traveling more than ever, yet the majority stays nearby or in Europe; this book dives into locations outside the majority, giving Americans a look at culture, food, and people in countries with which they may not be familiar. Readers should be aware that the travel stems from the MST/PTSD
[1] https://www.sidran.org/resources/for-survivors-and-loved-ones/post-traumatic-stress-disorder-fact-sheet/
[2] https://www.nimh.nih.gov/health/statistics/post-traumatic-stress-disorder-ptsd.shtml
[3] https://ivn.us/2014/07/09/numbers-understanding-severity-ptsd/
[4] https://www.protectourdefenders.com/wp-content/uploads/2018/01/NEW-MSA-Fact-Sheet-v1.pdf
[5] https://dod.defense.gov/News/Article/Article/1508127/dod-releases-annual-report-on-sexual-assault-in-military/
[6] https://www.businessinsider.com/what-do-you-do-when-you-hate-your-job-2010-10
[7] https://publishizer.com/the-couchsurfing-story/
[8] https://www.statista.com/chart/12500/more-americans-than-ever-hold-a-passport/
[9] https://www.statista.com/statistics/214771/number-of-outbound-tourists-from-the-us/
[10] https://skift.com/2017/02/08/latin-americas-popularity-declines-u-s-outbound-tourism-snapshot-for-november-2016/
Author
The creator and author is also the central subject of this true narrative memoir. Brian was an injured, active duty marine who was drugged and raped. He experienced the aftermath of the sexual trauma, including retaliation by his peers and superiors as well as PTSD. Every story in the work is true: the event and military treatment; the 17-year fight for vindication; the highs and lows; the travels; the work with producers. And, it is all documented professionally and personally (where necessary).

In addition to the book, Brian is planning a parallel podcast that covers the various chapters as well as "live" post-show events, including chats with characters involved and other elements. Further, there are plans to adapt the work for the screen.
He spent his career to this point moving up the corporate ladder until the last few years, when he started following his passion: beginning with this story and continuing onward to creating film, TV, and audio works that provides a voice for the marginalized, treats people fairly, brings joy to the masses, and makes the world a smaller place.
Promotion
Online presence:
Email list size: >3,000
Social media following (and growing):
Plans:

Create website (pre-orders, access to podcast/blog)
Create project-specific social media (and grow both this and personal)
Obtain a news story about it through high-level friends in media (UPI, GQ, etc.)
Utilize producers and KOLs to promote
Reach out to:

#MeToo & Time's Up
Current partner organizations
Relevant military groups
Relevant Facebook, LinkedIn, Reddit groups

Seek interview with top relevant talk shows/podcasts, others

Reddit AMA and seek other interviews
Potential promotional tour (TV/radio/etc.)
Get featured in relevant newsletters
Run a viral book giveaway
Get relevant, popular blogs and podcasts

Pitch guest posts
Pitch a cross promotion

Boost results with Facebook/Twitter/Instagram ads
Competition
1. Brave
By Rose McGowan
Publisher: HarperOne (January 30, 2018)
In the raw, honest, and poignant memoir/manifesto—a no-holds-barred, pull-no-punches account of the rise of a millennial icon, fearless activist, and unstoppable force for change who is determined to expose the truth about the entertainment industry, dismantle the concept of fame, shine a light on a multibillion-dollar business built on systemic misogyny, and empower people everywhere to wake up.
Comparison: Similar themes and a Hollywood element (though much less-so), Rose McGowan helped and the others of the #MeToo movement helped inspire me to speak up.
2. The Alchemist
By Paulo Coelho
Publisher: HarperTorch (1993 – English)
Paulo Coelho's masterpiece tells the mystical story of Santiago, an Andalusian shepherd boy who yearns to travel in search of a worldly treasure. His quest will lead him to riches far different—and far more satisfying—than he ever imagined. Santiago's journey teaches us about the essential wisdom of listening to our hearts, of recognizing opportunity and learning to read the omens strewn along life's path, and, most importantly, to follow our dreams.

Comparison: Elements similar in terms of an inspiring journey to follow your passion, teaching the audience about the world, recognizing opportunity, and keep going.

3. Eat Pray Love: One Woman's Search for Everything Across Italy, India, and Indonesia
By Elizabeth Gilbert
Publisher: Riverhead Books (February 16, 2006)
This beautifully written, heartfelt memoir touched a nerve among both readers and reviewers. Elizabeth Gilbert tells how she made the difficult choice to leave behind all the trappings of modern American success (marriage, house in the country, career) and find, instead, what she truly wanted from life. Setting out for a year to study three different aspects of her nature amid three different cultures, Gilbert explored the art of pleasure in Italy and the art of devotion in India, and then a balance between the two on the Indonesian island of Bali. By turns rapturous and rueful, this wise and funny author (whom Booklist calls "Anne Lamott's hip, yoga- practicing, footloose younger sister") is poised to garner yet more adoring fans.
4. Forrest Gump
By Winston Groom
Publisher: Doubleday (1986)

Six foot six, 242 pounds, and possessed of a scant IQ of 70, Forrest Gump is the lovable, surprisingly savvy hero of this classic comic tale. His early life may seem inauspicious, but when the University of Alabama's football team drafts Forrest and makes him a star, it sets him on an unbelievable path that will transform him from Vietnam hero to world-class Ping-Pong player, from wrestler to entrepreneur. With a voice all his own, Forrest is telling all in a madcap romp through three decades of American history.

Comparison: Similar in the sense of the many adventures and experiences.

5. Grit: The Power of Passion and Perseverance
By Angela Duckworth
Publisher: Scribner; 1 edition (May 3, 2016)

The author takes us into the field to visit cadets struggling through their first days at West Point, teachers working in some of the toughest schools, and young finalists in the National Spelling Bee. She also mines fascinating insights from history and shows what can be gleaned from modern experiments in peak performance. Finally, she shares what she's learned from interviewing dozens of high achievers—from JP Morgan CEO Jamie Dimon to New Yorker cartoon editor Bob Mankoff to Seattle Seahawks Coach Pete Carroll.

Comparison: Though more of a research format, Grit focuses on stories of people who have pushed through extreme challenge, against the odds, to achieve success.

6. Peace with Trees: A Memoir
By Susannah Pitman
Publisher: Soleil Press (January 25, 2018)

One moment, life was sunny and carefree. The next, it was stormy and chaotic. That's how it felt to twenty-year-old Susannah as she stood on the front porch of her childhood home and witnessed a tree fall on her father during a fast-moving thunderstorm. As she grieved his passing, post-traumatic stress disorder quickly set in and took over all aspects of her life. The plans she had made for her future after college changed. Peace with Trees is her story of how she learned to live peacefully with PTSD while discovering a new purpose and career path as an acupuncturist is sure to inspire anyone who has ever experienced unimaginable trauma.

Comparison: Narrative perspective on how PTSD affects those that have it.

7. The Happiness of PursuitL: Finding the Quest That Will Bring Purpose to Your Life
By Chris Guillebeau
Publisher: Harmony (September 9, 2014)

Chris examines the other side of questing, including questers' acute awareness of mortality, their struggle against monotony, and their wistful feelings once a quest has succeeded. What happens after the summit is climbed, the painting hung, the endurance record broken, the "at risk" community saved?
A book that challenges each of us to take control--to make our lives be about something while at the same time remaining clear-eyed about the commitment--The Happiness of Pursuit will inspire readers of every age and aspiration. It's a playbook for making your life count.

Comparison: Parallels to the travels, trying new things, and Brian's pursuit of passion, purpose, and inner peace.
Sample
I don't really remember the exact moment I fell into my groove in Beijing. So many days had passed where the struggle was real: signs don't make sense to my non-Chinese tongue, the food is vastly different from any Americanese, seeing countless girls holding hands and couples wearing matching clothes to signify BFFs or relationships, working my way through seas of people and cars and tuktuks and motorbikes to get from point A to point B. Most of the experiences novel and exciting and full of moments — some eye-opening, some inspiring, and some WTF?! I'll never forget the moments when, hanging with my Chinese friends, I'd point out the white people. I mean, I'm supposed to be deeply immersed — what are THEY doing here?
Yet, when I landed in Chicago after over 6 months overseas and over 3 months in China, in that steakhouse I couldn't help but find the irony, let alone the new found feeling of culture shock. After 6 months of feeling lost and confused, speaking international English, and really no sense of what's up or down, I found myself in an unfamiliar familiar place where I can actually read the signs, the people look and act like me, and the food comes from a memory seemingly as distant as my childhood.
The places I've been, the people I've met, and the experiences I've had in the past 6 months have been incredible. New people, cultures, food, experiences...stimulation everyday and everywhere. And, upon returning to my hometown in rural Michigan, it felt as if time had stopped. With the exception of a new boat in the driveway and slight signs of aging, it was as if nothing had changed. Such a trip: did I actually travel the world for 6 months or was it all just a dream?
The only sense of a reality check were the stories I could tell people of my adventures, as well as people coming from far and wide to visit. I talked to a few people that I've known since a child, including one woman that I'd grown up with in church. I hadn't seen her in some time and randomly ran into at the local winery/brewery. The distinctive flinch when I told her I'm living and working in China was a telling sign of the disparity between where I'd grown up and where I've been: "China? Why on Earth would you ever go there? Is it safe there?" (ah, biased western media, don't ever change). Or even the moment when I walked into the local Chinese restaurant, attempting to speak Chinese and ask for chopsticks, only to be greeted with a "hi" and a 10-minute search for the mysterious utensils. I won't even touch upon the puzzled comments from my Chinese friends when I posted pictures of the meal, asking them to identify it (apparently "Szechuan beef" is very different depending on which side of the globe it's ordered).
I was homesick. I wanted to return to China. She has welcomed me with open arms, and I enjoy her for all her faults and enduring qualities. And it makes me wonder how other internationals feel, in particular the Chinese? After all, they have a term for those who've gone away to study at university and come back to work: returnees or 海归 ("haigui").
-----
Meanwhile, the pilot light that is PTSD was flaring. Growing ever more intense. My lawyers, to ensure they had the story right, required me to recall my sexual trauma from the military in explicit detail. Over and over and over again over the course of a few months. This was not good. I was falling apart once again. Seeing Charles' face. Seeing the sergeant falling on the floor laughing. Remembering the aftermath of the rape. You can do this, Brian. It's been 15 years and finally you have the chance to right your wrong. Just make it through the next few weeks at home.

Being at home, surrounding myself with family, both nuclear and extended, was a welcome relief from the fire. Visiting aunts, uncles, and cousins 100 miles away from home, I had to step away for a visit to a psychologist. One more time, relive the trauma. Make it through the PTSD evaluation. Then find a way to make it stop.
Two days of evaluation, and I was back in a dark place. It took some time to remember Dr. Bennet saying, "try something new." There it is. That seems to be enough of a distraction to allow me to function, to keep moving forward, to search for my passion and purpose. The results came back: PTSD positive. 15 years and counting. What the fuck. This shit really never goes away. No wonder so many, including myself, turn to alcohol, drugs, and sex to mask the pain. After 15 years, I'm hard-pressed to find another way. Yet one thing has seemed to help. Since leaving my job in NYC, my eyelid stopped twitching and the pilot light in my mind reduced to a flicker. Time to get back to China, to Beijing, for that stimulus and distraction, so I could continue my pursuit.