Synopsis
Through the protagonist, Hassan a camel herder turned Inspector police; the readers will discover the hidden world of rich, multifaceted culture, heritage, traditions, folk tales, and civilization's norms from the heart of the Thar Desert, in province Sindh, Pakistan. The Story begins with the terrible yellow cholera outbreak in the 1920s in the Thar Desert and goes on revolving around Hassan and his journey through a world of emotion, crime, love, and adventure while depicting the true colors of this centuries-old civilisation. The reader will ride along Hassan in discovering the folk science of foot tracing and the different behaviours of the British officers, his pursuit of fierce desperados from the neighbouring Rajasthan. Indigenous tactics used by Hassan to face the hardened criminals with instant customary justice protecting the weak and run-down people. Cap. Roberts, a Scot police commander, and Inspector Hassan offer two key characters that open this new world to the reader. While following Hassan in his life journey the reader will explore the lifestyle of different clans of nomads and their line of work along with investigating the tactics of burglars, snipers, and foot tracers. The story twists in highlighting customary ways adopted by the women of the desert in love affairs and how the innocence of ordinary people unveil humor and true cultural values from this mystical land. The reader will experience suspense and drama at the outset of the deserts lifestyle.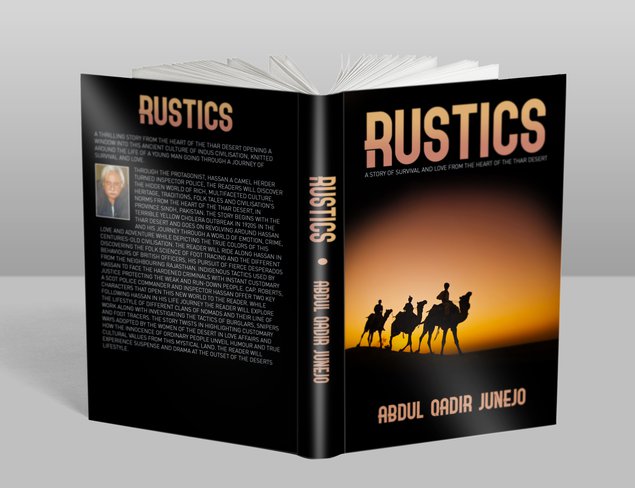 Outline
Chapter 1. Crossing over the debris of the town as a grazer of a large herd of camels, Hassan remembers the frantic year of yellow cholera 1920, when he was schooling in the town of traders and the attempt of his father Ahmed as a troubleshooter in the town at the brink of the Thar Desert and green belt.
Chapter 2. Always a troubleshooter, Ahmed now an old man, is informed that the poor girl of the village Abad is raped, so he regarding the traditions gives instructions to his son Hassan to investigate and kill the rapist.
Chapter 3. Hassan catches the rapist through a series of tricky tactics and ancient tracking techniques.
Chapter 4. Scotish commander of police at Noorpur village, Cap. Roberts travels for a hidden agenda, and his destination is Abad, a village of Hassan. Things change once he lands his foot...
5. Cap. Roberts finds Hassan with double barrel gun dangling in his shoulders, and he forcibly arrested Hassan, and simple people of village think that the white sahib kidnapped Hassan, but his old father Ahmed thinks his son is arrested.
6. Arguments about Hassan and the kidnapper white police officer takes place in the village in a funny way.
7. Hassan stays at Noorpur as confined young man is waiting silently for to be hanged in the case of murder for the rapist.
8. After a wait of few days, Roberts calls him in office and interviews Hassan, in the result, he was appointed surprisingly as an Inspector police at Noorpur, which is far away from his district Nar Par.
9. Receiving the letter of Hassan, his father and mother go unconscious in delight and are treated by sage persons of the village with humor and culturally shared festivity.
10. The news about Hassan spreads all over the area around, and people start approaching Ahmed's home with applications begging the justice in a hilarious innocent way.
11. In the presence of Hassan at his village, the decision of his marriage takes place with the node of him, and he marries with Jannat an unseen marriage doomed to fail.
12. Newlywed Jannat reaches Noorpur along with her husband and is stunned to see the town, so is stunned by sexual characteristics and deep love of Hassan with her.
13. Jannat becomes pregnant and is taken by her love Hassan to her parents in the village as per tradition.
14. Hassan is informed by elders of northern desert about most dangerous spies of dacoits from Rajasthan and is excited to jump on a pursuit to capture them.
15. As being a lone fighter, Hassan plans to spy the spies and then take action.
16. Combat of alone Hassan with spies of dacoits in a tricky manner
17. Death of Jannat including child during delivery and a massive setback to Hassan.
18. Roberts is replaced by Patrick and then the transfer of Hassan to a police station near the Indus River.
19. The love between Hassan and Meeran, a fisher girl, in traditional ways and means.
20. In result of the failure of Patrick, he is replaced by Roberts and transfer of Hassan back to Noorpur.
21. The influential landowner is shot by Hassan in secret as an instant customary justice to nomads.
22. The family of Meeran is kicked out of his village because of her love, another great shock to Hassan.
23. After the freedom of country in 1947, Hassan is posted as an anti-smuggling officer at the border, and he starts to get massive bribe first time in his life.
24. Hassan is back to the police department and is posted at Hafiz Pur, famous for tribal clashes, and he works at the kinky and lengthy case of murder.
25. The mission of Hassan against a criminal minded cruel cabinet minister.
26. Hassan loses his job.
27. Hassan jumps in politics and forgets his customary principles. The conclusive chapter with a dramatic end...
Audience
Social anthropology of the people of lower class of villages of southern province Sindh of Pakistan has not been explored in any novel to this detail so far. I have written this novel in this view and have structured it based on realities of this part of the world. To make it interesting for audience at all over the world I have knitted this story with suspense, drama, thrill and humor, because already I have great experience of TV drama writing and short story writing. Because this story opens hidden world for the audience at all along the world without any frontier of cities, countries and continents I believe it will attract a waste array of audiences from around the globe. Though this is a novel but it will showcase the true color of the Thar culture hence anyone interesting to know will pick this book.
Promotion
I am planning to utilise my huge following on twitter and Facebook. Being quite well known in the literary circle I should be able to use social media campaign and ads to my advantage to raise awareness and interest. For new international markets we shall also use Facebook marketing and also use Google Adwords to reach audiences utilising the power of social media.
A Thar Desert focused Instagram channel that will focus on sharing The Sindh culture depicting pictures and updates
My website www.abdulqadirjunejo.com updated with the book related snippets and announcement utilising proper SEO of my written content to attract organic traffic.
Another way I am planning to market to raise awareness is to utilise my son in law's website https://awww.jewelry and put cultural Thar's handmade jewelry and handicrafts to sell. The link to the book profile will then be sent to the people who show interest or buy the jewelry.
Youtube is another avenue that will be explored with videos highlighting true life of Thar and its history.
Competition
John Stein is my aspiration and a great teacher through his books and I believe my style could be that but he is not my competition.
I dont see immediate competition as the topic on anthrapoligical view into Thar has not been explored as far as I know.
RUSTICS
CHAPTER 1
He was born to steal. He had stolen his facial features from his mother Kareema and the appearance and alacrity of his body from his father, Ahmed. Thus, now he was more than six feet high brown colored young man. Oh no, he did not steal his name from anywhere, but the Hassan was gifted to him by his parents, though it was not in a pack wrapped by the red ribbon as trendy people used to do on a happy birthday and cut the cake in pieces at every year. When his parents had given him the gift in the shape of the name, at that time according to tradition of the village, women of the village sang folk songs in a course with a happy frame of mind. After the date of his birth, it was nothing like the gathering of birthday at every year in far-flung village, Abad at the brink of desert and green belt. He was not capable to move away a hair space from the gift given to him, though he had no objection on it, at least was not written and then gummed the words 'no objection' on his forehead. His objectives for the future were just a wild guess as being a rustic young man from a far-flung village, but his daily routine was fixed enough. He had to rise anyhow before the sun rises after deep sleep on his cot placed under the open sky, near the large herd of camels owned by his family. His first move was to watch at the camels with eagle eye without counting the figure of them in the divergence of other camel herders, who used to count the figure of the camels with their index fingers, as was their daily routine early in the morning. Whenever with his gun, as being a sharpshooter, he was shooting the mark on the dried branch of the tree in the jungle; He was in practice to close his one eye instead to open both eyes as the Eagles do. No, he did not steal some of the traditions of the previous generations, but those traditions stole him for the time he did not know about. One of those customs was to avoid killing the bird or any animal. However, it was imaginable for him to kill a thief or robber during the theft or robbery in front of his eyes instantly at the spot. Even then, yet his hands are not saturated with the blood of any breathing living being. Though he was all set to kill any violent animal or man, which would attack him to rob him or someone would try to rob some of the restricted traditions of him at that time, as was traditions oriented morality of him. As being a traditional man, traditions were more precious than his life. Every day at early morning he was duty bound to take away the large herd of camels to graze. To graze the camels may be the breakneck pace for anybody because camel grazes in the radius of near about three miles around in the desert sands' and herder had to jog constantly at the rear of the grazing herd, might be for more distance in the whole day. To jog on the plain ground or the running on a strip of the path is many times easier than on the sand' routes in the desert because the sand under the feet of the person slides the feet little bit backward of the jogging person at every step. He was proficient of grazing his camels in that way, even after so much physical exertion he was brisk at early morning of next day as was the daily norm for him. Like all camels herders, he is used to eating two times daily. The first meal is usually before noontime and the second meal before the nightfall with a bread of millet in one hand to swallow piece-meal and a large bowl in his other handmade of shined material and a little thicker than usual copper, filled with the milk of camel to gulp piece by piece at once in a simultaneously. With that sort of diet, setting up and jogging behind the camels turned him into a swift, firm, and muscular young man. He was told by the elders of the village based on their experiences that camel eats thirty-six shrubberies and trees leaves, and as a result, camels' milk kicks away thirty-two diseases out of the body. Actually, in the milk of camel, there is nothing like lipid, though in taste a little salty. Early in the morning, he use to go out of the village with a flock of camels, and at the dusk time, he would coming back with the same flock. Every morning and at every dusk, he had to cross over the desolate debris of the trader's town, where he had his school when he was a boy. At that time, when he was in school he did not know what would be going to befall in the town, but abruptly everything went in vain and turned in debris. It happened instantly; even he could not imagine that it would be so. He remembered those days of a frantic year in his life. People of the town used to say; the teacher Ram Singh is entering the school pointing hands to the wall clock instead of his own feet, if someone wants to know the time then he does not need to look towards the clock on the school wall, but towards the steps of Ram Singh. It might be a heavy rain or sizzling heat or windstorm early in the morning, or he might have an interruptive testing problem to cope with, he was on the dot to reach in the class. That day teacher Ram Singh was absent from the school, was the first lingering day in the life of Hassan, because every wait turned into the weight on his senses. In the absence of the teacher Ram Singh, the students were merely chatting and were looking towards the door to see if their teacher was entering the class or not. Hassan was also discussing with his friends Ram Chand and Shankar, they are both from the town. They were setting the place for a play in the evening, the halfway between Hassan's village and town of traders and were waiting for the bell bangs, a signal to leave school, as was a daily routine for them. One morning Hassan came to school, and he saw that the surrounding walls of their school have become homes, shops, and streets for trader's, full of noises and activities, and there was nothing as hazardous to be cope with. However, it happened abruptly, and after a little while, before the school bell, he felt everything was turning into a dead end. All of a sudden, close relatives took their children back to their homes and the children belonging to the town including his friends Ram Chand and Shankar without saying a single word. They were so much in a hurry and panic, even they could not respond to Hassan, who inquired from them about why they were doing so before the bell rings. What he had seen; he cold sweated and could not move from his sitting position on the bench until all pupils left the school without tipping the school bell off. When he felt like there was not a single student remained in the school except him, he left the school and could not see a single person in the outer walls of the school, the peon of the school was also missing. As being a sensible boy, Hassan felt something terrible could have taken place in the town, and might be all around the place including his village located near the town. He left the vicinity of the school for his village at nearly about three miles distance, was not so much away regarding the thinking of the local people. For them, three miles or many miles more was just at the reach of a spit.
Coming out of the school vicinity, he ran toward his village because it seemed to him that similar disorders would be traumatic in his village. He was worried about his parents, relatives, and other people – People in his village were close, and his village was located at the brink of the green belt and the end of the desert sands dune. His village Abad was stuck between the lush green lands, lakes at the north and many breeds of the bushes and trees of the desert at the south. Some of the residents of the village were all time busy growing green acreages, and some of them were grazing the herds of cattle in the bushes and trees at the desert side. It was, not a large village, but with near about thirty or more houses in a row on the dune.
Every home comprises of three to four conical thatched huts, and every home hedged around with dense, dry thorny bushes, more difficult to cross over than the walls in the town because of pricking thorns. What he had seen, the disorder in his town could rip apart the hedges to rush in the homes in his village. He could assess it was a hazardous condition, but he did not know what it was. From childhood, his mind fixed to trace the footmarks on the land, a traditional skill all around the area. All the while going to school and coming back to the home he was in practice to watch the marks of feet of the persons with penetrating manner, it was great excitement for him. From an earlier age, he was a gifted instinctive foot tracer. Running back home on the halfway he saw fresh footmarks of one of the herders belonging to his village and determined that the herder from his village was on the trot, which indicated that the man was swift by good physical shape. From his steps, he also presumed that the herder was carefree at that time of the disaster in the town, but even then, Hassan was anxious to reach his village as soon as possible. How could he believe that his village would be eluded from the same disaster that took place in the neighboring town, doubt do not have wings to fly over to see the happenings downward the land. As soon as he reached the edge of a bend, where he saw women of his village coming in a queue towards the village with clay-made traditional watering pots on their heads filled with the water fetched out of the lake at the north of his village, they were quiet and composed as they were used to; he did not feel a stir in them and did not see perturbation on their faces. If something had gone wrong in the village, they would not be seen on the path to fetch water from the lake at that fatal time in the neighboring town. They were ignorant of the disorder in the town as well. Otherwise, they would be rhetorical as usual before fetching the water from the lake without the burden of filled watering pots on their heads, but a burden on their heads made them hushed. Even then, he was double minded if the same condition would be in his village or not, but when he nearly reached his house, he saw that kids were playing with care a tinker's damn. He stood there for little a while to check the movements of kids and saw them in good physical shape. He could not waste more time there, and as soon as possible, he reached his home where his father Ahmed was sitting on the cot and was rotating the spheroid of goat hairs to make threads for knitting the shawls, usually wrapped around the body in winter. His mother Kareema was sitting on another cot in front of her husband swaying her legs and was chitchatting with Ahmed without any sign of peril on her face. Thanks God, his father, and mother were absorbed with their usual chitchatting without worry; Hassan felt a little bit relaxed. But anguish on his mind could be seen easily on his face, but his father and mother were unaware of it and kept on with their chatter, though his father was busy with his routine work in a spontaneous manner as was his habit. being ignorant of the catastrophe in neighboring town, Hassan could not stop to say what was on his mind, "Pa, something wrong took place in the town." "What happened?" Ahmed asked with vigilance. "I don't know appropriately, but something grave took place there in the town of traders." "What a nonsense you are talking. When you don't know what happened in the town then how do you know something grave happened there." Though Ahmed was well aware of the nature of his son that he won't tell a made-up stories in an exaggerated way, but what he told him seemed vague, and he gazed in a suspicious manner on the face of his son. Hassan felt like his father was still confused about what he just listened to concerning the condition of the town. Thus, he told him what he had seen when he reached the school in the morning and what he had seen and sensed when he left the school for home at noon. Bearing in mind that the whole long and short of this from his son, Ahmed turned out to be a stir to cope with hazardous state in the town, whatever he should be in a town. He threw spheroid on the cot hastily without looking and then wore a pair of footwear to leave his home for the town, to help the victims. Looking him in emergency, happy go lucky and always humorous Kareema as being his life partner, knew very well that whenever he hears those sort of incidents he would think himself as a great warrior and would be ready to combat with the troops of the enemy. Laughter came in her mind but before reaching her lips with great potency, she ducked it, because she knew that at the time of the stress on the mind of her husband, he could be furious if someone takes it lightly and then crack the joke or chuckle, whoever he or she might be. In normal settings Ahmed was flippant and cheerful husband, father and friend but in emergency he was neither husband nor father and neither friend nor relative of anyone. His mind and his physic focused to cope with the disaster. Without heeding no matter what, in the home Ahmed took his axe and swiftly left. Seeing his father urgency, Hassan also tried to go out of home on the heels of his father to see his close mates Ram Chand and Shankar, at this, his mother Kareema grasped him by his arm, "Where are you going?" "I am going with pa to see my friends and to help them. After all I schooled there for more than five years." "There is no need for you to go." Kareema shouted faking an anger, "Do you think your father is not enough to cope with the problem in the town? Do you think the sky will drop down on the town and earth will turn downward without you there? Sit there to eat something." She pointed toward the cot.
Yes, he was hungry but what he had seen in the town made him forgot his stomach' urge, and he could not avoid the wound of loss in front of his eyes, which was screaming in his mind. Once his mother told him about starving then he recalled that he was indeed hungry and sat on the cot as was told by his mother. The images of the faces of his friends belonging to the town were overflowing in his mind. However, the conditions in the town were worst, but he fancied that his mates would escape from the sheer anonymous, unexpected and silent as grave irruption in the town. Whenever, in an emergency, Ahmed would yell to the viable men from out of the edges of their homes in the village. Heeding the shouts of him, they will be ready to go with him to wherever he had to go and they would stand with him until the ruinous occurrences of any sort be vanquished. Accompanied with young and healthy men of the village Abad, Ahmed reached the town to help his near dear neighbors, as was his characteristic norm since younger age. Whenever all of them reached a town, they will see more terrible happening than what they have imagined. They will feel that the land is slipping under their feet and the thunderbolt took place in their heartbeats and could not believe their own eyes what they had seen. It was more deadly and unbearable happening in the town than the version told by Hassan, was biggest blow to them and their minds turned to be hazy. It was an out of control situation for them, though they were daring devils. It was more dangerous than war for them, because they did not had idea how to fight with that unheard-of enemy.
People of all ages in the town were dying one by one in an uncontrolled chaos because of the abrupt outlandish epidemic disease with profuse, diarrhea, vomiting, shooting pain, quiver, and then instant death. They were being extinct like shaking locusts move back and forth, an abysmal prospect to look at. It was a tight spot and superbly grim happening for Ahmed. He had never seen that sort of misery in his whole life. Even he did not hear about that type of epidemic disease. Men who came with him were bold and brave to face any trouble under the sky, but their faces lost the color of the blood and turned out to be pallid. They stared towards each other with a look they could not interpret, and silent questions took place in their stares. They could not assess what to do and how to do, for the people of the town lived alike, brethren from previous generations. After profoundly thinking and then consulting with each other, they concluded that there was no way to protect their life under this unseen deadly attack. The only way remaining is to cremate them with the help of a shoemakers, a lower cast of Hindus, who came with Ahmed from the village Abad. Then again, after a close examination, they concluded that it was impossible for them to cremate the whole lot of dead bodies one by one with lengthy rituals. Only one alternate choice was remained for them to bury the dead bodies in graveyard of Muslims as being brethren of them. Ahmed was seamless from his point of view about epidemic disease, but trouble arose out of the condition on how so many dead bodies would be taken on the cots to the graveyard. He thought, then consulted with the shoemakers, a lower caste of Hindus, about it and then concluded about the dead bodies, on how to take the bodies to the graveyard. Standing there Ahmed and his main companions sent young guys with the instructions to cut down the thick trunks of the local tree named 'Jar' in Sindhi language in the nearby jungle, jam-packed with leaves without any sort of single thorn. Then the ends of trunks were tied with ropes, taken from the town, in a way to make place for two or three dead bodies to put on each trunk. Two or three men were pulling it on the path across the jungle towards the graveyard, and another young man was at rear side to look after the dead bodies, so as not to slip out of their place. Reaching the grave, where Ahmed and his main companions were ready, they were laying three or four dead bodies in one grave in Islamic way and then pray as well as drops of water were dripping on the grave. Coming back to village at dusk, they were distributing the milk of the camels to pray for the dead ones in Islamic way that their souls would take rest in heaven. Few men out of them were off from the town to look after the dying people. They were burying the victims continuously for two to three weeks. No one knew about that sort of epidemic disease including Hassan who was at that time student, but he could not assess from where it did come, how it turned fatal and what was the cause of the fatalistic disease in the town and why it did not spread to other neighboring villages including his own village. Nothing was written about it in the books of curriculum, then how could he assess. Now being a young man herder of camels, Hassan whenever he was crossing over the debris of the town had only a question in his mind, why did the disease spread in the town and why it did not touch the village. He could only remember the misery of his classmates, staffers of the school, the shopkeepers of the town and women working in homes, and no doubt, the homes, walls, doors, windows, school, and busy bazaar of the town were vanished forever. As well as the memories of that year of disaster, he was also worried about his old father and mother's presence. It was difficult for him to swallow the facts to spell the time, fifteen or sixteen years after they courageously cope with a fatalistic condition in the town his father Ahmed was now an old man and his mother Kareema lost her lightsome manners.
CHAPTER 2
No one is a more terrible robber than time. It robs the blooming age, maturity, empirical middle age and old age of living, and even the civilizations of any period, anywhere in the world. In the same way, it was robbing the spell of life for the last fifteen years of Ahmed bite after bite, but during that period of the robbery, the victim could not notice it until the old age pounce on him. In the past, many of the thorny junctures were in the reach of Ahmed. He was always on the go helping hand for the people all around the area but now he remained merely a chieftain, as was acknowledged by the people of the village after those days of unknown intense attack of dreading disease spread in, the town. However, the strength of Ahmed was robbed now by the hostile time. The people of the village Abad had high regard for him in their mindset and behaviors, but no one had the power to overpower the declining age of him and no one was able to stop the continuous theft of his physic. What he was feeling about himself, he had lost his authority to carry on his task to meet the need of beaten ones strangled by troubles. He did not take it as a tragedy of his own assistance to suffer for whom he was worried. It did not mean that he was thinking only about himself as a savior. What he was thinking at that stage of his life, might be others, one would be playing him/she role as savior with more novel and effective way than his past, but even then, his worry about sufferers still existed at the bottom of his mind. Delights are forgotten within the little while but the wounds of the tragedies are getting widens day by day and year-by-year, because that sort of inner wounds is always widen instead to be healed. His ambition was thriving, but so, was a more effective for the people at the testing times. The thinking was standing in attention in front of him, but the endeavor was at ease somewhere else in the thickened darkness out of reach of him. Kareema lost her allure, good spirits, and happy-go-lucky nature, and turned into a little bit annoyed old woman, but her affinity with the problems of the people of the village was still alive in her mind. She knew very well that she and her husband were preparing themselves to fly away from the earth, under their feet and sky over their heads toward the world shrouded in the mystery, but they did not know which shot of the time would rob their lives. No doubt, both of them could not set to the trouble in the village and all around the place. However, now they could only worry and then talk about the on-goings in their own village as being an anxious old couple. They heard by some of the people of the village that some of the young men from their village were pertaining to eccentricity, and that fact was getting swell in their village gradually and in result any mess could take place in the village. Both of them could not stop it but they were able to talk about it. Worries cannot entangle in the throat and cannot stop at the lips as their last stop. They had many unbeatable obstacles to do, something advantageous for the people hemmed in by crisis, but their lips were set free to do their work, because still their language was vibrant and hopes were insistent. "I don't know why they do this." Setback was strong on the low-spirited face of Ahmed. "About whom are you talking?" Kareema asked from him in an irritating way. If someone cannot do something at her or his own will, then the same person can show her doings in the shape of irritated conversation. Inability of any person were be stated by words only, but sometimes irritation on the face itself is deliverance by the person. "I am talking about young guys of our village, not for others." "Look, you are now too late to pit yourself against them. Every time has its own drum to be beaten." Kareema said him in a state of despair. "I would be too late or not, but I have heard that they are slipped out of the hands of their parents even. The whole village started to get bad name." Concerns cannot get rest on their way.
"Look, whatever is happening, put dried hays on it and then set it on fire." Kareema said with the vexation. "Why are you so much hopeless?" He asked from her in a hopeless manner. "Because the whole hell dropped over the heads of deprived and mistreated people of lower caste of poor Hindus in this village. Do you know that daughter of Ram Das is raped?" She broke out with extreme pain on her face. Ahmed was stunned by that sort of news first time in his life, "But no one in the village told me about it." He roared back though being a weak old man, but even then, his voice was strong. As by his nature, he was not able to bear intolerable injustice. "Do you think that nature of incident would be possible for the women to tell that to the men? The poor girl Janiky kept silence because they harassed her that she would be silent, otherwise they would slay her. She did let only her mother Radha know about it, who approached me after that incident because she knew that only I can look after, the ill-fated women, as belonging to the house of the honored chieftain strict on the principles generated by our traditions." She took him with ire. Ahmed came to be hushed. The shock took him at the extreme of the fury even he did not like to talk about it more because sandstorm began to shrill in his mind, not only because of thinking of himself, but by the tradition of the people in his villages surrounding areas also. Murder was avoidable for them, but the rape was unavoidable in any case, from whichever caste victim girl might be. For him in his words, 'honor is even dear to the monkeys' but she was after all human being. It was entirely outrageous for him but he kept silence. Sometimes silence is howling more than anything is. Deep silence of him was generated by the fury, like the earthquake moving toward upper layer of the land and still did not reach the surface of the earth to loose hell. Forthcoming night was the longest night for Ahmed in his entire life. He heard a lot, seen a lot and done a lot, but this night was most upsetting for him of which he could not imagine. Rape of Janiky hit greater jolt than the epidemic disease in the town fifteen years or so back. For him as being man of the traditions it was better for a girl like Janiky would had died by the epidemic disease instead of rape. He could not sleep and was kept tightly by his own critically inner wound, came out of the outer event. Many questions raised in front of him like front quarter of the cobra that how would be possible to do the justice with deprived and routed victim. He knew he could not gain back the honor of the girl and the young age of his own, even then he was thinking over and over again that how justice could be done to her. In the longest course of the thinking, a flash of the hope hit with its immense power on his mind. And he reached the salvation in the light of that flash in his mind and then he felt at ease, and was calm and quite for remaining lengthy night and onwards to a dim light of the later dawn with little bit hope to do them justice. He did not want the honor of the girl and turban - a mark of respect of the elder man of the village – of him equally kicked in the dust. His wait turned into crackling weight for his head. He lost his active age but still he did not lose his stand about the traditions generated by his previous generations. His life was his, thus it could be at stake, but the honor of the customary justice could not be at stake anyhow. Death of him was not taunts for him, but lost honor of Janiky was always taunts for him until his death and after his death. He did not want that after his death his grave would be spitted. After morning, when all of men and women were busy with their chore at homes and out of homes, Radha approached him in response of the message sent to her by him as usually chieftain used to summon any person to his home. He asked from her about the incident to identify the entire fact as was his main principle to hear from the victims to believe, instead from his wife Kareema, though he believed what told by his wife. At the same time, it was open and shut fact for him. It happens, someone tells something, and the listener listens to something else, a usual error of the old aged people, because of the insipidity of the decaying senses in the slippery mind. Even sometimes, he was feeling same condition of himself when his mind was dispersal to the incident, but this offence was desperately inflictive for him, as told to him by his fuming wife. In the first instance Radha tried to sidestep to tell about the incident and the names of the rapists, because she was severely frightened as being disgraced women belonged to the lower weak caste. But when Ahmed gave his word to her that he would keep up the secrecy of the incident, and then Radha revealed the name of the rapist. They were not two young men, but he was only one young man who raped Janiky at dusk, when she was coming back to her home after the work in the acreage as a toiling girl, Abdullah threatened her brutally, and then he raped her. Radha knew very well that Ahmed will keep the secrecy but would not be capable to do the justice with them as no one goes in the grave of other for burial. People belong to her caste were used to swallow the cruelties inflicted by upper castes from the centuries and silence turned to be their howl. So was with her. Once taking an entire point out of her, Ahmed felt first time that his rock-solid minded wife Kareema was losing her memory and she told him about two rapists instead of real one-man Abdullah. It was another shock to him to be old is to be misapprehension also. He thought that at that stage of life, he himself might lose his sense of customary justice in his mind. If not today then tomorrow, and upcoming time will swallow his sense of justice, before that he must have to do the justice to defenseless women of the defenseless caste, otherwise remaining days of his life would be passed in the agony and his death would be turned into spit on his face. What he had done, accordingly, he lived as a respected man and wanted to die as a respected man and would be remembered by the people as a respected man after his death. It was not because of his own self, but because of injustice done during his existence, as being the chieftain of the village. Ahmed kept silence for some time, but he was too much upset about the fact that justice should be done because of the assaulted girl. He knew what to do but he was bothered about another fact, how to do. With the great effort after the time of dusk, he took stick as a support for walking, and came to the sitting place of camels. For a while back, Ahmed was usually coming to watch the herd of camels as was his delight but then with the increasing age he lost the interest in the camels. Thus, when Hassan saw his father there, he felt an alarming act of his father. Hassan was astounded and he sensed that something deadly took the place in the village, which took his inactive old father to come out there. Otherwise, he would had talked with him at home or would had summon him at home. He looked at his father and waited for him to say his mind. Dead on his feet Ahmed sat on the cot with deep sigh and then looked towards his son Hassan attentively to assess that respond of him would be expedient or not at all. Whoever he may be, he may be his son or close relative or close friend but mind of any other person is always unseen world to be seen. "Pa is it any order for me or you came here just to see the herd of camels?" Hassan was well aware if he would not ask from his father then he would be quiet as was his nature. Ahmed put his chin on the head of the stick for a minute or two, then went on, "Too much challenging," Ahmed tried to explain the real fact to his son in an indirect way as fathers were doing usually at that time in that area around. He did not want immediate reaction of refusal by his son, "Look, I am an old man and spent the larger part of my life and am living at the dead end, but you are still young man to enjoy your formative years." Hassan waited silently that his father would clearly conclude what he wanted to say, so Ahmed went on, "Whatever I wanted to do, I did with full swing. Now it is your turn to uplift your young age and do whatever you want to do. I want your future to go on, on the path shined by delights." Ahmed tried to reveal the fact in his mind as a first step. Sound-minded person Hassan did smell little bit ardent spirit of his father' talk but shrouded thickly in words spoken by his father about something secret in his mind, but at the same time, he was sure that his father would come on the real stepping of him. "What do you think, how to deal with rapist?" After all Ahmed talked his mind, though took little bit while to reveal it, as was his habit. "He should be killed without any reluctance." Hassan was well aware how to answer that sort of questions within their traditions and he believed in that version revealed by his father. He did not want his father' talk to be indirect or covered by the chopped sentences. "What will you do, if rapist would be near dear to you?" Another shot by Ahmed, though rapist Abdullah was not near dear to him but was only village fellow, but he wanted to know that for the justice, at how much extent his son could go. "Who he may be, should be killed. Rape can't be let off at any rate." Hassan moved toward the point what was in the mind of his father, but he did not know about whom his father was telling and which sort of story was behind it. "Can you kill the man?" Wrinkles on the forehead of Ahmed tightened. "Sir I told you I can kill that sort of man, who he may be, without any fear or reluctance in my mind." Hassan took stand he had to. He was bright young chap and was proud of his upbringing in the family of courageous communal cluster in the whole area around. He evaluated the entire essential nature of the problem from the conversation of his father. He picked up the clue that his father wanted from him to kill the rapist, and then in result of it, his father wanted himself to be respondent of the murder voluntarily to protect the life of his son as old fathers usually were doing in their clan. However, Hassan did not want his old father hanged as a murderer by the law of British government. In this concern he resisted against his father's obvious wish, and he tried to explain his father that there would be no need of to be respondent of the murder case openly. No one in the village had the dare to register the case of murder against him, and no one would be able to show the favor of rapist who he might be. Hassan wanted only the name of rapist, and getting to know the name of the rapist was not blow to him. "Who is the rapist?" Hassan wanted to be acquainted with only the name of rapist but neither the name of raped woman, nor the detail of the incident. He had to obey his father and rescue his traditions. He was not fond of hanging on that sort of stories as being a resolute man. Ahmed thought for a little while then came to the main point, "No other than Abdullah." The name was enough for Hassan and he marked to follow-up of his father' will in cunning way and wanted beholding for a proper time and isolated place to shoot the man involved in the rape was difficult though, but he had to do the traditional justice. He knew very well that his father wanted it as soon as possible, but he told his father bluntly that the given task to him would take time. In response his father agreed with him on only time factor told by his son and it was the great day for Ahmed in that phase of his age to see his son on the upcoming path of immediate justice as was deep-rooted by tradition of the family. Hassan waited for the proper time, most needed for the justice in his mind, as he promised his father.