Synopsis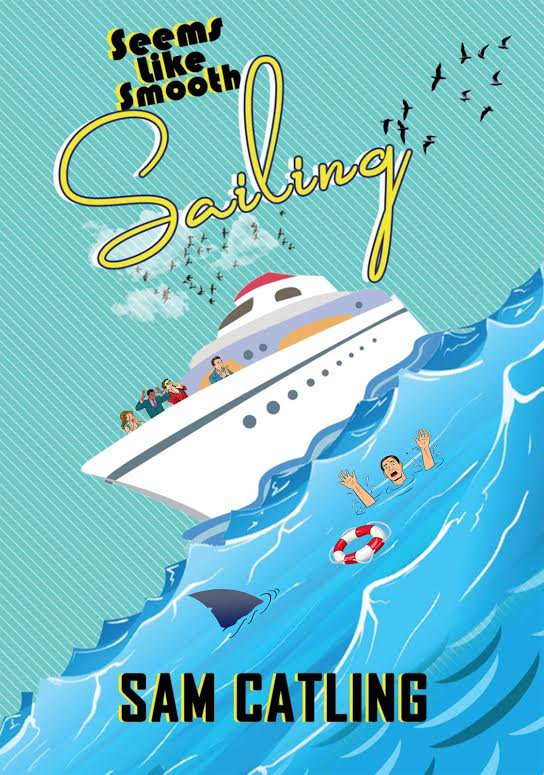 'Seems Like Smooth Sailing' is my own personal journey of what experienced working on-board cruise ships as an entertainment host. You will get a behind the scenes (below the water line) look into the lives of not only myself, but some of the staff and crew as well.

At the time most of the events in this book took place I was but a mere lad of nineteen and late to bloom. For whatever reason I was confident enough to get up on stage in front of a room full of strangers, but painfully shy when it came to talking to attractive members of the opposite sex. So just in case you've heard on the grapevine a few squalid tales of debauchery that a life on-board can bring, I want to promise you early on that this is not that kind of book. That being said, it doesn't mean there aren't a few risqué moments thrown in for good measure. However I tend to unfortunately be in the possession of a rather inconsistent charm-o-meter. Think one minute Hugh Grant, Mr Bean the next.
If you have doubts about going on a cruise, then this book might encourage you. If you have ambitions to go and work on a cruise, then this book won't dissuade you...probably.
For the most part though, this book follows a linear tale of discovery, challenging situations and attempted self-improvement.
The title of this book is an attempt to correct the general misunderstanding most people have when it comes to working on-board cruise ships. Which is that it is really just one long extended vacation. Yes there are a lot of benefits that this type of career can offer, but it is 7 days a week and requires a lot of hard work.

The book's style is (I hope) funny at it's core, and unlike other cruise ship memoirs I have read, mine attempts to be as honest and self-depreciating as possible, warts and all.
I think the beginning of the book does a good job of putting the reader in my shoes as the narrative character, because like most people at the age of nineteen, I didn't have a clue.

Writing this book now in my early 30's with a career in entertainment behind me, hopefully means that my ability to be an effective and emotive story teller has some small amount of truth to it.
Outline
Introduction
A few pages on who I am, why and how I started writing the book, also a heads up on what and what not to expect within the book.

'On the very first lesson of the very first day, my very first lecturer asked the class to write a very mini-autobiography and gave us ten minutes to do so. It's amazing how such a simple thing like that can really help your brain turn its headlights on.'
Chapter 1 - Changing Course

Details of my home life and work situation, how I was shaping up as a young adult and setting the scene for the inciting incident to come, which was to start working on cruise ships. This chapter also includes how the notion of working on cruise ships came to me, how I applied, how my interview went, what training I had to go through and the excitement building up to arriving at the ship.

'It was time to start packing. And by packing I mean my mum did it all for me because it was the last chance she'd have for a while to be all mumsy. I was subjected to a barrage of questioning "Will you need this? Shall I pack that? Do you have enough skin cream?"(For my Eczema) etc.'

Chapter 2 - A New Chapter…Literally
My first few weeks on-board learning the ropes and getting acquainted with a life at sea.
'I felt like crying. I wanted so badly to be good at my job, but found with something like hosting in front of a family audience it takes a lot of practice and a think before you speak mentality.'
Chapter 3 - Making my mark
Coping with home sickness, and making an effort to start getting the respect of my team and finding my place within it.

'The sensation of chewing food that was tougher than old boots and smelt worse than them to boot was unbearable. So I ran for the nearest railing and launched it overboard retching loudly.'

Chapter 4 - There Are No Stupid Questions…Hah!
Disclaimer!
Unfortunately, these stories are all true and are a mixture of things I personally encountered and things I collected from colleagues over the years. Hold on to your sanity.
e.g "Do the crew live on-board?"

Chapter 5 - Sometimes There is Some Time for Show Team Show Time
A collection of stories that mainly revolve around my time spent with the show team.
'There were some pretty attractive girls that I had come into contact with during my education, but none of them could hold a candle to these girls. I remember being incredibly bashful whenever any of them would try to talk to me, and so news of my shyness quickly became well known.'

Chapter 6 - What happened next?!
Working with a new team after seeing the last ones leave, plus an insight into my sexual awakening.

'I wanted to prove to everyone that I was up to
it and could keep an audience entertained. Annoyingly only three people turned up to my quiz that afternoon, and they sucked the fun out of it because they all took it so seriously. That evening I got really drunk'
Chapter 7 - The Importance of Down Time
Explaining how I learnt to cope with a hectic schedule.
'I quickly became quite adept in the art of napping. Necessity is the mother of invention, and when it comes to serious sleep deprivation as a result of constantly working and lighting the candle at both ends, napping is less of a life choice and more a daily essential.'
Chapter 8 - A Few of My Favourite Things
Things I took for granted at the time, but have later come to appreciate.
'It was the most incredible rum I have ever tasted. It was so good that I cared more about drinking it with him, rather than taking note of it and getting some for myself in the future, as a result I'm now furious with myself.'

Chapter 9 - Incredibly Exciting Inciting Incidents
A collection of dramatic stories.
'We had it all, everything a good soap opera needs. An open buffet of delicious arguments, an engine room of noisy complaints, and a medical room constantly coping with ridiculous injuries, emergencies, and even deaths.'
Chapter 10 - Reintegrating With Reality
Processing my first contract and coming to terms with leaving that bubble. Making comparisons between life at sea and on land, and finally setting the reader up to be able to segway into the next book with ease.
'It's a funny thing returning home after any extended period of time. I felt like Shy Stallone as John Spartan in Demolition man. Cryogenically frozen then re-animated three decades later, and was then unable to grasp the concept of how to use the three seashells to wipe my own arse.'
Audience
According to U.S Census data, there are an estimated 71 million millennial's in the US which is about 30% of the total american population. I was unable to find statistics for the UK.
Currently one of the biggest trending books out there is Adam Kay's 'This is going to hurt', which has now sold more copies than Michelle Obama's autobiography. It's a fantastic memoir/diary of his experience working as a junior doctor for the NHS in the UK. It has a brilliant blend of comedy and tragedy making it a highly recommended book.
My book in comparison might be a bit more accessible for the type of people who don't necessarily want to read stories that make their stomach lurch. But in comparison, my book also shares its own universal truths which I'm sure will resonate with plenty of people.
In terms of the sub categories for the millennial's, there are a few that I believe my book could be suitable for.


1. The Hipennials (29% of all Millennial's):
This group are mainly students, hungry for information and looking to be entertained. They are cautious consumers with their fingers on the pulse of whats trending, and social media savvy. They are the type of millennial's who believe they can make the world a better place, and this books message would I think, greatly appeal to them.
2. The Old-School Millennial (10% of all Millennial's):
This group is probably the one I myself fit to closest as I prefer a face to face every time, much like the old school millennial They consider themselves to be disconnected in part at least from the rest of society, but are confident, independent and self-directed. In addition they are charitable, spend the least amount of time online and love to read the printed word.
3. The Gadget Gurus (13% of all Millennial's):
This group are known to be successful, wired and free-spirited, much like the underlying narrative of this book. They are mostly male, earning above average income, and are the greatest contributors towards new content in general.

4. The Millennial Moms (22% of all Millennial's):
This group are confident, digitally savvy, highly social, female dominated and family oriented.
They are among the wealthiest sub group of all the Millennial's, and have high online presence in terms of activities and shopping.
They are also keen travellers, (so the topic of travel in this book should appeal to them).


Due to the style of humour and pop culture references in this book, the target audience can easily span multiple nationalities, It has been proof read by a few different nationalities already, and was well received by them.
Overall the book opens its arms to a widely diverse audience, although some of my anecdotes could potentially cause some offence.
It's the kind of book that has an easily inhabitable narrative character, and sets about on an journey where just being yourself isn't always the best advice.
I think this book would be good for anyone struggling with perhaps their own self-image, and could potentially give them the courage to go out and try things that they never thought of trying before.

This is the kind of book that you can easily pick up and put down at your own leisure.
Promotion
In order to promote this book campaign to people I have several approaches.
The first has been to build up a mailing list of interested parties over the last few months. This is so I can effectively link people to the Facebook campaign page, and crowdfunding page once it goes live. The email list consists of former colleagues, clients, friends, family and people I met along the way.

I intend pay a bit of money to help boost the campaign on Facebook to drive more people to the crowdfunding site .
I plan to reach out to a few people I am personally connected with who have considerable social media followings and call in a few favours. This will hopefully help me to reach a wider audience as well. Additionally on Instagram I will be sure to post up to date info with relevant hashtags to generate hype and to help me find my audience.
I intend to promote my book to the audience at the end of gigs when I perform stand up comedy, there are a great deal of people who will happily approach me at the end of gigs asking to know more about the book, and are willing to support me with my campaign.
I intend to reach out to bloggers who fit with the books genre and link them to my page as well.
Finally, my aim is to offer people the book as an E-book, paperback, and audio-book, with a bunch of different bonus extras as well
I am not the biggest user when it comes to social media, but hopefully there are people I am connected with that can assist me in making my campaign as succesfull as it can be.
Instagram - 235 Followers
Twitter - 101 Followers
Facebook friends - 761
Facebook campaign page current likes - 40
YouTube - 26,136 views, 49 Subscribers
Emailing list - 110+

Competition
Chronicles of a Cruise Ship Crew Member: Answers to All the Questions Every Passenger Wants to Ask - By Joshua Kinser - 22 Dec 2013
Self Published
'Drawing from his experiences working as a musician and an art auctioneer, the author tells the laugh-out-loud and also poignant story of what cruise ship crew members experience from the minute they first step onto a ship to the day they walk down that gangway for the last time'.

This was perhaps the best book series I read which isn't surprising, as the author used to be a paid writer before he started working on ships as a drummer. He did a few books which is one of the reasons I was inspired to do a series of my own. One problem I had with the book was that I thought it was in places just a little bit whiny. I'm not as voracious a reader as I would like to be, but I like to read books that aren't too preachy or dense with exposition, so I think in some respects that is where my book differs.

Diary of a Cruise Ship Entertainer: A Hilarious Insight into a Life at Sea - By Lyndsey Spiers - 11 Feb 2016
Self published
'Ever wondered what life is like living and working on the open seas? This laugh-out--loud diary is a true account of what goes on behind the scenes in the life of an entertainment host as you join Lyndsey on her 3 year adventure sailing to 29 ports of call, being generally ridiculous for a lving and against all odds being given a shot at assistant cruise director! A must read for cruise fanatics and wannabe cruisers alike!'

This was the book that inspired me to write my own because it was written by a fellow entertainer. Sadly the book only made me laugh out loud on one occasion, and the only memories I have from the majority of this book is that she ends a lot of stories by making the excuse she was drunk, and that she was often quite irresponsible in her role. Some of the content was great but poorly executed, and it made me think I could do a lot better. It pushed me to challenge myself to write a few mundane stories but make them as interesting as possible, as well as reminding me to keep my writing persona humble and self depreciating. I believe that no one really likes stories about people who get by on luck and show no thanks for it.

Cruise Confidential: A Hit Below the Waterline: Where the Crew Lives, Eats, Wars, and Parties -- One Crazy Year Working on: A Hit Below the Waterline ... Working on Cruise Ships – By Brian David Bruns - 18 Sep 2008
Travelers' Tales (18 Sept. 2008)
'In Cruise Confidential, Brian David Bruns spills the dirt — or in this case, the dirty water — on those romantic, fun-filled vacations at sea. His hilarious chronicle of the year he spent working for Carnival Cruise Lines takes readers down into the areas where the crew works and lives, leaving readers gasping with laughter as they're assaulted nonstop with events that range from the absurd to the utterly bizarre.'

This book seems to have had the most commercial success, with more positive reviews that any other on the market. It has a rags to riches type of narrative which I enjoyed. An american man who takes a job as a bar tender which normally is a role reserved for eastern Europeans and Filipinos. Sadly though I didn't find his stories all that entertaining, and his style came across a bit arrogant at times. It was written a while back so there was a lot that was different in the industry when he worked there compared to my own experience.
My First Cruise – by Timmy Funn - 14 Mar 2019
Independently published (14 Mar. 2019)
'Heard of Laughter Therapy? No? Well this book is a little bit of shallowness seeking to make you chuckle, smile and grimace, all of which is good for your soul. The author treads a path between fiction and reality as he sets out on his first Cruise adventure into the Orient. You will recognise some of the scenarios he describes, they are happening around you all the time. It's what makes being a human so much fun – watching other humans. '

This book has only just come out and has been written it seems from a passengers perspective. It appears on the surface to be quite a childish book, as the author put his age on the cover at 49 and 3/4. I like that approach as it strikes a chord with a lot of people who are still clinging to their youth. Compared to a lot of other cruise ship books this one caught my eye, because lot of the other covers are pretty dull and unappealing. I have yet to read this book but I may well decide to.
Cruise Ship Stories - 12 Years of Working on Cruise Ships, Behind the Crew Only Door, Getting Jobs on Ships, Life On Board - By Guy Beach - 4th Jan 2014
Publisher: Guy Beach (4 Jan. 2014)
'If you are reading this intro, then I take it that you have an interest in cruise ships. It could be you want to work on a cruise ships, you want to or have taken a cruise, maybe you are looking for tips on cruising or maybe you just like fun stories about cruise ships. If you are interested in any of those items I just listed, then this book is for you'.

For me this was another inspiration to writing my own book as it just left me feeling as though I could do better. The book is written by a scuba diving instructor, and they could be amazing stories, but it just felt rushed and without much attention to detail. I wasn't able to put myself in his shoes because unfortunately the writing was so bad. A lot of disgruntled readers put emphasis on this in their negative reviews, as well as mentioning his repeated use of the phrase "We'll get to that later". I tried my best to tell stories in full and not use that same technique of baiting the reader to keep them interested.
******************************************************
There are so many cruise ships books out there that fit the fictional erotic novel or murder mystery genre, and there are a bundle of non fiction memoirs that sadly I just couldn't create a connection with. On the whole I would say that my book cover and title is something that stands out above the competition. As for how my work stacks up in comparison, I would love to claim that it is fresh, honest, and has an engaging quality to it that will delight whichever readers decide to take a punt on it. Others who have read it.
I would say that even though there are some similarities regarding content against the competition already out there, my book has a focus on the naivete of youth, and the journey to maturity. It's written in a conversational, readable style that easily hooks the reader and contributes to an authenticity and likeability as the author and narrator.