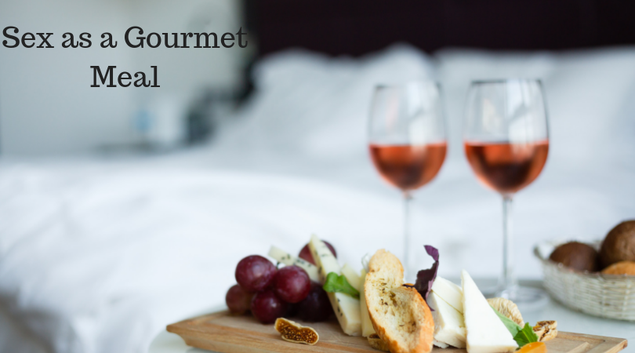 Hi Friends,
Many of you have asked me what my new book, Sexual Mindfulness, is all about. I decided that the best way to answer you is to actually give you a sample from all 18 chapters and let you see for yourself. Please respond to this email with any questions you still have.
>>>>>>>>>>>>>>>>>>>>>>>>>>>>>>>>>>>>>>>>>>>>>>>>>>>>>>>>>>>>>>>>>>>>>>>>>>
Ch 18 Script Sex as a Gourmet Meal
I just wanted to give you a heads-up that the instructions for the exercise in Ch. 18, Sex as a Gourmet Meal, are very graphic.
You are probably already familiar with most of the sexual behaviors in this chapter.
I am not trying to teach you how to have sex but rather to do it mindfully.
After a few minutes into the instructions you'll see what I mean.
The Sex as a Gourmet Meal exercise involves using very sexually explicit instructions to help you experience it with all five of your senses.
Because of the explicit nature of the activity I want you to make sure you read the instructions completely before doing it with your partner.
Don't worry if you feel uncomfortable doing this activity; remember, part of sexual mindfulness is learning how to co-exist with your troubling thoughts and painful emotions as you strive to meet your sexual relationship goals.
For many people, sex is a race with both partners competing to see who crosses the finish line with an orgasm. Even better, both partners cross at the same time and have the ultimate prize—mutual orgasms.
Instead of viewing sex a race or a competition, I'd like you to think of sexual intercourse with your partner as a multi-course gourmet meal.
With each course you anticipate something special, a unique taste delight.
The purpose of this activity is to help you slow down and savor the process of lovemaking as much as the outcome.
Here is a little sample from the instructions I go over in the chapter. I am jumping in about a quarter of the way into the massage instructions.
1. Set aside one full hour of uninterrupted time for this activity .
2. Think of this one-hour lovemaking session as a gourmet meal.
3. Take your time with each course; savor it and do not rush.
4. Don't look at having an orgasm as the objective.
5. Don't even think beyond the course you are involved in and your actions, and those of your partner.
6. For course number one just relax in bed eating some fruit , cheese and crackers and drinking wine.
7. Don't get drunk or eat too much.
8. The idea is to take your time and have a sensual snack.
9. Give your partner a massage for a few minutes.
10. Have your partner choose which type of massage.
11. Take your time, use oil or powder, and be mindful of what is going on in your hands and body, your partner's body, and the bedroom environment.
12. Continue this for as long as you wish and then switch and have your partner massage you.
Notice your thoughts, self talk, mental images, and emotions about experiencing your partner's body with all five of your senses.
If your mind wanders into the future or the past or fills with unhelpful thoughts and feelings note that this is happening and say to yourself;
"There goes my runaway mind again, taking me out of the present moment" and focus on your partner's body.
>>>>>>>>>>>>>>>>>>>>>>>>>>>>>>>>>>>>>>>>>>>>>>>>>>>>>>>>>>>>>>>>>>>>>
Sound interesting?
Good, find out more by pre-ordering a copy of the book before they run out.
The first 90 people who pre-order will get an autographed copy of the paperback and a free e-book.
Click on the link in the box below to pre-order your copy
Pre-Order Your Copy of Sexual Mindfulness Here
Thanks for your support,
Dr Rich