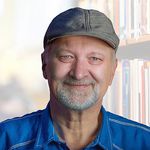 Dave Farland
David Farland is an award-winning, international bestselling author with over 50 novels in print, including his New York Times bestselling fantasy series The Runelords, which will soon likely be made into a movie.
David has won the Philip K. Dick Memorial Special Award for Best Novel in the English Language for his science fiction novel On My Way to Paradise, the Whitney Award for Best Novel of the Year for his historical novel In the Company of Angels, and he has won over seven awards—including the International Book Award and the Hollywood Book Festival, Grand Prize—for his fantasy thriller Nightingale.

Farland has written for major franchises such as Star Wars and The Mummy. He has worked in Hollywood green lighting movies and doctoring scripts. He has been a movie producer, and he has even lived in China working as a screenwriter for a major fantasy film franchise.

As a writing instructor, Farland has mentored dozens who have gone on to staggering literary success, including such #1 New York Times Bestsellers as Brandon Mull (Fablehaven), Brandon Sanderson (Wheel of Time), James Dashner (The Maze Runner) and Stephenie Meyer (Twilight).

Farland judges L. Ron Hubbard's Writers of the Future, the one of the largest worldwide writing competitions for new fantasy and science fiction authors. In the video game industry, he has been both a designer and a scripter and was the co-leader on the design team for StarCraft: Brood War. He set the Guinness World Record for the largest single-author, single-book signing.

David Farland has been hailed as "The wizard of storytelling" and his work has been called compelling, engrossing, powerful, profound, and ultimately life-changing.