Synopsis
Life can be very random. Some people are straight, some others are gay. Many queer people were lucky enough to be raised in liberal families in progressive countries, but there are a lot who were randomly born into conservative families in the world's largest Muslim-populated country called Indonesia. Zulfikar Fahd is one of those unlucky people. He'd swallowed a bitter truth that in his country, love was meant only for "normal people" (the term most Indonesians refer to as straight folks). He'd decided not to entertain the impossible.
In 2017, everything changed. Two men were publicly whipped under Islamic Law after vigilantes broke into their apartment and caught them in bed with one another. Women with a tomboy appearance were evicted from their house because their appearances had unsettled conservatives. Radical Muslims stated LGBT people's blood was halal, meaning that killing them was religiously allowed in Islam. The police had created a special task force named "Society Sickness Operation" to crack down on queer people. The parliament was set to ban gay sex with the support of ministers and even the Vice President. All of these events brought Zulfikar into a state of sadness, disgust, anger and fear.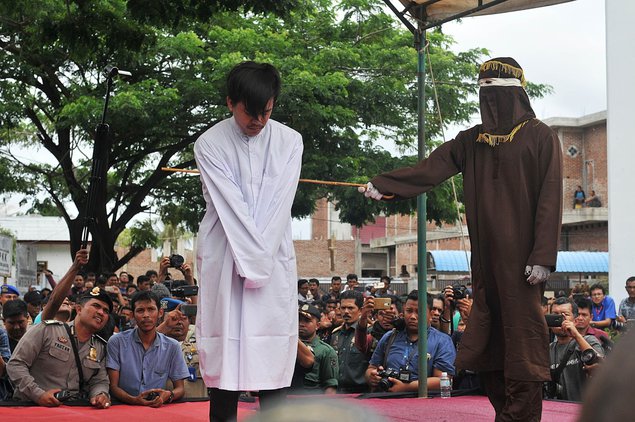 He believes one should live a life that one is proud of, and these people were trying to demolish his pride that was already buried ten feet under the ground. He would've been proud of his life if he was born in a country where love is legal, but unfortunately, he was raised in a backwards-moving civilization. He'd lived through too many years of insult in a culture broken by homophobic Muslim supremacists. But he believes in one thing: time, for him too, is up.
He then decided to stop. He decided to stop being that man who could be publicly humiliated and convicted as a criminal for making love with another man. He decided to "stop" being gay and start being a "normal" person who lives amongst those who give no second thought to sexual orientation. He decided to give up. He gave up family and friends whom he loves dearly, and a bright promising career he'd built for years. He'd given up on his country too.
And this is a story of giving up. This is a story of stopping.
Outline
The book will expose all stages of Zulfikar's life as a gay man in Indonesia that had led him to finally give up and press a restart button. He will use his narrative as a hook to tell other Indonesian LGBT people's stories and the country's gay culture in general.

PROLOGUE: Indonesia Through My (Queer) Eyes
Not many people are aware of how conservative Indonesia is now. Before getting to the main story, he'll introduce readers to the country's neutralism towards many sensitive issues in the past, how it'd gone backwards, religious values ruling the country, its sexist cultural norms, and widely-tolerated Muslim supremacy. Readers will have a better understanding on what kind of environment he'd been battling with.

FIRST STOP: A Little Boy & Shirtless Men on TV
Zulfikar was five when he first felt thrilled seeing a boxing match on TV. Not because of the game. It was the shirtless men on the screen. He told his mom he was attracted to them.

SECOND STOP: A Boy in the Sweaty Changing Room
Sports was his least favourite subject at middle school. Not only because he couldn't kick balls, but also because he got bullied for his lack of masculinity. He also felt awkward (and sometimes aroused) being around bunch of shirtless sweaty boys in the changing room.

THIRD STOP: A Boy Who Gives a Blowjob in a Public Toilet
The world introduced Zulfikar to internet. This is when he felt relieved and excited discovering he wasn't the only boy attracted to other boys. At 15, an older man he met in a chat room gave him his first oral sex experience. In this chapter, he'll tell how Indonesian gay men behave in the world wide web.

FOURTH STOP: A Woman Who Brings Her Son to a Shrink
At 16 he developed a crush towards a man living 500 miles away. Letters were the only way to communicate. Unluckily, the postman came when his mom was chilling at the porch. She decided to read the suspicious letter. Like most Indonesian parents would react, she brought him to see a psychiatric.

FIFTH STOP: A Girl and Her Boobs
17 was a confusing age to Zulfikar. A girl showed interest at him. He decided to pursue her, and voilà, they were dating! He then questioned himself, "Am I actually not gay? Or I probably was gay, but I'm cured now." Sadly, he couldn't ask anyone.

SIXTH STOP: A Boy with a Man's Tongue in His Mouth
Like many Indonesian gay boys' first kiss moments, Zulfikar's happened in a dark abandoned building near his mom's house. He couldn't even close his eyes while having that older man's lips on his, as he had to stay watchful. He could've been a subject of violence and humiliation had someone caught them.

SEVENTH STOP: A Man Who Loves a Straight Man
In a closeted community like Indonesia, it's hard to identify who's straight and who's pretending to be one. Consequently, many gay men including Zulfikar fell for the wrong people a.k.a. heterosexual fellas. He had a major crush with his straight schoolmate for nine miserable years.

EIGHTH STOP: A Man Who Calls His Son Faggot
Getting hurt by his father, he decided to stop being gay in front of him by doing something most sons wouldn't do. This chapter will explain how Indonesia's masculinity culture affects the relationships between gay sons and their fathers.

NINTH STOP: A Man Whose Closet is Only for Clothes
Coming out was a scary thing to do in that kind of closed-minded society. Zulfikar didn't have the balls to verbally tell his close friend he was gay. He also didn't have the guts to express his feeling to his first gay crush. So he emailed them. One of them applaud him for the bravery to come out, but the other one made his confession public to embarrass him.

TENTH STOP: A Man Who Loves with the Lights On
He worked for Cosmopolitan magazine when he was first exposed to an openly gay life, and it was such a rare view in his country. A couple of his fellow writers were out and proud. One of them even had a boyfriend, they even kissed in public. That was when he thought he should be that kind of gay man too.

ELEVENTH STOP: A Man Who Loves in the Dark
A man brought him to a cinema because it's the only public place where they could hold hands. He asked Zulfikar to be his boyfriend, right before casually mentioning he was getting married with a girl. Apparently, in Indonesia, being married to a woman whilst having a boyfriend wasn't a rare phenomenon.

TWELFTH STOP: A Naked Man in Paris
It was midnight in Paris. He walked into a club that wouldn't allow him in with his clothes on. By the time he stripped down, he exposed himself to a new world beyond his wildest imagination. It was his first exposure to western LGBT life.

THIRTEENTH STOP: A Man Without a Home
Sydney Mardi Gras 2016 played a huge role in his life. That night he fully realized there was nothing wrong with his sexuality. He was just born in a wrong country. Instead coming back to Indonesia, Zulfikar flew to the US instead. He was annoyed when people asked "When will you go home?" cause for him, Indonesia was never a home.

FOURTEENTH STOP: Men Who Aren't Terrorists (Just a Bunch of Assholes)
He came back to Indonesia after spending 15 months traveling in Australia, New Zealand and USA. This is the year when conservative Muslims in Indonesia humiliate LGBT community and ripped their dignity apart. Barbaric and primitive actions were tolerated in the name of religion.

FIFTEENTH STOP: A Man With One Checked-In Luggage and Countless Emotional Baggages
He finally left everyone he loves and everything he had in Indonesia. He'd lost a home at the risk of never finding one again.

SIXTEENTH STOP: A Man Who Undergoes an Exorcism
His blogpost about his departure from Indonesia went viral with over 14,000 viewings. After many international media picked up the story, at least 500 LGBT Indonesians emailed him their personal stories. This chapter will detail some of those interesting emails, including from a man who underwent a religious exorcism after his family discovered he was gay.

FINAL STOP: A Heart that Needs a Permanent Address
The last chapter will be about what happened after he started a new life. It's about how he survived financially without any source of income and struggled to feel less alone in a country where he didn't know a single soul.

EPILOGUE: The Republic Owes Us an Apology
This is an open letter to the president of the Republic of Indonesia, demanding an apology LGBT Indonesians deserve. He knows it's very unlikely, but he hopes the regretful acknowledgement of the government's offense and failure would be released in his lifetime.
Audience
Primary Audience: LGBTQI+ people around the world
Representations always matter. Black people were pumped seeing the first African superhero in Black Panther. Women cheered for Kathryn Bigelow, first ever Oscar-winning female director. LGBTQI+ people were also exhilarated when queer stories were brought to big screens through Boys Don't Cry, Brokeback Mountain and Milk in the 2000s, then later The Danish Girl, Moonlight, and Call Me by Your Name in the 2010s. The last one was adapted from a novel popular among gay people.
#GiveElsaAGirlfriend and #GiveCaptainABoyfriend broke the internet a couple of years ago, demanding Disney and Marvel to give Princess Elsa and Captain America, respectively, a girlfriend and a boyfriend. Homosexual people, including Zulfikar, tweeted those hashtags because it would be touching to see their queerness being portrayed in big platforms.
Based on various surveys conducted in many countries, the world has between 4.5 to 11% of population identified as homosexual, or equal to 342 to 836 million people. Many of them are tired of stories told by white heterosexual men.
Not only would Zulfikar represent gay people, he would also represent non-white and non-black men living in North America. It's a narrative of struggle told by a brown man, which rarely make their way to popular culture. Zulfikar had blogged a little bit of this story, and it went viral among LGBTQI+ people because they could deeply relate to it. He received at least 500 emails from queer people from various countries, telling him how the blog had inspired them.
Secondary Audience: Social activist generation
In the last couple of years, social activism has been a phenomenon, such as Women's March, #metoo and #timesup movements, and recently March for Our Lives. Social activist generation, not only millenials but also progressive Xs and baby boomers, has a tremendous amount of attentiveness towards human rights issues, including immigration and LGBT rights. And this kind of story is something they're passionate about.
Besides, it's not a fictional love story. It's a real-life narrative on a gay man escaping from his homophobic country. Southeast Asia is a corner of the world where homosexuality is widely condemned but uncommonly discussed, hence he believes the freshness of So I Stopped Being Gay would attract the attention and peek the curiosity of social activists worldwide.
Promotion
Zulfikar has a regularly-updated blog since 2015 with almost 28,000 views and over 17,000 unique visitors (per April 2018). His blogpost about his departure from Indonesia was clicked 14,000 times. At least 500 LGBTQI+ people emailed him their words of encouragement.
He may not have huge numbers of social media followers, but his online engagement is pretty big. 63 of his Facebook friends shared his latest blogpost, reaching at least 32,000 Facebook users.
On Instagram, the same story reached 9,309 impressions. He was also featured on @whereloveisillegal, an Instagram account documenting LGBTQI+ stories of survival from around the world, gaining 3,849 engagements.
He has great relationships with both Indonesian and international media, including Reuters. Not only because he was interviewed by them after his blogpost went viral, but also because he was an award-winning public relations practitioner in Indonesia. His job required constant media engagement, and that would be one of his tools to promote So I Stopped Being Gay. He could pitch the book to relevant media to get more exposure.
Competition
Why I Don't Call Myself Gay by Daniel Mattson
(Ignatius Press, 2017)
So I Stopped Being Gay has a similar tone with this book, but with a huge difference on the writers' attitudes toward their sexualities and religions.
Born A Crime by Trevor Noah
(Spiegel & Grau, 2016)
It was a crime for Trevor to be born as a mixed-race baby in post-apartheid South Africa. Again, So I Stopped Being Gay has similar tone with this one. Many queer Indonesians were also born as potential criminals as the country is set to ban gay sex.
Boy Erased by Garrard Conley
(Riverhead Books, 2016)
Garrard is the son of a pastor who gets outed to his parents at age 19. He's soon faced with an ultimatum: attend a gay conversion therapy program or be permanently exiled by his family, friends and faith. So I Stopped Being Gay will also tell a story of someone's sexuality being opposed by religion, but will talk about different religion, country and decade.
I Am Malala: The Girl Who Stood Up for Education and Was Shot by the Taliban by Christina Lamb & Malala Yousafzai

(Little, Brown and Company, 2013)
So I Stopped Being Gay will also tell about Muslim extremists' treatments toward powerless people. The difference: I Am Malala tells about women's rights to get educated, and Zulfikar's story will be about queer people's right to be themselves among conservative Muslim environment.

Lion: A Long Way Home by Saroo Brierley
(Penguin Random House, 2013)
So I Stopped Being Gay is also about a story of finding home. The difference: the home Zulfikar is looking for isn't a physical place like what Saroo was. Zulfikar's idea of home is acceptance and freedom to be himself.