Hi everybody!
To start, for those who celebrate, I want to wish you a safe and happy Easter holiday!
It's been exactly one week since this campaign was launched and it's been an absolute whirlwind! First, "Something Tragic" was featured as a Readers' Pick of the week on Publishizer.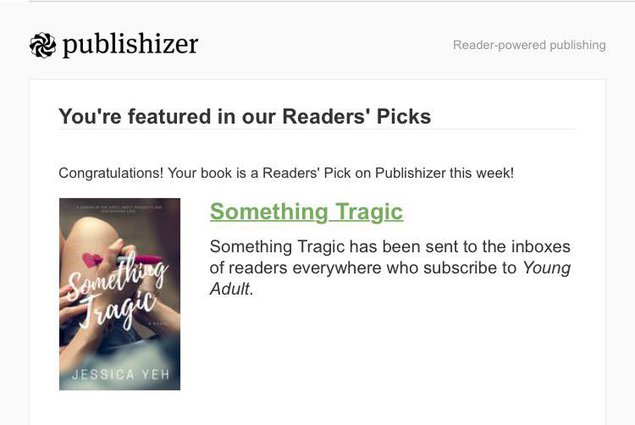 And later, it shot up to the #1 spot!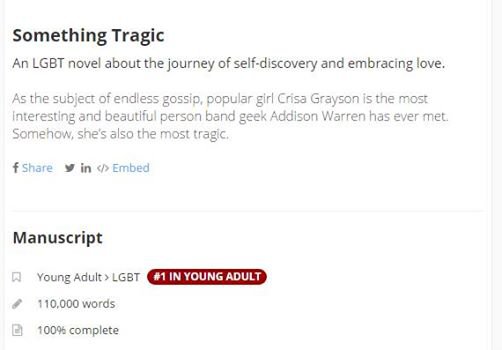 This is all because of YOU! Your support for this story has helped bring light to the book and given the LGBT community hope. You are making a difference!
If you haven't already donated, please make sure you do! Every donation, no matter what size, will receive a copy of the novel as my thank you to you.
(Sidenote: if you want a personalized copy with hand drawn doodles, there's only one more "Personalized Package" left, so hurry!)
The campaign ends May 7th.

Please share the link with your friends and family, your neighbors, your doctor, your boss, anybody that you think would be interested, is an ally, and or could use a book that reminds them that they aren't alone!
Anything and everything helps. Thank you to each and every one of you for your love and support!
Always,
Jessica
Twitter: @STragicNovel
https://www.publishizer.com/something-tragic
PS. If we can reach $3000 by next week, I'll email you all a sneak peek another chapter from the manuscript! ;)