Synopsis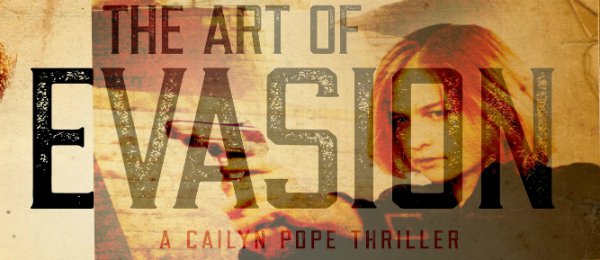 The Art of Evasion introduces Cailyn Pope, a young analyst working for British GCHQ within a cyber intelligence unit. In early 2016 Cailyn is assigned to support an operative about to fly off to Bilbao, Spain. When the agent falls ill, only Cailyn knows enough to take the agent's place at the last minute. Thrust into the field without full training, she believes it should be simple enough to install an intelligence-gathering app on her target's phone. At least that's how her superiors play it, as the pressure is on them, the order coming from NATO command.

But bugging the new head of Turkey's Cyber Defence and Warfare division was never going to be easy, especially when the operation must remain wholly deniable, and soon Cailyn is running for her life. Born into an Irish family torn apart by conflict and terrorism, is Cailyn's background enough to compensate for her lack of training? Can she master the art of evasion before it's too late?
Stewart Sanders is the author of the best-selling and critically acclaimed Paradox Consecution series; a time travel / alternative history / sci-fi genre mashup in which four lives are lived simultaneously within one consciousness. Having published the first three books in the series, Paralysis Paradox, Convergent Paradox, and Anamnesis Paradox, Stewart has created Cailyn Pope and a new espionage thriller series set very much in the real world, where danger is ever-present and deception is the only means of survival. Series opener, The Art of Evasion, is a fast-paced, multi-layered and merciless examination of relationships between countries and individuals, where nothing is quite as it seems.
Outline
Cailyn Pope aka Lucy Thwaite:
A twenty-five-year-old Irish junior analyst working in Human Intelligence Supporting Information Technology (HISIT) for GCHQ.
Pete:
HISIT team leader, career agent, and Cailyn's boss.
Pramod:
HISIT IT architect.
Professor Aziz:
Target of Cailyn's mission. About to become head of the Turkish Cyber Defence & Warfare Unit.
Mateo:
HISIT psych cartographer.
The Deaconess:
Pete's chain-smoking boss, with links to the First Cold War.
Colonel Siddiqui:
Professor Aziz's personal protection. Highly experienced and deadly.
Chapter 1:
Cailyn is sent on a mission, posing as Lucy Thwaite. She boards a plane to Bilbao, Spain in search of Professor Aziz Sari.
Chapters 2 to 5:
Cailyn spies on her target, spotting Siddiqui scanning for danger on his behalf. A freak accident leads to the loss of her phone and she has to leave. When she returns to the hotel, she suspects a trap awaits and runs from the scene. Pursued through the city and hiding in the Guggenheim, she tries desperately to make contact with GCHQ.
Chapters 6 to 13:
Cailyn is captured and taken to an unknown location, where she is tortured and told to tell the truth or die. She recalls her mission briefing and how she first joined the service, as well her affair with her boss, Pete.
Chapters 14 to 30:
The UK disavows Cailyn, and Siddiqui is about to execute her when Russia intervenes. She is renditioned to Russia and interrogated again, but this time a truth drug is used and buried secrets emerge.
Chapters 31 to 43:
Cailyn is returned to the West, but held at The Spa, a secret intelligence building within a hospital, where she is debriefed. She is offered the role of double-agent to strike a deal in return for her life.
Chapters 44 to 46:
Cailyn is returned to Britain, where she travels across the country in pursuit of vital information to her deal, and her employees at GCHQ become increasingly doubtful that she can be trusted, culminating with them snatching her when she becomes the prime suspect in a murder.
Chapters 47 to 50:
We learn how and why Cailyn was returned to Britain and whether the murder was committed to save NATO or Russia.
Audience
Having already independently published three books on Amazon, Kobo, Apple and Nook, I've learned how crucial genre is. My previous work sits in between multiple genres and periods, making it harder to promote, but The Art of Evasion is a pure and contemporary spy thriller. It should appeal to anyone who likes a page-turner, where the balance of power hangs on a knife edge as East and West play their operatives like pawns in a game of chess. The story shifts between 2015 and 2016, against a background of the rising of right-wing terror organizations and a new Cold War.
I would hope that The Art of Evasion's readership includes those that already question the news as events unravel around us, but if not, I suspect they will do so after reading this, certainly in light of the coup attempt in Turkey on 15 July 2016 and the recent poisoning of a Russian defector in Salisbury, UK.
Promotion
Website: www.stewartsanders.com
I will update this with new artwork and links for crowdfunding. My previous books, Amazon, Facebook and Twitter all link to this site.
Facebook: www.facebook.com/stewartsandersauthor
I will update this with new artwork and links to Publishizer.com and promote posts to the 5,653 people that have liked the page previously. I will commence a marketing campaign targeting thriller readers and those interested in crowdfunding books.
Email Lists:
Launch team – I will send out preview copies of the latest book to my 35-person strong launch team, informing them of the crowdfunding campaign and encouraging them to spread the word.
New Releases and Special Offers teams – I will engage the 279 members with my latest news and crowdfunding information.
Book Marketing for published books:
Paralysis Paradox – as a permafree book, I will continue to promote this using the eighteen book-email companies that I have previously found to be good value. This will generate more views on Amazon, my website, Facebook, and Publishizer, and will be in sync with the crowdfunding campaign.
Convergent Paradox – I will temporarily discount this book and use several book-email companies to promote this discount and drive more views as above.
Competition
Joseph Kanon
Insightful reading on how cunning those that are run by the Kremlin have been and can be still.
Frederick Forsyth
An author that has defined the espionage thriller since I was a child. Never fails to keep his readers on the edge of their seats.
Stieg Larsson
The depth of his characterisations are breathtaking.
Lee Child
An author who has perfected the art of sucking the reader straight into the action.
Chapter 1:
DATE: 4 APRIL 2016
LOCATION: BIRMINGHAM AIRPORT, UK
The benefit of hiring the smartest analysts and having generations of operational experience is that you can spend months planning to ensnare even the least predictable targets. Government Communications Headquarters (GCHQ) was built on that premise, to find order from apparent randomness, because in between the mesmerising hiss we used to see between the TV channels, Britain's enemies hide. Some beyond our border, many within, all behind radio and micro waves.
Today the traditional flu has infinitely more experience than the voyeurs and eavesdroppers at base, and cares not for our petty plan. I am barely paying attention, my mind distracted, my heart aching, as I stare at Sally, in her sky blue Flybe stewardess uniform, the contrast striking against her red nose. The layers of thickly spread makeup create a clown-like mask of what I remember to be more pleasing features.
'I'll be fine, they won't notice and if they do, they won't care,' she says.
'If your neurons weren't addled with Naproxen and Co-codamol—yes, don't look so shocked, I saw the packets in your handbag—you would know that's ridiculous,' replies Pete, looking at a conspicuous handbag on the desk. 'They'll send you home as soon as you report to the purser. We'll have to replan and find other opportunities.'
Pete is my boss: six foot, dark brown hair. Posh, public school educated, an army officer and presently my least favourite man.
'The target's indicative movement pattern disagrees,' states Pramod. I've learnt over the last few months that his glum remarks are simply statements of facts. A touch of Asperger's, perhaps, but helpful when dealing with a team like mine. 'Whether he knows it himself or not, Aziz won't be travelling in Europe again. He has become too valuable to their president, I think.'
Beside Pramod sits Mateo, so squashed up that their shoulders overlap. You can never plan for every scenario. There will always be some adjusting, but adapting our finely tuned plan now would take too long. Pramod has been up all night and I've not slept well. We'd need to reconsider every possibility, and the operation would be in jeopardy. I can tell both Pete and Mateo are highly reticent. These people are driven, focused on their job. Just as I was, until Pete made it crystal clear that he's never leaving his wife, that he just used me. I know it's time to do what everyone else in the team wants me to do, which is to resign.
Within the huge body of GCHQ I am assigned to an area known as the Communications Electronic Security Group (CESG) and within that to a small team called Human Intelligence Supporting Information Technology (HISIT). GCHQ has an acronym for everything and annoyingly fails to add glossaries to most of their documentation, which can be wearing. I keep my head down and stay silent, avoiding eye contact with both Pete and the Deaconess. I'll resign once we're back in the office.
Pete is the team leader for HISIT, a career agent through and through. Sally is an operative on secondment from MI6. I know Pete and Mateo loathe her, as after she confided in them that MI6 did not agree with GCHQ running any field operations, they concluded she must be spying on our whole team. It's hardly a long shot; she is, after all, a spy. Mateo is our psych cartographer, Pramod our IT architect and I am an analyst.
Staring out of the one-way glass into the departure hall at Birmingham airport, I can smell an irritating mix of Estée Lauder and Chanel perfumes emanating from the duty-free shop as the perfume hawkers pick off the stressed, would-be customers like flies with a sudden spray. I pity them, as they ricochet from the humiliation of the security ritual. Why do the vendors think this would ever encourage sales? Most of my friends already know what they like and would be unlikely to experiment before flying. Haven't most people also learnt not to buy a random perfume for a partner by the time they're dating?
I hear a metal twang, followed by the lighting of a flame. I don't need to turn around to know that both Pete and Pramod will be looking up at the smoke detector. I stare at the shiny tiled floor outside this looking glass-like window. White tiles, except for black tiles presenting a path into the shop. It's the only way out. It twists around a corner, flanked by makeup stands and tall, perfume-clad bollards hampering anyone's travel. The floor is so smooth from a combination of polishing and all the soles that have trodden over it that to try and run for a flight would doom you to slip. Most airports I've seen have been designed to encourage speed, even if covering significant distances. This one is quite the opposite.
'You can't smoke in here,' Pramod pipes up.
'Oh fuck off, little man,' the Deaconess replies, before sucking harder at her cigarette. Pramod is Indian and is neither big nor little, yet it's as if she were a colonial memsahib and he her servant in the Raj. 'Sally is far too conspicuous now, if you want my opinion, Pete, and of course it's up to you, but true leaders don't give up at the first glitch.'
I smile. She is such a bitch. I can't help but smile as I'm angry with him, but come on, Pete, put the old crony in her place and let's get out of here, before I actually go and request a spray from a perfume hawker to rid myself of the smell of smoke.
'What do you suggest, ma'am?' he says.
Pete has twenty years of operational experience. Yet in her presence, he's just another brown-nose, cuckolded by authority. He would bow if there were space in this small, smoky room. Its closeness is emphasised by Sally coughing, then flinging the door open and running out, a Flybe-branded handkerchief clamped over her nose and mouth. A few passengers frown as cigarette smoke follows in her wake. A blonde, sick-looking stewardess emerges from a door labelled Authorised Personnel Only. The entire airport is non-smoking, a rule that applies to all except this Deaconess. A dinosaur of a lady from a bygone era. Still, most of the passengers simply don't care. They serve as reminders of the everyday hypocrisy of all our lives. Pete is the most startling reminder. Hypocritical bastard.
'Why are the floors so shiny that a hurried passenger can't run?' I say, pointedly coughing and pointing out of the window. 'Are they all made to filter through some chicane just to increase duty-free sales, or is there a security reason for this?'
The Deaconess gives me one of her glares; Pramod coughs too. We both long to run away like Sally. Pete's eyes roll at my inane query, but that was part of the reason I uttered it. He's well practised at maintaining a stiff upper lip, but I know from what are now only memories of pillow talk, that he does actually have some feelings. If he's not willing to make love to me, I'll make do with agitation.
'That's a good question, Cailyn, we'll have to find out,' says Mateo.
The Deaconess ignores us both entirely. 'Any good commander has a backup plan and frankly, Pete, I'm startled at your lack of foresight in this matter. Maybe you're getting too old for this?'
'I…er.' His words stumble out.
'You are Sally's second, operationally speaking, so it's clear you must go,' she pushes.
'I can't.'
'You can't?'
'I can't say why right now, as our present company do not have clearance, but trust me that I cannot go, ma'am.'
'They've just opened the departure gate for Bilbao,' Pramod ventures, looking down at his iPad. 'They must have found an immediate replacement for Sally.'
'I must remember to use Flybe for my next sojourn: they clearly had a second standing by.' The Deaconess sucks on her Dunhill as if sucking away Pete's ego.
'Mateo's skills are needed here, so the only other one with any operational training is Cailyn,' Pete says.
Me? 'I've never been on any mission abroad before,' I reply, my heart beating faster.
'The location is irrelevant. You and I completed a successful mission in Wells only last month. Plus, you're intuitive,' says Pete.
Maybe he didn't in fact hide emotion at all, the cold-hearted bastard. All he cares about right now is his fucking career and how to get out of the shit he is in with the Deaconess. 'But I didn't know it was an actual mission, I thought it was training!'
'Yes, dear, it's called live training. The army have to use real bullets to train just as we have to use real baddies. What happened in Wells, remind me?' she asks Pete.
'A one-week training op so we could ascertain theft of crown property at the Cathedral; a chance for Cailyn and I to practise disguise.'
A chance for him to practise fooling around with both my body and mind, I would say.
'Hardly a successful op, nor was Cailyn facing the same stakes, was she, Pete? The archdiocese of Wells and Bath is not a target that has had people killed with simply the suspicion of wrongdoing.'
'Well, not since 1348 at any rate,' says Pramod, his sense of humour drier even than that of the Deaconess, who flings one of her famous glares his way. Thanks, Pramod, for taking one for the team.
'If she gets caught, we'll have an international incident over why we're spying on a NATO ally,' Pete says. 'That's a routine risk for Sally, but Cailyn's had less training in interrogation—'
'And I'd be surprised if the Turks don't torture her before we've negotiated a handover,' adds Mateo.
'It would be worse for us to not get the access we've planned for, need I remind you of that?'
'She knows analysis information, she knows past missions and the interrogation—'
The Deaconess holds up her hand. She sucks the Dunhill so hard the lit end reaches the filter and ash hangs precariously. Her steely grey eyes fall on me. 'Do you think you can manage to not get caught?'
'I know I'd rather die than ever get tortured again,' I admit, despite knowing that Pete and Mateo will think me weak. I'm surprised at myself; I'm normally good at keeping my thoughts to myself. I put it down to emotional trauma, mixed with excitement. I want this, yet I'm scared.
'That will have to do. Pete, you have control,' she reminds him as she drops her stub to the floor, twisting her foot over as if driving a nail into a coffin. My coffin, I wonder?
'Cailyn, go and buy a cabin bag and suitable clothes, and meet at Gate 56 in ten minutes.'
I push myself up from the stool, my palms sweaty, my legs weak underneath me. Maybe I've inhaled too much Dunhill? This is really happening, they are actually sending me on a mission. 'Is this a test?' I ask Pete, looking into his eyes for the first time this morning.
'We've been working on this op for months. We simply don't have the resources available to spend this much time on a live training exercise. This is for real, you need to know that.'
Pramod reaches out, his hand on my handbag. 'I need your bag and your phone,' he says, pointing at the small table behind us. Upon it rests a duty-free carrier bag, two pink iPhone 6s and a couple of SD cards. Sally's complete operational kit, hurriedly emptied out of her handbag before she withdrew. This kit is now mine.
I hand him both my bag and phone. 'Won't I need a passport?'
Pete lowers a hand on my shoulder, as if to straighten the collar of one his soldiers, although I have no collar. My simple dress with horizontal navy blue stripes clings to my figure. I am wearing it to remind Pete of what he's missing.
'We'll get one sorted. Now, get going and we'll meet you at the gate.'
I nod and dash out, slamming the door shut behind me so the smoke won't irritate my fellow passengers. I lean briefly against the one-way mirror, one hand smudging it as the other removes my heeled shoes. All I need in ten minutes?
Creating a physical passport and a legitimate-looking booking would be challenging in this time, but that's Pramod's problem now. As I run across the black tiled floors, dodging the venomous perfume sprayers, I reconsider whether this is yet another elaborate stress test. Either way, it's my opportunity to prove myself. Just a one-night stay over. A chance to get away from Pete. When I'm back I will have either passed or have proven myself with real operational experience.
Ten minutes later I'm running again, this time towards the gate hoping there will be a large queue, but all I see is a scowling Flybe attendant. Behind me I pull a cream and red-piped cabin bag containing my heeled shoes, a brown hat, two pairs of knickers, tights, socks, a blouse, a skirt, a selfie stick and a pair of jogging bottoms. I wear new trainers on my feet, white with navy blue streaks that match my dress. I figure the Deaconess would let the trainers pass, but would be having kittens if she could see my bag. It was either this or one with the Union Jack emblem across both sides.
'Boarding pass!' demands the scowler, her hand out, fed up with yet another latecomer causing delays.
'Miss Lucy Thwaite!' A uniformed customs officer intervenes, only it's Mateo in a disguise and holding out my handbag. I hadn't even noticed him; he must have been there all along. 'You left this at security.'
I take the bag as he hands the ground staff my boarding pass and passport. I had expected Pete, but he hadn't had the balls to meet me himself. Mateo whispers into the woman's ear, before she finally looks up.
'We've been calling for you over the PA, Miss Thwaite. If it weren't for this officer, we would have left without you. He'll see you on to the flight. Have a pleasant journey.' The scowl doesn't leave her face.
Mateo takes my arm and leads me into the rectangular metal tube of the jet gate. 'Phone pass number one-four-one-two: the same time that you need to leave your hotel for your rendezvous. Repeat the number in time format,' he orders.
'Fourteen-twelve.'
'Good. Both phones are in your handbag, but I would move the spare into your cabin bag: no point keeping it so close to your primary. The SD card and a spare SIM are sewn into the handbag's lining. What's your name?'
'Lucy Thwaite.'
'Right. You are an art student, off to visit the great Guggenheim museum. Stick to the plan we made for Sally and you'll be fine. Don't get spotted by that Siddiqui geezer, but don't fret, Iry, I know you're capable of this.' I hate him calling me Iry, his nickname for me. That's why he uses it as often as possible. 'Oh, and the Deaconess says to ditch either the trainers or the dress, something about the colours may match but the style is non-typical.'
'Really?' I stop just before the plane's entrance and turn, but he is already walking back at his usual swift pace. It makes me wonder why the prickly Deaconess didn't make him do the mission in high heels. My being here makes little sense. Stepping inside, I reassure myself that we have been planning this meticulously. The only difference is that instead of being the observer, I am now the agent. The Deaconess and Pete have placed their trust in me. If they believe in me with their wealth of experience, then it's time I do too.
To all the awaiting passengers, I'm just an annoyingly late bimbo, who most likely got lost in the duty-free shops. As I make my way through the cabin, most of the guys forgive me before I take my seat, but some of the women look on disapprovingly. I'd worn this dress as I'd hoped it would prompt a rethink from Pete, as it flatters my gym-honed figure and I can see where men's eyes fall. It was a pity that it had hardly been given any time to work its magic on him this morning, although I did overhear Mateo say to Pramod, 'great arse, shame about her head' earlier. My head shape is normal and my intelligence surpasses his, so I really don't understand what he meant by that?
The Deaconess taught classes on Basic Craft and the first class included instruction on the types of clothes to wear. The trick was to blend in, in plain sight. Of course, being the last one to board a discounted short-haul flight does push the hiding in plane sight too far. Show just about any of the passengers my photo within twenty-four hours and you can bet seventy per cent of the people I walked past would recognise me. Still, the Deaconess can no more blame me for the delay than she can my looks. If this had been a training scenario she would have smiled bitterly and stormed off for a cigarette; the nicest way for her to communicate that she was not amused. She'd come back five minutes later, having sucked that cigarette so fast that she still had hot smoke billowing out from her nostrils like an angry dragon. Maybe her nickname should have been the Dragoness instead. She is one of The Coldies, one of those who miss the First Cold War.
After the plane has pushed back, taxied and taken off, I open my handbag and am relieved to see my Beatbox headphones. I take out an iPhone 6s, a better model than my normal issue 5s. I key in one-four-one-two and have to smile when I notice the Spotify app. Had Pramod set that up for me or was it Sally's? Of course it's not my account, that would be foolish. Lose the phone and a person finds your Spotify login, from that your email, from that Facebook, Twitter, Instagram, Snapchat, shopping lists, video collections, bank accounts, family tree. All of these have to exist for Lucy Thwaite's cover to be worth more than an amateur's glance.
Her account has loads of downloaded reggae tracks. I start listening and soon my nerves calm. Perhaps a top of the range iPhone, a fake Spotify account and an actual mission, whether putting me into real harm's way or a test, are what I need to make a fresh go of my life.
For a time the music takes me away from my troubles, like a medicine. But then my mind meanders back to Pete, imagining his reassuring presence beside me. An inner voice reminds me what I should be doing.
Test the sat connection.
From within Spotify, I search for and download 'Take It All' by Adele. Nothing wrong with that connection, the download only taking ten seconds. Most iPhones don't come with a satellite receiver that still works in flight mode but this one does. I had worked on and tested the software, but that was as a menial task of setting up the phone for Sally, a job more befitting a twenty-five-year-old analyst. After Adele, I return to the reggae, but as it plays in my Beatbox-sealed ears, I also enter the phone's Wi-Fi settings and scan my fellow passengers' phones. I can see three have failed to put themselves in flight mode. I hold down each icon for a few seconds, resulting in their phones sending me a summary report of what each one contains. I can then extract any or all the data, if I want, before dumping it into a self-destructing archive folder. Briefly checking the summary information first, I test it is functioning further by extracting the WhatsApp messages from one phone, whilst extracting the five most recent photos from another. Random scans are normally full of life's mediocrity, interspersed with illicit texts, Facebook or WhatsApp messages and incriminating search histories. But knowing any old passenger's secrets doesn't interest me; everyone has something to hide. I am on my way to learn the secrets of just one man: Professor Aziz Sari. Indeed, Aziz is a man who has become too proficient at eliciting everyone else's secrets. That's fine by us, but he's not sharing and as they say, sharing is caring!
By the time we land I am calm and ready for the mission ahead, and in ultra-observant mode. I have sized up Angela the stewardess, whose clothes are the same size as my own, the broken-hearted single mother holding her baby like it's a spiteful reminder of the fairy tale marriage that could have been, and the businessman who acts nonchalantly but pretends to himself to be a spy because his real job saps the life out of him. If only he knew who was sitting two seats behind him.