Hello lovely soul,
All being well, you're now the proud owner of a copy of The Magical Unfolding :)

It has been a slightly crazier than expected few weeks since the official launch, so before Christmas arrives, I wanted to thank you again for being generous and open-hearted enough to pre-order my book and support my mission.
I have exciting news to share at the end, as well as details about accessing the online course accompanying the book - but first I have a favour to ask...
Based on feedback, The Magical Unfolding is touching hearts and minds from the first chapter, which is all I hoped for. I hope you've had time to open the book, and you've found it helpful, even if you've only dipped in?
I know this book has the potential to shift lives because of this feedback - so I'd love your help to ensure those who could benefit, see enough reviews to reassure them it is a worthwhile investment in themselves.
Would you be kind enough to take a few moments to leave an honest review?
Either on Amazon UK here, or Amazon USA here.

A sentence or two would be great - if you've shared words privately with me, feel free to copy and paste those because they're so perfect, they've made my eyes leak! You don't need to have bought through Amazon to review.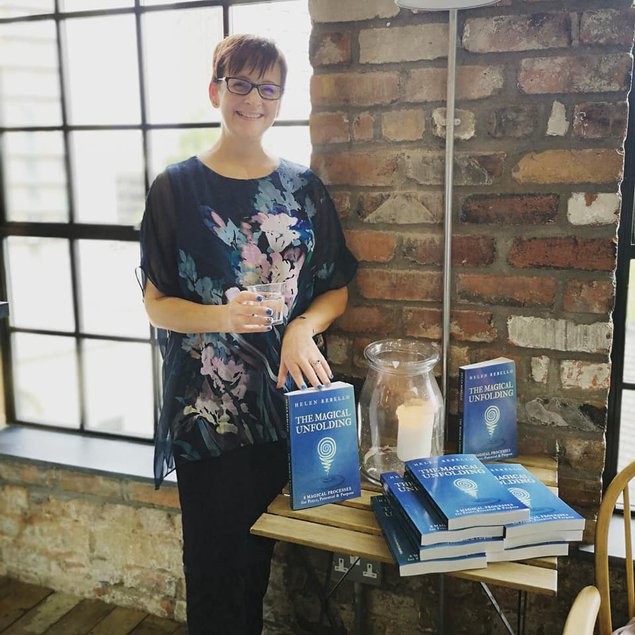 Alternatively, hit reply and send a photo of you and/or the book if you haven't already!
I have a beautiful gallery coming together, which I'll be sharing on the website and Instagram to show others where all the book babies have gone to live!
I read and appreciate every email and message even though since publishing, I've been utterly rubbish at getting anywhere near up to date on replies (sorry!).
Free Course Access
You have free access to the Unfold Your Magic course along with your book, which has downloadable audios and PDF play sheets.
To keep the course platform safe, you need an order number to sign in, so I'll be emailing you individually with a number you can use, along with any outstanding preorder bonuses (at last!).
If you don't receive an email within a week, please check your spam folder and feel free to PM me on FB or Insta (@helenrebelloauthor).
Now for the exciting and magical news!!! Hot off the press :)
A wonderful benefactor donated the cost of 50 books to my crowdfunding campaign, because he believed so passionately in the reasons behind me writing the book, he wanted to help me with my mission to empower 100,000 women to live in a way that lights them up.
He and I had several online conversations (because that's how introverts do it best!) and as a result of that I asked some of my tribe to nominate UK women's organisations.
My lovely mum told me her friend recommended a place called My Sister's House.
When I heard the name, my gut told me it was the perfect place. When I looked it up and discovered who they help and what they do, it couldn't have been more perfect - because it helps women in crisis, going through the same challenges I once had.

Not long after this, I was invited to film an interview for The Mindful Magazine, and when I looked at the website to catch up on recent interviews, the first thing I saw was that my online friend Kitty Waters had just been interviewed...and her bio said she's the chair of My Sister's House!!
Perfect!
Who knew Magic could work so perfectly?!
Fast forward to today, and with the help of Kitty and Andrea my lovely publisher, we just sent 50 books to My Sister's House to hopefully arrive in time for Christmas.
I won't lie - doing this actually made me cry, because doing something small to help women who are where I once was, feels like an absolutely perfect ending to a pretty epic, heart-wide-open year. Next step will be to go and talk to them and see how else I can help. Even better, I get to stay at my mum's place. Bonus!
Thank you again for all your help, love and support. I appreciate it hugely.
Please do share an honest review if you can spare a moment or two :)
I'll share updates here in the new year as and when I have more book related events and trainings to share with you, and if you want me to come and talk to a group near you in 2019, let me know!
With love and have a beautiful day,
Helen xx