Hello lovely people, without whom I wouldn't be able to share my version of magic with the wider world :)

Publishizer has prompted me to email you, because according to them, I've hit 50% of my target... to be honest, my only target was to reach independent publishers and be seen to be offering an idea to the world that was worth sharing. You've helped me do that AND more.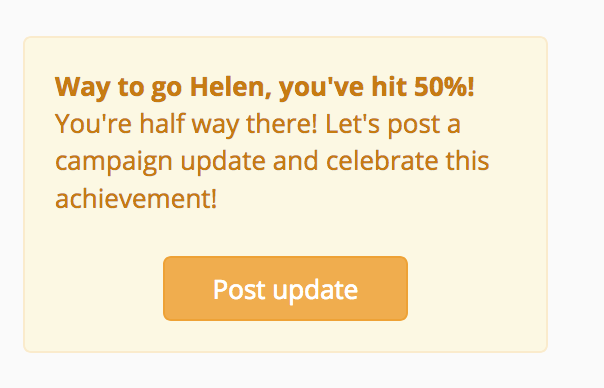 I didn't for one minute imagine I would be updating you to say that with still a week to go, I've almost reached 300 pre-orders... even though I have a relatively small email list & have defied all 'marketing rules' - a result I mostly attribute to having real, authentic and heartfelt connections with wonderful people, and to never having been one for formulas and strategies.

One thing I definitely didn't predict happening was an unexpected donation from a wonderful philanthropist previously unknown to me. He has pre-ordered 50 books for me to donate to women's support and empowerment groups as I see fit, and another donation for 10 books is coming for this cause from another lovely soul who loved this idea.
This in itself is truly magical - but what's really magical is that this happened because he saw a post I shared about 'my Why' and what I'd learned through sharing this book and campaign with the world - and my words convinced him to support my mission to empower 100,000 women to find more peace, purpose and fulfillment in their life - in a way I hadn't previously thought of.
After this campaign, I will be inviting everyone I know to nominate women's networks and organisations, so that collectively, we decide who these 60 books will serve. In the meantime, with a week to go, I'll be posting lots and doing Facebook Lives this week. Please know that it's because this mission is bigger than me - not because I think I'm someone special and should be seen!
If you happen to see any posts from me, I'd be honoured if you took time to share them with one person you think could benefit from learning how to create more peace and purpose in their life. If you catch me live on Facebook, do stop and say hi :)

Thank you all SO much - as always, I'm grateful for your support.
Happy Saturday,
Helen xx
ps I'll be in touch with another update soon (and if you're on my small but beautiful email list, apologies in advance because you'll be getting another email today too!).