Synopsis
This butt-naked memoir tells the story of a young man who 'trottered' across the globe – from Belgium to Australia, Vanuatu to Canada, Thailand to Nepal – to escape his toxic upper-class family and discover the freedom he needed to find his true sexual, spiritual and emotional identity.
It is the story of how one man learned to create the fertile soil of his growth from the paralysing fear that can turn generation after generation of families into emotional wastelands. Written with humour and a healthy dose of self-awareness, the book is filled with astonishing anecdotes and encounters, ranging from horrific to hilarious and from psychologically devastating to uplifting and enriching.

It is a must-read for anyone who feels miscomprehended, lonely and trapped by the expectations of family, friends and society, as well as for those seeking their own path through life or struggling with their sexuality. It is also a manifest against that stigmatisation of gay people which is still taking place today. Sexuality does not define everyone.

A practical book, it also provides tools and tips on how to hear the voice of your true self and break free of the prisons we find ourselves in.
Harry Trotter's The Naked Truth is a testament to the resilience of the human spirit and a reminder that it's never too late to begin the healing that allows us to discover and live our truth.
It is also a book that reminds us to just be ourselves – without putting a label on it.
By purchasing a copy of this book, you make a donation to C.A.L.M. The Campaign Against Living Miserably is a movement against male suicide, currently the biggest killer of men under forty-five in the United Kingdom. It is also a major killer in Belgium and other countries across Europe and the world.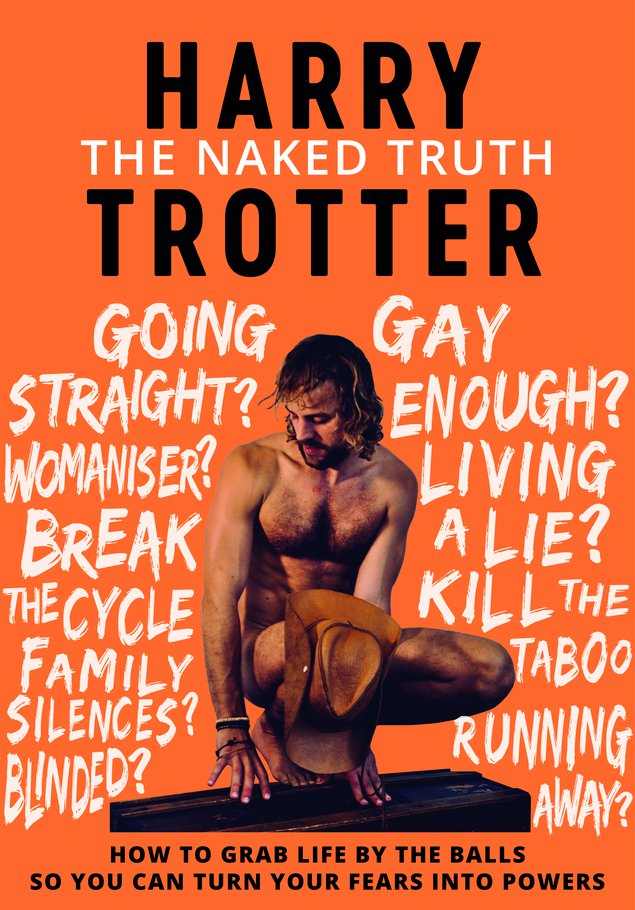 In this book you will learn how to:
Set goals for yourself and not 'goals' to please others;
Invest in yourself and people that are worth your energy;
Quit that lie you are in, once and for all;
Come to understand sexuality does not define you;
Let go of those prejudices and misconceptions you might have;
Come to the realization it takes some trials and errors before knowing what works for you;
Develop tools so that you can have a balanced life and be that happy bird most of the time;
Understand you can heal from anything that happened to you;
Focus on the present because your past does not determine your future;
Realize you are love and that you are able to give love to anyone, no matter what;
Come to understand that standing on your own is a true gift;
Say no without feeling guilty;
Understand you can focus on the thoughts that you want to focus on;
Remind yourself that success is what is within yourself, not what you can show others;
Why this book?

Many people adapt themselves towards the expectations of others (friends, family, society and the LGBTQQ community) and, therefore, live in a lie by following the 'guidelines' they have been given.
Some people might feel pressured because of their sensitivity they can't show, their toxic environment, their job, and even worse, their hidden sexual identity. They live a miserable life... a life with regret.

Straight, Asexual, Bi or Gay: we are all the same. This book is about breaking cycles of the past, self-love and most of all, being your true self without putting a label on it.

You might be afraid of the reactions of others, just as I was. Many people feel constantly pressured and trapped inside. They can be paranoid about the outside world, feeling tired, alone and misunderstood. This can sometimes lead to suicide.
This book is in honour of those who became eternal souls because there wasn't any other way out. I also dedicate this book to anyone still suffering in silence and struggling to break the endless cycles they are in at this very moment.

When someone 'comes out of the closet' - I prefer to say 'comes into terms with her-himself' - people within this LGBT community might ask that person to 'gay up'. Where is the equality, the acceptance and the 'love is love'? You have to 'fit in' society, which is already hard enough and then you have to 'fit in' in this community...
Many non-heterosexual people might adapt themselves to the gay stigma so that they fit it into the image society, their family and friends still have of gay folks.
It is time to give people who are 'not gay enough' and who don't define themselves by their sexuality a voice too. The time has come to kill the taboos and to break the stigmas so that others who suffer in silence know they are not alone out there.
"People who do not define themselves by their sexuality, who have a low-key attitude and proactive ideas and values, can bring the image of the community to another level. But this will only work if they receive proper support from the media and a stronger voice within the community." - Harry Trotter
This book is one of a kind because it is:

Written in a sexual, butt-naked and self-mocking way.
Extremely actual in this day and age.
Full of self-reflective questions, all throughout the story.
A self-helping memoir with naked insights. No Holding back concerning any topics. (Relationships, family situations, sex, sexuality, identity, abuse, manipulation, mental health, depression, suicidal thoughts and so on. This all expressed mostly in an uplifting way)
Unique by its name 'Harry Trotter'. I 'trottered' the world to become the man I was meant to become and I took on that name. (My given name was not in line with who I had become.)
The first book out of a series of books I will publish in the future. (Harry Trotter and the Broken Cycle, Harry Trotter and the Gaylord Redefined).
Covered by labels (on the cover) while the journey inside kills them all.
Not a typical LGBT story because this book is about much more than sexuality. It is about relations between people without putting a label on it, regardless of whether you are into men, woman or nothing at all.
A voice for people who are low-key about their sexuality when being 'gay'.
A no-holds-barred story where the question is raised if the LGBTQQ community is going the right way today.
United we stand in a single voice in this stigmatising world. This is a voice for those who are suffering in secret at this very moment. This book is more than a universal story to support others. It is also a vehicle to get in touch with those who are willing to create and build a bigger platform in the long run.
"Regardless of how open-minded people are, they experience a subtle bias against creative and different ideas when faced with uncertain situations." - David Burkus
Outline
Preface

I share my own experiences with a single purpose: so you can start taking steps to improve your own quality of life.
Be the person you needed when you were younger but, more importantly, be the person you want to meet. You are not what happened to you, you are what you've decided to become.
Introduction
Are you currently living in a constant lie called 'The Truman Show'?

To you who is reading this: I did not know anyone in a similar position and did not have someone to look up to when I was younger. I hope I can be some sort of inspiration to you. It is all about how to find honesty and transparency and to show people that there is nothing greater in life than being yourself, without putting a label on it.
1 When the Tree Sees the Light
In this chapter, I talk about the family tree and I also cover the pains and silences family members can transmit. I also ask a critical question:
Have you ever thought that you didn't belong in your family?
2: Childhood Memories
Within this chapter, I express myself about my own childhood by talking about my own fears towards life and those who made me:
Throughout the years, the vision I had of my funeral became her funeral, and it saved me. It made me less fearful towards her.
She has been dead in my head for a long time already and this has given me the inner rest I needed to not hate her any longer, but rather to understand and appreciate her.
Ready to use me as her punching bag, she would scream her lungs out while fixing me with that look you only see in the worst horror movies. A look that I will never forget. A look that holds severe anger, hate or even death. I would see and feel her saliva raining on my head while she stood over me. I would be on my knees saying, "Sorry, Mother", while she ordered what she said so often in her waves of pure anger: "Say sorry to your mother!" I was scared of her and her behaviour. For many years, I made myself believe her behaviour was normal and that all mothers behaved like this.

I wondered if all women and girls were like this?
What did I do wrong?
Sorry for what?
Why did I have to be on my knees all the time?
This is why I still say sorry every two minutes or say thank you every four. It became a mechanism in my head with which I have lived with ever since. And these mechanisms are not easy to break down.
3: Being an Actor
In this chapter, I express the lie I had built. A lie many people can relate to in terms of pleasing others, but also by not living their truth by pretending to be someone they are not:
Being nice and soft was girly, I thought. More than anything, I felt the need to be a dick, to misbehave and to prove that I was a man - to prove I was the man.
I had no one to talk to about my thoughts when I was younger. I took a conscious decision to put on my own Truman Show and to live a constant lie. Why? Because I was afraid of being judged by the people within this upper tight-ass class I was part of.
From observing others, I knew what was seen as 'well' or 'appropriate' in this world and how to behave according to the expectations of my entourage back then. So, I pretended to be a confident, happy, 'straight' guy.
I was fulfilling the expectations as the imaginary son that my parents had in mind. As I had been taught from the very beginning: don't show your emotions, keep on pretending everything is fine, just smile and, most of all, shut up. 'You are a happy guy and you are part of a happy family'.
I was often called a ladies' man which was, of course, seen as 'well' by my 'mates'. And the girls? Well, they fell for it too.
She convinced me it was wrong, by saying that gays were not from the other side but from the wrong side. So I changed myself. I convinced myself I needed to fuck as many girls as I could, in order to banish my demons.

It started to become a game for me. I convinced myself that the sex was great. The girls I was having encounters with often told me they were satisfied. I would pat myself on the back and think: Good job, Harry! I got the bad reputation I was hoping for and it covered up the truth.
After dinner, Dad gave me some money so I could have another drink with my Italian girlfriend. Maybe he was giving me money to buy some condoms? At that moment I felt like he gave me bullets to load my gun with, like a soldier ready to join the war. More than that: ready to survive the war and to come back as a hero. Well, that is exactly what I did. I left the dinner table like a hero without even having shot my load, yet. I could see in my dad's eyes that he was thinking: That's my son! Even though I ended up having sex with her, I was thinking more and more of 'hitting the mud' like all 'real men' in the army do. Right?
4: Slowly Dying Inside

Here, I express that feeling of shame many people experience in their lives. I also cover my first sexual encounter with a man and the dark thoughts I had because of this. I also had little hope...
'Success' was measured by the studies you followed and this "determines your intelligence", as he said. Based on the fact I was one of the only ones who didn't go to university, I was undoubtedly seen as 'dumb' once again. Speaking for myself, I didn't feel taken seriously. I felt pressured because my surroundings made me believe that I was the problem, that I was the weak or stupid one, even though deep down I knew I wasn't. I was tired of being treated as a victim. When in their company, I smiled and I was 'grateful' but damn I wanted to spew on them so badly.
I was ashamed and I was trapped in a prison I had built myself. Have you ever experienced that feeling too?

He entered my studio and I told him I didn't want anything to happen but curiosity (not him) grabbed me by the balls. I wasn't really attracted to him and felt weird during the subsequent act. As soon as he left, I felt thoroughly confused. It wasn't because he had followed me, but more because he had swallowed me. Wracked with guilt, I couldn't sleep for weeks afterwards. I was scared to death that my ladies' man reputation was in danger.
Several questions were draining me from the inside:
Am I a 'faggot' now?
In the words of my mum, am I from the wrong side?
I didn't take it up the arse, so nothing is wrong right?
How will I ever justify myself to my family?
I was already the weird one, the black sheep, the 'problem child' etc… Now to add to all of this, the gay one? The at-risk-of-HIV one? Needless to say, I went mental inside.
The paranoia of my secret becoming known was always present and had reached the point of self-harm. I was convinced that 'my problem' would make this unstable family circus even more of a disaster. I would be blamed for all of it. I was haunted by dark thoughts of not belonging in the world any more. I was a shit son, I had failed at college and I wanted to have sex with men…
But the conscious thought of taking action and killing myself never fully took over. The suicidal thoughts were extremely strong, but my inner voice of reason was stronger and told me I had a message to share. It was a message of hope based on the idea that I had a purpose on this planet, and I would prove it one day.

5: Leaving for Oxygen
In this chapter, I express my momentum of standing up for myself. That moment I chose for myself.
I took hold of her arm and said out loud, "ENOUGH!". For the first time, I had stood up for myself towards this woman. She was shocked and displaced out her role - just for a few moments. It didn't take long before she rebooted, insulting me with a whole range of colourful words and I left without looking back. It was a day I will never forget. I came to the conclusion that my presence had never been appreciated. Or perhaps it was me who didn't want to be around them anymore?

When I was around her I could always sense her pain and I thought that my presence might change her mood. Always think in a positive way and try to make a change for others, right? Even after everything, I still felt bad for her. I tried not to think about how she had acted towards me in the past. I wanted to hug her, but I just couldn't force myself to do so; I had only a limited amount of energy to give away and my inner self told me not to waste it. She still treated me like shit every time I tried to support her.
How could I be so naive to think I could stabilise things in this family?
Why do people unleash their frustrated madness on others who haven't wronged them?
Was she crying because her anger-release piñata was leaving?
This was the detachment I had craved my entire life. A detachment that would take me all the way to the other side of the globe. I was aware that it wouldn't be easy but it couldn't be worse than what I had experienced.

I was sick of this merry-go-round and despite accepting and embracing so many things my parents judged as normal, I still found the power to leave and to stay true to myself. I was so proud not to be a part of their lives ever again. I already knew back then this would be my biggest achievement in life because it meant I could break free and start my new life, my own life.

6: Breaking Free
Within this part, I flee from Belgium to Perth, Western Australia, and I express that even though I was hoping to leave that lie behind, life was still grabbing me by the balls...
I was feeling positive and there was no way I was going back to my motherland anytime soon. I was determined to stay as long as I could, either in Australia or somewhere else. Anywhere else was good, except for where I 'belonged'. I would accept any job in the world to stay away from this 'Hellhole' called Belgium.
Ups and downs were awaiting me in Australia, but the decision I took to leave would go on to save my inner-self and eventually, my future life. I was finally going to have a taste of life and a taste of total FREEDOM.

I was less satisfied at the embassy than I was working and living at the farm, where there was less social pressure and the only ladder I had to climb was to pick apples. Being alive and refuelling myself was important to me not my résumé nor my career.

A few days later, I received an e-mail from them: "Well done, you will go far in life - Out of the three children, you will go the furthest." I couldn't help but laugh because, once again, they had proven they had no clue who I was and what my true ambitions were in life. They were 'proud' of what I had achieved but were oblivious to my state of mind.

One night, he came on to me and I politely said, "No, thank you." A few days later I ended up in his bed. I was beating myself up over it, asking myself: don't you have any self-esteem? You were supposed to break patterns, not repeat them. I didn't like his energy, but I felt his loneliness, his inner pain and his addiction he couldn't get rid of. I felt awful about myself and I couldn't believe I had spent a night with a guy who has the red eyes of the devil. They reminded me of the eyes of this woman who gave me birth.

I could not sleep at the apartment any longer. Instead, I slept at random guys' places because I was looking for understanding, good energy and affection. Often, all I got was meaningless sex, dicks and balls (genitals). I didn't know where to go, but I believed that prostituting myself was the only way. I was still doing my internship during the week, so I tried to organise myself the best I could. I always kept my suit and tie with me, never knowing where I would spend the night. When I eventually needed to go back to my room in the apartment, I always prayed to the Lord that my housemate wouldn't be home.
I didn't have high standards, but I had plenty of low self-esteem. On more than one occasion, I would end up at the place of a guy who would be much older than he appeared on his online pictures. Disgusted and without any other options, I would stay at that stranger's place anyway. All I really wanted was a bed and shelter for the night. I gave my body away because it was the only thing I had to offer in return. They often offered me drugs. Taking in drugs would help me forget who I was while having sex. So, I would accept.
Was I so 'eager' for sex because I always felt it was a big taboo in my family and I wanted to live a life with no regrets?
I was ready to reconnect with myself even though this did not happen overnight. I realised my brain didn't completely follow me on my journey.
7: Back to 'Reality'

In this chapter, I go back 'home' for 10 days to attend my sister's wedding. Back in Belgium I was living a lie again and I express what is going through my head during my stay:

I was bloody happy for my sister and her fiancé, of course, but I wasn't in the least bit looking forward to facing many old faces, shaking hands and engaging in tight-ass small talk. Pensiveness tinged with stress and thoughts of culpability were having an anxiety-riddled party in my brain.
The event he had created was a poisonous present. It was a 'present' to himself on which he could always fall back on, saying that he did this as a favour to my sister and her husband. It turned out that the wedding was more an all-you-can-eat buffet with an open bar, catering to mostly strangers. A family feeling, which never existed anyway, was far away.
I wanted to express that my main objective in life is to live and to love myself. But these were the kind of people who were bitten by the system and thus controlled by it. They would not understand my language. I guess it is like an infection where bacteria take control of your mind and body. They want 'more and more' and build up an unhealthy ego with an unstoppable hunger for 'status' where only money and image really matter.
The family circus became even bigger that night during the wedding dinner and truth be told, so did my balls. For once, the roles in this family had been reversed. My dad was the wizard, making troubles 'disappear' with a fancy party and a flower bouquet. Faut le faire! (That takes some doing!)
I was the clown because I had killed the family lie by sharing my truth in front of an audience that just stood there with their mouths agape. I could've teabagged the lot of them. In reality my, dad was the clown, but no one seemed to see it.

Some people must have thought I was drunk or assumed that I was crazy. The truth is, I was totally sober and was just being true to myself. This made me laugh deep down. Again, if you veer from expected behaviour just slightly, it is not well received by others.


8: Creating your own Comfort Zone
Here, I express the feeling of fleeing again and looking for a place to call home. In this chapter, I start to discover who I truly am and what I am good at. I start understanding I am no longer a no-brainer and empower the reader with me. This all takes place in Melbourne, Australia.
I couldn't quell the little devil's voice, saying: "Back home this job wouldn't be seen as a 'real' job." I tried not to pay it too much attention because, deep down, I knew it was the voice of the past.
I loved every single day of working there. I had awesome colleagues who were like friends from the very start because they treated me well and genuinely cared about me. If I'm honest, the company literally changed my life. It gave me so much satisfaction in what I was doing, and for the first time in my entire existence, I was really proud of myself. I realised that I was good at something and this gave me a major confidence boost. I started to use the talents I had always possessed. I had started to be someone, finally. It didn't matter how much I earned, what advantages I got through the job or the job title I had. I was just grateful for what I had.
9: Letter of a New Life
Here, I express to the reader how to take charge of his or her own truth, no matter what.
Rain was banging on the windows and I swear, at the moment I opened his message, God started pissing like never before. It was raining cats and dogs, and maybe also fags because 'God hates fags'.
In the e-mail, he said that I needed to start taking responsibility for my life, referring to his business that he had single-handedly created.
Most of all, I made it very clear in my letter of new life that it was about time for me to take responsibility for my own life, rather than wasting my thoughts on business aspirations.
I was dead in a way; the model son my parents had always imagined was fading away.


10: A Leap of Faith
In this chapter, I am in Queenstown, New Zealand, and I express how I experienced a situation where people told me I was not gay enough to be part of the gay community. I also express the trials and terrors of staying true to myself and not pretending to be this 'cool guy' afraid of the reaction of another.
I pre-ejaculated some words out of my mouth in anger. I quickly regained control of myself. Instead of squirting even more words on his face, I swallowed them and decided to not express myself any further because I understood this man did not understand what equality stood for.
It turns out that women love a man with a microphone and some guys do too... During one of many nights where I was promoting travel deals as a mic-controller for the travel agency I was working for, I met a group of Scandinavian men who not only seemed very open to booking activities with us, but they were also very open-minded. In my experience, when you meet a group of young guys, the first thing you talk about is women; homosocial bonding. It is guaranteed to be a winner, even though I was tired of those kinds of conversations. Looking back, I was pretending to be a 'cool' surfer-dude with the microphone. I must have looked very confident on stage because I could tell how people perceived me. They saw me and my microphone as a woman-magnet.
After entertaining the crowd, I started talking with one of them and he told me that the previous night he had sex with the hottest girl in town. Not stopping there, he said that the girl at the other side of the bar was his next target. I directly understood what he had said because this used to be my language when I pretended to be a womaniser... Few hours and beers later, we were making out and we did not talk about girls any longer. Never judge a book by its cover.
11: In Search of Quietness
At first, I went totally bananas from the constant noise. Trying to get better, I ended up quitting work earlier than planned. The thought of never getting rid of it started to take over my brain. I felt miserable.
I decided to go down the healthy route in the hopes of seeing any sign of improvement. The gym became my second home and I left smoking and drinking behind. Nothing changed. So, I went to church daily and spent hours kneeling in front of the altar. That was a real first, after spending so much time knelt in front of the devil when I was younger. Still, nothing changed. After all, God really does hate fags.
On some days, I shed bitter tears on the road and on other days, I roared with joy just by myself, in the middle of nowhere. One day, on a completely lonely but oh-so-pleasant road, I screamed out loud over the beautiful valley:
"THIS IS LIFE! THIS IS MY REAL LIFE!"
At that particular moment, I was experiencing a myriad of emotions: blissful thoughts and traumatic flashbacks from many years ago intermingling and rushing through my mind. All at the same time and all mixed up. I felt successful because I was succeeding in doing what I thought was important to me. With this indescribable feeling like wind beneath my wings, I knew I had to keep chasing my dreams, no matter what.
12: Reality Check
In this chapter, I am back in Belgium in order to go into the belly of the beast because I realized I could not flee forever.
At first, as I absorbed the atmosphere back home, I was convinced that things had changed for the better. I enjoyed seeing my siblings and my sister's husband again. We even went on a holiday with the whole family. However, once my brother, sister and brother-in-law left, I was left alone with my parents. Things got worse instantly. I thought deep down, you're hurting yourself here, but this same voice told me it was time to get 'closer' to them again - or at least try.
That time with them really killed me. It felt like psychological suicide in its purest form, because I had walked straight into it. To change your values and beliefs for the sake of pleasing others is to silently kill yourself.
They used my decision to live my truth as a way of covering up the silence and pain in the family.

13: Going Down
Here, I am going brutally naked; sharing my stay in a hospital for 2 months and being labelled as depressed and sick by the people I detached myself from.
Why was this woman convinced that I had messed up our family image, after everything that had happened in this circus?
I've never been a negative person. I was told I was depressed and, yes, I ended up believing them, even though deep down I wasn't. I had repeatedly soaked up the negative energy of the people around me every time I went back 'home'.
Every time I touched Belgian soil, I felt like a failure. I failed at being able to cope with this family. I also failed at fulfilling the expectations as the imaginary son that my parents had in mind. I failed at creating a family with a wife and children, which would go on to become their grandchildren. I failed at walking in my dad's footsteps and carry on the business he had created. I failed at making him proud. At that particular moment, I believed the past years I had spent abroad were a total waste of time.

I got a job offer from a big, corporate IT company and I thought: How boring is that? The proposed salary was really tempting and I was honestly about to sign that contract that I had in front of me. Despite the pressure I felt, I managed to tell myself that I couldn't accept this offer after all I had fought for and had experienced. I was thinking:
You've come too far to give up on who you truly are.
"See Harry, this is someone who is successful, please take it as an example". I almost spewed in my bed. Being back in my parents' house was destroying me, especially after all the unforgettable and cheerful moments I had experienced during my journeys abroad.
Depression is a big term. It is a topic people would rather avoid. But when it's unavoidable, people talk about it so inhumanely and still see it as taboo. People just don't want to be associated with it. It is also a word people use when talking about others, but never themselves. Countless names of so many different illnesses are slapped in your face when you're a 'patient', and then you start believing that your life is over. I didn't listen to their constant diagnosing because I really tried to think about it in a different way. Especially in the kind of civilised world we live in, with all its pressures, I wanted to view depression as an opportunity to come to a stop and reassess everything. I wanted to view it as a gift.
I consider my stay in the hospital as a 'clean-up moment', for my body and my mind.
14: Slowly But Surely Getting Up

In this chapter, I am taking distance from old beliefs and I'm finally putting myself first after many trials and (t)errors.
I was harming myself, even though I was completely conscious of the fact that I needed to distance and detach myself once and for all from this unhealthy situation. It was a situation I never wanted to be involved in, but I was in the middle of it again. I still feel an urge to support my parents, even though I know that their circus has harmed me over and over again. This discrepancy, between knowing and feeling, could never be united.

Is this what having the same DNA does to you? I constantly felt like I was pursued and hunted by my own DNA, which I had tried to run from on so many occasions. I finally had found a way to detach myself.
Was his 'success' worth the destruction of our mental health and even our lives, even for all the money in the world?
He often spoke about his own 'successes'. Hearing this was a pain in the arse (not the prostate-hitting fun kind).
15: A Needed Push
In this chapter, I explain that it is important to go back to the roots so that you can cleanse yourself once and for all, but that you have to take distance again afterwards. This part of the journey takes place in Koh Phangan, Thailand.
I was becoming Harry Trotter again, the person I truly was, not the corporate man who was trying to prove himself back 'home'. I was off to a simpler life, full stop.

Bangkok is a city that reeks of sex and, as a Western man, I knew anything was possible there. Instead of panicking and getting emotional, I went on my trusty sex app again. I spoke to a local guy, who coincidentally lived very close by Suvarnabhumi, the international airport of Bangkok. We decided to meet and I asked him if I could stay until my flight to Kathmandu. He agreed.
The endless cycle of sex was unbreakable back then and something in me told me I had to give it a try with girls again.
16 Time for a Change
Within this chapter I am realising that change is near but I do not know how to get there, yet. This takes place in Kathmandu, Nepal, where I am attending a vipassana course.
If giving myself and my body away was a company, I'd genuinely be a millionaire today. Would my grandfather, who is looking down from above, see me as a 'successful' millionaire as well?
17: Taking Action
Within this chapter, I start taking action and my mission becomes clearer. I am back in Belgium.
I told him I would break the cycle in this family. His breathing became even louder at that moment and I could see in his eyes that death was near.
18: Knowing Your Own Energy and Yourself
But when you've been through that pain yourself, part of the recovery process is realising how great life can be. You just wouldn't want to date a victim any more. You fought so hard for your own self and that stability you craved and, ever since then, you don't want to end up with someone who drags you down.

Be happy in your own company and know hat you stands for. Let go of the rest. Trust the process which is in constant progress.
19: Trusting Your Gut and Getting Inspired
In this chapter, I elaborate about the Law of Attraction and that victimizing yourself or complaining 24/7 won't bring you further. I also express why it is so important to fully focus on yourself.
By being an unhappy bird, you will attract those ones who love to complain, too. People who are hard to get rid of.
Once you surround yourself with similarly energised people, you are ready to go.
At that very moment, it is crucial to first focus on yourself and the people who feel you when you're working towards your goal. If you give away your energy to people who do not understand your language, the process of reaching your goal will take longer, logically. It is important to surround yourself with people from whom you can learn; people who make you grow; people who are a step ahead of where you want to be; people who are humble winners.
To put it simply: people who inspire you. This means, people that you meet in your direct surroundings, but also people who reached their goals by truly believing in what they preach.
Keep in mind that your vibe attracts your tribe. Don't worry, stay true to yourself, be ready to work on yourself, and the right ones will cross your path sooner or later. Do not look for it it will get to you.
Remember: the only confirmation you need is from yourself. Of course, it is a basic human need to desire attention and affirmation from time to time and that is fine. As long as you believe in your personal goal one-billion percent, that's all that matters.
20: Being Butt Naked
This is a chapter in which I express myself on the following: to be naked and how to be butt-naked.
We still live in a day and age where, if you distance yourself from the norm, people, friends or even your family will see you as 'different', 'weird' or even 'unstable'.
The truth is that being called weird is the greatest compliment someone could ever give you. It means you are someone they will remember. Someone who is not just like everyone else. It also means that you can stand up for yourself and stand out from the crowd. While I have been educated with the mindset that being different was undesirable, it was a gift all along. The gift of authenticity.
By distancing myself from my family and the people in my Truman Show, I found the stability within myself that I had been after for a long time. By being naked (and taking my hat off too), I ended up attracting the ones I need(ed) to attract.
I had to detach myself from that beautiful lie and reach for that ugly truth. The only way to get there was to be fully open and butt-naked.
21: Breaking Cycles
In this chapter, I explain how I broke my cycles and how I turned my fears into powers.
If you think that I might have lost everything by writing in such a butt-naked way, you're right. I lost everything from that lie I was living. None of the stuff I've left behind served me to grow as a person.
I lost my fear of being who I truly am and I learned to stand up for myself and, more importantly, to maintain myself. I learned to cry with happiness - my own happiness - and not with guilt because I couldn't support my 'loved ones'. I lost a family I never had and built my own, within myself. I lost the 'values' that I had been brought up with and could never embrace.
Perhaps you are in the process of doing the exact same thing: breaking cycles, silence and balls.
I broke them. I broke them all: remaining in a toxic environment; controlling people; the need to please people; and looking for affection and affirmation in all the wrong places. The biggest one, without a doubt, is surviving and detaching myself from those who 'parented' me. I wouldn't say 'created me' because that would be a lie. I manufactured myself. No matter what happened to you, you can heal from everything. No matter which family you were born into, you can still be that happy person you have always been, deep down.
Yes, it is a tough journey and a long road, but for your freedom, it is worth it.
I decided not to tolerate being treated by people as a victim or a problem-child any longer. By distancing myself from them, I have become that enthusiastic guy I have always been deep down. My sexual orientation was not my reason why I fled, but the poisonous and unstable family situation was. I broke the cycle, in terms of accepting myself as a human being. I decided to not give any energy or justification to any comments about a sexual label that people might give me.

22: Living Truth
This chapter is a gentle reminder that truth does not hurt, it heals.
When you detach yourself from your roots for a while and look at everything from a distance, you start understanding where the ones who made you come from. You can start having more empathy towards them.
At some point, you will see the pain that you have experienced as a gift because it pushed you to become that person that you have always been deep-down but couldn't show to others. That pain also obliged you to use your full potential to become the best version of yourself. You might have been treated like shit and, at some point in life, you might have believed that you were shit, but believe me, you're not. You have the power to transmit only the good parts of what you have experienced. Be proud of who you are and stand up for your true self, no matter what.

23: The Hardest Part in Terms of Being into Men
People who do not define themselves by their sexuality, who have a low-key attitude and proactive ideas and values, can bring the image of the community to another level. But this will only work if they receive proper support from the media and a stronger voice within the community.
Acknowledgements
In this section, I thank the people who are in my heart, the people who helped me realise this book and the friends I have made all over the world when Trottering the globe. They made me the person I am today, namely: Harry Trotter.
Audience
People like you and me:
People who can relate to everyday life struggles in terms of identity, sexuality, pressure and confidence. People from all ethnical backgrounds, social classes and religions. This book might be written in a sexual, uplifting, and humoristic way but this story is much more than just about sexuality.
People who are stuck in their own prison of pleasing others and fulfilling the expectations of others. People who might be questioning their true calling in life but do not know how to activate it.
Trotters
People who are in need of inspiration when they have been fleeing their entire life from their fears and their past. People who are constantly on the road, travelling, working and living abroad because the road is their home. Those people who have a hard time when they are back to their roots, with their family.
Non-heterosexual men 18-70 years old
Openly non-heterosexuals will, without a doubt, find many parallels between their lives and the journey written.
Closeted men who are living in a constant lie will also recognise themselves. They are tired of being tired, unhappy to the bone, depressed, unenergised and even suicidal by having to hide their true sexual preferences. Those people are living in constant fear. The fear of being judged because of this stigmatising world we live in today.
Parents who have a non-heterosexual child
Through this book, parents will understand that their son or daughter is just in need of parental love and that cliches are meant to be broken. This book can also give a better understanding to siblings of a person who falls for the same gender.
Added Facts:
CALM: Campaign Against Living Miserably - In the UK suicide is the biggest killer amongst men under the 45 years old
Child Mind Institute: LGBT Teens, Bullying and Suicide
The LGBT community is a massive community and, when you consider that between 5% and 10% of the total population in most civilized counties are LGBT, there is definitely a market for this book.
Promotion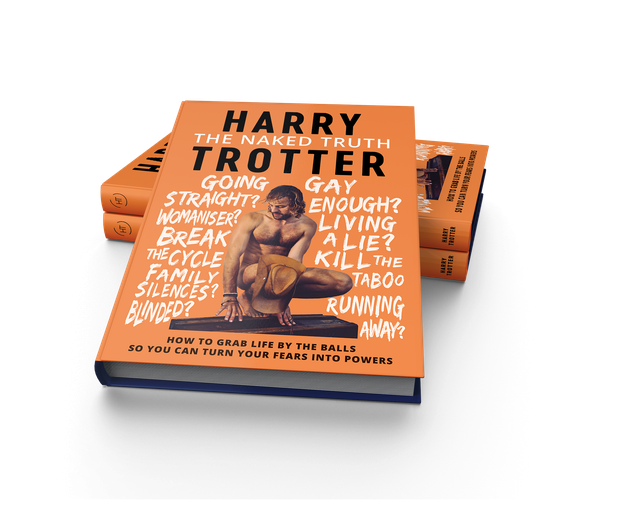 In order to promote my book to people, I have thought of several approaches.
The first approach was to build up a mailing list of interested parties over the last couple of months. In doing so, I can effectively link people to my Facebook campaign page of 'The Naked Truth' and crowdfunding-book page once it goes live.

The email list consists of friends, relatives, acquaintances, colleagues and former colleagues from different companies and fields I have worked in, all over the globe.

Secondly, I will boost my Facebook posts and promotional posts so that I can lead more people to the crowdfunding site. This small investment is more than worth it.

The third approach is 'creating a buzz'. I have been creating buzz for over 2 weeks now on social media and many people around me are wondering what is coming. I also have several friends - 'influencers' - who are willing to promote my book as well. Some of them are well known in the travel, high-end clothing and LGBT-world.

As a fourth approach, I will also be able to promote my book at a Mezrab here in Amsterdam, which is famous for storytelling and stand-up comedy nights.

The fifth approach entails my involvement with the PSA: Professional Speakers Academy in London, which I attend on a quarterly basis. We have a closed community online and I will be promoting my book there as well.

The sixth approach is to showcase my book. I am currently in touch with 2 different magazines and even a book shop in Amsterdam proposed to put the 'The Naked Truth' up in their online shop. I have held off on that because it hasn't had its 'coming out', yet. I will definitely reach out to more bloggers and magazine publishers who fit the genre of the book.
Last but not least, my aim is to offer people the book as an E-book, paperback, and eventually as an audio-book, with a bunch of well-built and exclusive packages as well.
I am well-surrounded by people who are kings when it comes to social media so I have massive faith it will all come together.
Instagram personal account - 1528 Followers
Instagram book project account - 2299 Followers
Followers Linkedin - 249 Followers
Facebook friends - 1250 and 252 Followers
Facebook campaign page current likes - 105
Facebook Business page current likes - 225
YouTube - 7034 views, 7 Subscribers
Emailing list - 285
Competition
'The Naked Truth' is very different from other LGBT books because this book is based on much more than just sexuality. It is not a journey of a gay couple fitting the cliché nor a book in honour of the gay community. Instead, it is a naked journey of someone who fought for his own worth.
The last chapter of this book might hit the prostate of the LGBT community real hard and that is fine. The last part of the book is showing a different side of this so-called 'supportive' community because often people might hear they have to 'gay up'. So, where is the 'acceptance', the 'love is love' and 'equality'?
'This book is gay', by Juno Dawson (2014-Sourcebooks). It literally states that it is an instruction manual for how to deal after your coming out. The Naked Truth is about an authentic journey, with a big pair of balls. Not a book about 'being gay' but about 'How to grab life by the balls'.
'How to be gay', by Juno Dawson (2015-CPI Books). This book is all about coming out, sex, gender and love. Topics that are also covered within The Naked Truth, but the difference is that I do not tell the reader how to be gay. I mention that everyone has the right to be who they truly are, but I do not give tools on how to be gay... Everyone has their own way to cope with his or her sexuality and coming out process.
Call me by your name, by Andre Aciman (2018-DTV Publishing). Great story based on a movie which is similar to what The Naked Truth is all about: true values and an uplifting message. This book is giving a different image of how many people in our society still see the LGBT community today. This story is about a love affair between two men. The Naked Truth is about going from surviving to living and being who you are, without putting a label on it.
'This is not a love story' by Suki Fleet (2014-Harmony Ink). This story is about a young boy who runs away from an abusive home. He has had to make some difficult choices and sells himself on the street to survive. This is somewhat similar to The Naked Truth, in the sense that I accepted any job to stay in the country and accepted drugs to forget who I was while having sex with men against my own will. This book is about a tragic love story between 2 young boys, while The Naked Truth is about a loner on the road, in search of (self)-love.
'Becoming Gay: The journey to self-acceptance by Richard A. Isay (2011-Vintage Books). By exploring the psychological development of gay men through personal case histories—including his own—Dr. Isay shows how disguising one's sexual identity can induce anxiety, depression, and low self-esteem. This book covers the mental health issues someone can have when being in search of their own sexual identity. This is also what is expressed in The Naked Truth, however, it is based on someone's personal experiences and not on several case studies.