This book provides a framework for how lean social media and digital marketing strategies can help create and keep customers in the age of Smart Tools, AI, and Marketing Automation.
Manuscript
| | |
| --- | --- |
| | Business Social Media Marketing |
| | 55,000 words |
| | 25% complete |
| | Tustin, California |
| | 21 publishers interested |
Synopsis
Customer buyer journeys are increasingly unpredictable and difficult for marketers to map. Consumers use multiple devices across numerous websites as they do research and engage in conversations both on and offline before deciding on a purchase. At other times, consumers proceed to a purchase decision merely minutes after hearing about a brand or even a whole new product category for the very first time.
In The Social Customer Journey, Niklas Myhr argues that marketers need to step up the game in terms of predicting when prospects and customers need your attention before they go astray which can happen at all stages of a customer journey.

Even when customers do purchase, some will disappear after the first transaction never to be seen again. But some become loyal or habitual buyers and may even turn into unpaid brand ambassadors helping spread positive word-of-mouth opening up more channels of communication and more opportunities than ever before.

Smart marketers need to be prepared to offer highly personalized, relevant and valuable content, engagement, and experiences to prospects and customers in a much more agile fashion than ever before. For example, by quickly detecting when prospects and consumers are about to get off track, digital marketers can re-engage them with relevant, clickable, and possibly shareable content or by simply showing up for empathic, social conversations when deemed necessary.

It's the age of digital, which means customers are more distracted than ever before and maintaining loyal customer relationships is only getting more difficult. Therefore, any opportunities for social engagement that customers grant you cannot go undetected and needs to be taken advantage of instantaneously, otherwise, you will have missed your chance.
At the same time, with the emergence of new technologies and lean strategies, marketers are expected to do more with less. This also means that they are increasingly unable to engage socially one-on-one with all prospects and customers at all times however desirable that may seem.
The Social Customer Journey offers a framework for business owners, executives, and digital marketing managers on how they can leverage lean social media strategies to develop and maintain meaningful human relationships with the right prospects and customers in the right way at the right time on the right platforms along the buyer's journey while also taking full advantage of smart tools, AI, and marketing automation in order to become more agile and get the most value out of inherently limited resources.
Audience
2/3 of the world is using social media. But less than half of executives and marketers truly know how to reach, attract and retain them as customers.
According to bussiness2community.com, 70% of the U.S. population now has at least one social networking profile; more than half use two or more social networks. The number of worldwide social media users is projected to grow from 2.1 billion last year to 2.5 billion by 2018.
ROI is still tough to measure for executives and marketers.
46% of B2B marketers say they're not sure whether any social channels have generated revenue for their businesses. Only 13% believe they've proved the impact quantitatively—though that may be because just 14% tie social media marketing activities to sales levels.
For all the bashing of "vanity metrics" in social marketing, those likes and shares ("engagement") remain the most commonly used measure for evaluating social media success. 80% of marketers use these as primary success metric; 56% base social success on website traffic.
Top executives: social media marketing is for thee, but not for me. 84% of CEOs and VPs say they use social media to help make purchasing decisions. All 100 of the top global brands maintain at least one company YouTube channel, and more than half (27 of 50) of CEOs in top global companies have appeared in a company video.
And yet—only 27% of top companies said their C-level executives were actively engaged in social media last year, down 20% from the peak in 2012. Among the top 100 global brands, just 31 CMOs maintain active Twitter accounts, and only six of those big-brand CMOs have more than 10,000 Twitter followers.
But social media marketing spending will rise anyway. Despite the lack of metrics or executive involvement, the share of overall marketing budgets devoted to social media marketing is expected to increase from about 10% on average today to nearly 25% within the next five years.
That may be because social media isn't just about lead gen. Social is viewed as the second-most effective digital tactic for customer retention, behind only email. 64% of sales reps say they closed at least one deal in 2014 directly from social media use. And of small business owners who use social media, 92% agree that "social media marketing is important for my business."
This book is for the social media executive or marketer who is sick of reading the thousands of statistics on social media that appear on the web every day and want to know next step they need to take to leverage the online tools, technologies and communities that contribute to the bottom line.
This book is about the social customer and the journey they take before, during and after they become your customer. It's why they interact with you business online and how you can attract and retain them using social media.
Author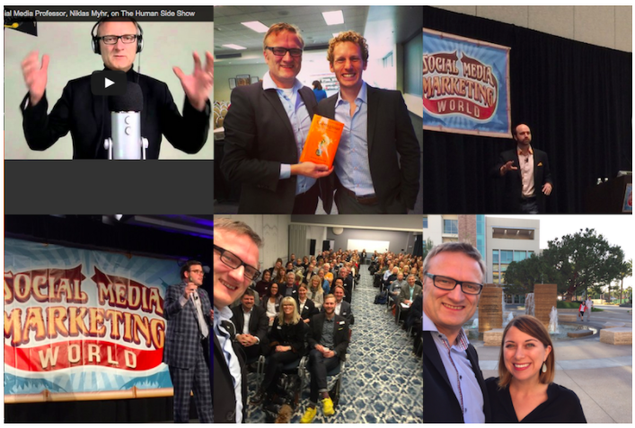 Dr. Myhr is currently Google's #1 ranked "Social Media Professor" and his expertise on social media & digital marketing has been featured in publications such as BBC, The Washington Post, Marketplace Morning Report, InformationWeek, ABC, CBS, NBC, FOX News, USA Today, Huffington Post, San Francisco Chronicle, ESPN, and on national Swedish television. Niklas Myhr is a professional member of the National Speakers Association and has delivered two TEDx talks. More information at http://TheSocialMediaProfessor.com.