Overview
The Soulistic Wellness Guide is a foundation guide to healing from illness, disease or improving your overall health and wellbeing. An easy to read and understand guide to the basic principles of eating and living to aid in healing the body and taking the stress out of making a healthy lifestyle change. Simple to follow guidelines taking the stress out of food choices. Includes: Nutritional guidance, shopping list, meal ideas, 7 day meal plan, takeaway food/eating out guide, label reading guidelines and my personal story on healing with Hashimotos Disease.
Audience
Not just for those trying to heal but also for people who wish to know the secrets of making a lifestyle change. The Soulistic Wellness Guide goes against everything that most people have learnt about nutrition growing up but when my clients trust me and follow my guidelines they see and feel great results, they have healed from disease and illness or lost centimetres they haven't been able to shift for a long time, or increased energy which has given them a whole new outlook on life.
The best part is that it is easy to follow and incorporate into their lives and it fast becomes second nature.
What does this book include and what will you learn?
Nutritional Guidance
Clean food shopping list
Meal ideas for breakfast, lunch, tea and snacks
7 day interchangeable meal plan
Take away food/eating out guide
Health and Lifestyle hints and tips
Label reading instructions
Guide to additives and preservatives
How to construct the perfect meal
By following the guidelines you could expect:
Great overall health and wellbeing
Clear skin
Flatter stomach
Weight Loss
Increased energy
Less sickness and pain
Improved sleep
Positive Attitude
Zero deprivation
Zero Guilt - Food Freedom
Testimonial 1:
"I've been battling with my weight for most of my adult life. In the mornings I never wanted to get out of bed because... I had no energy, headaches every single day, nausea, acne, and trouble sleeping and everyday was getting so much harder and harder for me to change. I was thinking I will always be like this and then I had a light bulb moment and I thought why not give another a go. When I talked to Sal I was so skeptical at first but I knew after about 10 minutes that this is what I wanted and needed in my life at that particular moment to help me.

The program is so easy to follow its a brand new and exciting way of thinking and eating. It's just clean and natural eating. Not a diet! You change your everyday thinking and learn that gratitude is extremely important and powerful and yes it certainly does change your life for the better. You learn that when you think positive your whole life turns positive.

My overall health and wellbeing is far better and I now have so much more energy it's unbelievable. I'm so extremely happy and eternally grateful that I gave it a go.

I can honestly say because of you Sal I didn't give up"

-Trudy M.
Testimonial 2:
"I was put on medication 5 years ago for hypothyroidism. 6 months ago I was diagnosed with Hashimotos. The doctor said the treatment is the same as Hypothroidism, 1 tablet a day for the rest of your life. ...

I had suffered from constant sinus infections and now had Erosive Gastritis. This disease had set out to destroy my body. I struggled daily with no energy. By chance my husband met and had a chat to this amazing person called Sal. My husband said you really need to get well and off of medication, you should have a chat with Sal.

I was shy but found the courage to talk to her. I couldn't believe it Sal sounded just like me only 1 big difference, she had beaten this and was in remission.

We lived so far apart, but Sal said she would help me. I signed up to her 6 month program. I was so excited when I read her program. I can now eat steak for breakfast, eat chocolate everyday and not get fat.

By following Sal's recommendations I feel like the clock has been wound back 15 years. I look and feel amazing. I have so much more energy and feel so happy. Sal has given me hope that one day I too can beat this disease and go into remission.

Because of you Sal and the push from my husband that I needed, I am not giving up. Thank-you for believing in me and your never ending support!"

- Amanda T.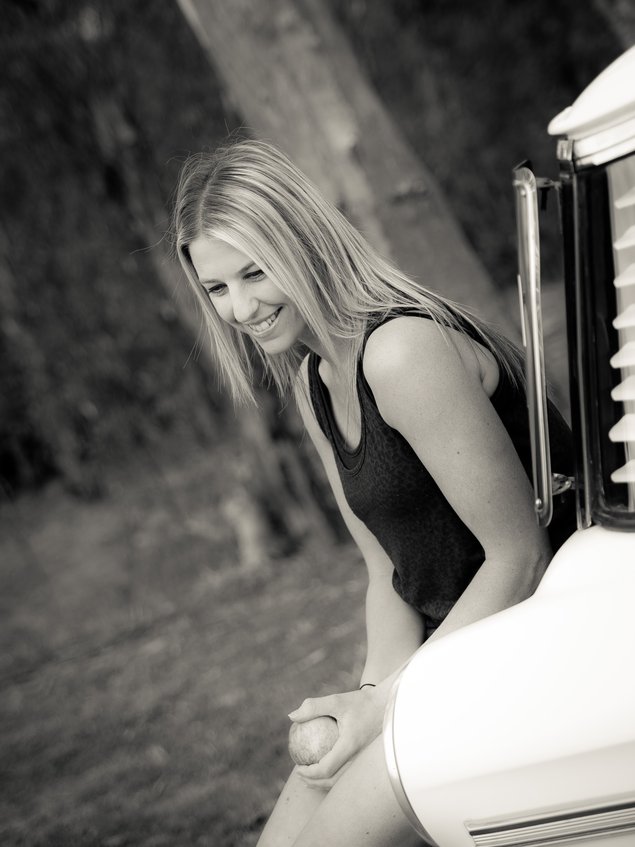 Why should you read my book
Now that I am in remission and know that I have the knowledge and passion for nutrition, health and wellbeing I want to be the person who believes in you when you need it most. You should read my book so that you can be the best version of you, so that you have the basic knowledge to improve your health and lifestyle.
My book is what you need to take the stress and confusion out of leading a healthy lifestyle. When was the last time you did something for yourself? I want to help you with your health and lifestyle goals. I want to be your support in your journey to good health and a happy life. I hope my story inspires you, I would love to hear you say "because of you I didn't give up".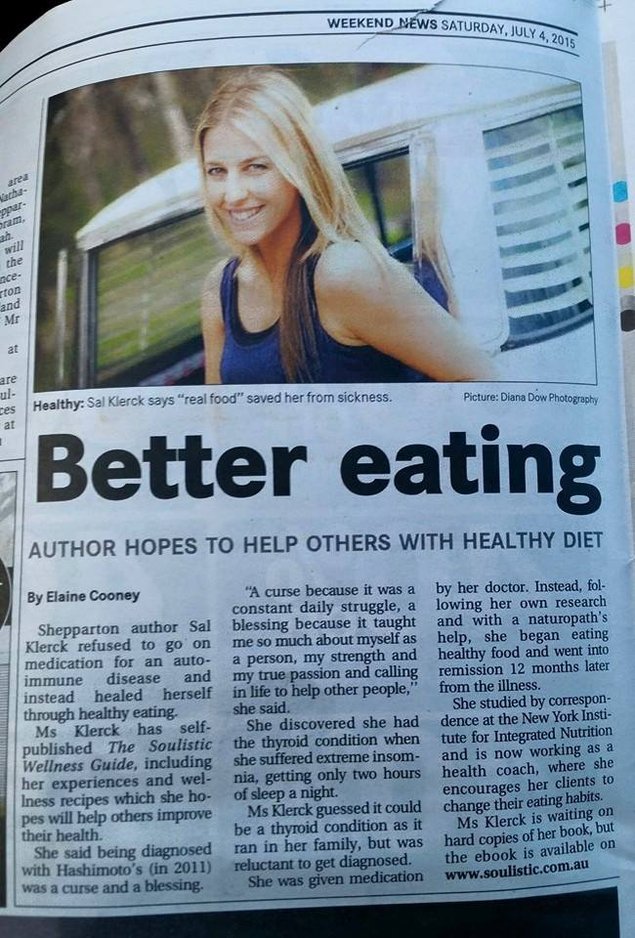 About the Author - Invisible Me (Sample Chapter)
Finding out I had an auto immune disease called Hashimotos was both a curse and a blessing. A curse because it was a constant daily struggle, a blessing because it taught me so much about myself as a person, my strength and my true passion and calling in life – to help other people.

Short version

Diagnosed with Hashimotos, put myself into remission 12 months later, medication free 3 years after diagnosis, and a combination of modern medicine, natural remedies, lifestyle changes and a whole lot of positive thinking.

The not short but not so long version

I'm Sal the happy strong girl who is first in line to help people and to lend a shoulder to cry on, the girl who doesn't need help and can do it all by herself. So why was I falling apart, why was I a crying mess on my kitchen floor why couldn't I see the good in the world anymore, I felt like the world I knew was ending. I was surrounded by darkness, little tasks felt too big to cope with, I felt like my body wanted to move faster than my mind would work and even then my body hardly wanted to move.
From the outside I looked fine I looked healthy and I looked like I had the perfect life but on the inside I was broken lost alone and frightened. Where had Sal gone?

I had a long exhausting list of symptoms. I held it together as long as I could I was a master at positive thinking and the law of attraction, but when I fell to the floor cooking tea one night and sobbed my heart out for no reason at all that I could think of I knew it was time I got some help. I knew in my heart what was wrong with me but I was holding off going to the doctor because I didn't want to believe I was following in the footsteps of my mum and aunties and grandmother.

I just wanted to crawl into bed and sleep the rest of my life away, if it wasn't for my two children I felt I had no need to get up ever. I don't know how I got out of bed each day, I slept no more than two hours broken a night for 18 months.

I had an invisible illness, I looked fine to everyone on the outside but on the inside I was emotionally destroyed. I am sure my family and friends thought I was faking it and the health nurses tried to tell me I had post natal depression. I knew it was more than that.

My blood tests finally came back and my doctor said I had hypothyroidism. He said I just had to take a little white pill and I would be fine. I was shattered I didn't want to be on medication ever in my life and here I was almost 30 and being prescribed medication. My doctor also said I would have this disease for the rest of my life. I asked for a copy of my blood tests and I went home and cried.

Once I had processed it a little, the stubborn side of me kicked in and I spent hours researching the disease, that's when I worked out for myself that not only did I have hypothyroidism but that I had the auto immune disease Hashimotos, this is what my doctor neglected to tell me.

I went back to my doctor a week later and I asked him if I was reading my blood tests results correctly and if he could confirm I had an auto immune disease. He said yes you do. I asked him why he didn't tell me this initially to which he replied there was no need to tell me because the treatment was the same no matter what. From my research I knew this wasn't the case, I knew having an auto immune disease was a whole different story. I left his office and as I sat in my car out the front of his office processing it all I promised myself that I would prove the doctor wrong and I promised myself that I would put myself into remission from this disease and that I would be medication free.

After about a week on the thyroid medication I had my first solid night's sleep in almost 2 years and finally a whole week of beautiful restful deep sleep. This gave me new energy to focus on my journey to getting well.

I knew my body was very messed up lots of things weren't right and I decided to go to a Naturopath. She gave me supplements to support the thyroid and detox my liver. I had to look at Hashimotos as a giant puzzle with lots of little pieces and I had to put each piece into place to complete the picture (Remission). It isn't just a case of taking a pill and it fixes itself. Years of damage from poor diet and lifestyle had to be reversed. Slowly and patiently I worked through each problem that was occurring in my body. It was like stripping a car down and rebuilding it piece by piece, I had to do the same with my own body.

I researched whenever I had spare time scouring the internet for someone who had beaten Hashimotos and put themselves into remission from the disease. I found a couple of people who claimed to have done this and that gave me the boost I needed to find my own path to remission. I started seeing a new naturopath, I told her I knew I could get better I just needed someone to believe in me. She said she believed in me.

12 months later working at the disease every day and breaking it down into smaller, easier to manage pieces I received the news that I was in remission, that the antibodies for the disease were no longer present in my body. My doctor was baffled he even rechecked initial blood tests questioning if I even had the correct diagnosis in the first place. The blood tests didn't lie. The first person I called was my naturopath, she will never know the power of her words the day she told me she believed in me.

Three years after my diagnosis (January 2014) I received follow up blood tests, I had managed to stay in remission for over 12 months and the doctor said I no longer needed to take any thyroid medication. The first person I called was my naturopath...
How will pre-order funds be used?
My book is 100% finished and now my focus is on printing and marketing, pre-order funds will be used to print more books and to market The Soulistic Wellness Guide. I would love for my book to reach more people to inspire them to not give up on getting well and to not just accept a doctors diagnosis as final.
When I was trying to heal I searched high and low for someone who had healed themselves from Hashimotos because I was told it could not be done. I promised myself and my fellow Hashimotos sufferers that if I got better I wouldn't just disappear, that I would help other people achieve the same result.
Marketing has been a major expense for me, I know if I can get my book in front of more people that it will benefit them and their families because I have had great success locally with my clients. I also have another book that I would like to write but I spend the majority of time trying to market my current book and working that it leaves little time to write. Having the funds to market using better techniques than I am currently would definitely take the pressure off.
All pre-orders will be filled immediately as I currently have some books printed.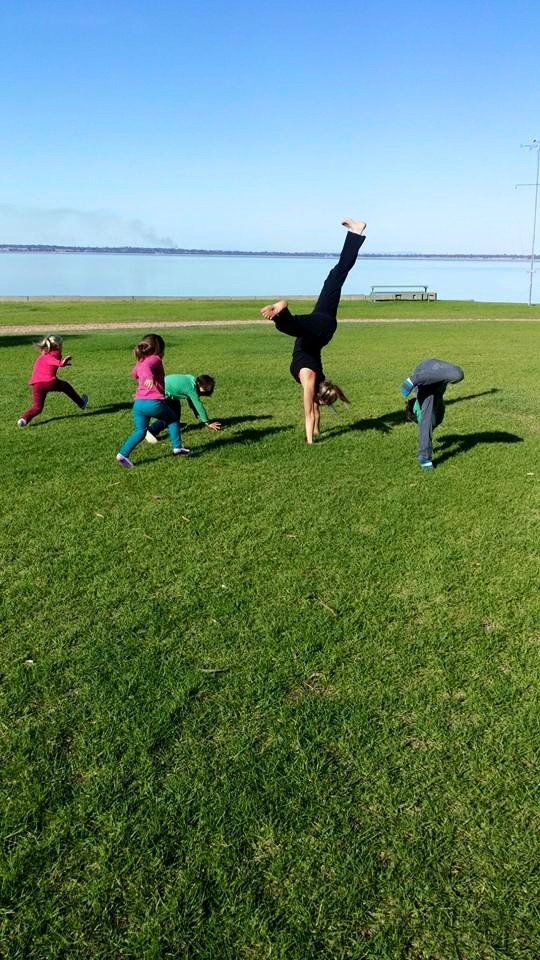 Thank you
If you have read this far thank you I am truly grateful and it means more than you will ever know. I appreciate that you took the time to do so and I know how precious time is.
-Sal xx :)