Synopsis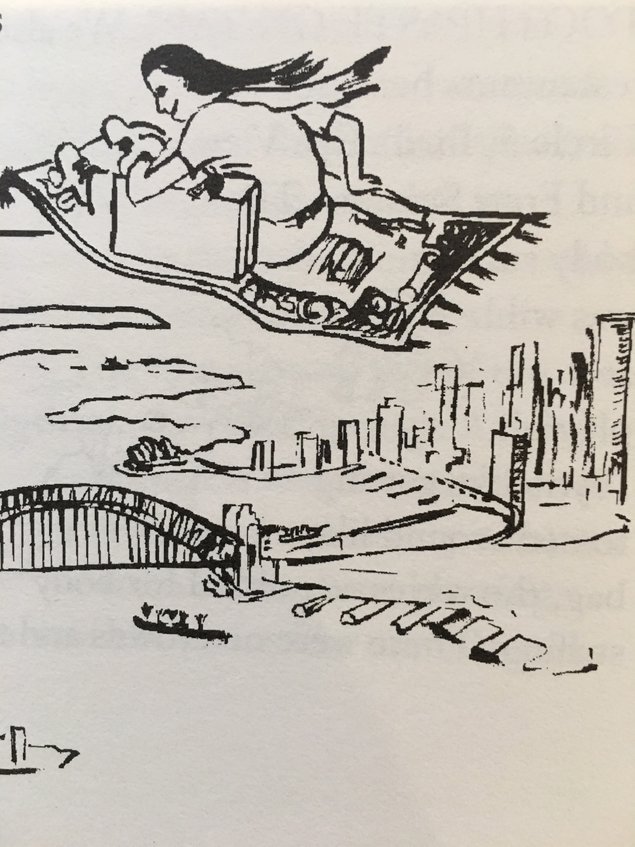 Do you have a mom who wants or likes to travel? If you do, then, please check out the pre-order page for bonuses about this answer to her need to go more places and have more enjoyment out of life. The Golden Years are not always golden. Some women in their later years feel old, boring and unable to do things that they have always talked about doing, like travel. Many moms are now single and looking to celebrate the later years with new adventures, but don't know how to get started. There is a real fear of going alone that can be faced and overcome. With step by step advice and guidance, we will take your mom on a path that delivers confidence through visibly seeing their own activity and movement toward travel independence. This book can change the trajectory of your mom's life from being wishful to being active.
My mom can no longer walk. She is in a wheelchair in her home at age 88. I want to inspire you as she inspired me by traveling alone to China, Japan and Korea in 1985, when most moms did not do that. Don't wait until your mom can't go places, help her out now.
"Dr. Travelbest" is a real person and a trusted icon, to help advise you to take charge of your remaining active years in life and follow your personal goals for travel. If travel is on your Bucket List, be sure to make these trips while you can.
The guide has a joyful spirit and includes the things that could go wrong and alternatives to make the most of each challenging situation. In each section, the authors highlight practical tips and actionable lessons, including missteps by Dr. Travelbest and her daughter, Christina. Every chapter offers a summary of the learning outcomes and resources to look for further information.
1. Discover what level of an independent traveler you are and how you can move to a higher level quickly.
2. Improve the quality of your next travel planning so you can travel independently of others or a tour guide.
3. Prepare for your next several holidays while you build your confidence in your abilities.
Outline
Chapter 1: I'm Old, Poor, and Boring

There is a stigma of traveling at a late age. If you don't see that then open your eyes and ears. When you pass a certain age, some people write you off. What are the choices you can make when that happens?
Chapter 2: Prep for: Mayhem, Mischief and Marvel
a. Mayhem: Before you go on a trip as an active senior woman
b. Mischief: What to expect when traveling alone
c. Marvel: What you should be looking forward to
Chapter 3: What do you like to do, activity-wise?
a. Finding your interests and what you like is how this chapter begins.
b. Know yourself first. Do you want to travel to change your interests? This may not be a good time to make a change in direction which might not happen. It takes time to change people. Instead- recommend taking each trip into account for pleasure, knowledge seeking, cultural, social, and spiritual, etc.
c. Where to Go When you're on a Budget
Chapter 4: Where to go? Memoirs and key stories from each continent
Chapter 5: What to do?
Hike/walk, Rest and eat, Explore museums and historical locations, Driving, Give back
Want good websites or want to do it on your own?
Chapter 6: My interests
What are you looking for on your trip?
Chapter 7: Housing/resting-when to know you have to take a break
Chapter 8: Saving Money
Chapter 9: Healthy Travel
Chapter 10: Safety
1. Technology and security. How to use it and how to lose it
2. Use it: maps, pictures, sim cards, glasses, burn phones
3. Lose it: you should be on your phone for a maximum of 2 hours a day when on holiday. Do not take it out right before bed. Do not post where you are at all times of the day, instead post stories when you get back home. This could prevent thieves from breaking into your house. Protect yourself away from home.
Chapter 11: Connectivity and Technology
Chapter 12: Can I Do It?
Audience
The selective audience for this book is the active senior woman (or her daughter gifting to mom or grandma) who has the time and some resources, but not the confidence or experience to travel without a tour guide. This is not for the under 50 year old woman, but they can read it, too. This is not for men, but men will read it anyway. Women control 90% of all travel dollars, but mostly they go on tours that someone else planned for them. The women who read this book are fearful of making travel missteps, being embarrassed or told that they are too old. This book helps them to practice and flex their travel muscles, so they will bulk up with bulging confidence and take off on their own trip. American Association of Retired Persons (AARP) has 38 million members. This is the specific targeted audience who buys this book and/or a copy for their girlfriend, mother, daughter, etc. Women love to travel, and this gets them going. Their husbands are dying earlier than they do, and these women have no traveling companion. Their daughters and granddaughters will encourage them to travel, and maybe even travel together.
Promotion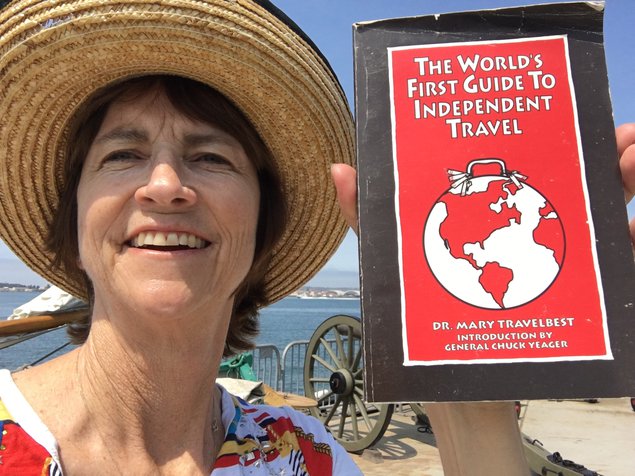 This book sells best leading up to Mother's Day. It's always a struggle to get something for mom and grandma that they can really use. The second best time to sell this is Christmas and/or Birthday for mom. It's a self-help book, for the travel industry. Written by a professor/business owner, with millions of dollars in television, radio and digital marketing experience. The author will reach out to her former 5,000 college students. The author will leverage her media and PR contacts from Sun Marketing Advertising Media for the past 25 years. The book has a track record, the author self-published and sold/distributed 10,000 copies of The World's First Guide to Independent Travel. Dr Travelbest has thousands (millions, maybe) of fans/followers on the following platforms: website (since 1998), blog (since 2006), Facebook(since 2007), Twitter (since 2008), YouTube (since 2005), Instagram (since 2018).
Competition

1) The World's First Guide to Independent Travel by Dr. Mary Travelbest (self published, 1993) This is a general guide to independent travel for budget conscious travelers of all ages looking to go on world class trips without a tour guide. It is a paperback, 110 pages with hand drawn black and white illustrations, along with a CD, cassette and webpage. It is out of date, as it was published pre-internet. (Images: Raquel Giraldez)
Image: Dr. Travelbest, 1993
2) The Solo Travel Handbook by Lonely Planet (2018) This guide has a lot of tips, but no stories and is written more like a magazine than a book, for any age and destination. It is not focused on active seniors, more on young teens and twenties.
3) Kicking Ass on the Road: The Ultimate Guide for the Solo Woman Traveler Travel Cheap, travel safe and have the ultimate time of your life. (by Sunni Dawson, self-published, 2016) This is for a single woman, possibly divorced who wants to have the time of their life, and travel adventure. Included is info on romance, insurance, etc.
4) Time to Take Flight: The Saavy Women's Guide to Safe Solo Travel (by Jayne Seagrave, 2016, self published) This Canadian author's view of travel is similar to the Dr. Travelbest guide with tips and then locations to visit. It is not geared to the senior audience.
5)The Solo Traveler's Handbook, second edition (by Janice Leith Waugh, 2012) The focus here is on Planning, Resources, Safety and Stories. It is written by a Canadian woman after her husband died. It is not geared to the senior active woman.
6) Blog by Mikkel Paige with good content on solo travel.

Dr Travelbest writes For Active Senior Women
….Who need to get going and see the world with or without a friend….
Chapter 1: I'm Old Poor & Boring
I'm Old, Poor and Boring. So what? So there is a stigma of traveling at a late age, and you're not going to let it beat you. The traveler's mindset should be "I'll prove you wrong" or "so what". Take your pick between these phrases.
If you're boring, use your adventure plans and stories to make you sound interesting. It works every time!
The phrase "I'm old, poor and boring" may be what you have said to yourself once or more. Strike this from your vocabulary now. This is about a refreshing change of pace and we'll cover "Why you should GO….and keep on saying "YES".
· Step out of your comfort zone
· Enjoy your life
· Innovate and explore
· Self-Actualization
· Pleasure
· Emotional experience
· Face your fear of going alone.
In this section, we define independent travel.
It can be solo, it's without a "tour guide", it's subject to change, it's for flexibility and convenience.
Senior active women want companionship, but maybe not the entire trip. Read on to find out what is independent travel, exactly.
This book will cover the following types of travel: International, National (USA) and National Parks in USA and Canada, as well as many global destinations and several you may not know already.
What is independent travel? There are three kinds of independent travel. Independent (not with a tour guide), semi-independent (on a cruise or excursion) and solo. Get power over your life and build your confidence with your travel.
What kind of a traveler are you? The authors want to get you to see yourself on a spectrum of levels of experience. The levels listed here will help you learn which kind of traveler you are.
The Travel Independent Spectrum:
Levels of travel independence:
Level 1: (Beginner) no experience by ready to start
Level 2: (Early starter) some solo travel, but mostly group travel or stay home
Level 3: (Traveler on the go) Traveled independent to a different state or country
Level 4: (Domestic travel expert) several independent trips already but not in a foreign language country
Level 5: (World class traveler) been to many different countries that are challenging to travel independently
Tips for Active Senior Women:
"There is no shame for prioritizing and slowing down vs. overdoing. Most injuries happen when people are rushing. "Go slower, arrive sooner" is a helpful mantra." (Ellen McCabe)
Why You Should Go:
Why you should go, and keep on saying "yes" because you know you should and we say so, too.
Stepping out of your comfort zone allows you to enjoy your life, innovate, explore, appreciate nature, and create your own personal pleasure experience. You can create a confidence spike when you face your fear of going alone as it builds your independence. Facing your fears is a well-known method of building inner strength. (Source: ILSC)
a. National parks (USA/CAN, hikes, unsung heroes and 62+ pass)-Colorado (kayaking, mini golf, shooting guns, where to go)
b. Rural (remember, places change a lot...what might have been rural years ago might today be a town hub.)
c. Industrial-China
d. Beaches- Florida and east coast vs Oregon and west coast.
e. Out of the country-Mexico and Canada for USA
In the USA, travel should naturally be where you like, depending on the time of year, your resources and your time allowed. Snowbird travel, such as to the Florida coast, Virgin Islands or Bahamas, Hawaii is a choice you may want to take. Consider if your trip will be a walking city or a driving area. How will you get around?
Consider National Parks as a place to visit. This is a welcoming place for visitors of all ages and the tools are there for you to make your trip about natural surroundings, including seeing animals, plants and flowers that you may never see in this same manner.
Nearby the USA is Canada, where the author and family just visited, crossing in at Glacier National Park, north of Montana, and crossing back into Washington State, near Bremerton. Canada can be crossed at many other places along the border, such as Niagara Falls, or near Detroit, into Windsor, Canada.
To the south is Mexico, and a border crossing in San Diego, CA, is the worlds' busiest. More than 50,000 cars and 25,000 people cross each day. Dr. Travelbest lives only 20+ miles away, and knows the border crossing area well, including the very long lines (often several hours wait time) to get in to the USA and the cultural differences just steps from each country.
If you want to see Asia, you have the great cities in China of Beijing and Shanghai, as well as many other great cities like Tokyo, Hiroshima and Kyoto in Japan. Senior women who like to take high speed trains will love this kind of travel within country.
If you like Africa, consider travelling to Kenya, where in Nairobi, you can launch out to the great animal preserves, or visit island nations such as Seychelles. Senior active women can be pampered here, you'll discover.
Other destinations are Europe, Australia, Antarctica, and places in between. Your journey begins with where to travel, if only to the nearest destination on your list of possibilities.
Recent travels of Dr. Mary & Christina Travelbest:
We just returned from a 4,500 mile minivan trip that started in San Diego and went as far as Jasper, Canada and the Glaciers of Alberta. There were five of us in the car, all one family, who ventured out the day after school was over for summer break. We had every kind of weather condition you could imagine during this 17 day trip, from raging hail in Yellowstone Park as soon as we set up our tent, to very high winds, to sheets of falling rain, to 97 degree desert heat in California. We kept a notebook along the trip to remember the details as best as we could, but your trip will be yours to treasure and remember. Active independent senior women travelers will enjoy hiking on a trip like this, a little bit more every day, as they work up to it.
What were some of the highlights?
Ruby's Diner in Bryce, Utah, for the Cowboy Buffet and the 18-mile drive in the National Park, Bryce Canyon, was where we stopped every so often to admire nature then hiked it the next morning starting at 6am to beat the heat. The average age in Ruby's was 60. The buffet is good to try, even for the salad bar. We met several college students from Europe hanging out in the lobby who shared some great travel stories and adventures. Average age of people in Bryce Canyon was older: 45.
In Yellowstone, a park with more than 2 million acres, we saw more than our share of wildlife. Travel tip: The animals you want to see are up before people. So rise early to see them. Old Faithful goes off every hour and a half or so. You don't want to miss that, and the times are clearly listed in the Information Center and stores. Of the four entrances, the entrance on the West side of the park is closest to Old Faithful. Average age of people in Yellowstone National Park (our estimate): 35.
Twice we almost ran out of gas. We were on fumes when we pulled into a gas station two times. That would have been miserable. Be sure you have plenty of gas. Senior women travelers should not run out of gas. Plan ahead.
'Going to the Sun Road' in Glacier National Park was just opening the day we arrived. It's closed ten months a year. Many Glaciers Hotel was delightful to enjoy for the evening. (Due to the high cost, we did not sleep there, but we know if you book a year in advance, this destination would be excellent for a family reunion.) Average age of people at Glacier: 40.
Did you know that the US/Canadian border opens at 7am in certain areas? We wish we did know that in advance. We had to wait at the Port of Entry on Sunday morning. The breakfast at Prince of Wales (Prince Albert Hotel) was worth it. We purchased the annual pass for Canada for $136. The senior discount is only good for two people per vehicle, so it's better to go for the annual family pass if you have more than two people.
On the Canadian side, we drove to Banff, and we took a strenuous hike to the top of the Sulfur Mountain Trail. 5.5 km, 655 m elevation gain (2.5-3 hours) and saw stunning views of the Bow Valley. Follow a short trail up to the historic Cosmic Ray Station. There is also a gondola, and we were told that the trip down was free after 6pm, however, then they said 7pm. That Jacuzzi at the bottom of the mountain felt great. Banff is known for it's active hot springs.
Banff Springs Hotel (Fairmont) had a convention center and the best tea/coffee ever. Then we drove about an hour away to Lake Louise Chateau (Fairmount) and had one of the best buffet breakfasts ever. This was five star quality and a high price to match, but we ate for the day here. The weather was pouring rain, then sunny skies all within an hour, and the beauty was seen in the reflective turquoise water. Nearby are the grand Ice Fields Highway. Plan on 3-5 hours to a full day drive, depending on how often you stop in your car. Independent travel allows you the choice.
Travel tips?
Tip: When you go to Paris, be sure to make your reservations in advance for the Eiffel Tower. We were only able to get a reservation at 11:15pm, and that was several weeks in advance. That is a don't miss experience as an independent traveler.
Going to Mexico? You must visit Chapultepec Park and the Ballet Folklorico as well as the famous Basilica of Our Lady of Guadalupe, with a capacity of 10,000 people. Cabo San Lucas in the Baja, California, is an easy to travel spot for most Americans. It's very tourist-friendly and easy to visit by most airlines. A bit closer to SoCal is Puerto Vallarta. That city has a lot of the same flavors, but is smaller in size and easy to access from major airlines.
Baja, Mexico bound? If you are driving across the border in Baja, Mexico, near San Diego, you may want to visit the Valle de Guadalupe, a wine growing and tasting region not far from Ensenada, Mexico. The region holds 150 wineries, who welcome visitors from all the world, to sample and enjoy their grapes, which compete with the likes of Napa and Sonoma, and origins are from Italy and other European countries. The author and her colleagues hired a minivan and driver to bring her there for the day. Consider that this is still "independent" travel as you are now in a small group, but it's yours!
Want to zipline? Here is the place: If you are thinking of Costa Rica travel, you want to consider beach visits, seeing native animals and plants, and participating in activities like zip lining and boating along the rivers. You'll see some special animals and hear jungle sounds. Costa Rica tips include how to find volcanoes and eruptions, prepare for natures changes, air quality, water warnings and bacteria, palm trees and animals, allergies, and several fun outdoor activities.