Harry Seggu takes the bull by its horns! He reveals how curiosity, moonshot thinking, and exponential inventions can create your brightest life and business without limits.
| | |
| --- | --- |
| | Business Self Help, Personal Development, Business, Influence, Leadership, Management, Economy, Communication, |
| | Malaysia |
| | 50,000 words |
| | 75% complete |
| | 5 publishers interested |
Synopsis
In his provocative new masterpiece, Harry Seggu, reveals the disruption of old behaviours that are fast being replaced by new behaviours in this new world economy. He reveals the extreme invasion of privacy that caused a wife to be murdered after she changed her status on a social networking site from 'married' to 'single' and to the vast amount of opportunities that the internet has to offer where a man makes US$10 million a year just by working from home.
In 'The You Economy', Seggu explains and reveals how you can tap into the dynamics of the new economy with the tools that are readily available to you and turn it into a powerful and evolving organization, business and platform. Observing and exploring specific scenarios, Seggu examines the key responsibilities and fundamentals that provide an invaluable resource to those in practice of success leadership behaviour.
Outline
The 'hybrid' version of this book was first written in 2010 with 12 chapters. This is a newly revised, updated and expanded version of 'The You Economy' will provide you with greater value and consist of 21 Chapters.
Acknowledgements
Foreword
Introduction
Chapter 1: The You Factor
Chapter 2: Moonshot Thinking
Chapter 3: Deschooling of Society
Chapter 4: History, Your Story
Chapter 5: The Unstoppable Champion
Chapter 6: Mindfulness Living
Chapter 7: The Minimalist Effect
Chapter 8: The Art of Abundance
Chapter 9: The Power to Influence
Chapter 10: The Law of Attraction
Chapter 11: Knowledge Management
Chapter 12: Moguls of Tomorrow
Chapter 13: Social Media Breakthrough
Chapter 14: Digital Marketing
Chapter 15: Rules of Elimination
Chapter 16: Micro-trends
Chapter 17: Social Media Dating
Chapter 18: Chief Red Bull
Chapter 19: Artificial Intelligence
Chapter 20: Information & Intellectual Security
Chapter 21: The Road Ahead
Audience
This book is for you if you are an entrepreneur or a budding entrepreneur. Entrepreneurship is becoming a must in our dynamic society. It is no longer for people wanting to run a business, but also for employees who want to stay in the edge of their game and eventually be entrepreneurs themselves.
China, India, Russia and Africa are fast becoming the new world economy and many new rising stars sprouting from these new economies. They are far sighted, bold in taking risks, change makers, drivers in society and live a life of abundance.
The world has changed and being at the right place and the right time is not enough. YOU will have to be the right person with the right skills and aptitude to be a success.
Author
Harry Seggu, is one of the most sought after and respected lecturer, trainer, consultant and advisor in change, leadership and personal success. He is the creator of 'The You Economy' a concept that is based on the disruption of thought and behaviour that challenges the status quo of the traditionalist. He draws many techniques and examples about the challenges that we face today and shares them with his audience during his lectures and seminars. He also conducts training programmes for those who are interested in starting their own business and becoming agents of change.
Promotion
The promotion will consist of the following items:
The You Economy & The Sprouter Website, Vlogs, Facebook & other social media sites, Email blast to our database & potential affiliates, regular speaking gigs, lectures and events, leverage on our media contacts and social media interviews, retreats, seminars and workshops.
We propose a national speaking book tour, traditional radio and newspaper interviews, combined with podcast guest appearances, and regular email updates to our community.
We have also been creating inroads to build a community in Russia and we would also like to get the book translated into Russian to cater to our community and untapped market there.
In May 2016, CEO of Success Partners (Owners of Success Magazine), Stuart Johnson, personally emailed the Author, Harry Seggu to purchase the domain YouEconomy.com (which belongs to the author). The domain could have been sold for US$1 million but the author declined to sell the domain as he knew the value of the concept that he has created.
In August 2016, Success Magazine came up with an expanded special issue and subsequently echoed what the author, Harry Seggu wrote in his book – 'The You Economy'.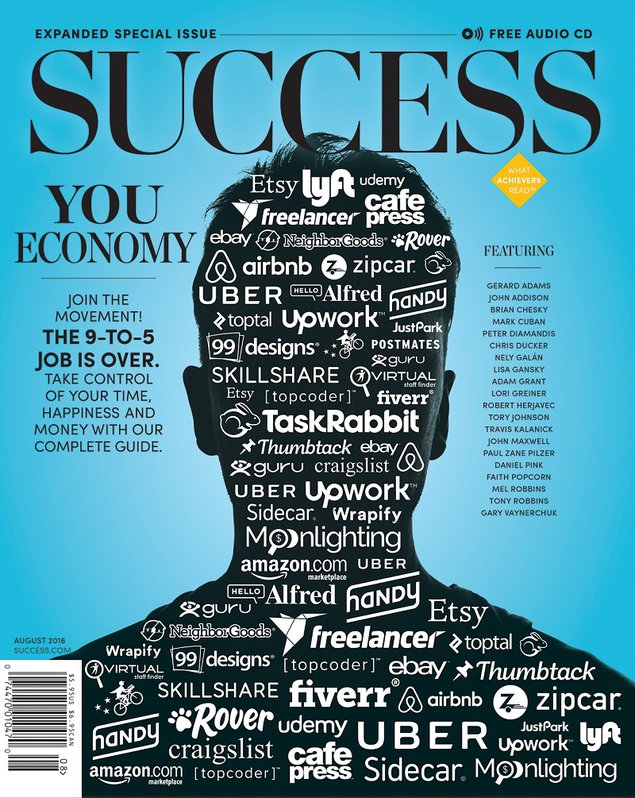 The articles are featured below:

www.adweek.com/digital/success-magazine-youeconomy
http://digitalmag.success.com/?path=August%202016
www.success.com/introducing-the-youeconomy
www.success.com/welcome-to-the-youeconomy
--------
Praise for 'The You Economy' by Harry Seggu:

"You have to live in this new world. You have no choice. You had better understand it- You have a choice. This book will help you do that". - Dr Edward de Bono, author, thinker, inventor and Nobel Prize nominee in Economics| www.edwddebono.com
"Harry Seggu is a master in the new age economy. In 'The You Economy', he provides us with an amazing guide that will help you stay ahead and lead a success financial future". - Bill Bartmann, billionaire mentor, entrepreneur of the year and author of 'Bailout Riches!' | www.billbartmann.com
"Harry's uniqueness is his ability to translate the sophisticated value propositions that the internet has to offer I a simplistic and concise manner." - Tengku Zafrul, Former CEO of 'Tune Money' (an AirAsia Company)
"This clever and insightful work takes an exploratory look at the social media phenomenon to examine how it can be best used as a business tool. Learn from the savvy expertise in this book to discover new possibilities for your business." - Dr. Nido Qubein, President, High Point University, author and speaker | www.highpoint.edu
"Harry Seggu's book 'The You Economy' is simply outstanding in a well conceived manner that is original, engaging, and full of wisdom for the new economy. It will provide you with the wisdom towards a financially free future. It's a must read if you want to be a leader in your field of expertise." - Dr Tony Alessandra, author of 'The Platinum Rule' and Hall of Fame Keynote Speaker | www.alessandra.com
"In a world where people are drowning in a sea of information Harry Seggu's brilliant book 'The You Economy' provides the insight and inspiration we need to take us to new horizons. It's time to wake up and smell the coffee—and this book provides the espresso factor that will stimulate and equip you to not just survive but prosper in the 21st century: - Paul McGhee, International Speaker and author of the bestselling book 'SUMO- Shut Up, Move On" | www.thesumoguy.com
"We all have internet identities, if we don't control them, they will control us. This book explains how to use the awesome power that we now have to prosper in the rapidly changing digital universe in which we all live." - Sarah Zhang, media producer/director, director of the first international reality TV show in China—'Quest China'
"In every generation, changes in almost everything we do and think must be re-evaluated by a master perceiver and master writer who can clearly tell us what is really happening. Luckily for us, our generation has Harry Seggu. He is a blessing to business and life on earth" - Jay Conrad Levinson, The Father of Guerrilla Marketing, author of Guerrilla Marketing series of books | www.gmarketing.com
"Harry Seggu has written an amazing book called, 'The You Economy'. If you are fortunate enough to read it, it will change your thoughts about some of the most important occurrences of our times. At first glance, you might think you'll be reading a dull and boring book about Economics as we learned it in school. But you'd be wrong. This is a masterful volume with extremely valuable, yet simple information, which has the power to transform our very lives. Thank you, Harry, thank you for sharing such remarkable information with us. I, for one, will re-read this book as often as I can so that I could benefit from your wisdom." - John Harricharan, award-winning author of the bestseller, 'When You Can Walk on Water, Take the Boat', and creator of the ground-breaking system called, 'The PowerPause -- 3-Minutes, 3 Steps to Personal Success and Real Happiness' | www.insight2000.com
"Harry reveals real life issues that we all face today. The health care industry has also dramatically changed in the digital age and we all need to embrace change. 'The You Economy' reveals that you either get real and be prepared for change or get eaten for lunch" - Kiran Virik, former Public Health Specialist, Primary Care Trust, National Health Service, UK
"Harry Seggu has expressed the 'new rules' in an engaging style with maximum value for the new economy. A must read if you want to embrace change and with the minds and hearts of the people" - Dr. Cecilia Chai Ming Sing, Head of Division, School of Social Science and Humanities, Tunku Abdul Rahman College, Malaysia
Competition
At the material time when this book was written there was no direct competitors apart from:
The 4-Hour Workweek: Escape 9-5, Live Anywhere, and Join the New Rich Hardcover – December 15, 2009 by Timothy Ferriss | Publisher: Harmony; Expanded, Updated edition (December 15, 2009)
Subsequently there have been several authors (indirect competitors) with these titles:
Disrupt You!: Master Personal Transformation, Seize Opportunity, and Thrive in the Era of Endless Innovation by Jay Sumit | Publisher: Flatiron Books (July 7, 2015)
Disrupt Yourself: Putting the Power of Disruptive Innovation to Work Hardcover – December 19, 2016 by Whitney Johnson | Publisher: Routledge; 1 edition (December 19, 2016)
Entrepreneurial You: Monetize Your Expertise, Create Multiple Income Streams, and Thrive by Dorie Clark | Publisher: HBRP (October 3, 2017)
Reinventing You, With a New Preface: Define Your Brand, Imagine Your Future by Dorie Clark | Publisher: HBRP (October 3, 2017)
Rise of the Youpreneur: The Definitive Guide to Becoming the Go-To Leader in Your Industry and Building a Future-Proof Business (Kindle Edition) by Chris Ducker | Publisher: 4C Press (February 7, 2018)