Synopsis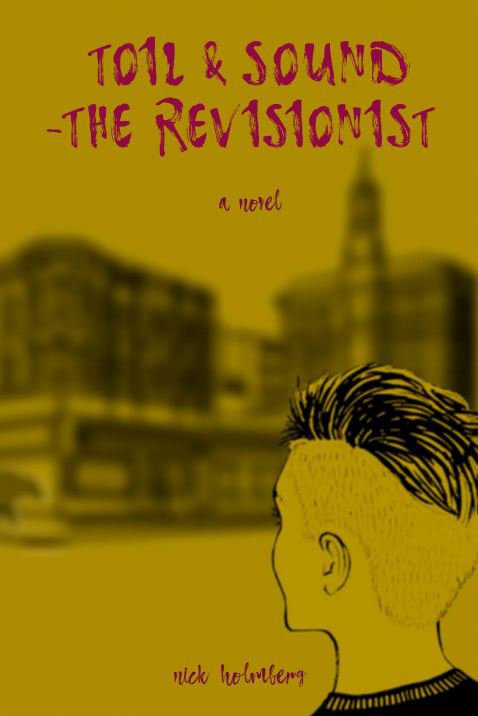 Kat then goes to New York City to find Oso, the only other person who can reunite her with her past. Over the course of a year—and many hesitations to actually meet with Oso—, she tells her life story to two different people, interlacing personalities and histories that are not necessarily her own.
Be assured, however, this is not another New York City novel—the last thing this world needs. Kat's narrative is set in places like the shores of Oakland after the 1906 San Francisco earthquake and Depression-era farming communities of California's Central Valley. Most of Kat's story of her own up-bringing takes place in and around the south Bay Area, nearby coastal areas, and San Francisco.
This is the first of a two-part series that explores the very nature of identity formation before the internet era changed it forever.
Outline
***CAUTION: Spoilers***

Throughout most of the novel, Kat is telling her stories to Lilly. Each subchapter reveals a new story pertaining to Kat's past.
The opening section is outside the chapter structure. It starts at the end [September 1997]*, indicating that Kat is about to leave Lilly after a year together. But how does it come to that?
*bracketed info indicates the year(s) being discussed in subchapters & main events of given chapter. They are for outline purposes only. Also, chapters and subchapters in the final product, should not be numbered or named. This is, after all, an oral history.
Chapter 1 [Kat's first week in NYC; Alma's Disappearance]
i. [early September 1996]: We learn of Kat's first time having sex with a man (Berlin) in a hostel on 103rd and Amsterdam; Berlin leaves, and Kat reflects on her reason for being in NYC. We get an indication of Kat's bookishness.
ii. [late August 1996]: Berlin (Desert Storm vet) introduces himself to Kat in New York City's Bryant Park. In turn, we get an idea of Kat's self-consciousness about her looks, the way she talks, and the fact that she has struggled to tell her own story.
iii. [early August 1996]: There is a party for Alma (Kat's best friend) thrown by Alma's boyfriend, Loskie. In the middle of the events at the party, we learn of Kat's summer fling. Loskie threatens the two young women. Alma helps Kat escape. Alma disappears and cannot be contacted.
Chapter 2 [Jose's History; Kat's Early Life]
i. [early September 1996]: Kat's accidental tourism with Berlin at St. Patrick's Cathedral in Lower Manhattan, which reveals aspects of Kat's relationship with her father (Jose) and his influence on Kat's personal narrative.
ii. [1945-1976]: Jose's story up to the point when Kat is born (indicating the influence of Jose's penchant for myth-making). Young Jose migrates from Bakersfield north to the Central Valley of Northern California. He meets Clara. They have Oso. Jose and his family move to downtown San Jose. Kat is born.
iii. [1977-1979] Clara becomes Alma's nanny. Description of growing up in downtown San Jose with an almost non-existent father (who wanders the streets when he's not working), an unpredictable older brother (who terrorizes the little girls and his mother, Clara), and Clara (who tries to keep Kat and Alma safe).
iv. [1979] Oso starts kindergarten; questions arise about why Kat is telling her story and how she can include the type of detail she can about her first few years of life.
v. [1980-1983] We learn of bus trips which Clara would take Kat and Alma over to the beaches of Santa Cruz, north of Steamer Lane surfing spot. There emerges an early indication of Kat's lack of confidence.
Chapter 3 [Moving toward Peace (A Year With Grandpa Jonah)]
i. [1984; 1906-1938] Granddad Jonah comes to live in their 2-bedroom apartment. We learn his life story, starting on the banks of Oakland in the days following the San Francisco earthquake. Eventually he marries Irene, and they move to the Central Valley, where Jonah buys land to start a small vineyard. They raise a large family.
ii. [December 1984] There is a fight between Clara and Jose during the Christmas holiday week. Jonah somehow brings Jose to his senses. A time of peace ensues between Jose and Clara.
iii. [December 1984] There is a horrifying set of events at Alma's grandparents' large house in the Santa Cruz mountains. To Lilly's disbelief, Kat says that Clara blackmailed Alma's parents into having Alma come live with her family. Now there are six people in a two-bedroom above 3rd and Santa Clara streets.
iv. [March 1997] Kat recovers from a panic attack brought on by revelations about Alma.
v. [1985] There is a period of peace. Oso wanders the streets for hours, days at a time; Clara, Jose, and Jonah start a nightly ritual of drinking wine after the kids have gone to bed.
vi. [1985] Jonah dies. Consequently, the peace shatters.
Chapter 4 [An Expanded History (Clara's Story & Jonah's Cowardice)]
i. [1985; 1938-1967] Summoning the spirit of Jonah in order to continue trying to answer questions about her own identity, Kat tells of Clara growing up in the Central Valley and a close relationship with a sister named May. Clara stays on the vineyard well into adulthood. We learn of the threat of buyout by a large winemaker. The subchapter ends with an argument between Kat and Lilly regarding Jonah's cowardly content of character.
ii. [1985; 1967-1973] More from Jonah's life: of Irene's downward spiral toward death, of selling the vineyard to the large winemaker, of staying on the same land to raise the winemaker's crops, of May's death in Costa Rica, of Clara's possible disdain for Jonah's cowardice.
Chapter 5 [A Return to Chaos: The Aftermath of Jonah's Death (Clara's Disappearance)]
i. [1985-1986] Details about the aftermath of Jonah's death: Jose wandering the streets, Oso looking for him at all hours, Alma caring for the grief-stricken Clara. Oso drags Jose back to the apartment, and a fight ensues, Oso beating Jose into a pulp.
ii. [1987-1989] More of the aftermath of Jonah's death: Oso starts to sleepwalk, Clara never returning to her role as the protector.
iii. [1990] Details of infrequent trips with Clara and Alma on the train to San Francisco and subsequent wandering of the neighborhoods.
iv. [1990] Jose beats Clara and Clara's subsequent disappearance during a trip that took them to the cliffs above the Golden Gate Bridge on the grounds of the Presidio.
v. [1990] More details of the day Clara disappeared.
Chapter 6 [Chaos: the New Normal (Jose's Death)]
i. [1990] More on the aftermath of Clara's disappearance: the investigation into Jose's possible involvement, the involvement of Child Services.
ii. [1990] Oso takes charge of the family after Clara's disappearance, as Jose becomes even less reliable, a brief characterization of the girls' time at school (mostly middle school).
iii. [1990] There is an incident at school involving class and race with a rich girl named Marlene, with whom there is eventually a physical confrontation.
iv. [1990] During her suspension, we see Kat and Jose's relationship continue to thaw as she learns a more detailed story of Jose's childhood in Bakersfield and eventual meeting of Clara.
v. [1991-1994] We get context for Oso's involvement in various protests, most surrounding the treatment of the homeless, as big tech money starts to move into the Silicon Valley. Jose's continued warming of his relationship with Kat; the four seem like a cohesive family unit
vi. [1994] There is a violent altercation between Jose and a homeless man.
vii. [1993-1994] Kat and Alma's isolation continues in high school; Alma's sketching & Kat's continued despondency; Jose disappears again after Alma says something to him.
viii. [1994] Kat talks about her guilt for not going to look for Jose.
ix. [1994] Alma implicates herself in Clara's disappearance; Alma looks for Jose, eventually, finding him at the church; he stays the night there. He dies overnight. Roles suddenly shift, as Alma becomes despondent with guilt, Oso starts sleepwalking, and Kat becomes the one to try and keep the family together.
Chapter 7 [Cling to Someone: Kat and Alma Move toward Adulthood]
i. [1994] Enter Loskie, his dating of Alma, Kat's tagging along with them at parties. Oso leaves SJ for a job in Yosemite; Kat's guilt about not trying to dissuade him.
ii. [1997] A brief interlude about faith and doubt.
iii. [1995-1996] During the summer and academic year after high school graduation, Kat gets a job, takes a couple classes at the university, and finds a new place to live in downtown SJ. Alma moves to Santa Cruz with Loskie; a few months later, Alma shows up at Kat's apartment after a fight with Loskie. Kat cares for Alma in her despair. Loskie finds Alma; Loskie moves in; an Alma DUI accident; Kat moves out.
Chapter 8 [Connection & Reconnection: Kat Meets Oso's Girlfriend & Reunites Briefly With Oso]
i. [July 1997] Kat finally goes to Oso's apartment at 164th and Amsterdam. At the studio apartment, she is greeted by Camille, a recent sociology undergraduate; she tells Kat what Oso has been up to in the last year and a half, which essentially amounts to being an activist for homeless folks in the Lower East Side.
ii. [July 1997] Kat continues to tell about her visit with Camille. Camille tells about meeting Oso while researching a paper; they finally move in together in Washington Heights; there is a conflict of ideas, a break-up, a reunion, and Camille's pregnancy.
iii. [1994] Kat tells of Oso's rendering of Kat's birth on a sidewalk.
iv. [August 1997] Kat tells of finally meeting up with Oso.
Audience
ages 19-55
While there are elements of fiction in the novel that adult readers of all ages will appreciate, my target audiences are Gen X-ers, Millennials, and older Gen Z-ers. These demographic groups read far more than any other adult demographic (Pew Research Center). Having said that, there is a case to be made for gearing the marketing of my book toward women simply because they read more than men (Penguin-Random House). Most importantly, regardless of gender, these generations--given the time in social and cultural history in which they have lived--would be particularly interested in the theme of identity, a topic so frequently a part of modern public, as well as literary, discourse.
It is worth noting that several successful contemporary books about identity (e.g. Ko's The Leavers and Bulawayo's We Need New Names) were simply designated as "Adult Fiction" even though they share many characteristics of "New Adult." The reason for this is likely that books marketed as "Adult Fiction" sell far more than other genres; also, "New Adult" often is linked to explicit sexual and romantic content, aspects that are not the focus of Ko's, Bulawayo's, or my work. Though there may be an advantage to simultaneously marketing a book in two different genres, my novel would be most appropriate if sold as "Adult Fiction."
Promotion
Since I started putting my campaign together in October 2017, I have been engaging my social media friends (Facebook friends = 500+) in order to build awareness of the project. But, given the current uncertain future of Facebook, I have also diversified my strategy by using Twitter, Linked-In, YouTube, and good old-fashioned email. Goodreads has been another great way to see what books people are reading and to engage these people in conversations.

For several months now, I have drawn attention to my archives from 12 years of online writing through my most recent writing. Currently, I am sharing more about myself as a writer, a reader, and a first-time book promoter. This platform specifically has helped me establish myself as a serious writer among the potential readers in my general internet orbit. I will continue to maintain this page with new content as I navigate the modern publishing world. Incidentally, I am currently in the early development phases with a colleague in order to update my author website.
Given that I have a background in literature and a fondness for the art of conversation about the social contexts in which books live, I have included virtual and in-person sit-downs in certain packages of my campaign. To that same promotional end, I plan to do readings and signings in several of the metropolitan areas I have lived and therefore have readers: San Jose, New York, Chicago, and Houston. The fans in each of these cities also will act as my regional promotional ambassadors.
Finally, I have maintained relationships with several published writers who could write promotional blurbs for the book.
Competition
We Need New Names (Regan Arthur Books, 2013) by NoViolet Bulawayo
Told from the perspective of an adolescent girl from Zimbabwe who eventually comes to America, We Need New Names is a coming-of-age story for this era of hyper-globalization. While I do not deal with the effects of moving across the world in Toil & Sound, I examine comparable neither-nor identity issues. Though in a much different practical approach, I use a similar narrative structure as Bulawayo that includes short sub-chapters with a voice that may or may not not be attributed to one individual.
The Brief Wondrous Life of Oscar Wao (Riverhead Books, 2007) by Junot Díaz
This is the story of a bookish, lonely, over-weight Dominican teenager in urban New Jersey. Díaz looks at the revolutionary actions against the Dominican dictator Trujillo and the resulting curses on Oscar Wao's family due to their involvement in that revolution. The scope of Toil & Sound contains several brief historical accounts, but it does not deal in depth with any particular one like Oscar Wao does. However, the use of history to extend themes like love and isolation are resonant in both books.
The Vegetarian (Portobello Books, 2015) by Han Kang

Kang takes the reader on an exploration of the physical, emotional, and familial consequences of what amounts to the main character Young-hye's act of revolution against the mores of Korean society. Young-hye makes a decision to completely alter her lifestyle based on a violent dream she has. Similarly, my main character, Kat, may or may not be influenced by often disturbing visions. Unlike Kang, I more closely examine how a person's upbringing may influence the actions she takes while growing up and how that influences her coming-of-age at 19 years old.
One Hundred Years of Solitude (Harper & Row, 1970) by Gabriel García Marquez
One Hundred Years of Solitude is a sweeping family saga that follows seven generations of the Buendía family in Columbia. The novel blends history and myth in a way that indicates a unique reality of many Latin-American cultures in which magical realism genre originated. Though not nearly as broad in scope or disorienting in presentation, Toil & Sound contains some structural and thematic magical realist elements present in One Hundred Years of Solitude, a book that forever changed Latin-American literature and holds sway in the multicultural literature of America today.
East of Eden (The Viking Press, 1952) by John Steinbeck
In John Steinbeck's opus, we are told a family saga of the intertwining stories of two families (the Hamiltons and the Trasks) in the Salinas Valley; I also use the Northern California agrarian scene of the 1930s-1950s Central Valley as a backdrop to tell how two characters' families meet. Steinbeck uses Biblical lore and actual family history to explore the theme of free will. Conversely, organized religion plays a minor role as a foil against which I examine the consequences of action and inaction.