Badfinger's Tommy Evans following the death of a beloved bandmate sets out on a Dantean voyage through the strata of afterlife to reunite with his lost lead singer, Pete.
| | |
| --- | --- |
| | Fantasy Paranormal |
| | Chicago, Illinois |
| | 101,000 words |
| | 100% complete |
| | 5 publishers interested |
Synopsis
"Wish You Were Here" an amazing paranormal, fantasy novel follows the journey of former "Badfinger" rock star Tommy Evans as he travels through various levels of heaven searching for his band member and close friend, Pete Ham. Tommy, worrying for his family, also visits his wife on Earth. He is aided by Gabriel, a guardian angel, and other famous souls, Jim Morrison, Gilda Radner, John Lennon, Keith Moon, Andy Kauffman, Jimi Hendrix, Lucile Ball, Mama Cass Elliot and many others. While dealing with problems adjusting to heaven and the afterlife, Tommy encounters strange and mysterious obstacles... the Astral Plane, Purgatory, lost souls, the lake of fire, demons and dimensional shadow people that try to capture his soul preventing his ascension to higher levels. Eventually, Tommy has a better understanding of heaven and repents after speaking to God. While Tommy continues his search for Pete, he realizes the value of helping others by giving them water from a spiritual fountain.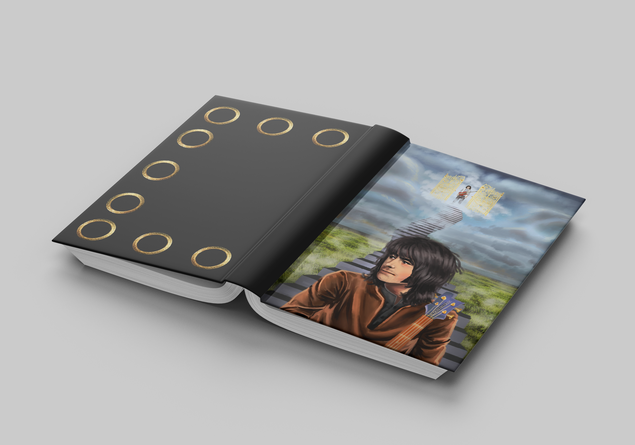 One of the first things a rock star has to learn about the afterlife: Heaven runs on rotary dial.
WISH YOU WERE HERE is a 100,000-word fantasy novel that crosses the love between brothers with the pop-paranormal, and sets it to a killer soundtrack. Badfinger's Tommy Evans, after years of depression following the death of a beloved band mate, slips into heaven by the skin of his teeth. Steered by an angel adaptation agent, he sets out on a Dantean voyage through the strata of the afterlife to reunite with his lost lead singer, Pete Ham. Along the way, Tommy encounters a repertoire of other famous faces—Jim Morrison, Janis Joplin, Keith Moon, John Bonham, Andy Kaufman, and Gilda Radner (to name a few)—chafing against, laughing with, and learning from each in the fierce quest for his best friend's soul.
WISH YOU WERE HERE is a 100,000- word novel about after-death adventure, rules, and posthumous love. It features the overtly fictionalized spirits of real-world artists, politicians, performers, and thinkers to explore questions about legacy—but not always to answer them. And to say "blimey" from time-to- time. I'm a Chicago-based writer and a terminal Rock-lover. Before venturing into novel- writing, I worked at the Chicago Tribune for a decade in a variety of roles, including copy clerk, switchboard operator, and editorial assistant. During the boring in-between hours, writing became my passion and my vacation; a coworker and I must've filled thirty notebooks with Rock and Roll stories that gently led me to WISH YOU WERE HERE.
I am currently working on a Badfinger series, for which I manage a social media fan- following of approximately one thousand readers. It is my deepest wish to repay their love and support with a physical novel they might one-day dog-ear, bookmark, and hold in their hands.
Thank you for your time and consideration. I would love to speak with you about writing, representation, and in general.
Outline
My book contains 70 chapters.
Audience
Adults interested in Rock and Roll and Badfinger. Anyone who enjoys reading paranormal stories. Anyone who enjoys reading about celebrities.
Author
Joyce Isaacson has been happily married for 27 years; she has one son and her baby, Taylor, a cat. She loves to make new recipes, write in her blog (995 members are eagerly awaiting the publication of Wish You Were Here) and she enjoys talking to other writers. Working for the Chicago Tribune Editorial Department for ten years, she gained invaluable skills, primarily Art and Journalism. In grade school, she won a poetry contest. The writing bug bit her and she has never stopped doing what she loves. In high school, Joyce was active formatting her school newspaper and interviewing local rock stars. Her love of fantasy and the paranormal genres coupled with her fascination with Rock and Roll compelled her to write Wish You Were Here, her second book.
Promotion
1.Wish You Were Here Facebook fan page with over 1000 followers.
2.Using Publishizer as a marketing tool.
3.Advertising on Badfinger-Better Days Facebook page.
4. Advertising on Celebration of Badfinger Facebook page.
5. Word-of-mouth. People in the music industry.
6. Advertising on my radio station Friendly Smile Frenzy.
7. Advertising my book trailer on You Tube.
Competition
Currently there are no Badfinger fiction novels on the market. I have the only one.
Sample
Chapter 1

I Don't Know Why
This is remarkable but where am I going? I'm spiraling upward at a very high rate of speed, surrounded by colors that appear to be morphing one into the other. I seem to be heading toward an infinite white light. Now, I see other people stepping onto a soft substance.
Who is this gigantic person standing behind that dark wooden podium? As if by magic, I'm being jostled into line while others arrive behind me. I seem to have no control over my actions. What is going on here? Now I see a bright white gate and there's a tall man with piercing blue eyes standing in front of it.
I watched intently as the towering man signaled with his hand; some people were directed to the left, others to the right. Without warning, he beckoned me to the right. Right or left, what does that mean? Now I am being unceremoniously directed to sit in a yellow padded chair, several others are doing the same. I'm dressed in me blue Jeans, a corduroy jacket and gym shoes. Nervous as a cat in heat, I touch me sideburns over and over, afraid of what's next; I just want to get this waiting over with. Suddenly I have to abandon me seat for another seat, as the line moves along slowly. Blimey! How much time has gone by? The line seems endless. I wonder what is beyond the gate. What's up ahead?
"Come here, Tom Evans." A man with wings gestured for me to get up and follow him to a room and take another seat; of course, I have no choice.
Sitting down in front of a medium-sized screen floating ten feet in front of me, the only bright thing in this very dark room, I rested me hands in an upright position on me legs. Where the Hell am I? It's so dark in here, I can't see the chair or even me hands and I can't tell if the person has left or is still here. Wait! A movie is beginning, but I see a little baby. I'm seeing me life story before me eyes, and suddenly I am remembering all of the details of me life!
What are those things that look like rosary beads on top of the screen? I sat in that dark room, thinking as I watched me movie. Each time I did something good in me movie I obtained a bead on the right side. Every time I did something wrong, I received a bead on the left side. The beads are moving as if by magic from place to place and I can only watch it happen. I see more beads on the left side than the right. Finally, I know what the left side means.
Now there's a scale on the side of the screen. In awe, I watched the beads fall into the scales as it tipped to the left. I'm shaken to the core of me being, but I don't know why.
I screamed, "OK, get it over with! Send me to Hell already!"

A luminous figure appeared out of nowhere. I think that happens a lot around here. "You were a good father, Tom. You were kind to family and friends, and you suffered from depression, something not always your fault and you played a benefit concert. Charity is a big thing here. Tom Evans, are you sorry for the bad things you have done in your life?"
"Yes, I am!"
I wiped me tearful eyes with me right hand. The scale tipped to the right. "Our time is over. Your guide will take you the rest of the way."
Standing up from me seat, the glowing figure pointed toward a bright light.
Out of curiosity I followed that light out of the darkness. I heard a voice calling me name, "Tom Evans?"
"Who's there?"
Me eyes started to adjust to the bright light, seeing a man sporting two white glowing wings almost as tall as me. Walking in front of the being, I noticed he's wearing a white gown. A light surrounded his face; he has short brown hair framing his teardrop shaped eyes and a soft smile. Blimey!
"You are calling me, right?"
"Yes, I am here to help you get settled into your new surroundings."
"Where am I going?"
"...To Level 5 for now. Until you're ready to advance, you will stay there. Souls don't just sit on their laurels. They are always moving."
"...Really, what's Level 5?"
"It's part of Heaven, you ask a lot of questions, Tom. But that is also the part of the process."
Yes, I have so many questions about me afterlife or is this just a dream?
"Hold my hand and I will bring you to Level 5."
Taking the angel's hand, I became light on me feet, flying through strobes of color, seeing another soul traveling in the opposite direction. Where is that soul going? I wondered to myself. We landed, the flight seemed shorter than me first trip.
***
"We will be there in a few seconds."
The angel and I touched down in front of a street next to a big bungalow with a two-story house across the street; it had a For Sale sign in front of it. The angel's kind face reminds me of me mum's endearing mug.
"When can I go down and see me family?"
"Tom, you will be cremated very soon. When a person is cremated, the soul is more spiritual, more detached from Earth."
"I didn't ask to be cremated. I guess me wife can't afford to bury me."
"No Tom, you didn't, but when one is cremated you can't visit Earth for 12 months."
"That's a long time to wait to see me family."
"I don't see any cars on the street."
"We have no cars here."
"So, what do I do next, sprout wings and fly? How do I get around?"
"I will teach you. Now it is time to go to your new place."
"You mean the house across the street? I' don't think I came here with any money in me pockets."
"The person vacating the house is going to the next level. They are leaving it behind, so it's for sale, figuratively."
"Boy, things seem mixed up around here, especially for Heaven."
"You will get the hang of things." The angel pulled a big white bag out of his pocket.
"This will get you started. You earned this for all the good things you did while you were alive."
I fished through the sack.... "Is this real money?"
"It's spiritual money, about one million dollars in gold coins." I'm flabbergasted. This has to be a dream. ...Money in Heaven?
"You give me more money than I need to pay for this house, and I get it for free, totally free?"
"All newcomers get free housing thanks to their kind Earthly deeds. You can use this money to buy whatever you like here."
"I don't see any stores, just rows of two-story houses."
"Other souls sell, lend or give away things they make on every different level, but it's time to see your new place now."
Curious, I walked across the street but the angel didn't follow me. "Tom, I will see you next week after you get comfortable in your new place."
"...No tour of the pad?"

"When I see you, I will fill you in. Oh, there is one thing." I stopped in me tracks.
"The house has a bathroom but souls don't need to use the facilities." This dream is becoming sillier every second. I guess nobody steals up here; the door wasn't even locked.
Walking into the modestly furnished house I see the bathroom with a sink and a toilet, no tub. I keep thinking about me family and friends and that stupid toilet. How can I miss using the loo in this dream?
Entering me backyard, I see some shrubbery and a flowerbed where the flowers smell overly potent and I see a vine with purple flowers on it. Purple and black being me favorite colors, I picked them.
I took them into me new house and walked into the toilet, decorating the fixtures with the vines and flowers to remind me that I am either spiritual or having some crazy dream. After doing that I walked out the door and went to look for me mate, Pete!