Billy Bullshit is so obsessed by buzzwords that he only ever speaks using bullshit phrases - pop that in your mental microwave and see how it defrosts!
| | |
| --- | --- |
| | Business Humour |
| | 16,399 words |
| | 100% complete |
| | 15 publishers interested |
Synopsis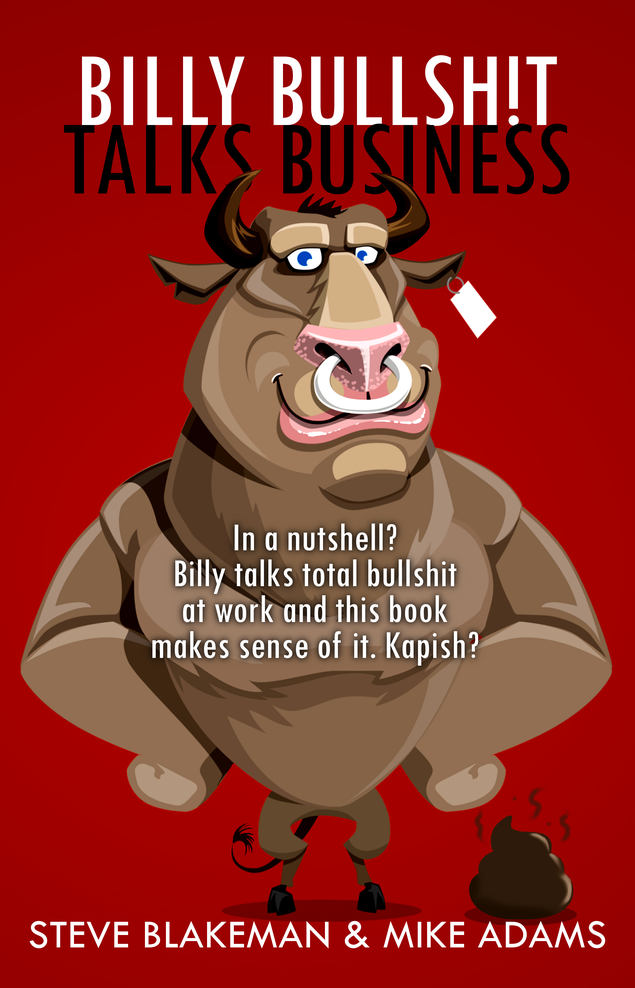 The Book Concept:

We have co-written a comedy / business book about a character called Billy Bullshit (think of a mixture of David Brent and a contestant on 'The Apprentice') who is so obsessed by buzzwords that he only ever speaks using bullshit phrases / idioms… pop that in your mental microwave and see how it defrosts.
Billy works in the marketing department of a toy manufacturer – his official title is 'Chief Guru of Imagineering'. We put him into various work situations (in the boardroom, on a conference call, running a workshop, delivering a presentation, participating in a brainstorm session etc.) which we feel our readers will identify with. We all know someone like Billy and, dare I say it, there is probably a little bit of Billy in all of us. This book takes the clichés to an extreme to create a character you will simply love to hate.
We follow him through a year in his life and the interactions he has with his co-workers, bosses and clients whilst trying to launch a new (somewhat flawed) toy…
We envisage that this book would be marketed as a fun Xmas gift (such as the Enid Blyton spoof 'Five Go On A Strategy Away Day').
The foreword is written by BAFTA Award winning writer Tim Reid.
The reader will recognise and resonate with many of the scenarios and phrases but the main value to the reader will be readily 'digest-able' content and a romp of a read!
Outline
52 short work based scenarios, with Billy in-situ spouting business nonsense and then a translation following.
One scenario and translation per page.
Table of contents:
1. Billy Bullshit in a Brainstorming
2. Billy Bullshit does a Briefing
3. Billy Bullshit sends an Email
4. Billy Bullshit on a Client Dinner
5. Billy Bullshit leads an Interview
6. Billy Bullshit on a Conference Call
7. Billy Bullshit on a Corporate Away Day
8. Billy Bullshit conducts a Performance Review
9. Billy Bullshit reports the Quarterly Numbers
10. Billy Bullshit runs a Sales Meeting
11. Billy Bullshit at the Office Christmas Party
12. Billy Bullshit pulls a Sickie
13. Billy Bullshit publishes an Article
14. Billy Bullshit gives the team a New Year Pep Talk
15. Billy Bullshit welcomes a New Recruit
16. Billy Bullshit reviews a Presentation
17. Billy Bullshit runs a Town Hall
18. Billy Bullshit chats to the New Receptionist
19. Billy Bullshit asks for a Pay Rise
20. Billy Bullshit works on a New Business Pitch
21. Billy Bullshit at the LGBT Council Meeting
22. Billy Bullshit meets with Procurement
23. Billy Bullshit works from Home
24. Billy Bullshit meets a Prospect on a Plane
25. Billy Bullshit gives a Conference Keynote Speech
26. Billy Bullshit meets with the PR Team
27. Billy Bullshit answers a Customer Complaint
28. Billy Bullshit briefs an Online Campaign
29. Billy Bullshit does a Radio Interview
30. Billy Bullshit talks to the IT Department
31. Billy Bullshit rants at the Intern
32. Billy Bullshit gives a Press Statement
33. Billy Bullshit on a Golf Day
34. Billy Bullshit closes the Sale
35. Billy Bullshit in a Product Review Meeting
36. Billy Bullshit is interviewed on the Business News
37. Billy Bullshit bumps into an Ex-Colleague
38. Billy Bullshit Fires Someone
39. Billy Bullshit accepts an Industry Award
40. Billy Bullshit gets rid of a Supplier
41. Billy Bullshit loses his shit with the Client Services Team
42. Billy Bullshit receives a HR Complaint
43. Billy Bullshit mentors a Graduate
44. Billy Bullshit Apologises
45. Billy Bullshit speaks to a Headhunter
46. Billy Bullshit negotiates with a New Partner
47. Billy Bullshit gets Cold Called
48. Billy Bullshit tries Social Selling
49. Billy Bullshit chats to the Chairman
50. Billy Bullshit at a Sexual Harrassment Hearing
51. Billy Bullshit gets Fired
52. Billy Bullshit speaks to his Family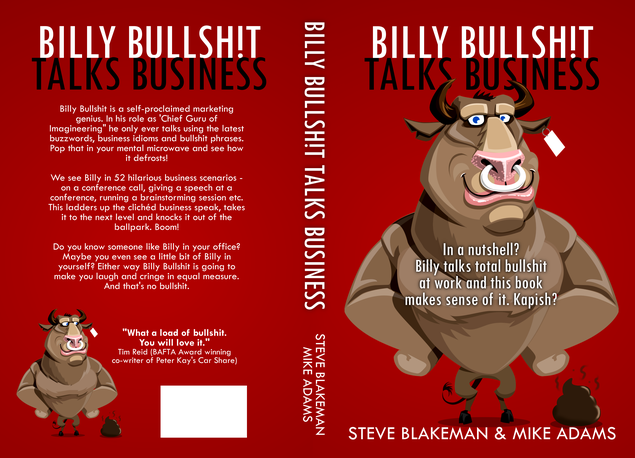 Audience
Given the huge (and varied) response from the crowdsourcing piece which we wrote on LinkedIn in August 2016, we believe the target audience would come from a broad selection of business communities. The article (entitled 'Which Business Bullshit phrases annoy you the most?") attracted over 200,000 views, 5000+ likes / shares and 2,000+ comments offering additional suggestions. It was also picked up and republished by Inc.com (we have no statistics on that piece but given its global reach the audience is estimated at circa 250,000).
Given the analytics interface on LinkedIn, we can see that the people interacting with the content were extremely varied (anything from Accountants to Zoologists). The top 5 industries responding to the article we're I.T (21%), Advertising & Marketing (12%), Financial Services (9%), Computer Software (7%) and Recruitment (5%).
In terms of geography, the book will appeal mostly to English-speaking markets. From the analytics provided by LinkedIn, we know that the main audience has been from North America (44% - New York, Chicago, San Francisco, Boston, Atlanta and Dallas predominantly) followed by the UK (14%) and Australia (11%).
Primary Markets:
We see the book primarily as a gift item – it will make the perfect Christmas stocking filler, table present or Secret Santa. Senior management, mid-level employees, confused graduates etc. Everyone moans about the BS used in their job at some point, and this book will be bought by their friends and family members as a fun, tongue-in-cheek perspective on corporate life. The reasonable price point will make it affordable for many year-round occasions.
Secondary markets
Fathers Day, Mothers Day and Valentines Day are further opportunities as well as birthdays. It would also be an ideal Corporate Gift for a whole variety of industries (possibly even bespoke versions for certain industries, such as 'Billy Bullshit talks I.T' or 'Billy Bullshit Talks Banking' etc.) This is also the perfect book for the corporate traveller who would see it in the airport bookshop and pick up a copy for the flight – highly relatable and easily digestible on a plane ride.
Author
Mike Adams:
The author of The Intrepid CEO, How Bold Leaders Future-proof Sales & Drive Profit. Available on Amazon, Barnes&Noble and other online retailers. Mike has also been a contributor to Men's Health, GQ, Leaderonomics and CEO.com. He has also been featured in Inc. and Business Week for this latest book, Billy Bullshit Talks Business.
Steve Blakeman:
Wrote the book 'How To Be a Top 10 Writer on LinkedIn' after amassing 250,000 Followers on the platform after being named as a LinkedIn Top Voice for the past 3 years. He also writes as a guest contributor for both Forbes and Inc and he has been profiled by Huffington Post.
Promotion
Topic and Commercial Validation:
We published an article on Linkedin in August 2016 to a) validate the topic and b) crowdsource content – the response was exceptional, both validating that this topic is in high demand and is commercially viable for publication.
Furthermore, competitive books exist and continue to move sales volume year on year
Stats and Exposure:
200,000+ views/likes/shares via Linkedin and other platforms
2000+ comments and suggestions
Inc. published a feature on the article (~1.5m views)*
Business World published the article (no stats available)
* Estimated by Inc. publisher
Competition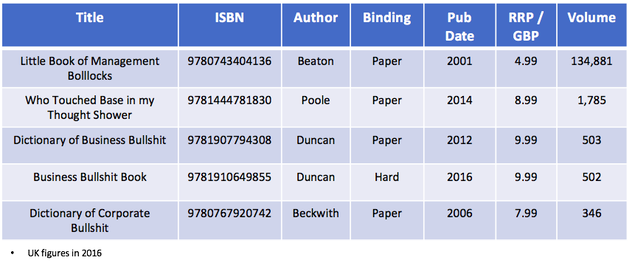 Sample
1. Billy Bullshit in a Brainstorming
Tuesday 4th October 9.31am
I'm happy to dive in here and offer some blue-sky thinking. Straight out of the box, we need to address the elephant in the room. Or is it an 800 pound gorilla? Either way, we are not comparing apples with apples here, it's more like apples with grapefruit. The dipstick research suggests we need to do a deeper dive on the 'Croc-o-Dial' fun phone issues before we can decide on the deliverables. It is what it is for now but going forward we need to grab the bull by the balls to get us off this burning platform. I don't really know what I want yet but when I see it I will know exactly what it is. Come on it's not rocket science guys. We just need an overarching, on-trend insight that is a real game changer. A scalable, soup to nuts solution that can market our secret sauce. And if that soup tastes good then just stop adding ingredients. Am I right? Or am I right?
Translation: Everyone is talking bollocks (as usual) so I'm going to have to rescue the situation by myself (as usual). There is a big problem here. A very big problem. The 'Croc-o-Dial' fun phone isn't much fun as it appears to have a design flaw – it bites off kids fingertips. That 5 minute Google search you did on the problem isn't sufficient basis to make any informed decisions. You are going to have to do some proper research which will hopefully stop a full recall. Once you have the right information you will still need to fabricate a story that the consumer might actually swallow. Oh and stop overcomplicating it with those useless pie charts that have absolutely nothing to do with the matter in hand.
2. Billy Bullshit does a Briefing
Wednesday 12th October 5.01pm
I have a hard stop in 30 minutes so lets hit the ground running. It goes without saying that you will be in the trenches on the 'Urban Terror Wrist' development. It's a cluster fuck. Let me paint you a picture. The timeline is tight, there's lot's of moving parts and we need more bang for our buck. You've got to make this sucker pop because we really need to land this one. It's a gilt-edged opportunity to generate some new news and at the same time make you famous. Come on, it's just Marketing 101 chaps. So get started with the pre-planning, there's no time to lose. Put your shoulder to the wheel and don't forget, perfection is the enemy of good. Shoot for the moon guys and if you miss you will still land in the stars. You feel me?
Translation: I'm leaving here in half an hour whether you like it or not, so stop pissing around and we can get started. I take great delight in saying that you are going to be working all hours on this nightmare project whilst I will be conspicuously absent for the entire duration. We need a big hit given the 'Croc-o-Dial' fiasco.There is clearly not enough time to complete this complex project and the client basically wants it done for free. It's an impossible task, which is why I am dangling the carrot of fame and fortune (both are lies as I will take all the credit if it's any good and blame it all on you if it's garbage). Anyway whatever you produce better demonstrate some originality but given your collective grade B in Art that won't be a problem will it? So get on with it you lazy bastards and try to deliver something better than the usual crap you churn out.
3. Billy Bullshit sends an Email
Thursday 20th October 8.49pm
Hey Bobby boy, I'm pinging your inbox because our Head of People person has reached out to me to kickstart a dialogue with you following the rather lacklustre sales on the 'Croc-o-Dial' launch which you were personally responsible for. Let's be candid, I need to circle back and close the loop with you on the cadence of your core competencies. Can I be frank Bobbo? I know you have been caught up in the weeds but you don't seem to want to drink from the company fire hose. Our ecosystem dictates that we have to eat our own dog food but we feel like we are flogging a dead horse with you Bobsy. Taking the helicopter view, you don't give it 110%. Full disclosure? We really need you to lean in, ladder up and level set. If that's not on-point then we will need to explore some opportunities for separation as we progress with our ongoing right-sizing of the organization. I will swing by tomorrow Bobino so we can formulate an action plan.
Translation: Bob, you don't fit in here. No one likes you. Not even the nice lady in HR. And you totally cocked up on the 'Croc-o-Dial' launch. Pack your cardboard boxes because tomorrow is your last day buddy.