Proposal
"Excellent new resource for anyone who's ever had a crisis, seen a loved one go through one - which is pretty well all of us!!" - Chrissie Burke - Registered Psychologist, MAPS
We are complicated creatures – which is both a curse and a blessing – a mixture of thoughts and feelings that lead to feelings about feelings and thoughts about those feelings. We are engaged in a perpetual cycle of "what if", We continually ask ourselves, "why" – why did I do that? Why don't people like me? Why is my mother like this? And we tell ourselves that things "should" operate in certain ways – my life should be like this, families should be kinder, other people should be better organised, etc.
We can – and do – play these pointless "what if and why" games all day. Not only that, we actively refuse to process our emotions. They are like a big turbulent room that – when we open the door – threaten to overwhelm us. Crisis counselling taught me how to sit next to my emotions and not react to them, while still being aware of them and not avoiding them.
So, we search for happiness. Paradoxically, the search for happiness is making us desperately unhappy. We look at what other people have and think that everyone else is more successful – which these days means more happy – than we are. Your neighbour might have a Maseratti while you are schlepping round in a clapped out old Skoda. Your best friends look like they have fantastic sex lives. Your cousin looks organised and neat. We are sending ourselves mad. Benchmarking yourself against other people is a surefire way to make yourself unhappy.
Likewise, you can't think your way to happiness. Or work your way to happiness. Or drink your way to happiness.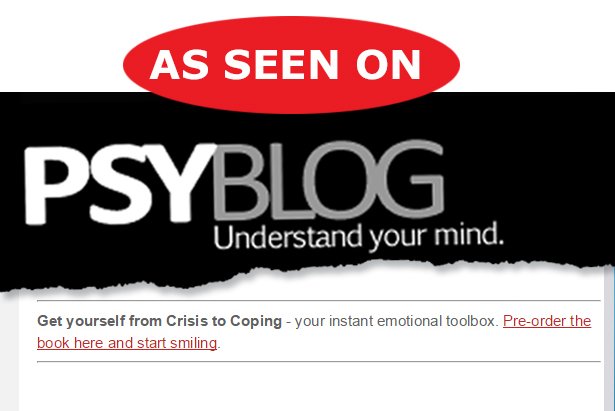 Not coping is normal
Everybody struggles. Everybody has times when they can't cope. Human beings are an intense mishmash of thoughts, feelings and emotions that feed on each other in a jumbled bio-feedback loop. We are bombarded constantly with doubts and regrets. Feelings of inadequacy, disillusionment, grief, uncertainty, loneliness, isolation, shyness pile on top of each other leaving us feeling vulnerable and off kilter. For most of us there is a nagging something that hums in the background of our subconscious - a little voice that says, "maybe I'm not good enough" or not worthy of love, success, happiness. The list goes on. We are limitless in our ability to self sabotage.
Every now and then the noise increases and we end up in a state of crisis. Anxiety, panic attacks, crippling depression, aching loneliness, existential doubt. We are hit with a tsunami of feelings that knocks us off our feet. When we are in the middle of this storm it can be hard to find a way out.
My work as a telephone counsellor gave me insights into how people can turn the emotional volume down. Using diverse techniques such as breathing techniques, mindfulness, grounding, paraphrasing and self-parenting we can bring ourselves back from the brink. Just simple cognitive messages that affirm that we aren't abnormal can have a huge impact on us. Knowing that we aren't painful failures and that these feelings are commonplace can take the heat off. Knowing that things change can give us the strength to ride out the storm.
But how?
Each chapter provides simple, clear explanations showing how to. For example, people talk about mindfulness a lot. What exactly is it? How exactly do I do it? And how will it help?
Of course, this book isn't a substitute for professional modalities such as therapy or psychiatry. Expert help should be sought to help resolve deep issues and long term problems. But this book can help you to get into a calmer state so that you can make rational decisions about your health and wellbeing.
Once the book is published, I will be launching a website with further updates, plus an app with helpful hints for coping NOW - right when you need it!
"I am really looking forward to reading what the unique, authentic and awesome Mark has to say on coping with the stress of everyday life," - Rachel Gleeson
Timeline
Since this is crowdfunding, delivery times are a bit delayed. My estimated timeline is:
Run pre-orders campaign (45 days)
Finish writing, editing & layout (1 month)
Printing & delivery (1 month)
One last note: The pre-orders are in USD.