In order to love yourself, you have to discover who loved you first.
| | |
| --- | --- |
| | Memoirs |
| | Washington, District of Columbia |
| | 90,000 words |
| | 100% complete |
| | 21 publishers interested |
Synopsis
Are you Martine Mwanj Kalaw? If so, your father is looking for you.
Martine Kalaw is forced to make a choice in an immigration courtroom; save herself or her mother's legacy. Her decision catapults her into a tumultuous and longstanding battle with immigration and a personal struggle to discover her identity.
Ten years later, at age thirty three, a social media message reconnects Martine with the father she thought dead for twenty years. Here begins the story of a prep-school illegal immigrant's return to her birthland of Zambia, where she discovers the layers of truth behind her mother's death from AIDS, her father's abuse and the painful circumstances that led to her overnight disappearance to America. Joined by Celeste, a feisty American (and very pregnant) best friend.
Between scenes of unraveling family history, Martine and Celeste's adventures round out the story's hardships, offering a nuanced and complex view of modern Africa. Visiting Zambia at the height of the ebola panic, and riots erupting when a white president is reinstated for the first time since liberation, the women find Zambia to be a warm, but complex, country.
Martine confronts the visceral poverty of her early existence, nineteen new siblings presented by a polygamous family, and the interwoven joy and pain of rediscovering home after thirty years. The backdrop of Martine's story echos with the terrors and triumphs of living between the margins. Orphaned at fifteen by an abusive and alcoholic mother, Martine finds herself bouncing between the homes of cruel Aunties, pulled from school illegally and working in a Washington D.C. consignment shop. In a string of magical happenstances, life takes a swift turn, landing Martine at private boarding school, funded by an anonymous donor.
A typical American college girl by all appearances, Martine's innocent ignorance of her own immigration status erupts in a battle for US citizenship while avoiding deportation to her country of origin, the war-torn Democratic Republic of the Congo. Without documentation on the African continent in either DRC or Zambia, no country claims a stateless Martine.
After seven years, six lawyers, numerous Master Calendar hearings, motions, rejections, appeals and testimony before the U.S. Congress (on behalf of The Dream Act), in 2012 Martine becomes a U.S. citizen and two years later she returns to Zambia. Only then does Martine discover a truth about her mother and father which ultimately brings her resolve.
Outline
Martine's coming-of-age story shines a light on the current climate of immigration, but chooses the voice of an Elizabeth Gilbert or Anne Lamott to bring an outsider's tale into mainstream perspective. Despite immense hardship, Martine is a successful, bright young woman, without a blush of a stereotypical immigrant persona - in many ways she is, in fact, the ultimate "American girl."
Touching, poignant and often very funny, Martine's memoir centers around three themes: her mother, father and immigration. Martine seeks to understand the complex and often hurtful woman that was her mother. The love between Martine and her mother is challenged in an immigration courtroom where she fights for her identity. After years of hardship as an undocumented immigrant Martine finally gets a "green card" and eventually U.S. citizenship. However, the identity that she is in search of still evades her. Years later Martine reconnects with her father, a complicated man seeking to make amends for his history of abuse, who also happens to be an accomplished painter. Each night on the back porch of a hostel, Martine's father offers a new clue about her family history - her mother's trajectory from the Congo to Zambia, the origin of her many siblings, the story of her immigration. It is his honesty and vulnerability that answers long held questions for Martine, and opens her eyes to another path life could have taken.
Celeste, half white and half Filipina, is Martine's best friend who accompanies her to Africa. She walks the streets alone in search of coffee and is greeted kindly by strangers. Martine feels the burn of wealthy white eyes questioning her presence at an upscale hotel bar.
Though African in origin, American-identifying "girly-girl" Martine struggles for the first time to use a non-electric outhouse bathroom, contracts traveler's diarrhea on a seven hour bus ride from Lusaka to Livingstone and jokes about perpetuating African stereotypes while "walking with lions" on an Botswana safari. In a role-reversal, brazen Celeste supports Martine in her new discoveries. It is Celeste who reminds Martine that most of the world lives in visceral poverty, and to suspend pity when visiting family.
Celeste walks beside Martine while tracing her mother's footsteps to the decrepit hospital where she was born, and charms the entire clan, providing a joyful distraction from Martine's deep culture shock. Confronting her own surfacing stereotypes, Martine leaves Zambia a different person: one with a country, a father and a history that asks for patience to fully accept.
PROLOGUE
CHAPTER 1 – MOULES ET FRITES
Martine has ten minutes to decide if she will betray her mother or not. This decision will change the course of her life and could also save her from being deported. The decision she makes has repercussions, like her continued lack of self worth and identity. All of that changes almost a decade later when a stranger claims to be Martine's father through social media. That's how we come to meet Celeste, Martine's friend. The two women decide to travel to Zambia to meet Martine's father. However, a few challenges stand in the way of the women actually making their journey. The first is revealed at a mutual friend's wedding.
Betrayal

To Africa We Go

KKK

Pain Relief

Lost and Found

Priti's Wedding

STAB
CHAPTER 2 - EBOLA
Martine walks us through her painful past, which is somehow sprinkled with serendipitous happenstances. Martine just might be the unluckiest girl we have ever met. But then again, maybe she's the luckiest girl we know. Just how did she get into boarding school after being orphaned and abandoned by her aunts? We begin to understand what it feels like to spend 7 years in deportation proceedings.
By exploring her journey we too become "illegal aliens". How did Martine get to that point in her life? Martine draws parallels between being undocumented to any circumstance of being in limbo and reminds us of the torment that uncertainty brings.
Ready to Take Off

An Enigma

Goodbye Paris

A Witch Hunt

Us vs. Them

Statelessness
CHAPTER 3 - FANTA
Celeste and Martine spend countless hours preparing for Martine's reunion with her dad. It becomes increasingly difficult for Martine to deal with the suspense of meeting this man along with the culture shock she experiences in her native Zambia. Celeste's reassurance and guidance allows Martine to cope.
Martine finally lays eyes on her father. He is nothing like Martine imagined. Strangers, who are supposedly her siblings are forced into her life, along with the immediate obligatory financial support that is expected of Martine. Martine past is direct competition with the abject poverty surrounding her family. Will she earn her family's validation
We're in Africa

Annihilation by ICE

The Other Man

It's Surreal

He's So Hyper

Worth Authorization

Fame

Finality

Mr. K.K.
CHAPTER 4 – MATERNITY WARD
Mr. K.K. has carefully planned the next nine days for his daughter. He walks Martine through the history of her birth, relishing the memories that he tucked away for over twenty years. Martine's identity reveals itself as she literally walks in her mother's footsteps. As she marches down the corridor of the hospital she was born, more surprises await like apparitions. This journey is emotional for Celeste too as she receives gnawing reminders that she's having a baby, something completely foreign to her. The past and the present intertwine when Martine meets her late mother's friends. She begins to paint a picture of her mother through their lens and the enigma who was her mom becomes a puzzle worth solving
1981

Stepmoms

Amebic Dysentery

The Lion Walk

Everything's Black & White
CHAPTER 5 – RED DIRT ROAD TO LOVE
If Martine's dead mother is a puzzle then her father is the keeper of all the pieces. Each evening under the African night sky, Martine's dad unveils another answer to a mystery about her mother and what led to her disappearance to America. Martine fills in the gaps of everything that led up to her mother's death and why it became the core evidence in her immigration case. We also understand why the immigration judge went on a crusade to annihilate Martine.
Love

Ya Marie

The Seventh Day
CHAPTER 6 - LUSAKA
In their last night in Livingstone, Zambia, Mr. K.K. unleashes information that is as shocking as it is resounding. It will never leave Martine the same.
Martine has two more days remaining in Zambia with her dad. The emotions of the past few days overwhelm her and she seeks refuge in what is most familiar to her, a luxurious 5 star hotel in Zambia where she basks in the idea of being in Africa while shielding herself from guilt. The ruse is up when her dad and sister pay her an unexpected visit at her hotel and begin to make assumptions about Martine's wealth. Martine feels entitled, after all that she has been through. Yet why does she feel like she needs to hide it?
Luxurious Guilt

Tusks

An African Blessing
CHAPTER 7 - DEPARTURE
The women have to say goodbye to Zambia and to Mr. K.K. Martine carries a new burden with her on the flight back home to the U.S. A few days later, on Thanksgiving Day, she makes another important trip, one which allows her to finally bury her burden and grief and truly experience freedom.
Dad

The Mindy Project

Freedom

Let It Be Green
EPILOGUE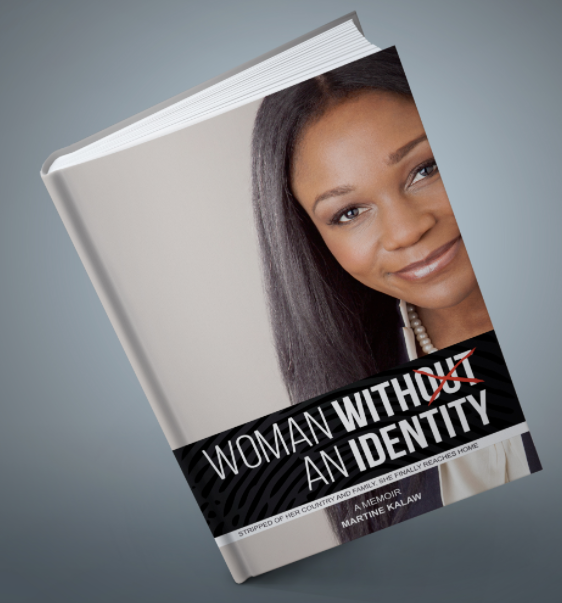 Audience
Primary audience for Women Without An Identity is educated women in America--both local and immigrants--early to mid-adulthood.
Despite the vulnerabilities and barriers immigrant women face, they continue to make important contributions to our society and our economy. According to Status of Women of the United States, approximately 21 million female immigrants live in the United States, making up just over 13 percent of the nation's female population. In their multiple roles as students, professionals and other workers, spouses, parents, and caregivers, immigrant women make important contributions to local communities, the economy, and society.
The face of today's U.S. immigrants is more female than male. In 2011 51.1 percent of all foreign-born individuals residing in the United States—and 55 percent of all people obtaining a green card—were women. That same year, women comprised 48 percent of all refugee arrivals, 49 percent of all people granted asylum, and 54 percent of all people who naturalized to become U.S. citizens.
Immigrant women embrace citizenship and encourage integration. According to 2009 public opinion research by New America Media, immigrant women from a broad range of countries are overwhelmingly the drivers of naturalization in their families, with 58 percent of respondents stating that they felt the strongest in their family about becoming an American citizen. Overall, 84 percent of the women surveyed want to become citizens, with a whopping 90 percent of female immigrants from Latin American and Arab nations indicating their desire to naturalize. In 2010 immigrant women comprised 40 percent of all immigrant business owners and 20 percent of women business owners in general.
Secondary markets include:
College-age women
Adolescents, pivoted for integration in high schools
Middle-Aged women in Western countries
Women of African descent, origin, living on the continent or abroad
Immigration activists and policy makers
Oprah's book club fans
Promotion
Here is a recap of all of the initiatives Martine is involved in or will be involved in in regards to her book:
Martine Kalaw will promote her book through public appearances and social networking. Being very active on social media such as Youtube, Facebook, Instagram and LinkedIn, with daily posts, videos and live sessions.

She has a growing mailing list, currently at: 3,800. She is a blogger and contributing writer for the Huffington Post which offers her adequate exposure. Page views:
Motivational speaking is a major part of her career plan and is already getting invitations and appointments. She is currently scheduled to speak at: LinkedIn's "Transform Her" Conference on April 11, Education First in Washington, D.C., and Hamilton College.
Martine has 7+ years delivering professional development/learning & development coursework. This is also a platform for her to generate more invitations to speak and motivate business professionals.
Activities:
March 16 - My book was featured in reader's circle, which has a reader following of 200,000+ http://www.readerscircle.org/

March 28 - Featured in Prep School Alumni newsletter with link to book: https://www.stab.org/news/post/~post/kalaw-99-explores-immigration-journey-in-woman-without-an-identity-20180327

April 2 - Facebook Live event o from -8PM and from 8-9PM in partnership with Stay Social, a marketing/pr company. This event is an opportunity for Stay Social to interview Martine on her book and also the book publishing process.

April 5 - Podcast with IpuPodcast will be released: http://ipupodcast.com/ which is an interview of Martine discussing chapters in her book and the immigration conversation at large.

April 11 - Martine is a Featured Panelist at LinkedIn's Women of Color in Tech event called, "Transform Her". https://transformher.splashthat.com/ The conference is expected to generate an attendance of 300 individuals across various tech companies. Martine's link to pre-order her book will be listed on the website and she will have an opportunity to promote her book during the conference.

June 2018 - XWomen panel discussion at a WPP company

Summer 2018 - speaking at Hamilton College reunion event

Summer 2018 - lead a conversation on Identity during the annual folk festival in Fez Morocco, sponsored by Palais Amani http://www.palaisamani.com/palais-amani

Fall 2018 - deliver a keynote at Education First in Washington D.C.

Fall 2018 - delivering a lecture at Hamilton College within the theme of Government
Additional activities:
Radio and television

Press releases to major magazines

Update to personal website

Public lectures including TedX

Attend professional conferences

Utilize social media endorsers and partners
Competition
White Women's Memoirs:

Eat, Pray, Love, Elizabeth Gilbert (Riverhead Books; January 30, 2007)
Wild, Cheryl Strayed (Vintage; June 1, 2012)
How To Be A Woman, Caitlin Moran (Harper; July 17, 2012)
The Year of Magical Thinking, Joan Didion (Vintage; February 13, 2007)
Down City: A Daughter's Story of Love, Memory, and Murder, Leah Carroll (Grand Central Publishing; March 7, 2017)
In tone and voice, Martine's story sits among popular American women's memoirs. A straight-forward compelling prose invites readers to see themselves in the character of Martine. With the potential to capture audiences that enjoy authors such as Gilbert, Strayed and Lamott, Martine's story adds a depth and different dimension to a genre dominated by the white American woman's perspective. Like Didion's memoirs, while accessible, Martine's story also aims to take shape as a work hailed as a literary achievement.
African-American/Black Women's Memoirs:
I Know Why the Caged Bird Sings, Maya Angelou (Random House; April 15, 2009)
Zami, A New Spelling of My Name, Audre Lorde (Crossing Press; March 16, 2011)
The Prisoner's Wife: A Memoir, Asha Bandele (Scribner; May 8, 2010)
No Disrespect, Sister Soulja (Vintage; January 30, 1996)
African-American/Black Women's Fiction:
Americanah, Chimamanda Ngozi Adichie (Anchor; May 14, 2013)
Brother, I'm Dying, Edwidge Danticat (Vintage; September 4, 2007)
White Teeth, Zadie Smith (Vintage; May 20, 2003)
Behold, the Dreamers, Imbolo Mbue (Random House; August 23, 2016)
Martine's story shares a legacy with other extraordinary memoirs by Black women authors. However, Martine's background being informed by prep-school and shaped by peers from various walks of life, Martine's voice and tone resonates with a more mainstream storytelling style. Less radicalized than many of the women above, Martine's story relies on nuance to unfold complexities around issues of race and immigration, "normalizing" her experience for mainstream audiences.
Special Interest Memoir: Africa

Infidel, Ayaan Hirsi Ali (Atria Books; February 6, 2007)
What is the What, Dave Eggers (Vintage; November 13, 2007)
A Long Way Gone: Memoirs of a Boy Soldier, Ishmael Beah (Sarah Crichton Books; April 1, 2007)
I Am Malala by Malala Yousafzai (Little, Brown and Company; October 8, 2013)
Sharing a genre with books written about the African experience of resilience (along with other non-Western countries), Martine's book combines the perspective of both an insider and an outsider. Audiences from America and the Western world will relate most deeply to Martine's character, rather than Africans, who might witness reflections of themselves through the eyes of the supporting cast.
Sample
This memoir is a work of nonfiction. The experiences, dialogues, locations, and timeline are factual. All names of characters have been altered, except for the names of my mother and biological father, to protect individuals' privacy.
PROLOGUE
I was subhuman. The grime you carry under your shoes after trudging through streets. At least that's what they meant when they referred to me as an illegal alien. They being the immigration court and the judge who loathed me and I him. And she referred to me as a nobody. My mother. She was my lifeline and verification that I was a person. When she died so did my identity—and all I was left with were unanswered questions amplified in a courtroom. Was my name really Martine? Where did I come from? Who were my mother and father?
Thirteen years undocumented. Seven years in deportation procedures. My legal nightmare was cunning; while I thought I was battling the judge, I was pitted against my mother, and sometimes my own attorney would attack me.
Life had become a twisted game of Russian Roulette. Oftentimes, it wasn't me but my opponent who'd place the muzzle against my head. Click. No bang. Every time that trigger was pulled, I was sure that was it. Life was over. But again click! No bang. Click! No bang. I kept waiting for the trigger to go off, and at one point, I wished the damned thing went off already. Sssss! Ssss! of the cylinder spinning went on for years, replacing self-love with self-defense and cold laughter to drown out that whirring noise.
But one day LinkedIn delivered a countershock to my misery, reviving the connection between my dead father and me like a defibrillator awakening a non-beating heart. He sought me while I searched for my identity, which plunged me into the depths of Africa. He gave me access to a part of my mother I needed to become complete. Rather than an expedition, this was an exorcism of the past, conjuring up the ghosts of my parents from their youth.
What I would encounter in this reunion in Africa would be unimaginable, leaving me changed, but silencing the trigger. This time forever. The heaviness of my history no longer defined me or outweighed the serendipities sprinkled throughout my life, making it easier to go back home, to America.
---
(excerpt)
CHAPTER 1: MOULES ET FRITES AND THE B WORD
His voice was the texture of velvet.
It wasn't just any velvet; it was black velvet.
I. BETRAYAL
When I buried my mother, I had also buried my memories of her mistreatment to honor her. But one day in a law office in the once famous Statler Towers in Buffalo, New York, I was asked by my attorney to betray her in order to win my freedom in the Land of the Free.
How audacious of him to even suggest.
This immigration hearing needed to be the final because I was running out of stamina and coping mechanisms. Just how long could I maintain the charade of being a normal American girl? John James, my lawyer, had assured me that everything would go smoothly, as the August 9, 2004 date approached. Today's appointment was an actual hearing, rather than a Master Calendar appointment. It meant that I would be able to testify and present witnesses on my behalf.
"Why don't you come into my office for a second," John James commanded the morning of my hearing, interrupting my reverie.
"What's wrong?"
"In my office."
I went.
I knew John well enough by now to distinguish between his condescension and concern. He had a plane face, which offered him little distinction. The kind of face that you could look at for hours but you wouldn't be able to confirm in a police lineup. His baldness was the only thing that stood out. I could imagine running into this man, who had control over my life, ten years later in the street and trying to figure out where I knew him from.
"Listen," he said, sitting at the edge of his desk almost hovering over me as my sweaty palms clasped each corner of my chair. "Nothing is wrong. You alluded to the fact that your mom was abusive to you. Did she ever hit you?"
My eyes widened and a sudden panic rushed over me. Please don't let this conversation go where I think it was headed. He may have asked a follow up question but my mind was elsewhere. I noticed how plain John's office was for a lawyer. Shouldn't he have had photos of Supreme Court judges on his wall or something? He had a scattering of law books but I expected to see more of them. At least his desk was covered in paperwork like all the lawyers I had seen on television. The carpeting should have been nicer but instead it was dingy.
I couldn't lie to my lawyer so I confessed. "Yeah," I said with my head hung low and tears streaming down my face as if I had just plead guilty, awaiting my sentencing. My mom whom I called Ya Marie, didn't just hit me, she used to beat the shit out of me, but I wanted to remain mild in my accusation so I wouldn't share any more detail. If John dug further, should I also talk about my mother's verbal assault that pushed me to the brink of death? No, I couldn't. This wasn't how today was supposed to play out, this entire case was supposed to be built against my Aunty Amelie, and not my mom.
Before this hearing, John had submitted a petition to adjust my status based on two statutes: 1. Nunc Pro Tunc, translated from Latin as Now for Then, which means a ruling is made based on an earlier law and has retroactive legal effect. Unbeknownst to me, I had a window of time where I was eligible to petition for permanent resident status (green card) after Ya Marie had died. Since the government failed to inform me of my rights, we argued that the government was at fault. Also, since immigration laws changed after 9/11, John argued that I should be treated under the old law—hence, Nunc Pro Tunc—and given a path to citizenship. 2. The Battered Child Statute, which says that an abused minor is guaranteed permanent residency (green card) if the abusive parent or guardian is a legal U.S. resident or in the process of becoming a resident. We were building the case against Aunty Amelie because she was my legal guardian, and abusive.
"We need to tell the court," my attorney posited. "This is our strongest argument in your case." He was sitting so close to me at this point and spoke with such fervor that I could smell the milk and cereal that he had for breakfast on his breath.
"But John, I can't. I just can't." I shuddered and shook my head profusely as once buried memories of the abuse resurfaced into my mind. My esophagus tightened into a rope that I could barely get air through my windpipe.
John's stupid and messy office was getting louder to the point where I couldn't hear myself think. Suddenly the honking and beeping from the cars outside blasted through his office window and the click-clack of his assistant's heels outside his door became overbearing. John's desk creaked as he shifted his weight on it and I couldn't stand the sound. To John I must have looked like a mouse who had just stepped on a trap.
"Look," he said with a no-nonsense and get-yourself-together tone, "this is the strongest evidence we have to support our argument of battery. All you need to do is to be honest and to tell the truth to the judge and to the court. We could really win your case with this evidence."
All I need to do? He wanted me to expel my deepest and darkest secrets about my mother who was not alive to defend herself and that was his way of convincing me? Exposing my mom also meant reliving the tormenting words and the beatings and I just couldn't. I wasn't ready. But John said that if I did this one thing then we would win the case. Then I could finally have a normal life as an American and I wanted that more than anything. I couldn't bear living this immigration nightmare any longer. Why did it have to be at the expense of digging up this other tragedy? Ya Marie's abuse would live in those legal transcripts for anyone to access and read and make judgments about. What kind of daughter would even consider doing such a thing? I couldn't bare the idea of my first time breaking the silence of my mother's lack of love for me to a courtroom full of white men who didn't know me.
John's little round eyes bulged out as he stared at me and all I could hear was the tic-tic-tic of the second hand of the clock. Time was running out before we had to return to the courtroom and continue with my testimony. I had exactly ten minutes to make a decision about a secret that I buried for almost a decade that would determine my fate. Regardless of the decision, there would be consequences.