My Good Life is the story of one woman's process of learning to live the good life despite the challenges of raising a special needs child.
| | |
| --- | --- |
| | Memoirs Special Needs Children |
| | Los Angeles, California |
| | 80,000 words |
| | 75% complete |
| | 9 publishers interested |
Synopsis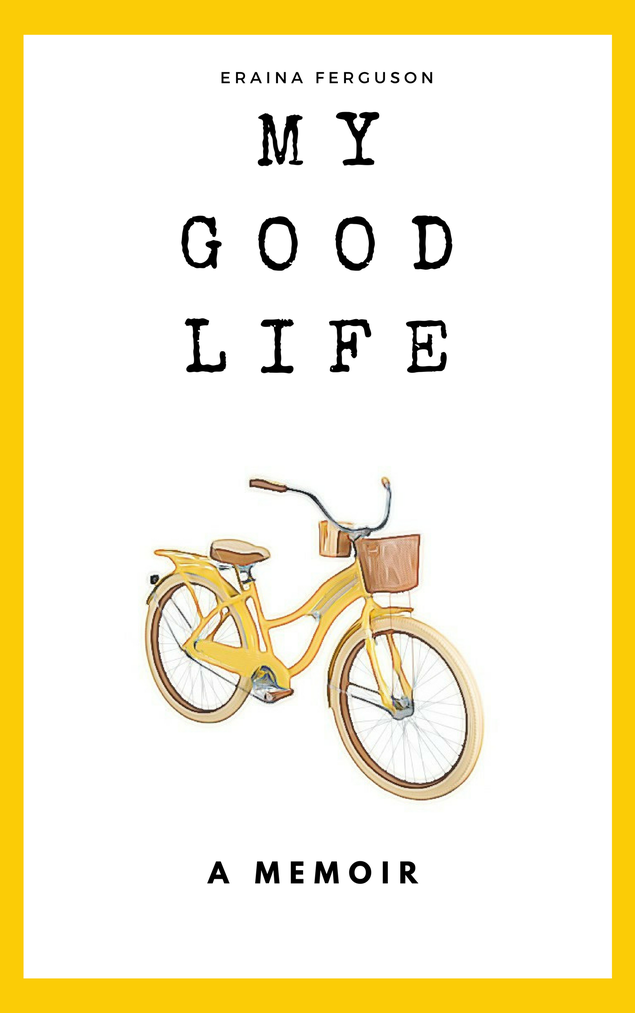 My Good Life is a memoir about how I found the good in my daily life despite my circumstances. As the parent of a special needs child, this book appeals to the special needs parenting market. It highlights the issues related to the countless challenges we face in our daily lives, while also celebrating some of our good experiences.
I wrote this book because I wanted to share both the beautiful and challenging experiences that shaped our lives. Our message is unique because it details the span of 7 years, 3 cities, and 3 academic institutions, including Yale. Readers will use this book to help themselves grasp the good in their lives.
This book will connect with parents of special needs children and those who love them. It will help them understand, that our life isn't normal, but it's good.
Outline
1. Naked: This chapter recounts an experience that occurred during my time at Yale. It was a pivotal event in our lives that brought things full circle. (See Sample Chapter)
2. Born Again: Having a child at 20 years old was not easy. From the time of her birth, Taylor Gabriel was special. Her birth altered my life completely, and taught me a new normal.
3. Orphan: It wasn't until my parents moved away to Florida that my life changed forever. During that season of my life I depended greatly on my paternal grandmother for emotional support while raising my special needs daughter Taylor.
4. Concrete: Left in a city alone, I entered an abusive relationship, which changed how I viewed love, family, commitment, and safety. This chapter discusses how I eventually overcame these challenges in order to graduate from college.
5. Escape: After graduating from college, I applyed to Teach for America and was rejected. Instead of giving up, I applied to NYC Teaching Fellows. I was accepted and moved to New York City with $1000 and my daughter Taylor to start a new life.
6. Apple Picking: Being a single mom was a vulnerable season for me. We had a number of adventures while living in Brooklyn, NY and Boston. This chapter discusses those adventures, including what dating was like as a single parent. It emphasizes how every decision that I made needed to be deliberate and precise, just like my favorite New England pastime: apple picking.
7. Privileges: I've always wanted to attend Yale University. After gaining acceptance into a graduate program in religion, we gained access to a whole new world of opportunity. This chapter discusses those experiences, and how I adapted to my newly discovered privilege.
8. Love: After dating off and on for 12 years, I finally found love. I embraced it, enjoyed the good, and let it restore everything that I thought I'd lost forever: family.
9. Home: After living away from Chicago for 13 years, I moved back to date and marry my husband. This chapter addresses the benefits and perils of returning home after almost a decade. When nothing else would help, love lifted me.
10. Ever After: After getting married, I became aware of the beauty of partnership and the new dynamics of family. I also discovered new things as a wife and mother of two more children. Raising a child with special needs and building a family was not easy. I discovered that this isn't a normal life, it's a good life.
10. Epilogue My Good Life Now
Audience
My audience is the 240+ million caregivers, family members, and supporters in the United States connected on a daily basis to the 60+ million people with special needs and chronic illness. Specifically, women ages 35-45 with at least one special needs or medically fragile child.
Nearly 54 Million Americans cope with special needs and the rising associated expenses, according to the National Organization on Disability.
Nearly one-fifth of all Americans—more than 54 million men, women and children— have a physical, sensory or intellectual disability, according to the National Organization on Disability.
More than 41 million Americans, or almost 15% of the population age 5 and older, have some type of disability; according to 2007 Census survey data. Some 6.2% of children ages 5 to 15, or 2.8 million kids, have disabilities, the Census Bureau found.
The U.S. Census Bureau says about 20% of Americans between the ages of 16 and 64 suffer some form of physical, mental or emotional impairment. Many of them are outliving their parents thanks to improved care medical technology.
Author
Eraina Ferguson is a tech entrepreneur and journalist. She launched My Good Life, an e-newsletter, to help parents with special needs children live a good life despite their circumstances. After giving birth to a special needs child while in college, she completed two graduate degrees from Yale and Boston College.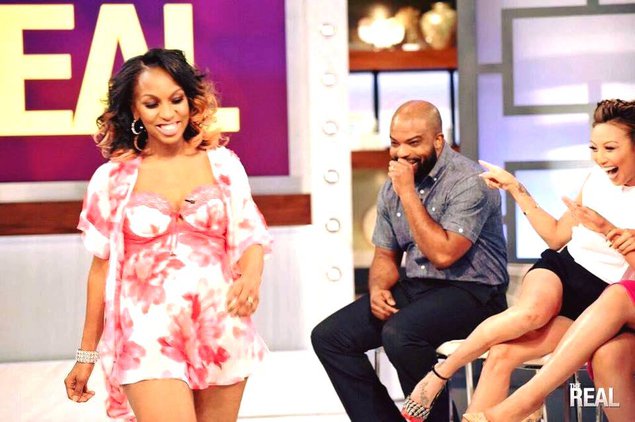 Her nonfiction writing has been featured in Ebony Magazine, Yale News, and Thrive Global. She was also featured in The New Haven Register, The Verge, and Today Show Parents. After appearing on the network television show, The Real, she was interviewed by Time Warner Cable where she discussed the importance of self care.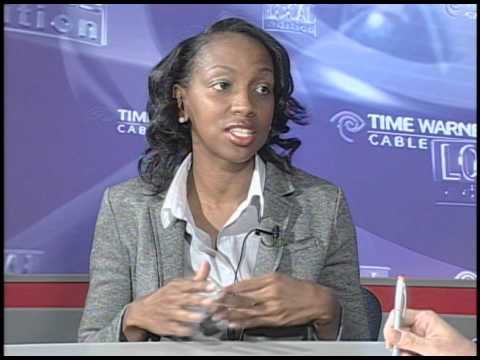 Her most notable public speaking engagements include: Yale University, Princeton University, and her highly anticipated TEDx LACC in Los Angeles, CA.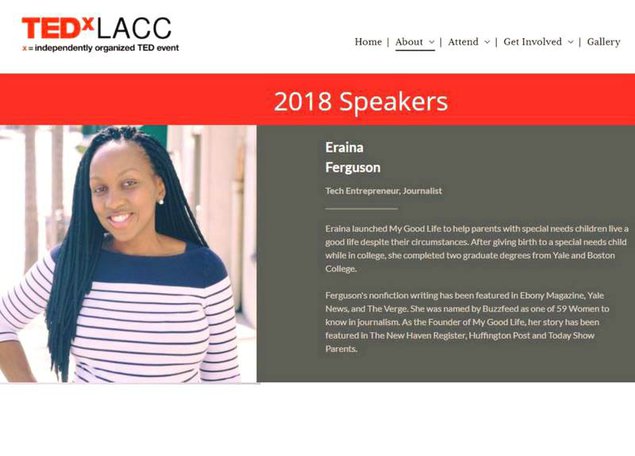 Promotion
Email List size: 2,000

Social media following: Total of 10,000k Social Media followers

Links to regular publication or media contributions reaching 250k readership per week via 10 Established Digital Platforms:

Professional website: www.erainaferguson.com

Speaking engagements scheduled:
Endorsers and corporate sponsors

Actively involved in 10 Facebook Private Groups Collective reach: 500,000

Community events you're attending


Led Yale Day of Service 2018, 2016, 2015
Attending Domestic Violence Fundraiser June 2018
Appearance on "The Real" 2016

Boston College Alumni

Yale University Alumni: Boston, Los Angeles, New York City, Dallas, Chicago

Sample
Eraina Ferguson
Chapter 1
Naked
I felt relieved as I drove my friend's 1994 Acura down Elm Street. As I passed Calhoun College and the Yale University Welcome Center I felt a sense of peace. I knew I made the right decision. Though it was the only job I had at the time, I gave my boss my resignation letter. Just as I contemplated my next move, while the car idled at the stop sign on Church Street, my cell phone rang. I wondered who could be calling me. I knew it was not my boss, our conversation was clear. Because of issues with childcare, I was forced to resign from my teaching position. Though I encountered childcare issues in the past, the last few weeks had been incredibly challenging. I was at my wits end trying to understand why I could not do this.
Seven years ago I completed the same type of teacher training at a program in New York City. Brooklyn to be exact. Back then, I also had the odds stacked up against me, but I pulled out my scriptures, got on my knees and prayed for a miracle. Years earlier, I moved to New York City with only a job, one thousand dollars and a dream of a good life for me and Taylor. What was the issue now? Why were we running into so much interference? In the past, I had the stamina to deal with this situation, but now the impossible did not seem as possible as it had in the past. I no longer had the energy to fight.
Thirty minutes earlier, I sat with my head in my hands and sobbed. I knew my integrity would not allow me to keep the position. I must resign and move on because finding childcare was nearly impossible. Handing in the resignation letter felt like failure. I was not worried about the future and I was grateful that for a moment I was able to breathe. I could take a sigh of relief that now I could move forward, knowing that I did not kept my employer at bay. I did everything I could to make the position work.
"Hello," I answered. "Hi, Eraina, this is Rochelle from the dining facility at Yale. "Hi how are you, Rochelle? I asked. Still puzzled about the nature of the call. I had no idea why she was calling though I remember giving her my card months earlier. I listened, unaware of the difficult news that she would deliver. "Eraina," she warned, "Please stay calm." Stay calm I thought, why would I need to stay calm? What happened? Why was she calling? So many questions ran through my mind and my heart began to beat faster. I held my breath waiting to hear what the difficult news would be.
She proceeded to tell me the disturbing news. Taylor had run outside naked while with the babysitter. "I looked out the window, and saw Taylor running down the driveway with no clothes on." I pulled the car over to process the wave of panic that seemed to overtake me. I could not believe what I was hearing. After the initial waves of disbelief covered me, anger and rage followed. I called the babysitter and yelled at her, asking how she could allow this to happen. Before I could spew more anger and rage, a calm voice took the phone.
"Hi Eraina, this is Betty Smith.*" Betty Smith, the admissions counselor at Yale Divinity? I wondered why the admissions director was there. She was the dean of admissions at the Divinity School. "As I drove in this morning I saw Taylor and pulled over to help," she confessed.
"Taylor is fine," she comforted."Taylor is safe and just get here as soon as you can." She attempted to reassure me that everything would be fine. As I continue to drive home, I felt relieved that someone else was there besides the babysitter. It was already a challenging summer, but this was a huge blow.
There was no where else for us to go. What would I do now? How could I care for this child with no job and no childcare? That is what this second degree was about. It was supposed to place me in a position where I could excel in my academics and my career. I was so hopeful that I could finally have the career that I dreamed of and worked so hard for. As the tears streamed down my face I was feeling low and prayed that something good happened. As I pulled up to the front door, leaving my emergency hazards on, I tried to remain calm.
The babysitter explained that she was in her office when Taylor ran outside. The challenging reality of raising a special needs child is their limited understanding of danger. I used to be embarrassed by this story, worried that I would be judged. One lesson I learned at Yale Divinity, one of my fellow classmates reminded me of the scripture when Jesus asked Adam, "Who told you that you were naked?" Sometimes our experiences are based on someone else's point of view instead of our own. Living in our truth is imperative for living the good life.
There are so many memories that stick with me. My memories are accompanied by visions, smells and sounds that I cannot shake. I think that memory is an important part of our makeup. I compiled these memories in order to help me process the events of my young adult life. There are so many things that happened during our season in New York City, Boston and New Haven to create the person that I am today. All I knew back then is that it was my good life, and I wanted live it to the fullest everyday.