Four 12-year-olds living in New York City, each of whom thinks that their family isn't normal. At a new school, they have a life changing experience and learn that there's something much better than "normal."
| | |
| --- | --- |
| | Young Adult Middle Grade |
| | New York, New York |
| | 50,000 words |
| | 25% complete |
| | 13 publishers interested |
Synopsis
Normal is the story of four 12-year-olds living in New York City, each of whom thinks that their family isn't normal, and longs for a better life.
The protagonists are:
DAVID: a Jewish boy living in Brooklyn with a bipolar father, two younger brothers, and an overwhelmed mother.
TIFFANY: an Italian-American girl in Queens with an alcoholic father, older sister and working-class mom.
ALBERT: a Chinese-American only child living in Manhattan's Chinatown, whose father recently left his conservative, traditional mother for a man and came out as gay.
ALEXA: an African-American girl living in the Bronx who is adjusting to life with a new, difficult step-mom after her mother passed away.
Sixth grade is a major struggle for each of the four kids in their respective schools
However, through a variety of different paths, in February, they all end up meeting to take an exam to get into Hunter, a special public school in Manhattan for grades 7 through 12.
Despite their ongoing challenges at home and at their current schools, the four kids pass the Hunter test and find out in June that they've gotten in.
They all meet again in September, in seventh grade at this new school, in class, and thanks to a very special communications & theater teacher Mrs. Marsh, their lives change forever, for the better. During a vulnerable, risky class activity on the 2nd day of school, the four kids each take a chance, and find out just how much they actually have in common with each other.
The 4 stories are told through the eyes of each of the four protagonists, alternating each chapter.
By the end of the book, DAVID, TIFFANY, ALBERT, and ALEXA realize that there might not be anything "normal" about anyone.
And most important, they come to all understand that they're pretty cool as they all are.
For 4th, 5th, 6th, and 7th graders and their parents, Normal is a compelling character-driven tale of growing up feeling like you're alone and different, and coming to realize that you're neither. It's full of laughs, tears, and an ending you'll never forget.
Author
THE #1 LINKEDIN INFLUENCER OF ALL TIME. IN PAGE VIEWS; AHEAD OF BILL GATES, JACK WELCH, MARK CUBAN AND BARACK OBAMA.
Dave Kerpen has an extensive and loyal email list and social media following, which have both helped his previous books reach thousands of copies sold. The messaging of promotions for this book will be different since this is a fiction title, but is able to connect with previous readers of his non-fiction business books and extended community. Social media following: Facebook - 28K, Twitter - 57K, LinkedIn - 668K
In The Press: http://davekerpen.com/press/
Dave is a dad and husband, a serial entrepreneur, New York Times best selling author, and global keynote speaker. Dave recently started as the interim CEO of UMA Health, an online mental health and executive coaching marketplace which connects clients to top providers to help them deal with challenges and become happier, more productive, self-actualized members of society, achieving peak performance in their careers and lives. He is the Founder and Chairman of Likeable Local, a social media software company serving thousands of small businesses, as well as the chairman and cofounder of Likeable Media, an award-winning social media and word-of-mouth marketing agency for big brands. His newest book, The Art of People: 11 Simple People Skills That Will Get You Everything You Want is out now.
Following Kerpen's sponsored wedding which raised over $100,000 including $20K for charity, he and his wife Carrie started and transformed theKBuzz (founded in 2007) into Likeable Media, the only 3-time WOMMY Award winner for excellence from the Word of Mouth Marketing Association (WOMMA) and one of the 500 fastest growing private companies in the US according to INC Magazine for consecutive years. Kerpen is among the most popular writers in LinkedIn's Influencer program, one of the most-read contributors for Inc.com , and has been featured by CNBC, BBC, ABC World News Tonight, the CBS Early Show, the TODAY Show, the New York Times, and more.

He has also keynoted at dozens of conferences across the globe including Singapore, Athens, Dubai, San Francisco and Mexico City. Likeable Social Media: How to Delight Your Customers, Create an Irresistible Brand, and Be Generally Amazing on Facebook and Other Social Networks, was Kerpen's first New York Times bestselling book. He followed Likeable Social Media with two more bestselling books, Likeable Business and Likeable Leadership. His fourth book, The Art of People, offers 53 bite-sized, easy-to-execute, and often counterintuitive tips, to learn and master the 11 People Skills that will get readers more of what they want at work, at home, and in life.
Normal is his first novel.

Promotion
**20% of total book sales for the 1st 5,000 preorders go to DonorsChoose.org, a United States–based 501 nonprofit organization that donates directly to public school classroom projects. Founded in 2000 by former public school teacher Charles Best, DonorsChoose.org was among the first civic crowdfunding platforms of its kind.
**Also the 1st 500 people to preorder the '2 copies' bonus will receive $10 Donors Choose gift cards.
---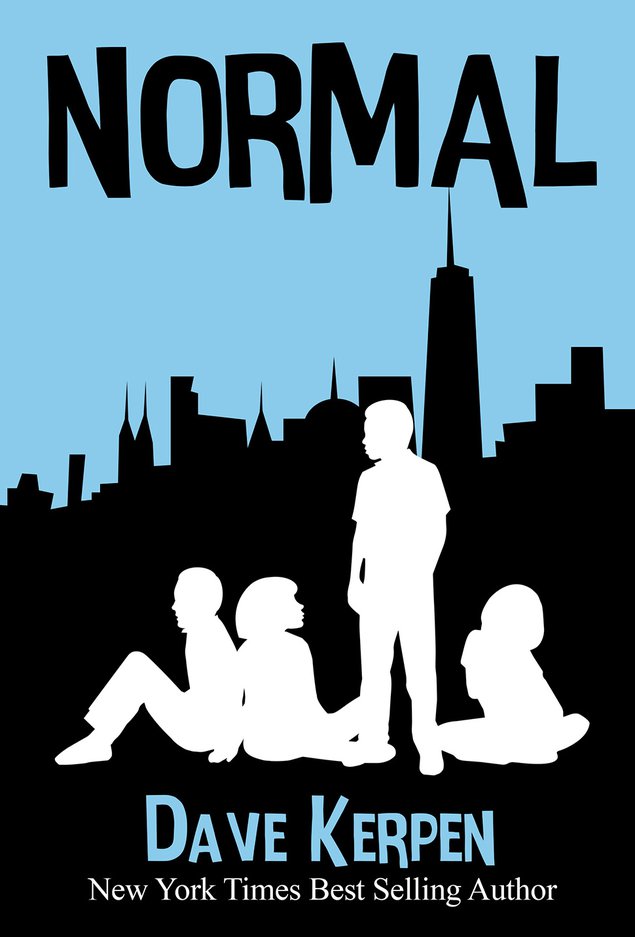 Sample
NORMAL
1
"Emma, Emma!"
David heard his father screaming as he chased after his Dad, just outside of their house.
"Emma, where are you?" his dad called out, now running onto 6th Avenue, where cars swerved by him on each side.
"Daddy, mom's right here. Come back home now," David pleaded, more scared than he'd ever been but knowing that now was not the time to be afraid. "Daddy, I need you to listen to me. Come inside."
"Ok, son," his dad replied. "You are the son, after all. And I am the father, and Emma is the holy ghost." Dad walked back to the sidewalk and had a seat on the stairs outside their home.
David knew that something was very wrong, but he didn't fully understand what we going on. It has been a strange few weeks. There was that incident at Hebrew school pickup where Dad had something weird. And it had gotten worse from there. Now, he just wanted to make sure his dad didn't hurt himself running around the street as he was doing. Or worse. It was really chilly out too, and Dad was only wearing a t-shirt, shorts and sandals.
Minutes later, David's dad was safe from getting hit by a car. But at the same time, David felt like he himself had been hit by a truck. Nothing about the situation at hand seemed safe, that was for sure.
"The child is the father of the man. The child is the father of the man. The child is the father of the man," Dad chanted on the Brooklyn brownstone stoop, beside his chubby son. They were both wearing NY Mets t-shirts, still celebrating the great 1988 season that had just ended weeks prior- even though now if felt like years.
Then a police car showed up, and an ambulance, and 12 year-old David watched his dad get put in a straight jacket and get driven away to Maimonides Medical Center, where he'd be admitted to a psych ward and diagnosed with bipolar disorder, an illness he'd lived with in remission for 10 years and he'd struggle with for a long time to come.
But of course David didn't know all of that then. He just knew that he was really scared, but that he couldn't afford to be scared.
Back inside the house, he found his little brother Philip and sister Dani, huddled up in the corner of the bedroom crying.
"What's wrong with Daddy?" Philip asked.
"Is Daddy ok?" Dani asked.
"Daddy's going to be ok, now," David reassured his ten year old brother and 6 year old sister. "I promise."
Inside, he had no idea if he was going to be ok, of course. But what choice did David have right now? His mom and his brother and his sister needed him to be the mature one, the dependable one, the safe one.
And as much as the situation at home felt crazy, it was actually a break from school life, where everyday of the 6th grade Jamaal and his pack of goons tortured David and the rest of the so-called "nerd herd." Day in and day out, it was no fun to go to school anymore. David wasn't a member of the nerd herd at home, at least.
Mom went to the hospital to make sure Daddy was being taken care of, and David stayed home to watch his siblings. Thanks Xbox, and Minecraft, he knew he could take care of killing three hours really easily.
As the kids tried to set a new high score, David's thoughts wandered. Why did his dad have to be crazy? Why did he have to be such a nerd? Why did his mom give him 2 banana milkshakes a day for 3 years to fatten him up?
Why couldn't he be like everyone else at school? Why couldn't things at home be calm for even one day? Why couldn't things be normal? Why can't I be normal?
2
"Tiffany, grab me another beer, won't you sweetie? This is a big game."
"Of course it's a big game," thought Tiffany as she grabbed a cold Heineken from the refrigerator for her dad. "It's always a big game."
Tiffany brought the beer to her dad, who was sitting in his chair in front of tv, watching some college football game. She had tried to bond with her dad over football, but she just couldn't get into sports. So she'd keep him company while she did her homework, at least.
Penn State was winning, so Dad was in a good mood. That was much better than some night, when his favorite team would lose and Dad would yell at her mom a lot. Sometimes he even yelled at her, for things that seemed like nothing.
Mom stayed away from Dad when we was watching games on TV or drinking – or doing both, which seemed like just about every night. She was downstairs doing laundry- or was it upstairs putting in away? Didn't really matter.
And her 17-year old sister Julie was out, like she was pretty much every night, with her friends or her boyfriend Chris. She was never home.
So 12-year-old Tiffany sat down on the couch perpendicular to dad's chair, and began working on her math homework in her Auburndale, Queens, New York home. It was weird- even though they were only 6 feet apart, it seemed like they were in two totally different worlds. Tiffany was trying to get her math homework done, just wanting to be noticed by her parents. And Dad was staring at the TV, seemingly getting angrier at the world with every sip he took.
"Want to check my homework, Dad?" said the redhead girl, eager to connect with her Dad, or really anyone.
"After the game, hon. Grab me another beer, would you?" replied Dad, without even turning towards Tiffany.
Seemed like just 5 minutes ago she had brought him a beer, but oh, well. Tiffany hadn't even reached the refrigerator when she heard her dad yelling in the living room.
"Noooo! How could you fumble at the 3 yard line! They're going to blow this damn game! Unreal!"
The yelling and the change in score worried Tiffany a lot, because she felt like she'd heard it before, and she didn't like where it would lead.
She was right.
"I'm going out to watch the end of the game at Sully's!" Dad muttered as he got up off the couch. "This house is giving Penn State bad luck!"
"But, Dad, haven't you had…"
Tiffany paused. She wanted to tell him he'd had 4 beers already. That he was drunk, or close. That he shouldn't drive. That she was scared, and angry, and sad. That he could watch the end of the game at home and maybe even check her homework like he'd promised to do. She wanted to say all those things and more.
But she couldn't get the words out of her mouth.
So instead, she just said, "Bye, Dad."
He probably didn't even hear her as he was out the door before she could finish her sentence anyway. "Out the door and off to Sully's. Off to drink."
Tiffany sat back down on the couch and tried to finish her math homework. But she just couldn't focus. She was really good at math too – like 99 average good – but every time she stared down at her paper it was like she was looking at an ocean of blurry numbers, drifting away without any rhyme or reason.
"I'll finish in the morning," she thought, and Tiffany picked up her iPhone and opened up Snapchat. There, she could escape real life, if only for a little while. She caught up on everyone's Stories and her streaks, and even snapped a selfie of her on the couch.
At least on Snapchat and Instagram she could appear- well- normal. The world didn't have to know how f-ed up her dad was and how dysfunctional her whole family was. But all she longed for, more than anything else in the world, was to actually feel normal.
It was once thing to put on a show for her Insta followers. But it wasn't real. Real was her dad driving drunk. Real was her sister out partying. Real was her blind mom.
Real life was FAR from normal.
3
"Mom, when is Dad picking me up?" Albert asked, sitting anxiously at the kitchen table on a Saturday morning in November.
"I just told you, he's supposed to be here at 10:00, Albert," said his mother, frustrated that she knew he'd be late again and would disappoint her son.
"Sorry," said Albert. "I was so excited – Dad and Jeff are taking me to Coney Island today!"
"Dad and Jeff, eh?" said Mom, beginning to look a little disgusted in her face. "What is that Jeff up to, anyway?
'It's Jeff, not that Jeff, Mom!" said Albert, annoyed that he was about to play this game again with his mom. "And he's doing just fine I think."
"But is it weird, Albert? Seeing your father with another man like that?"
Albert had to admit to himself, that it had been pretty weird. And it was still a little weird. But he just didn't want his mom to know he thought that, for some reason. He just figured she'd punish his dad, and then they'd all be worse off.
But yeah, it was weird.
The dad he'd known for all of his life had suddenly become...gay! Well, obviously he hadn't suddenly become gay out of the blue, but it sure felt that way. After 10 years of what seemed like a super normal existence, all of a sudden Dad had sat down Albert one day to tell him the news: He was leaving his mom – for a man!
It all had seemed so CRAZY – but now that that 2 years had passed, Albert had gotten pretty used to whole thing. He even liked Jeff a lot.
Still, it wasn't easy. And Mom didn't make it any easier by always asking about Dad and "that Jeff" either. I mean it was two years later, so when was she going to get over it and move on, you know?
The doorbell rang.
Albert went towards the door, hoping to leave with his dad and avoid any conflict. His hopes were dashed when his mom skipped ahead of him to get to the door first.
"Well, hello there, Bob," she answered. "Long time no talk. How are you? How's Jeff?" she asked, trying to hold back her disdain but with just a bit shining through.
"Hi, Georgia," Albert's father replied. "I'm fantastic, thanks. And Jeff is just fine, thank you for asking. I'm double parked, can I please take Albert?"
"Just one minute," Albert's mom interrupted. "Where's Jeff? Is he in the car? Maybe he can come out and say hello. You sure seem to be good at coming out."
Ouch, there it was. Why did Mom have to cause so much… trouble? Why couldn't she let it go? And why did it always have to be about Dad and Jeff, instead of, well, about me? Albert pondered this and his mind wandered a bit until his dad luckily saved him from the awkward situation.
"Son, let's go. We have a big day ahead of us in Coney Island!"
This was music to Albert's ears, as he just wanted to get away from his house. He loved his mom, and all, but as a Chinese-American immigrant, she was really conservative. So when his dad had left his mom last year- well, that would have been enough as it was – but when he left her – for another man? That near killed her.
Albert didn't think his mom would ever get over that.
The funny thing was, he kinda was getting over it himself. I mean it was different and all. But he actually liked Jeff.
The bigger problem was his mom.
And just, well, feeling like his family was the opposite of "Normal" and always would be.
"Oh well," thought Albert. "At least I've got a day in Coney Island!"
4
"Come here, Alexa," called out her stepmother Celia, or as she and her 6th grade friends secretly knew her as, "Grinch."
"Let me tell you something, I want you to never forget, ok: Just because we're not celebrating Christmas in this household, doesn't mean I don't love you. I love you just as much as your mom did- maybe even more. And over time, you'll see that. I just know you will."
What was Alexa to do with that? It made her angry – then sad- and then angry again. It still seemed like only yesterday, her mom had passed away from breast cancer, even if it was five years ago.
"Who says that, anyway?" she texted to her BFF Laura, refusing to even acknowledge her new stepmother's presence. "WTFFF."
"Alexa, are you listening to me," continued Grinch. "I said, I love you, sweetie."