Mind is a monster! Patanajali's classic Yoga Sutras through a child's eye.
| | |
| --- | --- |
| | Mind & Body yoga, philosophy, spirituality, children's, Eastern philosophy |
| | Portugal |
| | 13,842 words |
| | 100% complete |
| | 17 publishers interested |
Synopsis
Mind is a monster! Patanjali's classic Yoga Sutras seen through a child's eye. While Young Yogi and the Mind Monsters is not a children's book necessarily, it is written in a simple and entertaining way that even a child could understand.
The aim of this unique book is to make the complex philosophy of Patanjali more understandable and fun for the reader, like the Tao of Poo or The Little Prince of yoga books. The first 51 sutras of Patanjali's "Samadhi Padah," or first chapter, serve as the structure, and this is the first book to ever depict the sutras sequentially in the form of a story. The action is driven by the journey of Young Yogi as he battles the Mind Monsters and through a colorful array of characters he meets along the way. From a zany holy cow and Zen-like surfing dude to the pop sensations The Imaginations, even the bullies, grumpy teachers, and rickshaw-racing superstars have something to teach Young Yogi.

The book is also comparative in intent. Each sutra is annotated so the reader can reference a traditional interpretation in an appendix. The traditional sutras are translated exclusively for the book by Luke Jordan, who holds an MA in Indian Religions from the University of Wales, Lampeter, and is also a Certified Ashtanga yoga teacher giving workshops in yoga philosophy, chanting, and asana around the world. His work was recently published in the UK yoga magazine, Pushpam.
The book features thirteen original, full-page, color illustrations by professional artist Kaori Hamura Long, a graduate of Parsons School of Design in New York and Paris, whose clients include Time Out, Interview, Mademoiselle, Anna Sui, Nickelodeon, and MTV. Her work has exhibited in New York, Los Angeles, Berlin, and Tokyo. She was the recipient of the Altpick Awards, Illustration Series in 2007 and the Silver Awards from The Society of Illustrators of Los Angeles in 2003. The foreword is written by Dena Kingsberg, Certified Ashtanga yoga teacher with over thirty years experience. Young Yogi and the Mind Monsters is 13,842 words (unusual word count, covering only Patanjali's first chapter). It is purposely short and simple in keeping with the brevity of the sutras themselves. This is the first book in a series of four, correlating with each of Patanjali's four chapters, and is 100% complete.

Disguised as a whimsical story, Young Yogi and the Mind Monsters is a gift for readers looking to understand the rich, ancient, and mind-bending philosophy of Patanjali.

Outline
Foreword Written by Dena Kingsberg, Certified Ashtanga yoga teacher with over 30 years experience as a senior student of Sri K. Pattabhi Jois.
Author's Note This explains the annotated feature in the book, so the reader may refer to and compare each sutra with a traditional interpretation in an appendix.

Prologue: An Ordinary Boy This briefly introduces the reader to the world and magic of Young Yogi.
The Nightmare Young Yogi is tormented by nightly visits from the Mind Monsters, a signal to his parents he is ready to learn about yoga and end his suffering, which comes from identifying with the movements of the mind. Covers sutras 1-4.

Monkey Business Through the antics of a cheeky monkey, Young Yogi and his stuffed chicken Paco, learn more about the Mind Monsters and their five Mind Tricks. Covers sutras 5-7.
Snakes and Ladders At home, Young Yogi learns through mundane chores how to discern the Mind Monsters with his mom, while his levitating father clarifies correct seeing and false knowledge. Covers sutras 8-9.
The Imaginations A glamorous pop trio appear in the clouds and through their song teach Young Yogi and Paco not to think! Covers sutras 10-11.
Surf's Up (and Down) Young Yogi is bullied by his nemesis, Bharat. His surfing guru, Anders teaches him about practice, non-attachment and "being total, dude." Covers sutras 13-16.
The Magic Meadow Young Yogi meets the zany Holy Cow, who through magic seeds, plant medicine, cosmic movie screens, hot chili peppers, and the ommmingales' song teaches him all about meditative absorption and pure consciousness. Young Yogi has his first taste of truth. Covers sutras 17-29.
The Worst Day Ever At school, Mr. Siva terrifies the class with the nine Monster Magnets and a test. Young Yogi and Bharat get detention. Young Yogi seeks solace with a wise coconut man. Covers sutras 30-32.
In the Banyans After a fight, Young Yogi and Bharat learn about compassion and opposing virtues from O'Banyan, an old tree of Irish persuasion, who reveals the infinite connection of the forest and all things. The boys become friends and must race against the clock to escape the great banyan forest. Covers sutra 33.
Joy House The boys meet Chai Wallah, Sadhu Sam, and Snake Charmer who show them how to live free of the Mind Monsters just in time to escape the forest's Mind Maze. Rickshaw Rita gives them a lift with a cosmic detour. Covers sutras 34-40.
Under the Water Young Yogi falls into the water and experiences the expanse of reality through unmanifested awareness. On the surface, Paco scrambles to get help and finds Anders who tries to save the boy. Covers sutras 41-51.
Epilogue Teases the next installment of the Young Yogi story. Patanjali's second chapter, "Sadhana Padah," is all about the path to the goal. Young Yogi on the Road is just that path.
Appendix Contains a traditional translation of the Yoga Sutras for reference. Translated by Luke Jordan, who holds an MA in Indian Religions from the University of Wales in Lampeter, UK, and is also a Certified Ashtanga yoga teacher.
Acknowledgements A message of gratitude for those who have supported this book.
Audience
Young Yogi and the Mind Monsters is written primarily for adults interested in a fun and easy way to understand the complex yoga philosophy presented in the original Yoga Sutras of Patanjali. Because it is illustrated and written in a simple, comparative style is can be enjoyed by a younger readership as well. More specifically, yoga practitioners, yoga teachers, teachers in training, studio owners, the young and young at heart, and those interested in spirituality and Eastern philosophy are the potential audience for this book.
A 2016 survey on yoga in America conducted by Yoga Journal and Yoga Alliance had some key findings on its growth and popularity in American culture:
-The number of yoga practitioners (in the US) has increased from 20.4 million in 2014 to 36 million in 2016.
-There are now more male and older practitioners than ever before (approximately 10 million men and almost 14 million people over fifty).
-37% of the children (under eighteen) of practitioners have practiced yoga.
-Awareness of yoga has increased from 75% in 2012 to 90% in 2016.
-Yoga is a booming business, generating 16 billion dollars in 2016 from only 10 billion in 2012.
Thirty-six million practitioners in America alone are potential readers of this book. Not everyone who practices physical yoga postures will become interested in the philosophy, but many will. According to the survey, practitioners get 13% of there information from books, while yoga teachers, and those in teacher training, get 29% of their information from books.
Yoga teacher trainings are big business and there are 878 Yoga Alliance-accredited programs recognized around the world today (and many more unaccredited). A standard 200-hour teacher training requires 30 hours of philosophy which includes, "the study of yoga philosophies and traditional texts such as the Yoga Sutras." The prevalence and growth of these programs provides another group of potential buyers of Young Yogi.
There is definite interest in the subject and a need for better understanding of the Sutras themselves. For example, Edwin F. Bryant's 2009 book, The Yoga Sutras of Patanjali: A New Addition, Translation and Commentary is a recent example as a #1 best seller on Amazon in Religion and Spirituality, Hinduism, Sutras.
The 2012 revised edition of The Yoga Sutras of Patanjali: Commentary on the Raja Yoga Sutras by Sri Swami Satchidananda (Integral Yoga Publications) is a #2 Amazon best seller in Eastern Indian Philosophy and #3 in Excercise and Fitness, Yoga. These are just two examples.
While not focused on the Yoga Sutras, Rachel Brathen's Yoga Girl was a New York Times best seller in 2015, a great indicator of the growing interest in yoga.
Author
Sonja Radvila is originally from Colorado and has a BA in Anthropology and a BFA in Film Production from the University of Colorado at Boulder. She first began studying yoga in 1999 while learning Bharata Natyam, an Indian classical dance style, in Chennai, India. She explored different styles for the next few years, enjoying Sivananda, Iyengar and Ashtanga methods. Since 2004, she has been a daily practitioner of Ashtanga yoga, and made her first trip to the heartland of the practice in Mysore, India, in 2005. She spent 8 1/2 years working as a video editor first at Starz! in Denver, Colorado and then at The Discovery Channel in Silver Spring, Maryland, all the while practicing and learning Ashtanga yoga. Afterwords, she moved to Ireland and began teaching Ashtanga yoga in 2008 in Dublin, and since 2010 has been teaching internationally while maintaining regular visits to Mysore for study and practice in yoga asana, chanting and philosophy, and dance. She is an Authorized Level II teacher by the Sri K. Pattabhi Jois Ashtanga Yoga Institute in Mysore, India.
Sonja was published in the June 2013 issue of Cat Fancy magazine for an article on cat cafes in Tokyo. She is the founder and creator of Rasa Malas, which specializes in intuitively designed jewelry and unique vintage jewelry from India. After eight years on the road, she now resides in Portugal.
Promotion
Sonja has been teaching yoga exclusively for over ten years, beginning in Dublin, Ireland. Since 2010 she has been teaching internationally and as such has connections with yoga communities, students and studios in the following countries: Australia, Belgium, Brazil, Canada, Chile, Denmark, Egypt, France, India, Indonesia, Ireland, Italy, Japan, Malaysia, Mexico, The Netherlands, Norway, Peru, Portugal, Russia, Spain, Sweden, Thailand, United Arab Emirates, UK and USA.
Sonja has +1669 friends on Facebook and nearly 600 followers on Instagram. Typically, she teaches in 3–6 different places per year working with groups from 10–40 students at a time. While primarily teaching asana classes, she also offers workshops in chanting and philosophy of the Yoga Sutras.
To promote the book the author will:
Establish a website, create a blog, monthly newsletter, interactive forum, schedule and media kit for the book.

Send promotional copies to yoga studio contacts, high-profile teachers of Ashtanga yoga and other yoga styles, as well as authors and scholars in the field of yoga philosophy.
Seek endorsements from published authors she knows personally.
Send promotional copies to yoga magazines, on-line yoga journals and wellness websites.
Create a giveaway contest to promote interest in the book via the Young Yogi website and social media.
Use the book when teaching workshops on the Yoga Sutras. Young Yogi complements the group study of the sutras, adding lightness and humor.
Offer readings and talks at yoga studios and bookshops.
Participate in any promotional activity online through forums, interviews, and book clubs.
Competition
The Tao of Pooh, Benjamin Hoff (Penguin, 1983, 158 pages). Explains Taoist philosophy through Winnie the Pooh and characters. Young Yogi explains the Yoga Sutras through a quirky cast of characters, simple storytelling, colorful illustrations, and shorter text.
The Path of the Yoga Sutras: A Practical Guide to the Core of Yoga, Nicolai Bachman (Sounds True, 2015, 296 pages). Presents the teachings of Patanjali with a contemporary tangibility. Young Yogi differs in its simplicity, playfulness, illustrations, and brevity.
Ramayana: Divine Loophole, Sanjay Patel (Chronicle Books, 2010, 186 pages). Reimagines the epic story of the Ramayana with incredible illustrations and text in a large format. Young Yogi creates a story out of the Yoga Sutras to simplify and update philosophical understanding with less images and smaller book size.
The Little Book of Hindu Deities: From the Goddess of Wealth to the Sacred Cow, Sanjay Patel (Plume, 2006, 144 pages). Relies on its colorful illustrations to explain the deities in the Hindu pantheon. Young Yogi follows a story form with more text and less illustrations.
A Child's Journey into Yoga: Based on the Core Yoga Sutras of Patanjali, Lydia Nitya Griffith (The Arrival LLC, 2014, 144 pages). Informs children, their parents, and their teachers about yoga through the Yoga Sutras with suggested class activities throughout. Young Yogi's emphasis is not on children's understanding of yoga specifically, nor is it a workbook of suggested activities and lessons.
Living Your Yoga: Finding the Spiritual in Everyday Life, Judith Hanson Lasater, Ph.D., P.T. (Shambhala, 2015, 192 pages). Uses the Yoga Sutras and more to inspire spiritual living today. Young Yogi is not a self-help book, but rather it serves to help one's understanding of the Yoga Sutras.
The Show-off Monkey and other Taoist Tales, Mark W. McGinnis (Shambhala, 2017, 80 pages). Shares the teachings of Chuang Tzu and thirty-three tales to explore Taoist wisdom with readers of all ages, with illustrations. Young Yogi uses the continuity of one story to depict the first fifty-one sutras of the Yoga Sutras.
The Inner Tradition of Yoga: A Guide to Yoga Philosophy for the Contemporary PractitionerThe Inner Tradition of Yoga: A Guide to Yoga Philosophy for the Contemporary Practitioner, Michael Stone (Shambhala, 2008, 320 pages). Presents the depths of yogic teachings beyond the physical exercise and into modern life. Young Yogi focuses solely on conveying the Yoga Sutras to contemporary understanding through the guise of a story.
Sample
The Imaginations
Young Yogi and Paco rested on their backs on the soft grass looking at the passing clouds in the sky. "Do you see that elephant?" asked Paco, pointing with his claw.
"Yes! Do you see a race car over there?" asked Young Yogi.
"Yes!" Paco clapped. "It looks more like your mom's car though."
"I see a castle."
"I see it, too. I see it!" replied Paco. "Do you see what I see? Do you see . . . The Imaginations?"
"I see them," answered Young Yogi. They sat back and readied themselves for a great show. A camera crew emerged, then a gaggle of photographers with flashing cameras and a great crowd of spectators. A man with a toothy smile appeared in a sleek suit and shiny, slicked-back hair. He winked at the camera and adjusted his tie.
"Ladies and gentlemen, it's who you've all been waiting for," he winked again at Paco and Young Young Yogi. "It's my great pleasure to announce the ONE. The ONLY. The Imaginations!" An audience appeared and applauded wildly.
"Thank you, Russell," answered Marvella in a silky smooth voice. She was the elegant lead singer with a giant bouffant and red sequined gown, sandwiched between two other singers equally beautiful in glamorous dresses. They went straight into their song.
Think! sang Marvella.
Don't think! chimed the backup singers.
Think about what your head does to you!
Think!
Don't think!
Think about what your head does to you!
They danced in unison, and Marvella continued her verse.
Mind is your imagination
Like a mad TV on every station
Thoughts will control you
Take their hold and mold you
And run you to the ground...
You better think!
hmmm, don't think!
Think what your head does to you!
Freedom, freedom, freedom! They reached a crescendo.
Don't think!
The crowd went wild. As The Imaginations sang, their heads and arms multiplied high into the air. Young Yogi and Paco danced and jumped and laughed and clapped with the crowd around them.
"Thank you very much," said one of Marvella's heads, her silky voice hardly out of breath from such a performance. "We're The Imaginations." The crowd was cheering and screaming loudly. "We love you. We love everyone, baby!"
*
(1.10) That night Young Yogi hit his pillow tired from the day but determined to stay awake and avoid another night with the Mind Monsters. Before he knew it, he was asleep, and it was deep and uneventful.
(1.11) Young Yogi surprised himself hours later when he woke up without reason. He wondered in the dark if nothing happening at all was a Mind Trick too. Then he began to stare at the popcorn ceiling in the moonlight. He was sure he could make out the faces of the monsters, the glimmering sharpness of their teeth, their scaly skin, weird eyeballs, and terrible odor. He shivered. It was only a memory.
"Aha!" he exclaimed and nudged the chicken. "Paco! Memory does it too! The monsters aren't here, but my memory of them makes it seem like it."
"What?" asked the chicken, rubbing his eyes. ¨There's no monsters, Yogi. Go back to sleep."
"That's what I just said!" replied Young Yogi. Paco was snoring once again.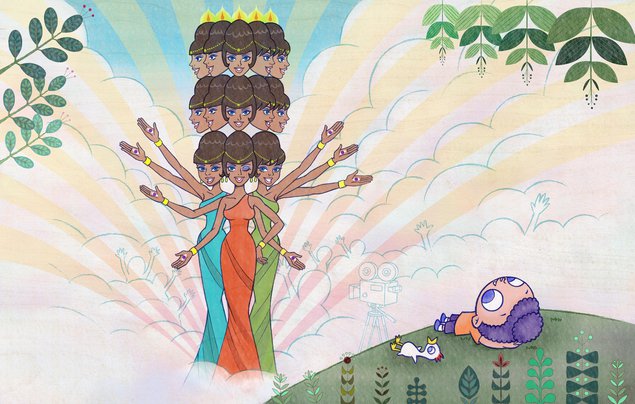 Surf's Up (and Down)
It was Saturday morning, Young Yogi's favorite day of the week. Time to surf! He was out the door first-thing and off to the beach when all of a sudden a rock hit him in the head. It smarted! He couldn't tell where it came from. He looked around feeling the knot form on his forehead.
"Well, well, well," said a menacing voice from the bushes.
Bharat. Young Yogi's heart sank as the knot in his forehead fell into his throat. "Looks like baby Yogi wants to surf! Do you even know how to swim?"
"Bharat, I'm just trying to get to the beach. Please just leave me alone." He could see the oversized bully clearly now from behind the bushes, and he wasn't alone.
"Let's get him!" hollered Bharat gesturing to his two smaller friends. They began to throw a storm of crab apples at him. Young Yogi tried to dodge them with his surf board and tripped himself. Getting up with skinned knees, he ran away as fast as he could.
"That's it! Run you chicken. Just like your stuffed doll, Paco!" The boys laughed, kicking some trashcans over as they watched Young Yogi scurry off.
Young Yogi caught his breath near the beach when he realized he wasn't being chased. He was relieved to see Anders in the distance as the sun rose high over the waves.
"Hey, little dude, c'mon!" Anders yelled waving to Young Yogi as he ran across the sand. Anders had golden skin, blond locks of hair, and only ever wore surfing shorts.
"Dude, there are some righteous waves today, lil' Yogi!" exclaimed Anders. "Let's get to it. Dude. What happened to you?" He eyed the frazzled boy. "You okay?"
"Sure Anders," said Young Yogi, trying to act cool. "I just didn´t sleep too much cause the Mind Monsters were out to get me." He knew everyone had Mind Monsters, not everyone had a bully to contend with.
"Looks like more than Mind Monsters, dude," said Anders, raising his eyebrows. Young Yogi looked away embarrassed. Anders could tell he didn't want to talk about it.
(1.12) "Oh, right. Yeah, those monsters with their mind tricks can be tough, dude. Fer sure." Anders began waxing his board. "But you can, like totally, stop them if you want to, ya know?"
"Seriously?" asked Young Yogi. "How?"
Anders jumped up, grabbed his board, and ran toward the water. "Let's surf lil' dude. C'mon!"
They got into the water. "The best way to learn is by practice, then dude, you just have to let it go," said Anders as they waited for the waves to roll in. "It's all yours Yogi, get this one coming!" Young Yogi began to paddle. He felt the swell and popped up on his board, riding the wave close to shore before he fell.
(1.13) "Remember when you couldn't even get up?" asked Anders laughing. "Dude, you've come a long way just by trying over and over, totally." Anders caught the next wave and rode gracefully through the pipeline, smiling and gliding with ease, like a human porpoise.
"Whoa! That was awesome!" yelled Young Yogi. "Someday I want to ride like that."
(1.14) Anders swam up to him immediately. "You can, dude! You can! Just like, practice the right way. A lot. And for, like a really long time, and without too many breaks. You gotta be total, dude!"
Young Yogi took the next wave, and it gobbled him instantly. He came up shaken and mad, and slapped the water in frustration.
"Chill out, lil' man! You've got the eagerness, but check the 'tude, dude. Stay positive no matter what!" Young Yogi tried again. And again. And again. He was waterlogged, and the salt stung his wounded knees. Everyone was catching waves but him. He'd had enough.
They floated into shore. How could he suddenly hate something he loved so much? It was the worst Saturday ever. They rested on the shore, snacking on apples and watching the water. Young Yogi was unusually quiet.
(1.15) "Wanna know somethin' else?" asked Anders, breaking the silence.
"Sure," said Young Yogi, crunching miserably on his apple.
"Try to not to want stuff too much," Anders said, eating half his apple in one bite. "Like whether it's real like a wave or a toy or somethin', or like a hot babe."
Young Yogi brightened thinking of his dream bike, the Garuda 9000, with its magic bell, rickshaw driver's horn, and shiny red seat. Anders was thinking of Bette Sharma.
"It's a drag, isn´t it?" questioned Anders. "Not getting what you think you want, huh? But if you get over wanting stuff, there'd be, like, nothing to be sad about, right? Got it, lil' dude?" They both snapped out of their daydreams and laughed. Young Yogi felt a little bit better.
(1.16) "Being free, dude, is not wanting anything at all, like anything," said Anders.
"That seems nearly impossible," sighed Yogi. He got up and put on his t-shirt getting ready to go. Anders was rubbing zinc on his nose.
"Lil' Yogi," he said, "these are like directions, ya know? Not like rules or anything like that. They're just like, to show you the way, little man."
"Thanks Anders," said Young Yogi. "I'll see you later." He grabbed his board and headed toward home without the usual spring in his step.
"Be total, dude! Be total!" yelled Anders as he watched Young Yogi become a speck in the distance.